Administrator
Windows Modifier
Downloaded

51.7 GB
Uploaded

13.1 TB
Ratio

259.57
Review
SyncBack is an easy to use application designed to help user set, and fast perform backup and synchronization jobs of folders and files on external hard drives, discs, FTP servers, and shared drives.
When running SyncBack for the first time, the user has to set up a customized profile. Although this can take time, the available options cover a wide range of situations that may occur when performing a backup or synchronizing two directories. Besides, the user can schedule jobs, so the user does not need to configure another profile every time. The first step is to choose the source and destination folders, as well as the job type. The program can be used with files and folders on user hard drives, CDs, DVDs or USB drives. Furthermore, the destination directory can be on an FTP server, as well as on a network computer.
If the user is a beginner, it is suggested to use the "Easy" mode, while the "Expert" mode is destined for professionals. However, no matter what a user chooses, the program provides multiple options to customize sync or backup profile. For example, the user has to select the desired action in different situations, such as when a file can be found only in the destination folder. Some features are only available for experts, such as customizing the comparing attributes for the sync jobs or setting which programs should be closed or started before and after performing the task.
In addition to this, the program offers the user the possibility to filter the copied files and folders quickly. To save space when doing a backup, the files can be compressed into an archive. Also, the user can optionally choose to be prompted for file deletions, as well as verify that the data are copied correctly. To make sure that the computer performed the selected job, the user can receive the log file on your email address.
One exciting feature of the application is that it offers the possibility to simulate a job, meaning that no file is copied, but a report is generated. SyncBack combines the ease of use with a multitude of features for expert users. It is a handy and highly-customizable utility that allows a user to easily backup files or synchronize folders.
Copy Locked or Open Files;
Supports Amazon S3™, Google Drive™, Microsoft Azure™, Microsoft OneDrive™, OneDrive for Business (Office 365), SharePoint™ (Office 365), Dropbox™, Box, SugarSync™, Amazon Drive™, Google Storage™, OpenStack, Backblaze™ B2, OVH, hubiC, WebDAV, and Egnyt;
Fast Backup, Intelligent Synchronization, and Incremental Backups feature that greatly reduces backup time, especially over networks;
Smart Synchronization;
Backup Emails stored on POP3, IMAP4 or Microsoft Exchange;
Backup to Email;
Complete control over which files and folders to backup;
Fully Unicode so it can copy files with filenames in any language;
Versioning - keep previous backup versions;
Scripting - configure how SyncBackPro runs;
Powerful FTP/SFTP Engine, Compression, and Encryption;
FTP engine supports the latest FTP features, e.g., MODE Z compression and SSL/TLS encryption
Zip compression that has no limit on the number and size of files;
WinZip compatible 256-bit AES encryption;
Automatic Drive Failure (S.M.A.R.T.) and Ransomware Detection;
New to V8 SyncBack Container and VHD/X support;
Media Transfer Protocol (MTP).
What is new in version 9.3.17.0 (Released on April 13, 2020):
Updated: Improved auto-switching to active mode detection with FTP;
Fixed (SE/Pro): Displaying the wrong error message when trying to connect to SyncBack Touch while outside its home network;
Fixed: Filters were listed twice in HTML log file;
Fixed: V9.3.4.0 introduced a bug where symbolic links were not recognized;
Fixed: Will now disconnect from (Windows) network if configured to do so in some circumstances;
Fixed (Pro): The Metadata Template ID was not set correctly causing upload failures with Dropbox.
What is new in version 9 (Released on June 01, 2019):
User Interface
Completely new modern and clean user interface with an optional dark mode. All the graphics have been changed. Care has been taken to simplify and modernize the interface but keeping it familiar to users of older versions;
Per-monitor DPI scaling, so windows are scaled depending on the monitor they are on;
The default font is now larger, and the same font as used in Windows 10 (Segoe UI 10 point);
The log file has been modernized and improved to make them clearer. The HTML log file now includes embedded graphics. More summary detail also provided. It also now shows the total time a profile was paused.
In the Tree Explorer window, user can now include/exclude files/folders without needing to first expand the folder;
In the Tree Explorer window, user can now include/exclude files/folders and apply to all sub-folders;
The File & Folder Selection window, Differences window, and File Prompt window now shows the source on the left when the profile is a backup/mirror from FTP, cloud, etc. to a local drive;
New simplified Restore wizard. Includes option not to move files on restore and other options;
In the main window user can filter based on the profile name;
In File & Folder selections, user can export and import the selections;
When profiles finish, SyncBack can now automatically exit, reboot or log out instead of just shutting down;
The File & Folder selections window now has last modified column;
Non-critical errors have been removed and are now warnings;
User can now list all the shared settings, which profiles are using them (if any) and delete the unused ones;
Users can now skip a SyncBack new version. For example, if the user is on v9.0 and v9.1 is available then the user can ignore the new version. If a version is ignored, the user will not be prompted again until a newer version, e.g. V9.2, is available. However, if a user does a manual update check then it will always tell a newer version is available.
Delta-Copy
Delta-copy versioning when copying files from one file system to another. Only the changes between files are stored, which greatly reduces disk space for large files such as virtual machines, databases, etc.
Cloud
OVH cloud support added;
hubiC cloud support added;
WebDAV support added;
Egnyte support added;
Uses new Azure REST API, so can upload larger files (4.75 TB);
Supports restoring files archived in Azure;
S3 Storage Class and new Azure Blob Tier. Previously could only set S3 Storage class, but now can do it with Azure;
Supports One Zone-Infrequent Access and Intelligent Tiering storage classes on Amazon S3;
Can now use Service Account Private Key files with Google Storage;
Dropbox API updated;
Backblaze B2 API updated;
Can use Bing speech, so native language speech supported.
FTP
Two new FTP/FTPS engines and one new SFTP engine added for improved FTP server compatibility;
Supports new faster scanning method in CompleteFTP (requires V12.1.0 or newer);
FTP support improved (MFF, RMDA, and AVBL supported). Tested again with FTP servers to improve performance and compatibility;
FTP time zone setting improved (if user use ! as the first character then it overrides what the FTP server reports, e.g. !-480);
Can restore from multi-zip files copied from an FTP server to a local drive.
SyncBack Touch
Delta-copy (over the network) upload and download to Touch (Windows only);
Can shutdown remote Touch server (Android only, must be V1.3.11 or newer of Touch);
Better user feedback when searching for SyncBack Touch devices.
SyncBack Monitor
SyncBack Monitor first released;
A new Android application which user can use to stop, start, pause and resume profiles running on the user computer (on the same local network).
Performance
Parallel file multi-zip (when copying to or from internal/external drive, network share, etc.);
Parallel local file deletes (internal/external drive, network share, etc.);
Parallel cloud file uploads and downloads: S3, Azure, Egnyte, Backblaze B2, Rackspace/OpenStack and Google Storage (if using the private key);
Profile backups are now much faster.
Scheduler
In a profile schedule you can now view/set run-time limit;
In a profile schedule you can now decide what to do if a scheduled task is already running;
When creating new schedules, the default is not to run the schedule again if it is already running. In V8 it would run it in parallel, which can cause issues as the same profile cannot be run in parallel.
Misc
Files the user does not have read access rights to can now be copied to the cloud, FTP, FTPS, SFTP, Touch and MTP. Also, files copied from the cloud can replace local files the user does not have write access rights to.
SMART checks also check the drive health. Extra detailed information about the drive is logged.
Option to skip temporary files (enabled by default)
Can choose to version deleted and replaced files, only replaced files or only deleted files
Now works with Sandboxie
The Zip option "Try and compress files that are being used" has been replaced by the Copy/Delete option "When copying files, stop other processes from modifying them during the copy". This is TRUE by default. It applies to any local copy, i.e. Zip, Cloud, MTP, and Touch.
When using SecureZIP, the user can add files with filename lengths over 260 characters. The maximum filename length of the Zip file itself is still limited to 260 characters.
When a profile is queued, the visual group it is in (if it is in one) is now used. This helps with profile variables, for example.
To reduce complexity, improve performance, and reduce memory usage, a number of legacy features have been removed from version 9:
SyncBack Containers: Mounting of VHD virtual drives is still supported (Windows 7 and later). A SyncBack Container mount utility is provided to transfer files from existing SyncBack Containers;
Backup to email: Backup of email is still available. Backup, via an email server, was introduced before cloud storage services were available;
CD/DVD burning and ISO support: User can use VHD instead of ISO;
Spanned Zip file support: Split Zip files are still supported. Spanning was for removable media.
What is new in version 8.6.7.6 (Released on May 30, 2019):
Fixed: Unresponsive user interface when many profiles running at the same time;
Updated (SE/Pro): Can rollback from V9 installation;
Updated (SE/Pro): When using SmartFTP, ignore if the actual server IP is different than the one reported;
Updated (Pro): Better retry timing when OneDrive API reports 503 errors.
What is new in version 8.6.6.3 (Released on April 22, 2019):
Fixed (Pro): In rare cases, a file may not be deleted from the cloud;
Fixed (Pro): Unicode filename problem with Dropbox.
What is new in version 8.6.3.0 (Released on April 10, 2019):
Fixed: Do not copy offline files;
Fixed: Shared settings were saved even when canceling profile modification;
Fixed: Runtime error 231 when renaming a file on an FTP server;
Fixed: When selecting email service the email settings available may not update correctly;
Fixed (Pro): Multi-threaded scanning of a cloud when using multi-zip;
Fixed (Pro): Ignore the web_link file type (Box);
Fixed (Pro): Changes in AWS S3 to properly retain the storage class when updating object's metadata;
Fixed (Pro): Changes in OneDrive API to retrieve and use the retry-after value from the response error JSON, if present;
Fixed (Pro): When uploading multipart Amazon S3 objects the ACL was not being set;
Fixed (Pro): Change in B2 API to request a new Upload URL when receiving a socket error 10054;
Fixed (Pro): Dropbox was throwing an exception when Cloud DB was not found on the cloud;
Fixed (Pro): Fix a problem where multi-threaded upload would not work for some endpoints (Wasabi).
System requirements:
OS: Microsoft Windows® all versions.
Install notes:
1. Kindly read "Readme.txt" file given in download zip file;
2. Enjoy!
Screenshots: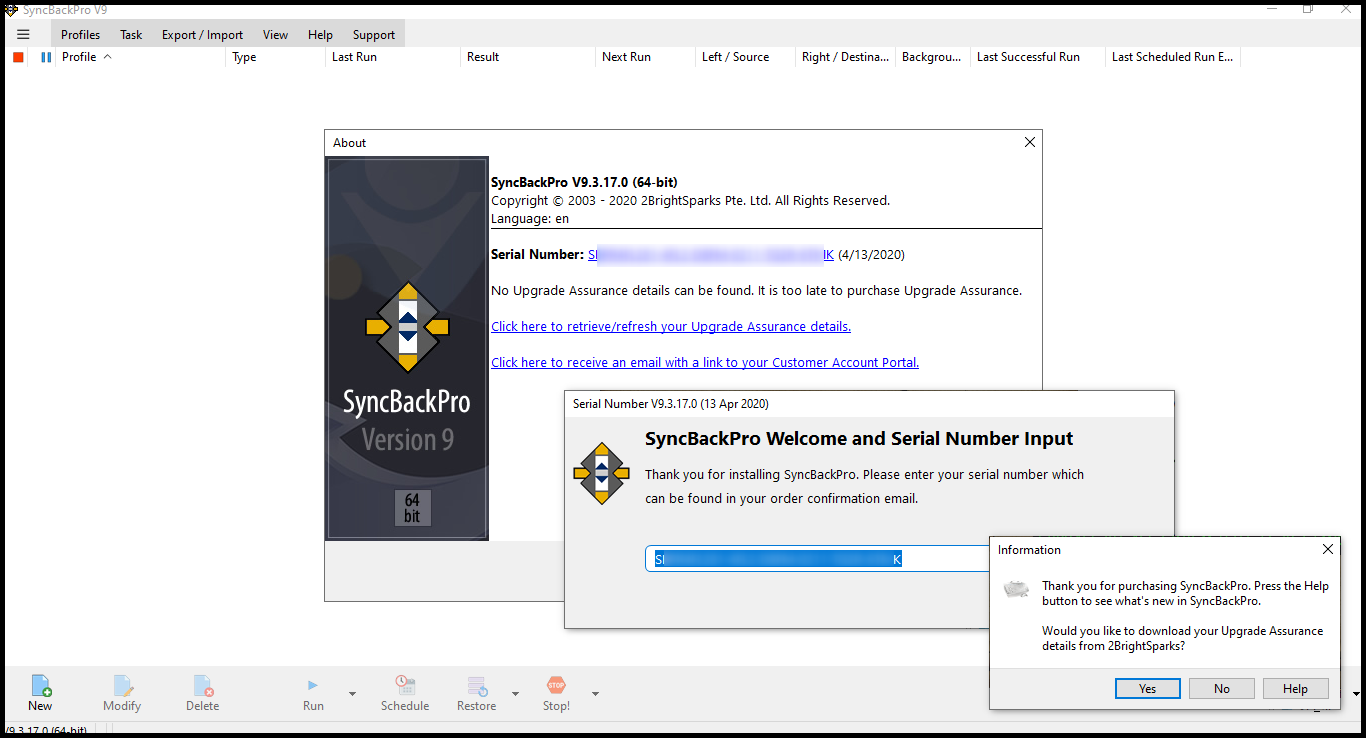 Virus free! 100% clean!
All credits go to Team ZWT who made and shared the key generator with us!
​
File: keygen.exe
You must be registered for see links
53/72
MD5: 048E4D7F3C7DD34F9F5A806F6EBF8546
SHA1: 7E45E53CAD78D477DA14EDD3D9719ECC56E55BE5
SHA256: ED296A422B2E439EAF535B9E47AB5D5C1D6A8AF25ACC25563203DC53C7FEA69B
Kind regards,
@Mirkec
in collaboration with TeamOS
Download links - full version 9.3.17.0 (Size: 71.03 MB):
You must be registered for see links
You must be registered for see links
You must be registered for see links
You must be registered for see links
Download links - portable version 9.3.17.0 (Size: 84.14 MB):
You must be registered for see links
You must be registered for see links
You must be registered for see links
You must be registered for see links