Windows updater and modifier
Super Admin
Downloaded

0 bytes
Uploaded

257.4 TB
Ratio

-
AV Uninstall Tools Pack 2017.08 [Rus/Eng]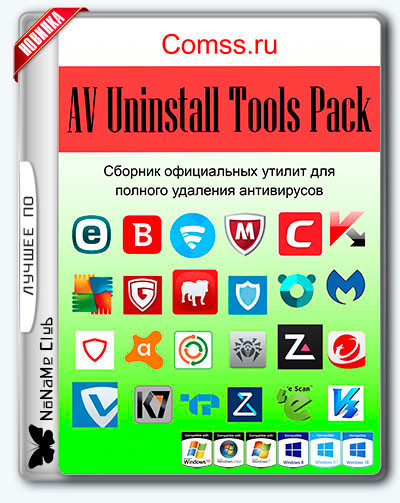 General Info:-
Version of the program: 2017.08
Language: Russian, English
Treatment: not required
System requirements:
Windows 10, 8, 7, Vista, XP, 2000
Description:
AV Uninstall Tools Pack is a free package of utilities designed to completely remove more than 40 antivirus programs. They are necessary in those cases when the antivirus program can not be completely uninstalled in the standard way, or errors occur during the removal process. These utilities completely remove all files, drivers, services and registry entries left by antivirus programs. These utilities are useful for those who are often engaged in reinstalling and configuring the software. Also, the collection includes utilities for resetting passwords for antivirus programs.
Using:




For some utilities there are instructions for use in English and / or Russian. The instructions are in the "Readme" folder. If they are missing, then follow the general instructions:

Stop the work of the antivirus, disable its protection and close its windows.

Remove the anti-virus through the "Control Panel" -> "Uninstalling Programs".

Restart the computer.

Run the uninstall utility (in Windows Vista / 7, right-click and select "Run as Administrator")

When the utility finishes, restart the computer.
List of utilities:
AhnLab Password Reset Tool (COMSS.RU)

ArcaVir Removal Tools (ArcaBit)

ArcaVir Password Reset Tool (COMSS.RU)

Avast! Antivirus Removal Tools (AVAST Software as)

Avast! Password Reset Tool (COMSS.ru)

AVG Remover tools (AVG Technologies CZ, sro)

Avira Registry Cleaner (Avira GmbH.)

Avira Password Reset Tool (COMSS.ru)

AVS Uninstall Cleaner (Online Media Technologies Ltd.)

BigFix Removal Utility (BigFix)

BitDefender Uninstall Tools (BitDefender SRL)

BitDefender Password Reset Tool (BitDefender SRL)

BullGuard Uninstallers (BullGuard Ltd.)

CA 2007/2008 uninstall Utility (CA)

Cezurity Antivirus Remover (Cezurity)

Comodo Password Reset Tool (COMSS.RU)

Comodo Removal Tools (Comodo Forum, scripts by Jacob and Ragwing)

Dr.Web Remover tools (Doctor Web, Ltd.)

Emsisoft Clean (Emsi Software GmbH.)

eScan Password Reset Tool (MicroWorld Technologies Inc.)

eScan Removal Tool (MicroWorld Technologies Inc.)

ESET Password Reset Tool (COMSS.RU)

ESET Uninstaller (ESET)

ESET AV Remover (ESET)

F-PROT Password Reset Tool (COMSS.RU)

F-PROT Version Remover tools (FRISK Software International)

F-Secure Uninstallation Tool (F-Secure Corporation)

G Data AntiVirus Cleaner (G Data Software AG)

K7 Security Product Removal Tool (K7 Computing Pvt. Ltd.)

K7 Password Reset Tool (COMSS.RU)

Kaspersky Password Reset Tools (Kaspersky Lab ZAO)

Kaspersky Removal Tool (Kaspersky Lab ZAO)

Malwarebytes Cleanup Utility (Malwarebytes Corporation)

Max Secure Uninstaller (MaxSecure Software)

McAfee Software Removal tools (McAfee, Inc.)

Microsoft Security Essentials removal tools (Microsoft Corporation)

NANO Antivirus Uninstaller (NANO Security)

Norman Removal Tool (Norman ASA)

nProtect Security Platform 2007 Remover (INCAInternet Co., Ltd)

Outpost Clean v8.10.4303 (Agnitum Ltd.)

Outpost password reset instructions

Panda Uninstaller tools (Panda Security, SL)

PC Tools ThreatFire Removal (PC Tools)

Prevx Removal Tools (Prevx Ltd)

QuickHeal Removal Tools (Quick Heal Technologies (P) Ltd.)

Radialpoint Security Uninstall Utility (Radialpoint SafeCare Inc.)

Rising Password Reset Tool (COMSS.RU)

Roboscan Password Reset Tool (COMSS.RU)

Sophos Removal Tool (Library and Information Services)

SPAMfighter Remove (SPAMfighter ApS)

Sunbelt Cleaner tools (Sunbelt Software)

SUPERAntiSpyware Application UnInstaller (SUPERAntiSpyware.com)

Symantec Norton Removal Tools (Symantec Corporation)

Total Defense Internet Security Suite Removal Tool (Total Defense Inc.)

Trend Micro Uninstall Tools (Trend Micro Inc.)

TrustPort Removal Utility (TrustPort, as)

VirusBuster Clean (VirusBuster Ltd.)

Webroot Removal tools (Webroot Inc.)

Windows Live OneCare Cleanup Tool (Microsoft Corporation)

WinPatrol Removal (BillP Studios)

Zillya Uninstaller (COMSS.RU)

Zondex Guard removal tools (Australian Projects Pty Limited)

ZoneAlarm Password Reset Tool (COMSS.RU)

ZoneAlarm Removal Tool (Check Point Software Technologies LTD)
What's New:
Added F-PROT password reset utility

Updated Avira RegistryCleaner to version 2.0.2.4

Updated Bitdefender Removal Tools

Updated utility Cezurity Antivirus Remover to version 1.8.22194

Updated utility McAfee CleanUp Tool to version 10.2.142

Updated utility Malwarebytes Cleanup Utility to version 3.1.0.1023
Frequently asked Questions:




My antivirus finds the virus in files.




For such programs, this is quite normal, as they, for example, forcibly complete the processes of antivirus software, unload and remove their drivers, etc. We regularly send reports about false alarms to virus labs. Utilities are best stored in the archive and unpacked the archive if necessary to reduce the risk of false positives. Another advantage of the archive is that some utilities delete themselves after the startup or leave reports and temporary files.


There are no instructions to the utility. How do I use it?

If there are no instructions, then follow the general instructions:




Close the program, and disable its protection (if possible).

Delete the program through the "Control Panel" -> "Remove Programs" (if possible).

Restart your computer to Windows Safe Mode (press F8 at boot time).

Run the uninstall utility (in Windows Vista / 7/8, right-click and select "Run as Administrator").

When the utility finishes, restart the computer.



The utility does not start, does not remove the antivirus, broke Windows, etc.




All utilities are taken from official sites, added to the collection without modifications and are provided "As is". If there are any problems, please contact the manufacturer of the utility.

Download links


You must be registered for see links


or


You must be registered for see links


or


You must be registered for see links


or


You must be registered for see links


or


You must be registered for see links


or


You must be registered for see links


or


You must be registered for see links


or


You must be registered for see links


or


You must be registered for see links


or


You must be registered for see links
Created With:

uTorrent/2210

Comment:

No Comment For This Torrent

Peers:

0 Seeders + 0 Leechers = 0 Peers

Loading…