Downloaded

74.8 MB
Uploaded

5 GB
Ratio

68.45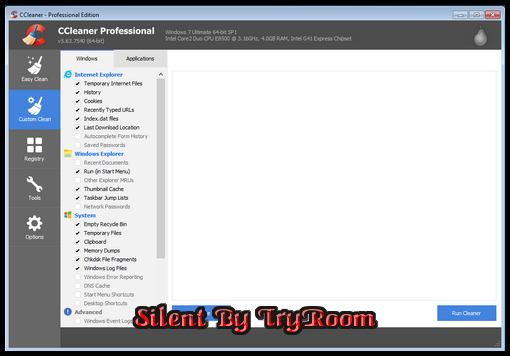 Requirements
:
Win 10 , Win 8 / 8.1 , Win 7
Overview
:
CCleaner
-
in the course of its work (Crap Cleaner) searches and deletes temporary and unused files. These include: cookies, browsing history in IE, temporary Internet files, search strings, Recycle Bin files, etc. Also supports the search for temporary files of third-party applications: Firefox, Opera, Media Player, eMule, Kazaa, Google Toolbar, Netscape, Office XP, Nero, Alcohol 120, Adobe Acrobat, WinRAR, WinAce, WinZip, GetRight, Morpheus, Download Accelerator Plus, VirtualDub , ZoneAlarm and many others. You can also clean up the Windows registry, saving it unnecessary extensions, old dll libraries and invalid paths that accumulate in a considerable amount, especially after installing and uninstalling various programs. Having done all these operations on your system, you will not only free up disk space, but also increase the performance of the system as a whole.
What's new
:
In this version of CCleaner we have focused on adding new cleaning improvements and improving our new Health Check feature so it's running smoothly for all of you.
Better Cleaning:
- Added new areas in Internet Explorer's LocalAppData
- Improved Internet Explorer cache cleaning
Smart Cleaning:
- Browser Smart Cleaning now supports Edge Chromium
Health Check:
- Health Check no longer shows a connection error incorrectly (thanks nukecad!)
- Improved wording around connection errors to avoid unnecessary confusion
- Fixed Health Check freezing in some cases when CCleaner is launched (thanks APMichael!)
Localization:
- CCleaner is now translated into Bengali and Urdu
- Made improvements to various translations
- Fixed a bug where the Estonian language option was showing Slovenian
Bug Fixes & Minor Changes:
- Fixed a bug where erroneous data was being added to the .ini file (thanks larryg1516!)
Install Notes:
1) Unzip The Archive.
2) Click CCleaner 5.65.7632.msi
3) Enjoy..
You must be registered for see links
Download Link
:
You must be registered for see links