Moderator
Uploader
Windows Modifier
Downloaded

49.6 GB
Uploaded

1 TB
Ratio

20.69
Review
Clean Space is a powerful professional utility for cleaning up user computer from electronic garbage and protecting its online privacy. Real virtual waste includes many more objects like cache of various programs and Windows OS, temporary internet files, logs, index.dat files, registry entries, and so on. No matter how seemingly unimportant, every single task user complete using PC leaves traces that may be more informative than the user would want them to be, especially when intrusive eyes are involved.
Those objects are scattered everywhere on a user computer, usually in hidden system folders, wasting gigabytes of disk space. Also, Clean Space will protect user online privacy by cleaning up areas related to internet browsing history, for example, internet cookies files and the like. Thus, nobody will be able to find out what the user did on the Web. Options are pretty simple, and no extraordinary efforts are needed to benefit from the application's abilities since there are three main buttons the user can access to customize the cleaning process.
Clicking on the "Details" button opens a new window allowing a user to analyze the content the utility spots as useless and doing nothing than overload user PC. There are several categories to inspect, containing temporary files or registry files documenting user navigation. To name a few, the user will see sections such as Windows 10, Windows 10 apps, Skype, Opera, Chrome, Internet Explorer, Microsoft Edge, iTunes, and others. Each of them is listed with their corresponding cache items, which user can delete individually in case user do not want to give up on the whole garbage at once.
Otherwise, hitting the "Delete" button in the main window should remove the junk in just a couple of minutes, with a summary being provided at the end of the task so that user know the result of the operation. User can, for instance, ask the program to show the quote of the day or statistics in the main window. Furthermore, the user has a say in the appearance of program icons listed by the program.
Clean Space is an easy-to-use piece of software, allowing a user to be in control of all the junk computer usually stores, such as registry entries, temporary files, logs, and whatnot. Since getting rid of this data protects not only user identity but also improves the performance of user PC.
Cleaning computer;
Improving computer performance;
Removes all hidden records on user PC;
Browse and cleanup;
Physical protection;
Recovery prevention;
Privacy protection;
Useful additional options;
Interface improvements;
Priority Support;
Security guarantee;
Unrecoverabe data;
Awards winning software;
What is new in version 7.36 (Released on June 24, 2019):
Expanded working area of the main screen;
Removed logo of the program from the main screen. We think there is no need to show it after the splash screen and we have decided to save valuable space;
Fixed bug that displayed the wrong color around quote of the day;
Improved translation of quotes to Spanish;
Also the program has been signed by new code signing certificate.
What is new in version 7.35 (Released on May 20, 2019):
With this update we have revised all programs that support by Clean_Space. These programs can be installed on the user computer and can collect some private information or generate electronic garbage. The application should always be up to date to be able to recognize them, detect newest versions of these programs, and delete all possible waste in them. There were some changes made in the list.
What is new in version 7.34 (Released on April 18, 2019):
This update includes several light corrections of the user interface. Some elements were moved a little for better visual appearance, modified length, improved style. The list of changes is not significant; thus, the user even can not notice a big difference.
System requirements:
OS: Microsoft Windows® 7, Windows® 8, Windows® 8.1, Windows® 10 (both 32 & 64-bit);
Microsoft .NET Framework 4.0 required.
Install notes:
1. Kindly read "Readme.txt" file given in download zip file;
2. Enjoy!
Screenshots: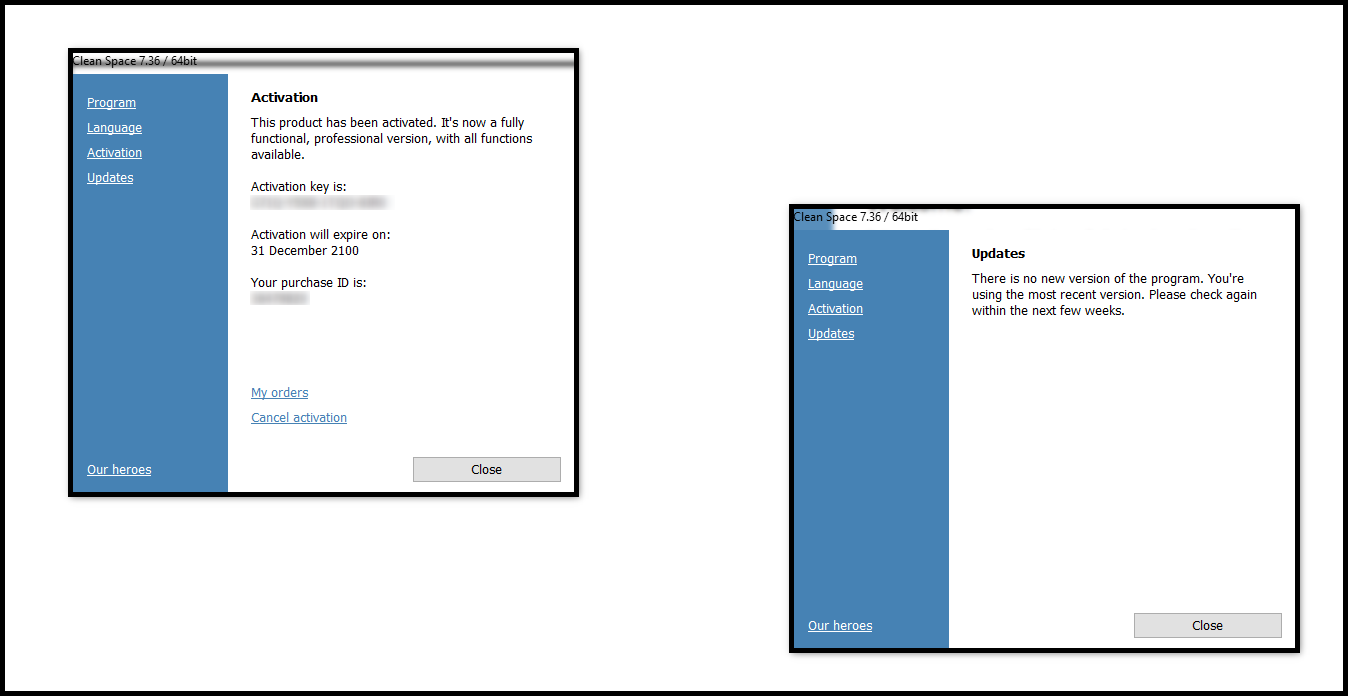 Virus free! 100% clean!
All credits go to RadiXX11 who made and shared the activator with us!​
File: Activator.exe
You must be registered for see links
35/70
MD5: A9C8DCDADFFF68BE588CB37F5B05AFA3
SHA1: D26B943C9F0C7D202B57E7A9CE5B8918E154224B
SHA256: 8BE712B447ECF17CCCFE38351FDEC29CB429C2C4C064CFDD52E92B740899FBD4
Kind regards,
@Mirkec
in collaboration with TeamOS
Download links - version 7.36 (Size: 14.03 MB):
You must be registered for see links
You must be registered for see links
You must be registered for see links
You must be registered for see links