Administrator
Windows Modifier
Downloaded

51.7 GB
Uploaded

13.1 TB
Ratio

258.74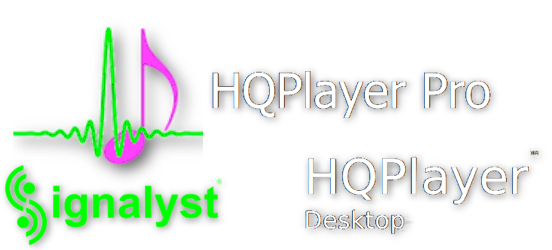 Review
HQPlayer Pro is a high-quality upsampling multichannel audio file converter, recorder, and player for Windows, macOS, and Linux. HQPlayer features several user-selectable high-quality
upsampling and downsampling algorithms as well as selectable dither, noise shaping, and modulator algorithms (delta-sigma modulators).
It is mainly intended as a mastering post-production tool for producing high-quality final distribution files in various formats. Any of the supported source formats can be converted to any of the supported destination formats. For example, DXD intermediate format can be converted to both PCM and DSD outputs. Recording and playback are also supported in both PCM and SDM (DSD) formats. Playback feature also allows monitoring of final output format during conversion and recording, monitoring can be enabled/disabled on the fly.
All modern DACs employ oversampling and delta-sigma modulation, however, the hardware implementations are more or less resource-constrained. Higher quality oversampling and delta-sigma modulation can be done by utilizing the vast amount of processing power available in modern PCs. Many AVRs also resample internally to 48, 96 or 192 kHz, with the HQPlayer, these can be fed at the native rate.
HQPlayer Pro also includes a pipeline matrix for performing channel routing, mixing and gain adjustments, including convolution engine for applying advanced equalization or other kinds of effects.
Supported source formats:
CDDA (Audio CD), FLAC, DSDIFF (DFF, non-compressed), DSF, RIFF (WAV, including DXD/RF64), AIFF, RAW streams, Realtime audio inputs.
Supported playlist formats:
M3U/M3U8, PLS.
Resampling filters:
13 linear phases, two intermediate phases, eight minimum phase, three impulses optimal, three closed forms.
Dithers and noise-shapers:
four dithers five noise shapers.
Delta-Sigma conversion:
11 modulators, 30 oversampling filters (64x - 2048x), Direct rate conversions (2 algorithms), Digital volume control, Convolution engine, routing and mixing.
External control applications:
HQPDcontrol, Roon, muso, Alchemy Desktop.
Software upsampling/downsampling with selectable algorithm up to 32-bit 1.536 MHz or down to 8-bit 32 kHz PCM (28 options, most "apodizing");
Delta-Sigma modulators for upsampling PCM/DSD content up to 98.304 MHz 1-bit SDM (11 modulators, 30 PCM oversampling options and 2 DSD rate converters);
Selectable dithering/noise shaping algorithm (9 options);
Selectable convolution algorithm (FIR) for equalization, such as digital room correction (2 options), for PCM/DSD content;
Optional high-frequency expansion for the convolution engine;
Software-based digital volume control for PCM and SDM (DSD);
Playback of DSF/DSDIFF files through any supported audio interface (PCM conversion and DSD rate conversion);
Selectable algorithm and noise filters for DSF/DSDIFF PCM playback (11/8 options);
Native/direct playback of DSF/DSDIFF files (ASIO DSD, DoP v1.1 with both 0x05/0xFA and 0x06/0xF9 markers);
Playback of stereo, 2.1, 3.0, quadrophonic, 3.1, 5.0, 5.1 and 7.1 channel material;
Speaker configuration for multichannel playback (delay and level) for PCM and SDM (DSD);
Matrix processing for routing, filtering and mixing channels with gain, for PCM/DSD content;
Bypasses operating system software mixer and sample rate conversion;
Support for professional ASIO drivers;
Network endpoint support with Signalyst Asynchronous Network Audio Adapters;
Support for ID3v2 tags on AIFF, DSF and WAV files (versions 2.2, 2.3 and 2.4);
Smooth level limiter for clipped material;
"Dual wire" channel bonding support to reach 2x rates, PCM and DoP (DSD);
64/80-bit floating point processing;
Full support for multi-core processors;
Light weight desktop-GUI to lower graphics noise;
Touch-aware remote control client;
DSP offloads to GPU using NVIDIA CUDA.
What is new in HQPlayer 4 Embedded version 4.14.0 (Released on January 30, 2020):
Support for NAA protocol version 4, including inputs;
Support for a composer as a separate tag and rework ID3v2 mappings;
New LNS15 noise shaper designed specifically for 16x output rates;
Support relative paths in playlist files and improve library web views;
Number of smaller improvements and fixes.
What is new in HQPlayer 4 Desktop version 4.3.1 (Released on January 27, 2020):
Improve Direct SDM indication towards clients;
Support relative paths in playlist files, add invert, random and repeat functions to the Client;
Number of small improvements and fixes.
System requirements:
OS: Microsoft Windows® 10 (64-bit only).
Audio interface with support for WASAPI Exclusive or ASIO;
CPU support for SSE4.2 instruction set;
Display adapter with OpenGL support;
PDF reader software (such as Adobe Reader or Foxit Reader).
Install notes:
1. Kindly read "Readme.txt" file given in download zip file;
2. Enjoy!
Screenshots:
Virus free! No virus signature! 100% clean!
All credits go to soda120, who made and shared the patch with us!
​
File: HQPlayer4Desktop.exe
You must be registered for see links
01/72
MD5: DC456BAB6D827CA7D7B88AEA9463FA13
SHA1: 704BBFC2A0DA56366A494A1AB31CBF9DD9D1983D
SHA256: A8A303A26159767EE568108FB9C93888668402FD95BDBCBEDA237BB7A2DF4714
File: HQPlayer4Pro.exe
You must be registered for see links
01/70
MD5: CFC025B7DBD8B697306B2E6463FE455E
SHA1: 05639B5FEA5BC1DEEAB01CFC59184D26331CC00E
SHA256: F92F7E9E0EB399B506401AF2D5F1ABDB4B5302585F54F48F2944428FF8C028AD
Kind regards,
@Mirkec
in collaboration with TeamOS
Download links - version 4.4.1/4.3.1 (Size: 219.81 MB):
You must be registered for see links
You must be registered for see links
You must be registered for see links
You must be registered for see links