Keep Downloading, Enjoy You'r Stay at TEAM OS
VIP
Downloaded

11.2 GB
Uploaded

7.1 GB
Ratio

0.64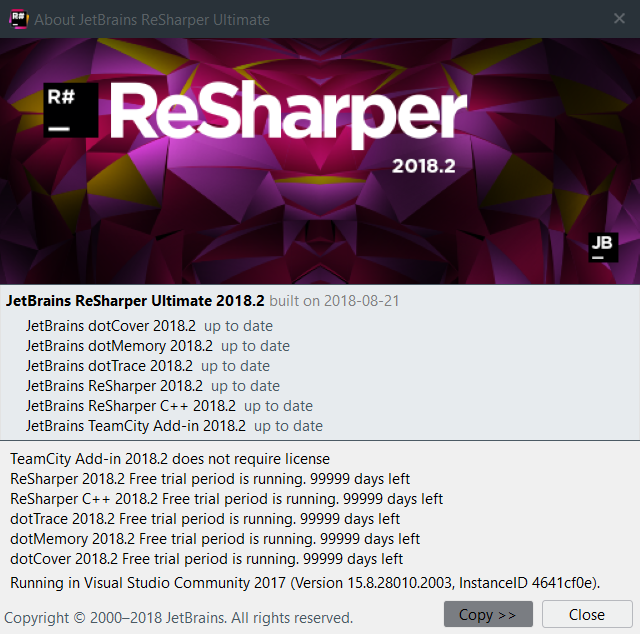 Code:
Description:
JetBrains Resharper an extension tool for optimizing and providing the environment is faster to code in Visual Studio. IntelliSense technology called Khvdtkmyly or
autocomplete (AutoCompletion)
IDE Microsoft for use in documentation and disambiguation names of variables,
functions, etc.,
as well as access to the site can also help functions. With this extension, more efficient programmer IntelliSense in Visual Studio will control the speed and accuracy
will increase noticeably in the form of programming.

 JetBrains company other than the Resharper plugin and ++ ReSharper C, four extension dotTrace, dotMemory, dotCover and dotPeek also provides for Visual Studio which facilitates software to
Optimize and increase the speed and efficiency of the .NET programming put .

Of Version 9, the company JetBrains .NET tools in one package and are integrated
with each other
and with  ReSharper Ultimate is provided.
Code:
Facilities and features tools  JetBrains Resharper :
- Develop and Optimize AutoFill feature in Visual Studio

- Analysis of the quality codes and Sort, clean and they Bhynhnmvdn

- setting up and testing the code and debugging, and troubleshooting of automated and advanced

- Reference optimization and remove additional items they

- Advanced Routing and accurate

- Full compliance with programming standards

- There are a variety of templates and allows customization, configuration and sharing them

- has XAML editing tools

And many more...
Code:
Application extensions Dottrace , Dotmemory , Dotcover and dotPeek in Visual Studio :
- Plug dotTrace; Profiler to assess and manage powerful performance of the application and usage of various components of the processor View full report

- Plug dotMemory; to check and control the use memory to Optimize and speed,
along with graphical reporting

- Plug dotCover; means for Code Coverage and testing process units (Unit Test) on the code to ensure their flawless performance

- Free plugin dotPeek; Decompiler strong Svrskdhay to view apps

Conducted a series of changes and new features in JetBrains ReSharper from here ,
dotTrace plugin  here , dotCover plugin  here and extensions dotPeek from here is visible
Code:
ReSharper Ultimate 2018.2 System Requirements:
General requirements:

-Processor: min. Intel Core 2 Duo 2GHz[/SIZE]

-Memory:
-For Visual Studio integration: min. 4 GB, recommended 6 GB or higher
-For standalone dotTrace, dotMemory, dotPeek: min. 512 MB, recommended 2 GB or higher

Disk:
-Minimum space: 400 Mb
-Using SSD instead of HDD is recommended for optimal performance

Operating system (a 64-bit OS is highly recommended for optimal performance):
-Microsoft Windows 10
-Microsoft Windows Server 2012 R2
-Microsoft Windows 8.1
-Microsoft Windows Server 2012
-Microsoft Windows 8
-Microsoft Windows Server 2008 R2
-Microsoft Windows 7
-NET Framework 4.6.1 or higher.
[/SIZE]
Visual Studio integration:
ReSharper Ultimate products integrate into the following Visual Studio releases (Community,
Professional and higher editions; Express editions are not supported):

-Microsoft Visual Studio 2017
-Microsoft Visual Studio 2015 Updates 1, 2 or 3
-Microsoft Visual Studio 2013 Update 5
-Microsoft Visual Studio 2012 Update 3
-Microsoft Visual Studio 2010 SP1

Profiling tools:
dotMemory, dotCover, dotTrace and their respective remote profiling agents require .NET Framework
4.6.1 or higher to be installed.

dotMemory and dotTrace allow profiling any .NET application that targets the following frameworks:

-NET Framework 2.0, 3.0, 3.5, 4.0, 4.5, 4.6 or 4.7
-Silverlight 3.0, 3.1, 4.0, 4.1, 5.0 or 5.1
-.NET Core 1.0, 1.1, 2.0 or 2.1
Code:
Note: ReSharper does Visual Studio Express editions but does not work with Microsoft Visual Studio Professional and higher editions work with. ReSharper 9 works with Visual Studio 2013 Community Edition
Code:
Whats New:https://www.jetbrains.com/resharper/whatsnew/
Code:
How To:
-Download
-Install
-Run The Script from Crack Folder With Adminstrator Rights
-Enjoy!
JetBrains ReSharper Ultimate 2018.2 links:
===========================================
Douploads:
Uptobox:
Userdrive:

Created With:

uTorrent/2210

Comment:

No Comment For This Torrent

Peers:

7 Seeders + 0 Leechers = 7 Peers

Loading…