Downloaded

16.1 GB
Uploaded

18.8 GB
Ratio

1.16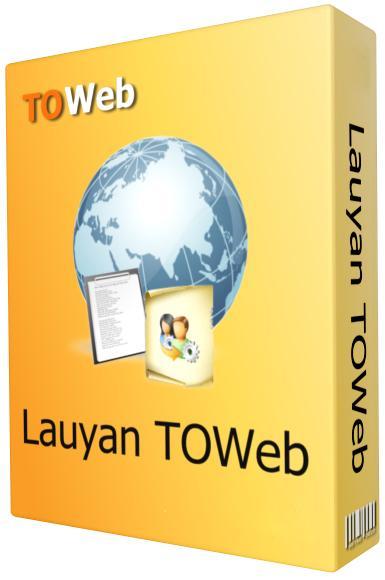 TOWeb
- a program for creating a
responsive
website. It combines the latest technologies HTML5, CSS3 and javascript with responsive web design to create a modern website that looks great on any device: on smartphones, tablets, laptops, computers, TVs ...!
Professional templates
Do not start from scratch! Create a website by selecting one of dozens of great themes and edit it to your taste with a real-time preview.
Simple and intuitive editing of real-time content (Wysiwyg)
TOWeb allows you to conveniently view and edit your site in a real-time preview, add and edit content right on the page, and offers you everything your site needs, including images, forms, photos galleries, Google Maps, YouTube and HTML5 videos, polls and more - even the built-in model for creating an online store.
CSS3-based modern detailed "Template Editor"
Modify the graphic theme of your website with the built-in theme editor. Support for all CSS3 styles: drop shadows (add shadow), rounded edges (round edges) ... every element of a web page can be modified, just click on it, change its style and view the result in real time.
Create your own - Online store
TOWeb includes a complete solution for creating an online store for free and without a subscription. With a few mouse clicks, you can add to your website a shopping basket, payment options for selling your product online. Manage your orders, payment methods (PayPal, WorldPay, Ogone, Moneybookers, check, bank transfer ...), shipping, duties, countries to trade, and much more.
Search engine optimization
A high-ranking search engine website can increase traffic and bring you more visitors who are looking for what you offer. TOWeb generates high quality HTML5 files compatible with W3C, which guarantees the deserved attention of search engines for your site.
• Names of files with a large number of keywords (automatic or customizable)
• Sitemap with priority setting and update frequency
• Meta description at the page level name
• Easy integration of Google Anaylitcs and Google Site Verification
Create an international website using different languages
There are many reasons why you might want to create a website in several languages: Canadian website in English and French, Public website in Spanish and English, or a multilingual website for your company. With TOWeb it is much easier to create a multilingual website. TOWeb supports right-to-left languages, like Arabic or Hebrew. Simply select the languages to support and edit your website equally for each language. There even is an automatic translation module, Microsoft Bing Translator.
Publish to any web hosting
By choosing a website creation program like TOWeb, you are not dependent on the webhost and its online editing tools, which are often more limited and slower / less powerful than the native application. You can publish your site anywhere using the included FTP module for publications, and change the hosting for the site at any time without losing your site or having to learn a new publishing system. TOWeb also allows you to export your website locally, for example to create a demo CD, or to publish the site yourself using an FTP client, such as FileZilla.
And further...
• Interactive features allow site visitors to leave feedback and comments about your pages or products, subscribe to your newsletter or respond to polls (this requires PHP hosting).
• Access to hundreds of Google Web Fonts
• Built-in Search Line and Search Engine for your pages and products
• Security of your content: passwords to protect any pages and check "captcha" to protect your forms
• Sliders for images, albums, as well as image editor for setting images directly to TOWeb
• The ability to import and export products from the catalog
• Easy creation of links and themes
• And much more ...
OS:
Windows XP / Vista / 7/8/10.
Download Lauyan TOWeb 7.1.9.773 Studio Edition (44.2 MB):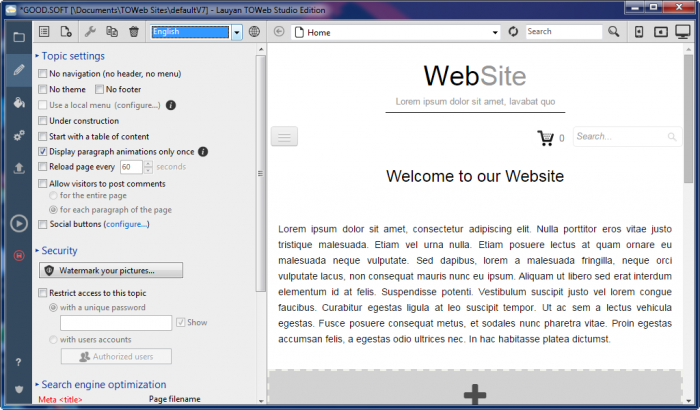 You must be registered for see links
You must be registered for see links
ViruScan
You must be registered for see links