Moderator
Uploader
Windows Modifier
Downloaded

49.6 GB
Uploaded

995.4 GB
Ratio

20.07
Review
Movavi Video Suite is comprehensive video making software that bundles multiple intuitive tools to helps a user create professional-looking movies, audios, graphics editing, viewing, converting and sharing, as well as slideshows on the home computer – even if a user has no experience. Movavi Video Suite is an application suite that comes packed with plenty of tools for processing clips, such as trimming and merging. It is oriented toward first-time and advanced users alike.
It is possible to convert videos to other file types (e.g., AVI, WMV), prepare them for different devices (e.g., iPad, iPod), as well as extract the audio stream and save it to the MP3 extension. A user can preview clips in a built-in media player, take snapshots, crop and rotate the image, make video adjustments, add watermarks and 3D effects, as well as set the volume level. Advanced users are free to tinker with the audio and video properties when it comes to the codec, size, resize method and quality, frame rate, sample rate, and channel mode.
Furthermore, user can split and edit videos (e.g., add noise, auto filter, color correction, diffuse, picture in picture), incorporate music, create text captions, apply visual effects and transitions, capture clips from other devices, create DVDs, AVCDHD DVDs and Blu-ray discs, as well as convert 2D to 3D mode. Additional features of Movavi Video Suite let user capture, convert and play audio files, create audio or MP3 CD, start a disc burning session, build and share image slideshows, to name a few.
Movavi Video Suite runs on a moderate quantity of CPU and system memory, has a good response time and works smoothly, without making the operating system hang, crash or pop up error dialogues. In addition to the video making app, Movavi Video Suite contains some useful apps to help every video maker: powerful video converter that supports 180+ media formats, the handy utility for burning DVDs, a unique tool for digitising analogue video, and more.
Make a movie from video or audio clips already stored on the computer, mobile device, or camera;
Capture video from a screen and make a video tutorial;
Create a slideshow from photos or pictures;
Record yourself on a webcam to create a unique entry for your blog;
Improve Video Quality - stabilise shaky video, tweak colour settings, sharpen blurry video;
Cut and Join - cut out unnecessary fragments or join individual clips to make one longer movie;
Let Your Story Flow Smoothly - link the different segments of video with stylish transitions;
60 different visual effects;
Add background music and sound effects in almost any format;
Choose from the ready-made audio tracks included with the program;
Record your voice-over using a microphone;
Vary audio volume and playback speed;
Choose from over 100 fonts;
Add excitement with animated text;
Create colourful text backgrounds;
Upload your movie to YouTube or Facebook directly from the program;
Save it in any popular video or audio format and watch it on a computer;
Use our handy mobile presets to watch your movie on your smartphone, tablet, or other mobile devices;
Record video on CD, DVD, or Blu-ray;
Supports more than 180 video, audio, and image formats, changes the file format as quickly as copying it from one folder to another;
Convenient app for screen capturing;
Records all your screen activity at the best quality possible: your use of applications, streaming video and audio;
Video digitiser will accurately digitise VHS collection or video stream from TV tuner, as well as transfer AVCHD-camera recordings to a computer.
What is new in version 18.4.0 (Released on March 28, 2019):
The official webpage does not provide any information about this release at the moment.
What is new in version 18.3.0 (Released on March 28, 2019):
Video Editing
Improved colour correction: apply colour correction to several clips at once, save your colour correction patterns, adjust the white balance using an eyedropper;
Drag and drop: now you can apply filters to several selected clips at once;
Animation: switching between automatic and manual mode on the Animation tab has become more convenient.
Other
Minor bug fixes and improvements.
What is new in version 18.2.0 (Released on February 21, 2019):
Screen Recording:
Share on Vimeo right from the program;
Improvements in working with projects: open your projects with the help of Add Media Files button, unite your projects via Append Project menu.
Video Conversion:

Improved recording bar: new design and the ability to turn on/off the microphone or system sound recording during the recording process.
Other:

Minor bug fixes and improvements.
What is new in version 18.1.0 (Released on December 12, 2018):
Minor bug fixes and improvements
What is new in version 18.0.0 (Released on October 10, 2018):
New Multi-Track Timeline
Add as many tracks as you want and re-order them any way you like; enjoy the new compact design.
HD Clips Acceleration
Edit Full HD and 4K videos with no freezing or lagging.
Updated Montage Wizard
Create videos with any of the five themes, using specific music, titles, and transitions.
Intros and Outros
Add ready-made animated intros and outros to your videos, create own custom templates.
Handy guides
Titles, Stickers, Crop, Pan & Zoom, and other tools are now easier to work with, thanks to guides in the preview screen.
Portable projects
Save your video project on a flash memory card so you can continue working with it on another PC.
Improved scheduled recording
Now you can create multiple tasks for a scheduled recording. The program will be reminding the user before it starts capturing.
New formats and codecs supported
Convert video from cameras in the TTS format, as well as files encoded with the UT Video Codec.
Apply Effects before conversion
You can choose from a built-in library of creative filters and apply them to the video you want to convert.
Trim and rotate without conversion
New features that let you do trimming and rotating without converting your file.
Apply to all features
Now you can apply the desired subtitles, audio track, or bitrate to all videos user is converting in just one click.
AMD Hardware Acceleration
Users of AMD Radeon video cards will be able to convert 2K and 4K files up to 2 times faster.
System requirements:
OS: Microsoft Windows XP, Vista, 7, 8 & 10 (32 & 64-bit).
CPU: Intel, AMD or compatible processor, 1.5 GHz;
RAM: 512 MB for Windows XP and Windows Vista, 1 GB for Windows 7, Windows 8, and Windows 10;
HDD: 850 MB available hard disk space for installation, 2 GB for ongoing operations;
NVIDIA GeForce series 6 or higher, AMD Radeon R600 or more top graphics card with up-to-date drivers;
1024x768 screen resolution, 32-bit colour;
Administrator permissions are required for installation.
Install notes:
1. Kindly read "Readme.txt" file given in download zip file;
2. Enjoy!
Screenshots: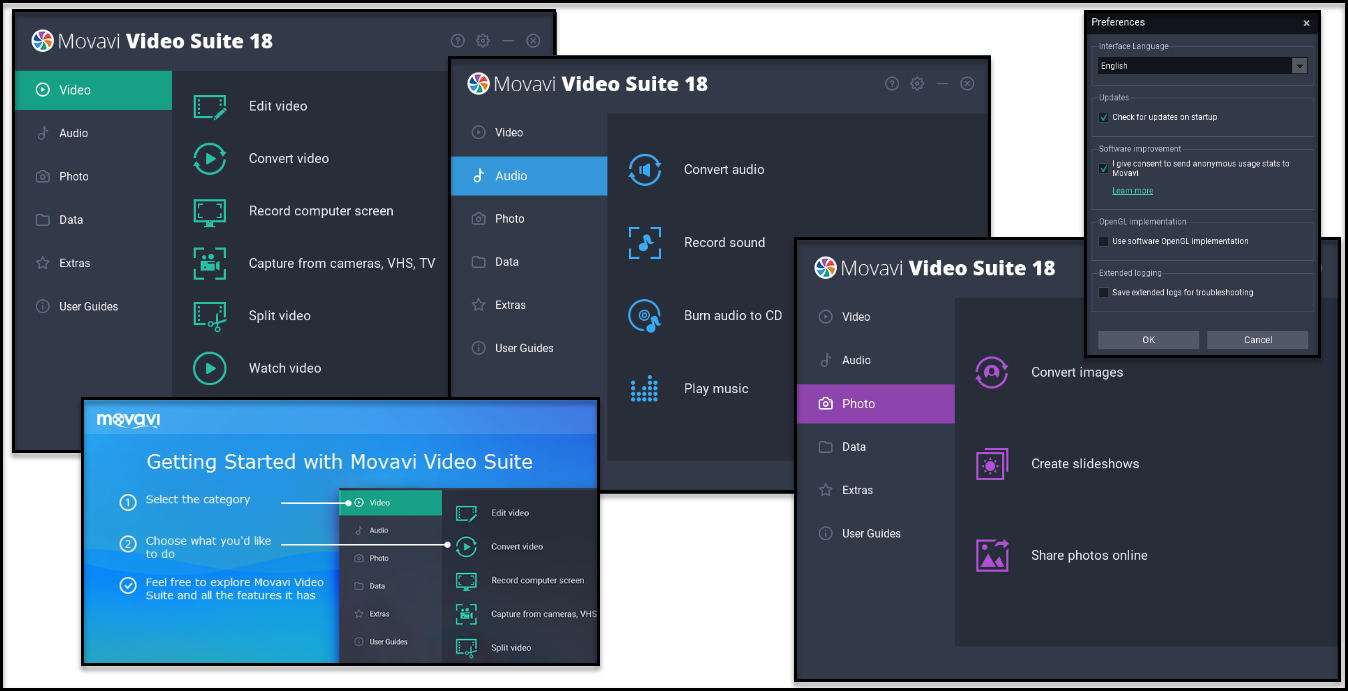 Virus free! 100% clean!
All credits go to the Astron who share the patch with us!
​
File: Patch-Movavi.Video.Suite.18.x-x86-x64-Astron.exe
You must be registered for see links
48/72
MD5: C462ADFFA3156578368CC6692A0F102D
SHA1: 4801392AF890D3C46469AD2309F7FD44606FF386
SHA256: 738828C02FFA8C01897C2D44E075711ADA853781CE9C2B4E14BED30FCF51AF04
Kind regards,
@Mirkec
in collaboration with TeamOS
Download links - version 18.4.0 (Size: 133.46 MB):
You must be registered for see links
You must be registered for see links
You must be registered for see links
You must be registered for see links