Moderator
Uploader
Windows Modifier
Downloaded

49.6 GB
Uploaded

1.4 TB
Ratio

28.17

Review
MP3 Toolkit is a powerful Windows application which includes an MP3 converter, CD ripper, tag editor, MP3 cutter, MP3 merger and MP3 recorder for users who want to handle MP3 files easier. The first tool allows converting a wide range of audio formats into MP3 files. Besides standard MP3 format, MP3 Toolkit supports most of popular audio & video formats like WMA, WMV, MP4, WAV, OGG, FLV, MOV, M4P, M4A and more, also supports high-quality audio like FLAC and APE.
The program allows adding more audio files at the same time into the interface and even complete music folders.
With MP3 Toolkit, a user can convert, cut, merge, rip an audio CD into MP3 songs and record MP3. With the MP3 Toolkit, a user can turn audio for mobile devices, make ringtones, fix tag information, rip Audio CD, record sound or merge audio pieces to a complete MP3 file.
However, the functionality of MP3 Toolkit does not stop here, as it also includes features for splitting and joining MP3 files. It is useful for dividing audiobooks into chapters or merging them, for making it easier to share. MP3 Toolkit also has a recording facility, which can record the sound generated by almost any application, for example, a live radio stream being played.
Converter MP3 and 20+ Formats:
A user can convert audio file formats between standard MP3 audio and WMA, WAV, OGG, AAC and more. It can also extract the audio stream from popular video formats like MP4, FLV, AVI, etc.
Rip MP3 from Audio CD:
The audio CD contains audio tracks (.cda) files which cannot be copied to use directly. CD to MP3 Ripper will help a user to rip the audio from CD to MP3, WMA, APE or WAV for everyday players.
Batch MP3 Tag Editor:
With this program, a user will be able to edit MP3 tag information in batch mode. It supports all ID3v1 and ID3v2 versions. Also, the editor will allow the user to edit album photos and lyrics.
MP3 Merger:
MP3 Merger can merge and combine user several FLAC, MP3, OGG and WAV audio files to a complete single audio file.
MP3 Cutter:
Using MP3 Cutter to make ringtones is a good choice. It can cut a specific time audio piece from a song. It also can cut a part of music from a video file or a movie.
MP3 Recorder:
It allows a user to record any sound from a microphone directly to standard MP3 format, and no length limitation. If the sound card supports analog, a user can record the streaming audio also.
Popular formats are supported:
MP3 Toolkit Input Audio/Video Formats: AAC, AC3, AMR, ASF, APE, AVI, FLAC, FLV, MP4, M4V, M4P, MOV, M4A, MP3, MPG, MTV, OGG, RM, WAV, SWF, WMV, WMA.
MP3 Toolkit Output Audio Formats: MP3, AC3, AAC (Apple Audio), OGG, AMR, WMA, FLAC, APE, WAV, MPG (Audio).
System requirements:
OS: Microsoft Windows® Win XP/2000/2003/Vista/7/8/10 (32 & 64-bit) or later.
Install notes:
1. Kindly read "Readme.txt" file given in download zip file;
2. Enjoy!
Screenshots: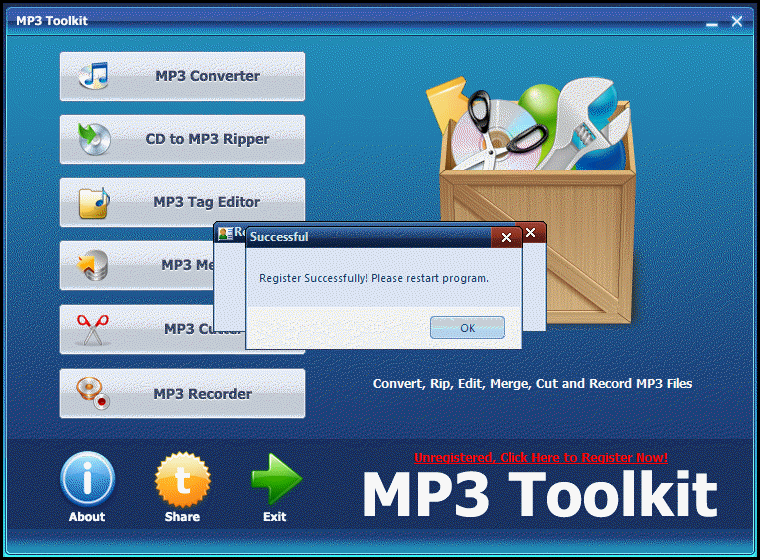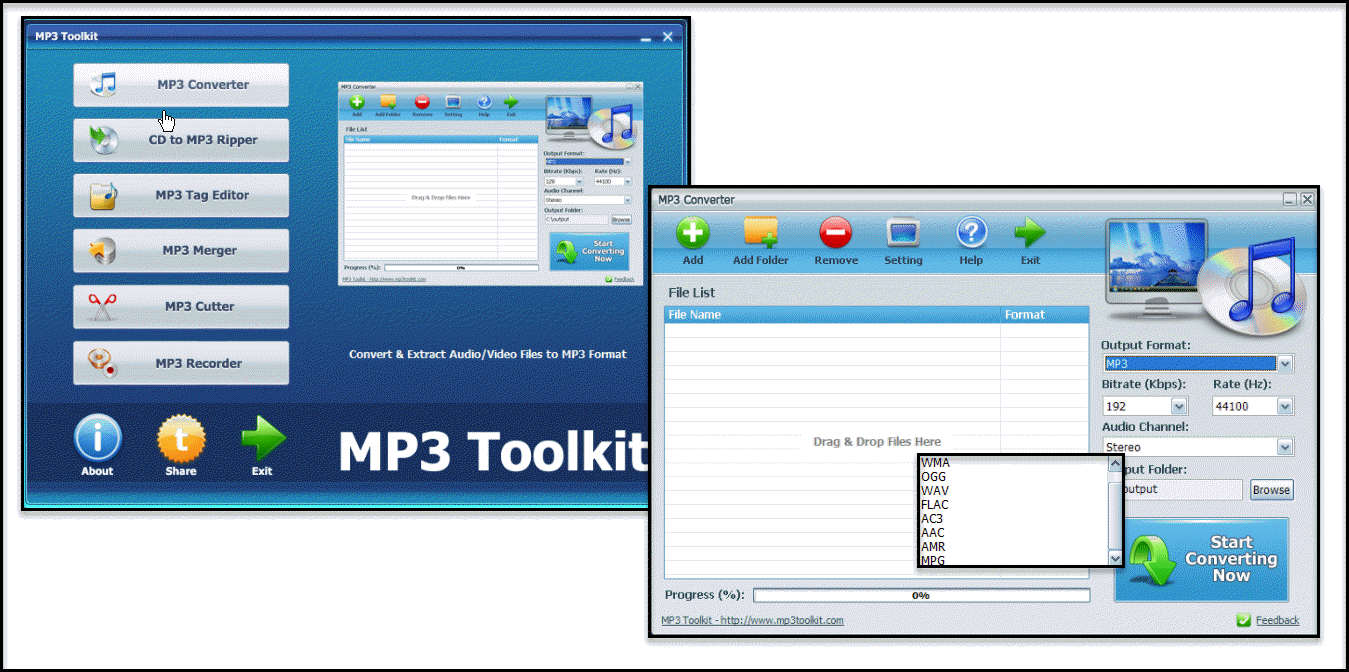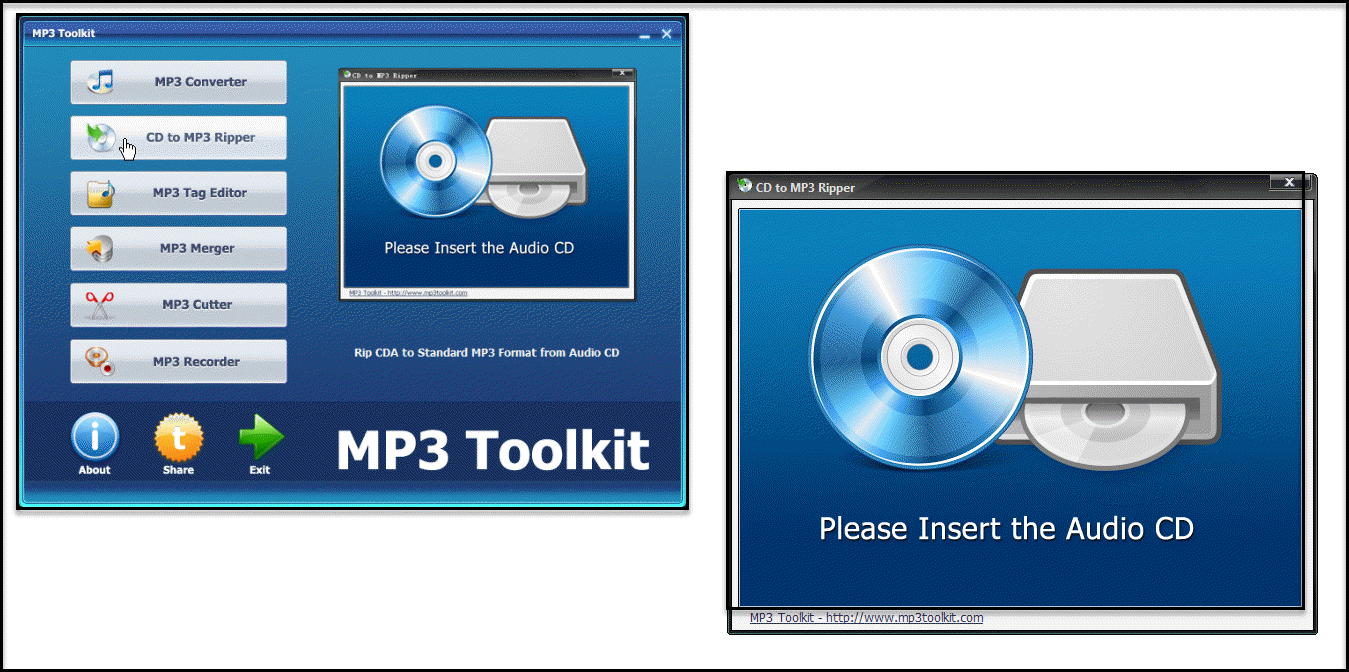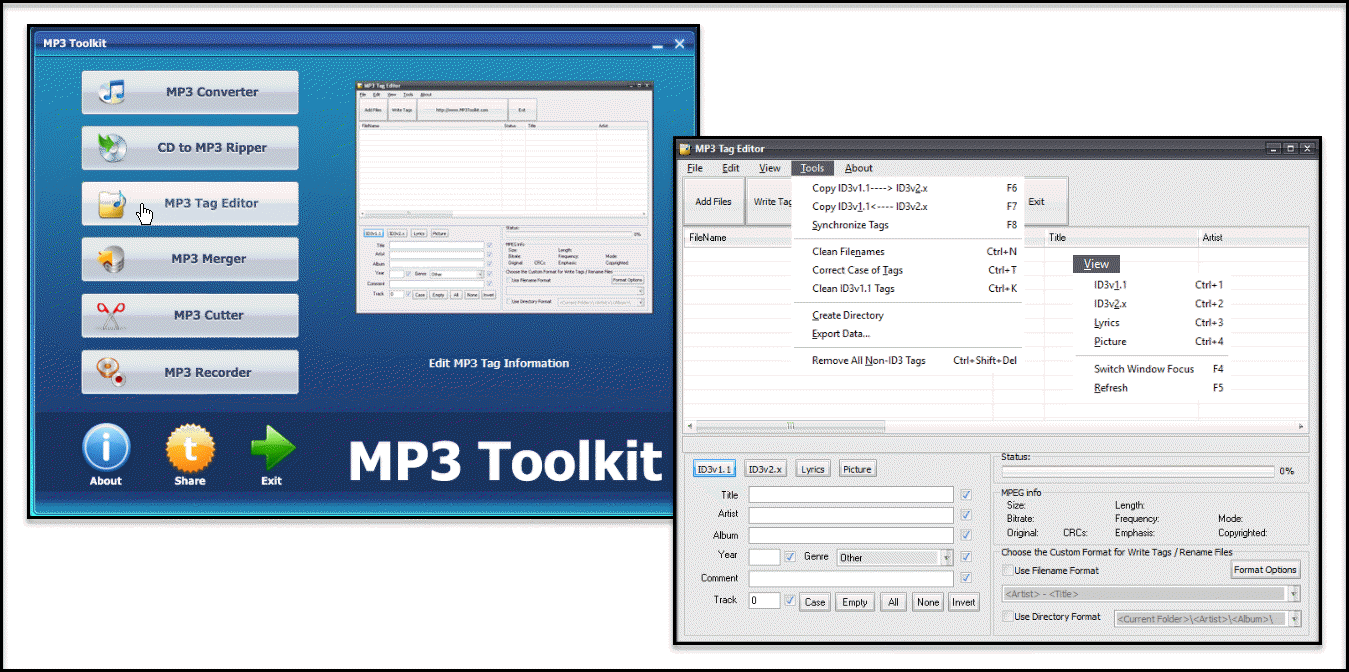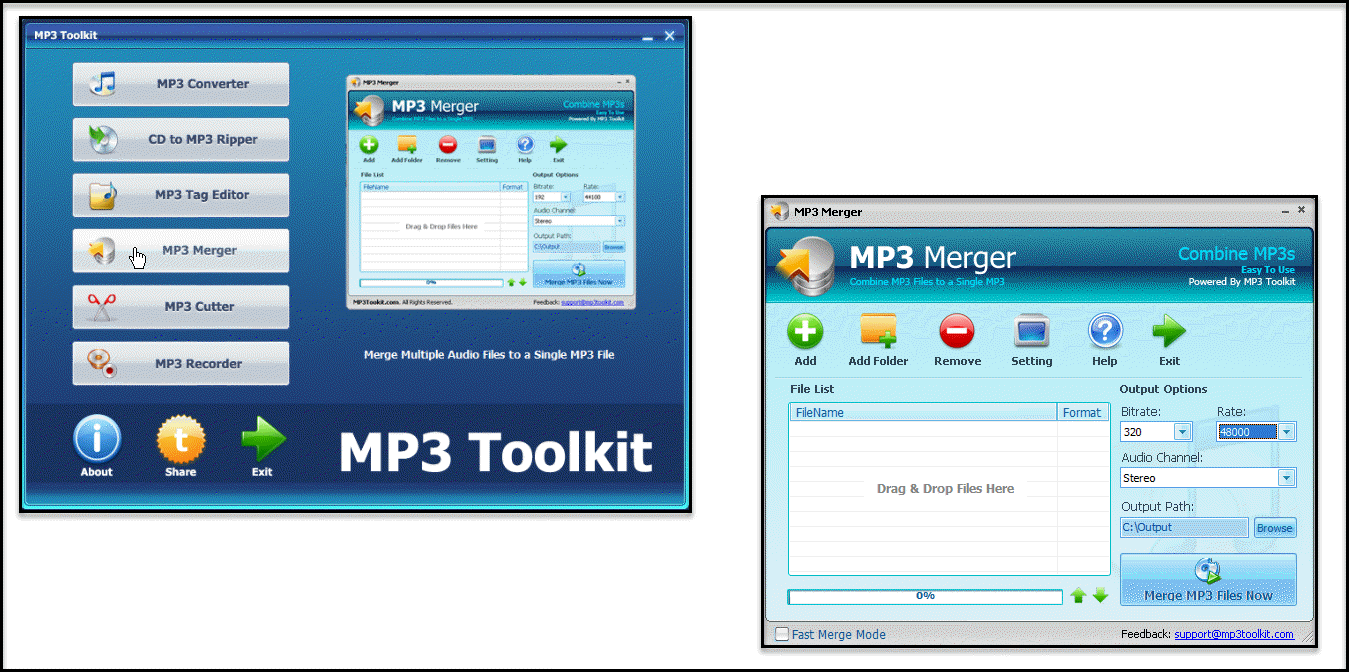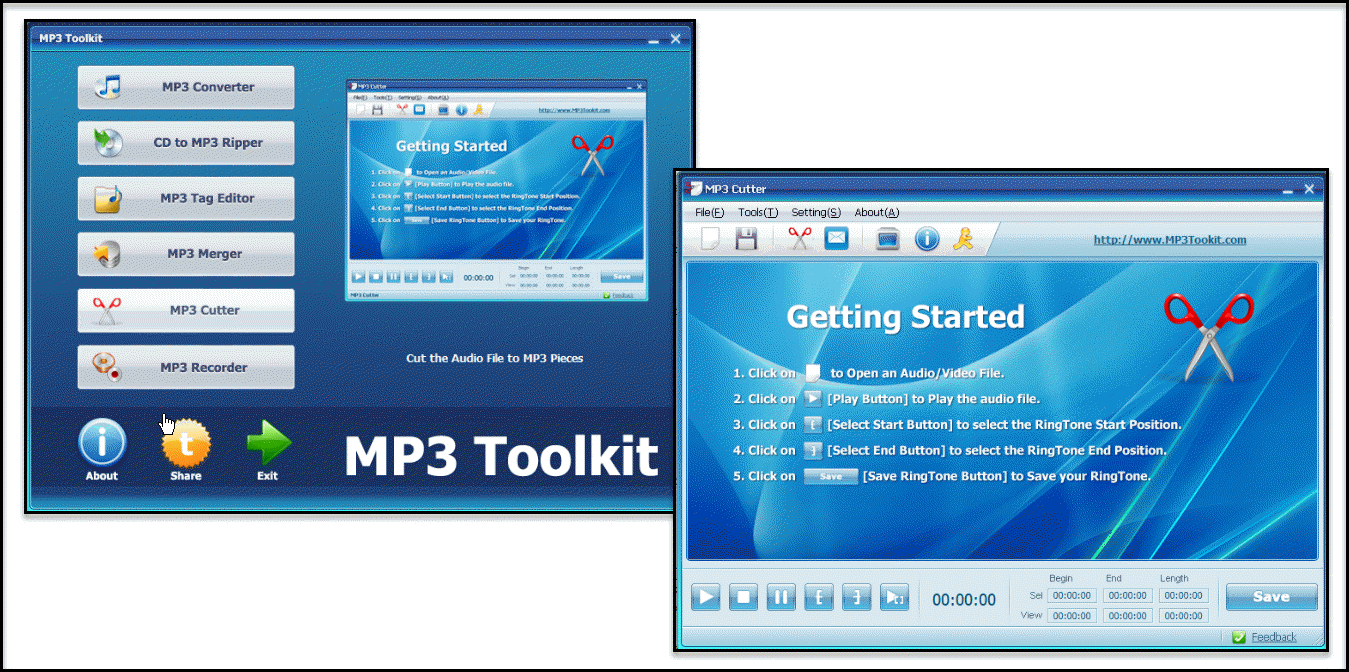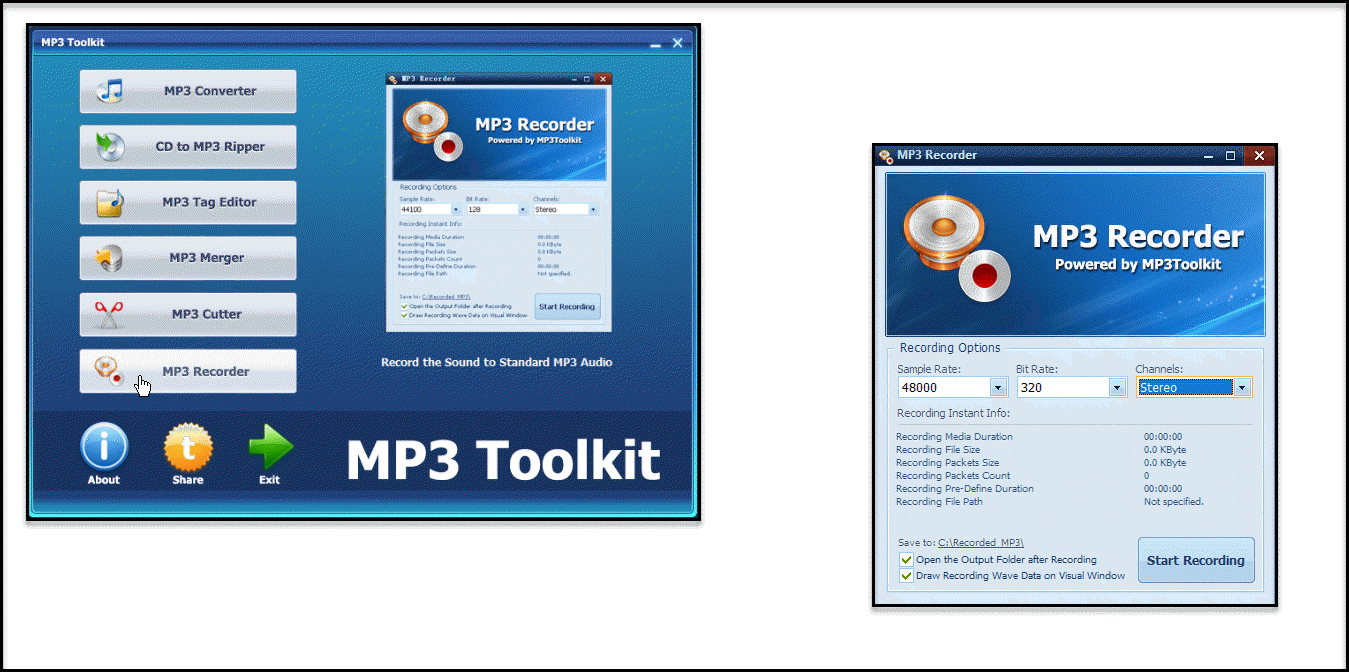 Virus free! No virus signature! 100% clean!
All credits go to the Astron who shared the key number with us!​
Kind regards,
@Mirkec
in collaboration with TeamOS
File: mp3toolkit.exe
You must be registered for see links
0/69
MD5: 5C817068728E52AE594371882A4FB162
SHA1: CE70522743E8E8522EA8B9DAB62D91F68FAB7C94
SHA256: EBA602B1CB3456E608B13EE49E504D8C289912FA30F3C5FADF536E7F29FBDAEF
Portable version: MP3Toolkit.exe
You must be registered for see links
6/69
MD5: 31A652AAE76CBB08E89FC3DDB9402547
SHA1: 0F4EFFD9595BBB99636EAC76ECB8C647857B4FDB
SHA256: 8573647B5D4576571D34300FB135F2A6D1240B437192D27379E8F139493CC0C5
Download links - version 1.6.0.0 (Size: 44.26 MB):
You must be registered for see links
You must be registered for see links
You must be registered for see links
You must be registered for see links
Last edited: