Keep Downloading & Enjoy Your Stay at TEAM OS!!
VIP
Downloaded

14.8 GB
Uploaded

19.4 GB
Ratio

1.31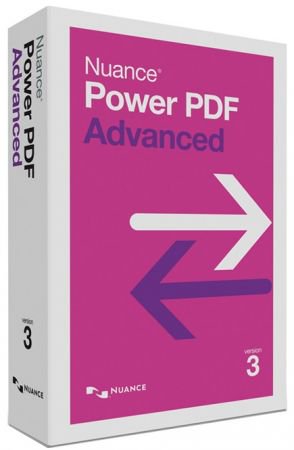 Code:
Description:
Stop wishing for advanced features that are also easy to use. From the leader in secure document
workflows, Nuance® Power PDF Advanced delivers best-in-class features with electronic signatures
using DocuSign®, document conversion accuracy and word-processor like editing, and powerful
security options including redaction. Discover why the experts all agree: Power PDF is built for business.

Savings, security and ease of use:
In today's market, PDF software should be more than just a utility tool for workforces.
Power PDF Advanced can provide tangible business savings with real return on document
productivity, security and collaboration.

Improve efficiency
The Microsoft Office style ribbon with clear and accessible tools in Power PDF Advanced
delivers an intuitive experience so everyone can work more productively with PDF documents.
You'll build, edit and share documents faster than ever before.

Electronic signatures:
Sign and send documents for signature using DocuSign® the leading eSignature service or
use your own handwritten signatures, and certify document ownership for contracts, forms or
any other documents used to conduct business.

Easy text editing:
Power PDF Advanced features a unique word-processor like tool set so you can easily
change text in PDF files. You can also convert documents using the industry's best document
conversion technology to faithfully reproduce complex layouts in Microsoft Word or Excel.

Productive collaboration:
Comment on PDFs by speaking your thoughts using speech enabled Dragon® Notes,
quickly build multiple page documents, create forms to gather information, or even work
on the same document in real-time with multiple people on the same network.

Leading the way in PDF productivity:
Only Power PDF Advanced allows you to automate repetitive tasks to create documents
that meet the new PDF 2.0 document format, turn paper into fully searchable PDF files,
convert files into editable formats, connect and route document to business systems using
Nuance AutoStore and so much more.

Address business security needs:
Information management is critical to business success and reputation. Power PDF Advanced
helps address security needs with features to remove, hide and protect confidential information.
Security capabilities include redaction, certificate-based signatures, password-based editing controls
with encryption and integrated Microsoft digital rights management with document management
systems for seamless security flow.

Desktop or mobile, support across devices
Power PDF Advanced gives you the power to be productive on the devices you work from most.
With touch-enabled device support, users have the convenience to navigate, draw, sign, annotate
and type using a tablet and pen, when you use your 2-in-1 laptop as a tablet.
Code:
New in PowerPDF Advanced 3:

• Increased conversion accuracy:
Leveraging the latest advancements in Nuance's document conversion technology, workers
immediately benefit from incredibly accurate and searchable PDFs and Microsoft Office
documents with layouts stringently maintained. This enables PDF power-users to spend
more time doing their jobs by avoiding rework fixing misidentified words or page formatting.

• Document compatibility:
Power PDF 3 now supports the ISO PDF 2.0 standard, ensuring Power PDF documents are
compatible with the widest range of existing PDF readers and processors which is critical
for driving better business practices.

• Enhanced productivity:
Power PDF 3 features real-time document collaboration, allowing multiple parties
on the same network to edit PDF documents without inefficient back-and-forth processes
such as email, while also eliminating document merge conflicts. These new features help
workers work not only faster, but smarter while collaborating with one another.

• DocuSign® secure document workflow integration:
Today's workers demand secure, convenient workflows offering the ability to easily
sign and certify PDFs. Power PDF 3 features eSignature support from DocuSign®,
allowing workers to quickly and conveniently sign and send documents as part of a
secure workflow that can be completed directly from the PDF interface.

• Enhanced user experience:
Power PDF 3 improves ease of use with new tabbed document viewing allowing workers
to open multiple documents within a single window and display them as tabs; new ribbons
that put advanced feature sets front and center when appropriate; as well as new color skins,
which allows workers to personalize their user experience.

• Simplified editing:
Power PDF 3 offers new methods for intelligently recognizing blocks of text that wrap
correctly when edited and assembling and organizing documents, including the ability
to combine open documents into a single PDF with one button. The simplified user
interface reduces the need for training and allows even the novice user to
get up and running quickly.
Code:
System Requirements:
- Intel® Pentium® 4, higher or equivalent processor
- Windows 7 or higher
- 512 MB of memory (RAM), 1 GB recommended
- 700 MB of free hard disk space for application files plus 50 MB working space during installation
Nuance Power PDF Advanced 3.00.6439(x86) Single links:
===========================================
Douploads:
You must be registered for see links
Upload4earn:
You must be registered for see links
Uptobox:
You must be registered for see links
Fileflares:
You must be registered for see links
Nuance Power PDF Advanced 3.00.6439(x64) Single links:
===========================================
Douploads:
You must be registered for see links
Upload4earn:
You must be registered for see links
Uptobox:
You must be registered for see links
Fileflares:
You must be registered for see links
Created With:

uTorrent/2210

Comment:

No Comment For This Torrent

Peers:

9 Seeders + 0 Leechers = 9 Peers

Loading…