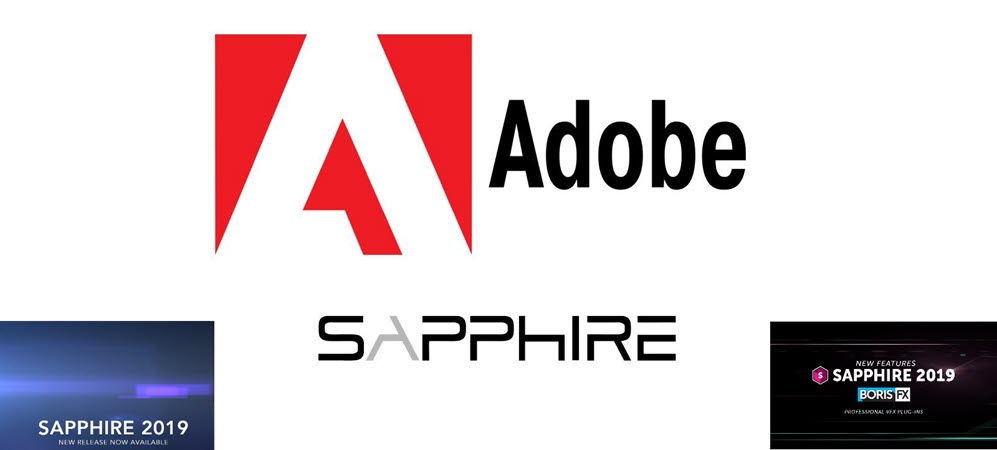 Review
Sapphire 2019 is the latest major upgrade for the legendary suite of VFX plug-ins. Key features included a revamped and enhanced LensFlare and Flare Designer, new PixelSort digital glitch art effect, new WhipLash transition, new animating shape tool for Effect and Transition Builder, new Mocha Essentials workspace with new spline tools like magnetic edge snapping, and is optimized for maximum CPU and GPU performance.
The sapphire plug-in kit can increase user productivity, imagination, and give him unlimited creative space. Due to its excellent image quality and excellent rendering speed, it has been sought after by many lovers.
Available now for all supported hosts: Adobe, Avid, the Autodesk Flame family & many OFX hosts such as Resolve, Fusion, NUKE, Baselight (versions 4.3 and 4.4 only), VEGAS Pro, and Harmony.
The best lighting effects;
Builder
Gorgeous presets;
Flexible pricing and licensing options;
Must have effects: glow, film effect, shake, lens flare, vignette.
Adobe OFX Series Software:
Adobe After Effects CC – CC 2019;
Adobe Premiere PRO CC – CC 2019.
OFX Series Software:
DaVinci Resolve 10 or greater Da Vinci Software;
Fusion Studio 7 or greater;
The Foundry Nuke 6.3v8 or greater;
Other OFX-compatible hosts (Baselight, Pablo Rio, Fusion).
AVID series software:
Avid Media Composer any version;
Avid Media Composer Meridien v9 or greater;
Symphony any version;
Xpress Pro any version;
Xpress DV any version;
Xpress v2 or greater;
Newscutter v3 or greater.
What is new in version 2019:
Enhance and improve lens efficiency;
New PixelSort signal damage failure effect;
Enhanced Mocha tracking and masking;
Newly added WhipLash effect and transition effect;
Special effects and transitions for the new animation shape tool;
New addition to the Mocha primary workspace and new spline tools (e.g., magnetic edge capture);
Improve CPU performance and GPU speed improvements.
Tech Specifications:
Resolution independent - HD, 2K, Ultra HD, 4K, 8K, etc.;
Floating point processing - All effects use full floating point processing for improved image quality and full 32-bit HDR support;
64-bit enabled - expanded memory capabilities;
Multiprocessor support;
GPU acceleration is available for NVIDIA cards only. The latest NVIDIA CUDA card and driver is recommended.
System requirements:
OS: Microsoft Windows 10/8/7/Vista/XP Professional SP2 or higher.
Minimal Requirements:
CPU: At least 1-GHz Pentium IV Disk;
HDD: At least 1 GB;
At least 1 GB Graphics card, must support OpenGL Monitor;
Monitor: Minimum resolution is 1200x800 pixels;
Network: Must have an enabled network adapter (WiFi or ethernet).
Recommended Hardware:
CPU: Intel Core 2 Duo or equivalent;
HDD: 4 GB + Disk;
High-speed disk array Graphics Card: NVIDIA Quadro FX 1500 or equivalent;
Monitor: 1920x1080 or higher;
Network: Must have an enabled network adapter (wifi or ethernet).
Screenshots:
Virus free! No virus signature! 100% clean!
All credits go to AMPED who shared license server with us!​
Kind regards,
@Mirkec
in collaboration with TeamOS
Download links - Plugin for AE Win/MacOS/Linux (Size: 416.82 MB):
You must be registered for see links
You must be registered for see links
You must be registered for see links
You must be registered for see links
You must be registered for see links
Download links - Plugin for AE, AVX, OFX Win (Size: 523.27 MB):
You must be registered for see links
You must be registered for see links
You must be registered for see links
You must be registered for see links
Last edited: