SolidWorks 2018 SP2.0 Full Premium (x64) Multilingual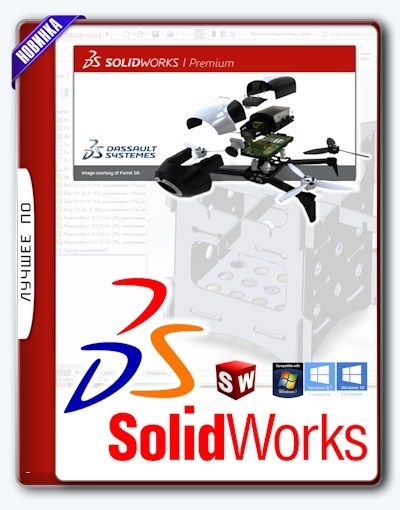 Solidworks design software is as simple as it is powerful – enabling any company to bring its vision to life and capture global markets.SOLIDWORKS® solutions focus on the way you work every day, with an intuitive, integrated 3D design environment that covers all aspects of product development and helps maximize your design and engineering productivity. Over 2 million designers and engineers worldwide use SOLIDWORKS to bring designs to life—from the coolest gadgets to innovations for a better tomorrow.

SOLIDWORKS 2018 includes new features and enhancements that respond directly to user requests and the needs of 21st century product development. Work more efficiently with an improved user interface that takes advantage of your touch-enabled devices, let SOLIDWORKS automatically generate the optimal shape of your design based on functional and manufacturing criteria, or let SOLIDWORKS automatically generate the NC tool paths needed to machine your parts. These capabilities are just some examples of how SOLIDWORKS is changing the way design and manufacturing is done.
OS

:
Windows 7 SP1/8.1/10 x64
What's New:-
You must be registered for see links
Check Sums:-
Name: SolidWorks.2018.SP2.0.Premium.DVD.iso
Date: 3/7/2018
Size: 13.9 GB (2,124,972,032 bytes)
--------
SHA-1: d09e3b12b7d27a0df91d7653b13ee0e65875676c
MD5: 751ffb7d093c613a45749d5225a5b7d3
CRC32: ad8ea935

Download links
4gb links


You must be registered for see links




You must be registered for see links




You must be registered for see links




You must be registered for see links


or


You must be registered for see links




You must be registered for see links




You must be registered for see links




You must be registered for see links


or


You must be registered for see links




You must be registered for see links




You must be registered for see links




You must be registered for see links


or


You must be registered for see links




You must be registered for see links




You must be registered for see links




You must be registered for see links



1gb links


You must be registered for see links




You must be registered for see links




You must be registered for see links




You must be registered for see links




You must be registered for see links




You must be registered for see links




You must be registered for see links




You must be registered for see links




You must be registered for see links




You must be registered for see links




You must be registered for see links




You must be registered for see links




You must be registered for see links




You must be registered for see links


or


You must be registered for see links




You must be registered for see links




You must be registered for see links




You must be registered for see links




You must be registered for see links




You must be registered for see links




You must be registered for see links




You must be registered for see links




You must be registered for see links




You must be registered for see links




You must be registered for see links




You must be registered for see links




You must be registered for see links




You must be registered for see links


or


You must be registered for see links




You must be registered for see links




You must be registered for see links




You must be registered for see links




You must be registered for see links




You must be registered for see links




You must be registered for see links




You must be registered for see links




You must be registered for see links




You must be registered for see links




You must be registered for see links




You must be registered for see links




You must be registered for see links




You must be registered for see links


or


You must be registered for see links




You must be registered for see links




You must be registered for see links




You must be registered for see links




You must be registered for see links




You must be registered for see links




You must be registered for see links




You must be registered for see links




You must be registered for see links




You must be registered for see links




You must be registered for see links




You must be registered for see links




You must be registered for see links




You must be registered for see links




Created With:

uTorrent/2210

Comment:

No Comment For This Torrent

Peers:

2 Seeders + 0 Leechers = 2 Peers

Loading…