Windows updater and modifier
Super Admin
Downloaded

0 bytes
Uploaded

254 TB
Ratio

-
SolidWorks Premium Edition 2018 SP 5.0 [Multi]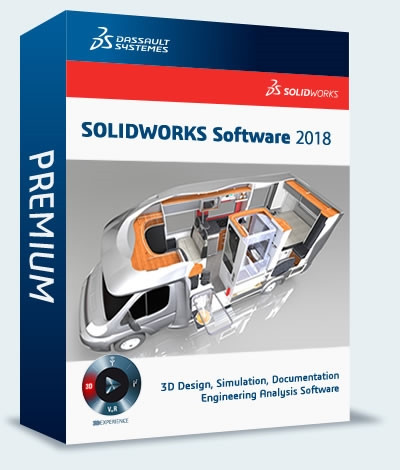 General Info:-
Program Version: 2018 SP 5.0
Official Website: SolidWorks
Interface Language: Russian, English and other
Treatment: complete
Medication Type: Activator

System Requirements:
Windows 7sp1 / 8.1 / 10 x64

RAM: 8GB or more recommended

Disk space: 5 GB or more

Processor: Intel and AMD with support for SSE2 technology. 64-bit operating system.

Video card: Recommended certified graphics cards for workstations with OpenGL support and tested drivers for them.

Installation Tools: DVD-ROM or broadband internet connection.

Internet Explorer: 9,10,11, Edge

Excel and Word: 2010, 2013, 2016

Windows x32 and Windows XP / Vista / 7 SP0 / 8 - not supported
Description:
SolidWorks is a computer-aided design, engineering analysis and pre-production system for products of any complexity and purpose.
SolidWorks is the core of an integrated enterprise automation system that supports product life cycle in accordance with the concept of CALS technologies, including bidirectional data exchange with other Windows applications and the creation of interactive documentation.
Depending on the class of tasks to be solved, customers are offered three basic system configurations:

SolidWorks, SolidWorks Professional and SolidWorks Premium.
SolidWorks CAD developer is SolidWorks Corp. (USA), an independent division of Dassault Systemes (France) - the world leader in high-tech software.
SolidWorks Corp. Development characterized by high levels of quality, reliability and performance, which in combination with qualified support makes SolidWorks the best solution for the industry.
SolidWorks integrated solutions are based on advanced technologies of hybrid parametric modeling and a wide range of specialized modules.
The software operates on the Windows platform, has the support of the Russian language, and,
accordingly, supports GOST and ESKD
Tasks to be solved at the stage of design preparation of production (KPP):
3D product design (parts and assemblies) of any degree of complexity, taking into account the specifics of manufacturing (basic configurations of SolidWorks).

Creating design documentation in strict accordance with GOST (basic configurations of SolidWorks, DraftSight, SWR-Specification).

Design (SolidWorks basic configuration).

Reverse engineering (SolidWorks Premium).

Communication design (electric hubs and surround installation - SolidWorks Premium, SWR-Electrics; piping - SolidWorks Premium, SolidWorks Routing, Smap 3D).

Engineering analysis (strength, stability, heat transfer, frequency analysis, linear and nonlinear approximation - SolidWorks Simulation; dynamics of mechanisms - SolidWorks Motion; gas / fluid dynamics - SolidWorks Flow Simulation; optics and lighting - OptisWorks).

Size Chain Analysis (SolidWorks Premium, CETOL 6).

Data preparation for IETP (SolidWorks basic configuration, 3DVIA).

Management of data and processes at the stage of transmission (SWE-PDM).
Tasks at the stage of technological preparation of production (CCI):
Analysis of the technological design of the product (basic configurations of SolidWorks, DFMXpress / DFMProfessional).

Analysis of the technological processes of manufacturing (plastic molding - SimpoeWorks, analysis of the stamping processes - BlankWorks / FastForm).

Development of technological processes according to ESTD, including material and labor rationing (SWR-Technology).

Designing equipment and other technological equipment (basic configurations of SolidWorks, MoldWorks, ElectrodeWorks, Logopress, etc.).

Development of control programs for CNC machines (milling, turning, turning-milling and electroerosive processing - CAMWorks; laser, plasma and water-jet cutting, cutting dies - cncKad; coordinate measuring machines - CMMWorks).

Data and process management at the CCI stage (SWE-PDM).
SolidWorks 2018 Premium Edition features:
Hybrid parametric modeling: solid modeling, surface modeling, frame modeling, and their combination without limiting the degree of complexity. The use of auxiliary geometry. Working with imported geometry, editing based on parameters and the history of model building, "direct" editing.

Product design taking into account the specifics of manufacturing:

Details from plastics - functions for automating the design of parts from plastics, accounting for shrinkage, building slopes.

Sheet material - modeling "from part to scan" and "from scan to detail", the automatic construction of the scan.

Molds and stamps - the construction and analysis of slopes, taking into account isotropic and anisotropic shrinkage, allowances, the construction of the line and the surface of the connector; generation of matrix and punch, marks, sliders; construction of plates, columns, pushers; the ability to create a library of typical elements of molds and stamps, etc.

Metal structures - designing frame and truss structures, a library of profiles according to GOST, ISO, ANSI.

Assembly design: bottom-up and top-down design. Design from concept: using layout sketches, working with representative details, etc.

Contextual editing of assembly components, assembly operations, work with arrays of components. Auto add mates. Direct performance management for large builds, SpeedPak technology.

Design library: a single library of physical properties of materials, textures and shading. Typical structural elements, standard parts and assemblies, elements of sheet metal parts, rolled sections, etc. Library of standard holes.

Express analysis: dynamics of mechanisms, strength of parts - SimulationXpress, aero / hydrodynamics - FloXpress, manufacturability of parts - DFMXpress, molding plastics - e-SimpoeWorks. Calculation of mass-inertial and geometric characteristics of the model, modeling of the cams.

Expert systems: SketchXpert - analysis of conflicts in sketches, finding the best solution. FeatureXpert, FilletXpert, DraftXpert - automatic control of rounding and slope elements, optimization of the model building order. Instant3D - dynamic direct editing of 3D models of parts and assemblies, standard components. DimXpert - automated dimensioning and tolerances in 3D models, as well as dimensions in drawings, ability to work with imported geometry. AssemblyXpert - analyzing the performance of large assemblies, preparing solutions for improving performance. MateXpert - analysis of mates assemblies, finding the best solution.

DriveWorksXpress is a prototype automated design tool, automatic generation of a set of design documentation for a project.

Designing drawings by ESKD: creating drawing views on a 3D model: sections, sections, native species, etc., manual dimensioning, as well as using the expert system DimXpert. Use of CD design libraries: special symbols, bases, tolerances and landings, roughness, branding and marking, technical requirements, elements of hydraulic and electrical circuits, etc.

Data translation: neutral translators STEP AP203 / AP214, Parasolid, ACIS, IGES, VDAFS, STL, VRML. Pro / ENGINEER, CADKEY, Unigraphics, Solid Edge, Inventor, Mechanical Desktop, AutoCAD, CATIA Graphics. Data exchange with radio CAD (P-CAD, Altium Designer, Mentor Graphics, CADENCE, etc.).

Animation: creating animations (animations) based on 3D models.

API SDK Programming support in Visual Basic, Visual C ++, etc., and macro recording and editing (VBA).

SolidWorks Rx: Computer Auto Diagnostic Utility for Compliance with SolidWorks requirements.

SolidWorks Explorer: SolidWorks File Explorer.

3D Content Central: access to a single library of standard components suppliers-manufacturers in SolidWorks format.

SolidWorks eDrawings: viewing and printing of documents SolidWorks, Pro / Engineer, DWG, DXF.

DraftSight: work with drawings in DWG format without limiting the version number. Associations with the SolidWorks model.

SolidWorks Toolbox: standard product libraries (fasteners, bearings, rolling gauge, cams, pulleys, gears, etc.) according to GOST, ISO, ANSI, BSI, DIN, JIS, CISC, PEM®, SKF®, Torrington®, Truarc®, Unistrut®.

FeatureWorks: recognition and parameterization of imported geometry

SolidWorks Utilities: Comparison of SolidWorks documents (parts, assemblies, drawings).

SolidWorks Task Scheduler - Task Scheduler: Setting tasks for scheduled execution. Planned tasks: group printing, import / export, project verification for compliance with enterprise standards, etc.

PhotoView 360: create photo-realistic bitmaps for 3D models.

3D Instant Website Creating WEB pages based on interactive 3D models. Data preparation for IETR.

SolidWorks Design Checker: verification of documents for compliance with enterprise standards. Automatic adjustment of documents in accordance with a predetermined template.

SolidWorks eDrawings Professional: viewing and printing documents (models, drawings) created in SolidWorks and Pro / Engineer, as well as in DWG, DXF formats. Viewing and approval of documents (red pencil).

SolidWorks Routing piping design using standard element libraries. Creation of the national teams, bent, and also the combined pipelines.

Creating elements of flexible wiring (hoses, eyeliner, etc.). Library of standard parts of pipelines (GOST, ANSI, ISO, DIN ...). Automatic selection of standard sizes of standard components.

SolidWorks Simulation: Calculation of the strength of structures (parts and assemblies) in the elastic zone. Calculation of assemblies with SolidWorks SimulationXpress boundary conditions. Using loads from SolidWorks Motion.

SolidWorks Motion: A comprehensive kinematic and dynamic analysis of mechanisms.

ScanTo3D: reverse engineering module. Convert point cloud to surface and solid models.

TolAnalyst: analysis of dimensional chains in a three-dimensional model of the assembly. Use dimensions and tolerances of DimXpert for analysis. Determination of the closing size tolerance. Determination of the degree of influence of dimensions on the closing size

CircuitWorks: import data from radio engineering CAD (ECAD). Building a 3D model of the PCB based on the imported data. Transfer of the changed data to radio engineering CAD. Comparison of PCB versions.



SOLIDWORKS 2018 features a variety of improvements and enhancements, most of which are implemented in accordance with the wishes of users. This version provides more options for faster and more efficient project execution:

Focus on the design process, not the software: Work faster and do not worry about the CAD system.

Solve complex problems faster and easier: Use innovative tools to solve complex problems.

Simplify parallel design processes: Use integrated design processes for mechatronic products, simultaneous design on a single platform, simplified design of electrical and mechanical assemblies, and the ability to work together with several disciplines from design to manufacturing.

Reduce project lead times: Create better output for manufacturing, streamline this process, and speed up the product development cycle.
About crowbar

Regarding the talk that some antiviruses are found in crowbar trojans and other horrors.
Team Policy TeAM SolidSQUAD excludes the presence of viruses in tablets. Therefore, all warnings and claims of individual antivirals to tablets are related to the packaging of their innocuous protector.

Check Sums:-
Name: Solidworks.2018.SP5.0.Premium.DVD.iso
Date: 23-11-2018
Size: 14.3 GB (2,491,463,680 bytes)
--------
SHA-1: b2606d6a8a53c514aaa422b33000d82c5fef2330
MD5: 02224402c03ea62983968fcc871791f8
CRC32: 24445e93

Download links
4gb links


You must be registered for see links




You must be registered for see links




You must be registered for see links




You must be registered for see links


or


You must be registered for see links




You must be registered for see links




You must be registered for see links




You must be registered for see links


or


You must be registered for see links




You must be registered for see links




You must be registered for see links




You must be registered for see links



1gb links


You must be registered for see links




You must be registered for see links




You must be registered for see links




You must be registered for see links




You must be registered for see links




You must be registered for see links




You must be registered for see links




You must be registered for see links




You must be registered for see links




You must be registered for see links




You must be registered for see links




You must be registered for see links




You must be registered for see links




You must be registered for see links


or


You must be registered for see links




You must be registered for see links




You must be registered for see links




You must be registered for see links




You must be registered for see links




You must be registered for see links




You must be registered for see links




You must be registered for see links




You must be registered for see links




You must be registered for see links




You must be registered for see links




You must be registered for see links




You must be registered for see links




You must be registered for see links


or


You must be registered for see links




You must be registered for see links




You must be registered for see links




You must be registered for see links




You must be registered for see links




You must be registered for see links




You must be registered for see links




You must be registered for see links




You must be registered for see links




You must be registered for see links




You must be registered for see links




You must be registered for see links




You must be registered for see links




You must be registered for see links



Created With:

uTorrent/2210

Comment:

No Comment For This Torrent

Peers:

11 Seeders + 0 Leechers = 11 Peers

Loading…