Downloaded

46.2 GB
Uploaded

169 GB
Ratio

3.66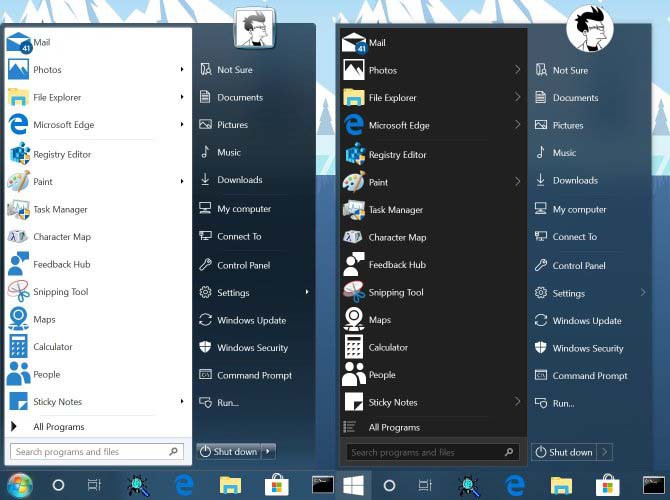 Bring back the standard Start Menu to Windows 10 and enjoy accessing your favorite programs and tools the old fashioned way
StartIsBack is a tiny application that gives you the possibility of assigning the classical Start button and Start menu to Windows 8. It packs a few configuration settings that can be handled by users of any level of experience.
Unlike other similar apps which return the old Start menu and button, the side menu of StartIsBack is transparent and highlights every new program in the list.
When it comes to functionality, StartIsBack integrates some useful features. For example, if you search the computer for a new item, this is instantly shown in the results area (if it was previously indexed by Windows).
As we have mentioned before, StartIsBack comes with a multitude of configuration settings; these concern the Start menu items and behavior (e.g. display My Computer as a link, hide Default Programs and Device and Printers), appearance (e.g. disable taskbar translucency, hide the Start button) and switching rules (e.g. show the desktop when logging onto the PC, switch to the last used application when clicking the Start screen).
Other options refer to uncluttering items in the Start screen (by renaming the Start screen to "Apps" and by keeping only the modern apps in that location), the advanced system commands menu (combine the Start button context menu with the one of the Start screen) and Windows tweaks (e.g. store and display recently opened programs). Furthermore, you can disable StartIsBack for the current user.
StartIsBack does not put a strain on the computer's overall performance, as it uses a pretty low amount of CPU and system memory. It is pretty responsive to key strokes and mouse commands. We have not encountered any issues throughout our testing; StartIsBack did not hang, crash or display error dialogs. Thanks to its intuitive yet rich features, the application should please users of all skill levels.
Version ++2.8.5 14 April 2019
Fix non-hybrid shutdown used

Version ++2.8.4 9 April 2019
Fix reboot not working if other users are logged in

Version ++2.8.3 1 April 2019
Support for newer Version 1903 builds
File sharing via dropping / pasting files on modern app shortcuts

Version ++2.8.2 23 February 2019
Fix light and dark mode issues
Reboot now honors "Use my sign-in info to <..> reopen apps after <..> restart" option

Version ++2.8.1 11 February 2019
Fix jump list color missing with non-acrylic blur
Start menu will default to All programs view if My programs view is empty

Version ++2.8 8 February 2019
Support for Windows 10 Version 1903:
Light Mode support
Light Mode Plain10 style
New Extraordinary Taskbar Perks:
Dynamic taskbar transparency
Centered taskbar icons
Segmented taskbar
You must be registered for see links
You must be registered for see links
You must be registered for see links
You must be registered for see links
You must be registered for see links
File: StartIsBack++ 2.8.5 Multilingual.rar
Size: 1.30 MB (13,73,013 bytes)
MD5: c7bde084fbab1d2d99f0876db937912d
SHA-1: 91e124434807432c4353f741ffc21f2622782ffb
SHA-256: 1a8624a6c7139f83c3f6cb4b084ab5e55d3d30af46eabeffd9bb8028e7052ee2
VirusTotal:
You must be registered for see links
Windows 10 (x32-x64)
* Install the program.
* Run the activator.
* Click the button "Activate".
* Enjoy.​
You must be registered for see links
========================================