Downloaded

39.8 GB
Uploaded

451.9 GB
Ratio

11.35
Review
StopUpdates10 makes it easy for a user to allow or disable Windows 10 updates and upgrades anytime. This app is perfectly timed for us. Our VMware started installing updates causing slowdowns and lag and aggravating us even though we had used similar apps to block Windows Updates previously. Microsoft has again changed how Windows Updates works, and most apps that prevent updates are now broken. Now user can once again block or allow Windows Updates.
StopUpdates10 does require installation but is simple to use. By default, a user should see "Windows Updates is not blocked" in red letters and a red button that says "Stop Windows Updates!" Once blocked, everything is reversed and in green letters with text that says "Windows Updated is blocked!" and a button that reads "Restore Windows Updates."
Stop Windows updates;
Stop forced upgrades;
Stop annoying upgrade notifications;
Easy Undo! Click the "Restore" button to undo all changes.
What is new in version 2.5.59 (Released on April 29, 2019):
Added "/defender" option for checking Windows Defender updates from command line interface;
Added Polish translation.
What is new in version 2.5.58 (Released on April 22, 2019):
Fixed bug with Windows Defender updating;
Added Bulgarian translation.
What is new in version 2.5.57 (Released on April 10, 2019):
Updates Japanese, Italian, Greek, Korean translations.
What is new in version 2.5.56 (Released on April 05, 2019):
Fixed small bugs;
Updates Spanish, Ukrainian, Brazilian, Czech, Hungarian translations.
What is new in version 2.0.50 (Released on March 06, 2019):
Added blocking of Windows Update Medic service (WaasMedicSvc);
Windows Update Medic can reactivate update service;
StopUpdates10 blocks "WaasMedicSvc" automatically using Updates Guard service;
Windows service manager cannot disable "WaasMedicSvc";
StopUpdates10 can do it using direct registry change;
Fixed bug with incorrect checking of the service state;
Fixed bug with uninstalling.
System requirements:
OS: Microsoft Windows 7, Windows 8, Windows 8.1, Windows 10 (both 32 & 64-bit);
Windows Home is supported.
Install notes:
1. Unzip and run;
2. Enjoy!
Screenshots: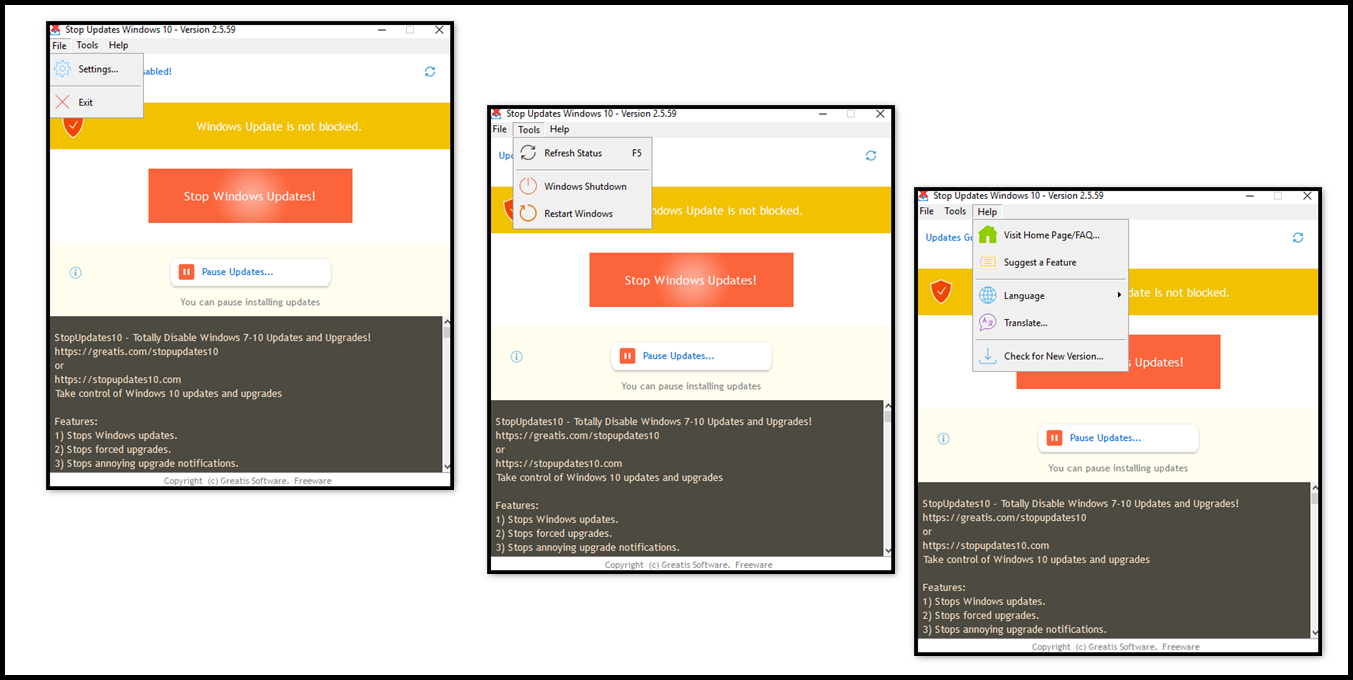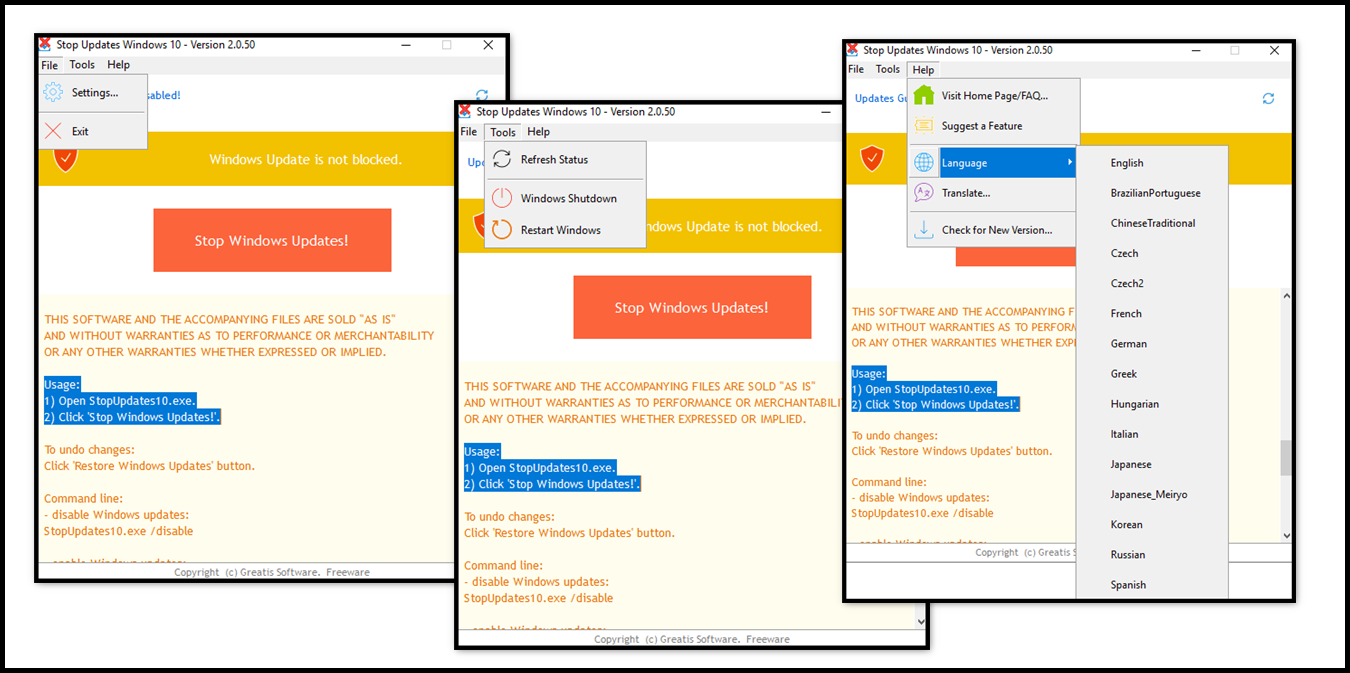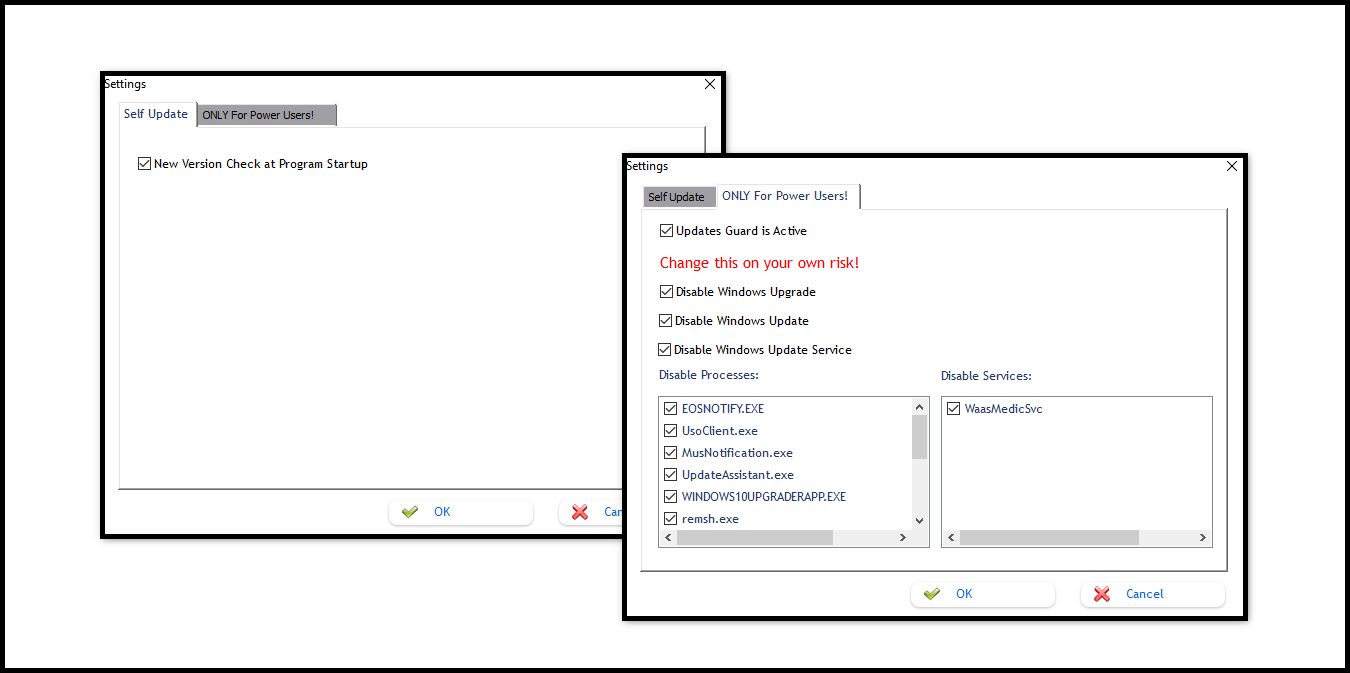 Virus free! No virus signature! 100% clean!
​
Kind regards,
@Mirkec
in collaboration with TeamOS
Download links - version 2.5.59 (Size: 1.96 MB):
You must be registered for see links
You must be registered for see links
You must be registered for see links
You must be registered for see links