Downloaded

45.3 GB
Uploaded

58.2 GB
Ratio

1.28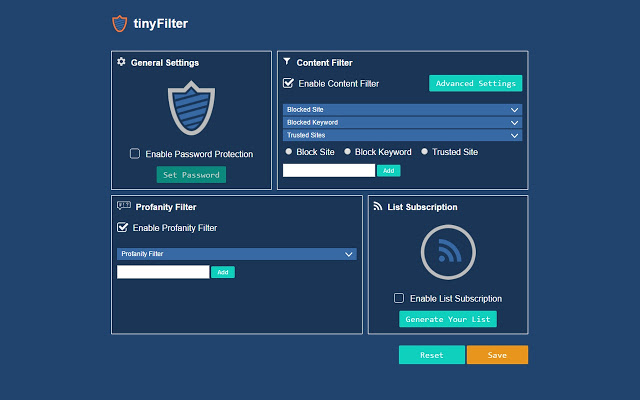 Overview
Protect your family from offensive content and sex-adult sites. Tiny WebFilter PRO is the best Anti-Porn (Parental Control) addon.
TinyFilter is a light-weight and FREE web content filtering application which monitors browser activities and blocks inappropriate or offensive content. "TINY WEBFILTER PRO" also provides password to unlock the filtering function so it will definitely keeps your family member especially your kids safe while surfing the internet.
The extension helps you fully customize your filtering preferences and sensitivity settings so that any inappropriate or offensive content is filtered. We are very proud of our product and are very happy that is helping protect children, teens and adults from inappropriate content on the Internet. We're confident that you will agree that "Tiny Web Filter (Adult Blocker + Parental Control)" is the most simple and effective extension for filtering inappropriate content.
[+] General features:
- All content filtering features and settings
- Pre-defined filtering rules for pornographic content
- Mode selection
- Auto-enable preference setting
- Sensitivity settings
- Alert settings to control how much detail is provided about the blocked content (protect innocent eyes)
- Ability to add custom filtering keywords
- Ability to add sites to the list of blocked sites or trusted sites
- Password protected.
- Temporarily allow a website.
[+] Anti features:
- Anti Porn, Anti Adult content website
- Anti Abused Drugs including Marijuana
- Anti online games to block the popular game related website
- Anti Violation, gambling or gun related website or forums
- Anti social networking to block popular website like facebook.com and twitter.com
- Anti spyware and virus web site
- Anti anonymous proxy web site to bypass firewall or parental control software
- Anti spam web site used to sending most of the spam email in the internet
[+] The following security categories are supported in the blocking setup.
1. Sites hosting spyware, virus, fishing & frauds
2. Adult sites including adult content, sex, nudity
3. Sites related abused drugs & Marijuana
4. Bandwidth consuming sites peer2peer, online storage
5. Sites including weapon, gambling, questionable
6. Online gaming sites
7. Online sites used as proxy server
8. Sites used for spamming
9. Social-networking, dating and media streaming
[+] Filter settings / configuration
1. Click the top right "Tiny Filter" icon
2. Select "Options ..."
Or
1. In your chrome, navigate to chrome://extensions, or setup -> Tool -> Extensions
2. In the extension page, find "Tiny Filter" addon
3. Click the "options" button for "Tiny Filter" addon
4. Enjoy building your own security profile
5. After everything is done, click "Save" to make new policy effect
Screen Shots: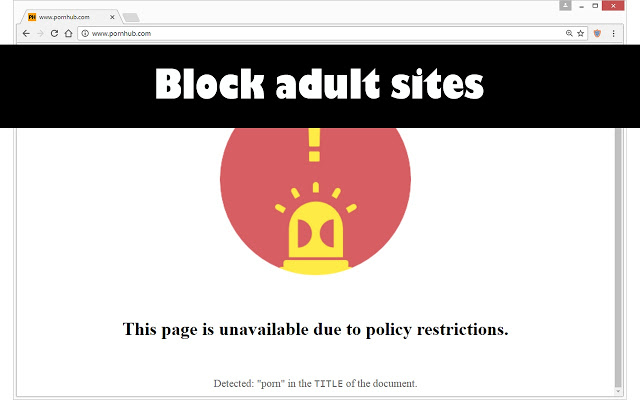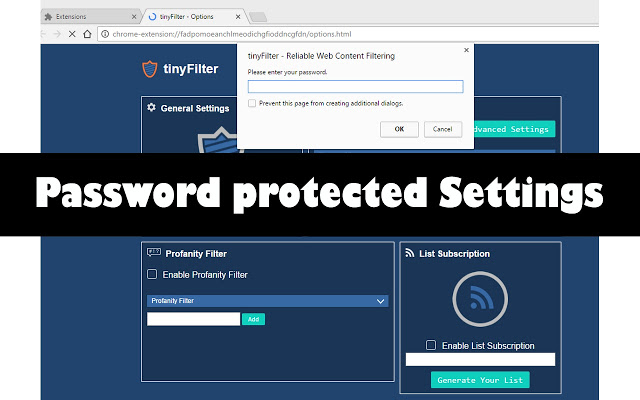 Virus free! 100% clean!
(no virus detected while installing.)
How to Install:
Type "Tiny WebFilter" in your browser.
Add to your Browser and Install.
my 2nd try i hope it`s correct now. please admin remove my post ASAP,
if there still went wrong. sorry i`m not that good in English.