Downloaded

365.2 MB
Uploaded

80.2 GB
Ratio

224.78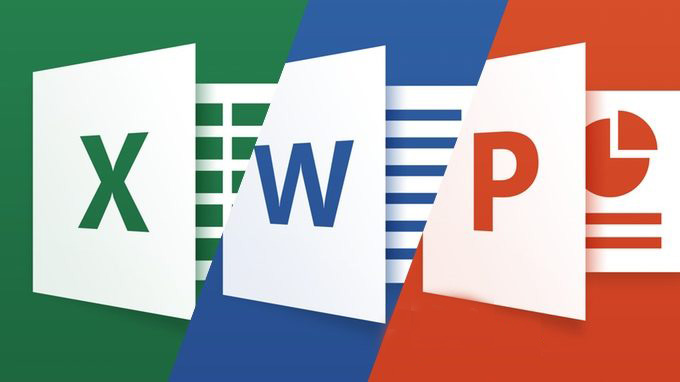 UNAM launches free Microsoft Office 2010 courses (certificates) - Spanish only
UNAM (National Autonomous University of Mexico)
has made available a series of courses to master Office and are completely free. Microsoft Office is an office suite that covers the entire Internet market and interrelates desktop applications, servers and services for Microsoft Windows, Mac OS X, iOS and Android operating systems.

Surely in school you have learned basic questions about the use of Microsoft Word and Excel. With these free and online courses from UNAM you can acquire greater knowledge in the use of these programs that are so important for every university student.

To register for the courses, it is not necessary to have prior knowledge or belong to a particular country. Anyone can do it!
The course is taught in Spanish

If you complete the course satisfactorily, you will receive a certificate that guarantees your participation in that course.



UNAM Course - Microsoft Word Tools


Description: Microsoft Word 2010 allows you to know the tools of an accessible, simple and easy to view work environment. With this course, you will know the management and organization of text tools, for the preparation of documents in different formats.

Estimated study time: 20 hours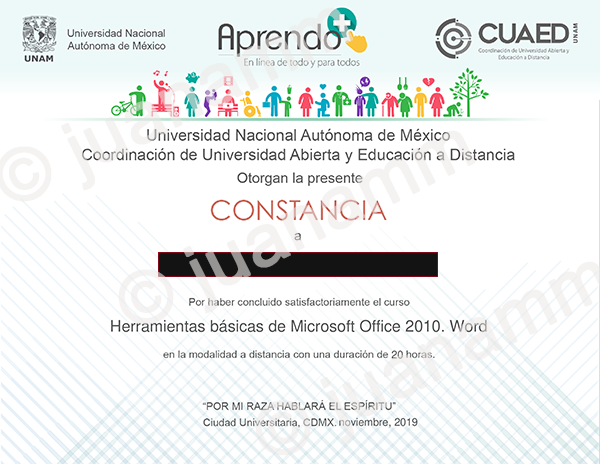 UNAM Course - Microsoft Excel Tools


Description: Microsoft Excel 2010 is one of the Windows tools with a simple and easy-to-view work environment for the location of tools, to format and present your work.

This course is basic with respect to the Microsoft tools used for the management and organization of daily activities in our environment, such as the organization of a work agenda.

Estimated study time: 30 hours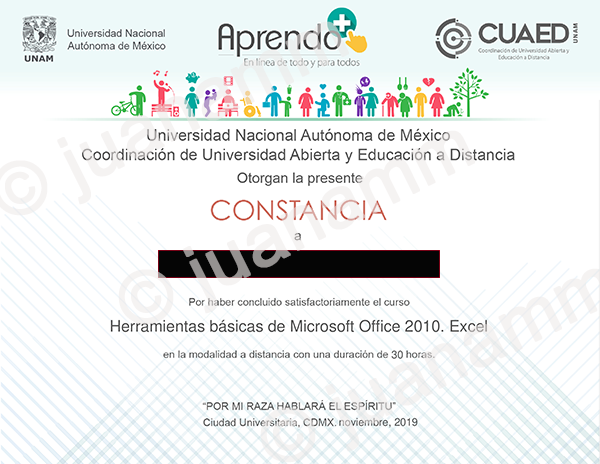 UNAM Course - Microsoft PowerPoint Tools



Description: Microsoft PowerPoint 2010 is one of the Windows tools with a simple and easy-to-view work environment, useful for presentations, and using multimedia resources.

This course is basic with respect to the Microsoft tools used for the management and organization of daily activities in our environment; Microsoft PowerPoint 2010 is a tool that works for all types of people who have to make school or professional presentations.

Estimated study time: 30 hours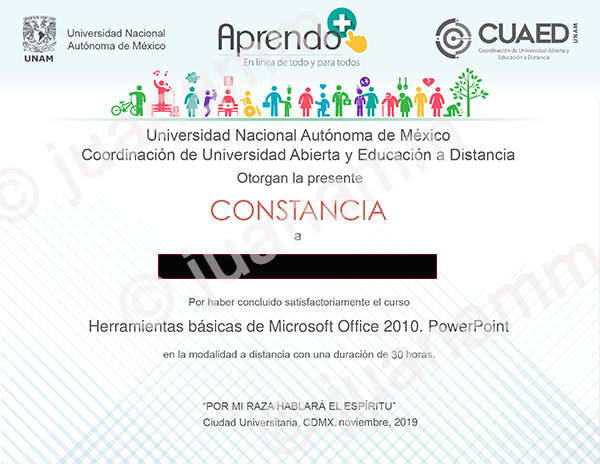 NOTE: To enroll in the Courses, search for information by Google.
If you want the link, I share it for PM.


I have completed the Word, Excel and Powerpoint Course.


The Courses are easy and if you have previous knowledge you will finish them in 2 hours.
After completion with an average of 8 points, the option to print the certificate will be enabled.
It is important that after finishing a course and before printing the certificate, edit the profile with the name you want included in your certificate.
For those who have asked me for the link by PM, comment and if you want ...

​
Last edited: