Moderator
Uploader
Windows Modifier
Downloaded

49.6 GB
Uploaded

1 TB
Ratio

21.07
Review
Uninstall Tool is a fast, secure, and convenient way for the complete removal of unneeded applications and system components. The app is a great, robust, and reliable alternative to standard Windows removal program. Uninstall Tool can remove unwanted software, and make user's computer clean and even faster.
Completely remove any software! (using Install Tracker (Installation Monitor) and Uninstall Wizard ™ technologies);
3 Times Faster than standard removal program;
Uninstall System and Hidden programs;
Add/Remove Programs that automatically run at system startup;
Portable Mode: run from USB flash drive;
Uninstall Programs that could not be removed by Add/Remove program;
Force removal of uninstall related registry & file system items;
Smart Search ™ allows a quick finding of any application you need;
Native X64 version for 64-bit versions of Windows (single setup);
Batch Removal operations;
Highlighting of recently installed applications in the list;
Navigate to a selected program's Registry Entry, Installation Folder, and its Web Site;
View Detailed Information of a certain application installed on your computer;
Easy to use and modern User Interface allows to work comfortably with Uninstall Tool;
Multilingual interface with native support of 35 languages;
Control Panel icon, HTML reports, running different Windows tools, and much more...
What is new in version 3.5.9 (Released on September 05, 2019):
NEW: Simplified app launch without User Account Control (UAC) confirmation. The option can be activated during setup as well as in the Preferences;
IMPROVED: Translations update;
FIXED: Fixed tracing of Spotify installer #38;
FIXED: Fixed pinning the app icon to the Windows 10 Taskbar during setup.
What is new in version 3.5.8 (Released on May 17, 2019):
IMPROVED: Translations update;
FIXED: Fixed calculating of occupied size for certain apps;
FIXED: Fixed saving of window position when using Install Tracker via context menu #9;
FIXED: Fixed missing icons for some Windows Store apps #29;
FIXED: Fixed Uninstall Wizard window border missing on Windows 10.
System requirements:
OS: Microsoft Windows® XP, Windows® Vista, Windows® 7, Windows® 8, Windows® 8.1, Windows® 10 (both 32 & 64-bit).
Install notes:
1. Run the executable file or command-line interpreter program for silent installation;
2. Enjoy!
Screenshots: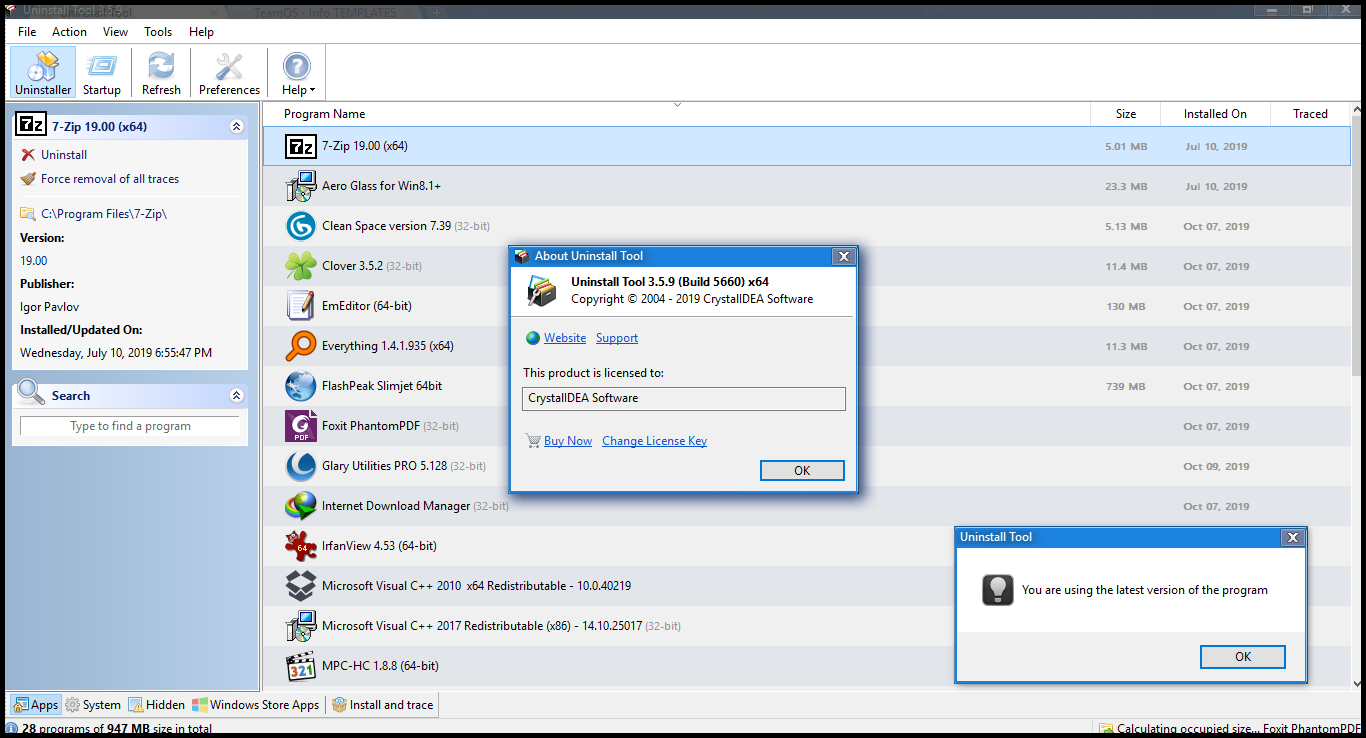 Virus free! No virus signature! 100% clean!
All credits go to elchupacabra, who made and shared the repack and portable version with us!
​
File: Uninstall Tool 3.5.9.5660.exe
You must be registered for see links
08/69
MD5: 2912C55E16DB133DBDFF396A2AC476DD
SHA1: D19742C1C3A38DBE35CAF1E62F7EDFF94B203031
SHA256: BAF33EDEE9DF9E74897E05317FCE9F201569C4E2E08ABD28EB434636F9368F91
Kind regards,
@Mirkec
in collaboration with TeamOS
Download links - version 3.5.9.5660 (Size: 4.63 MB):
You must be registered for see links
You must be registered for see links
You must be registered for see links
You must be registered for see links