Downloaded

183.6 GB
Uploaded

411.9 GB
Ratio

2.24
Microsoft recently released Windows 10 KB4464330 for October 2018 update devices with fixes and improvements but it appears that the patch is causing BSOD on a small number of systems.
We have come across some reports that claim the patch for Windows 10 October 2018 Update is causing BSOD on HP workstations and computers. The issue appears to be related to some incompatible driver installed on HP computers and it's not a widespread bug.
In a post on Microsoft answers forum, a user claims that the HP EliteDesk 800 G3 machine refuses to boot after installing the cumulative update. In another forum post, user bennettjp reports that October patch has hit several computers in their organization and it's causing a blue screen.
Some users have also complained about the issue on Twitter.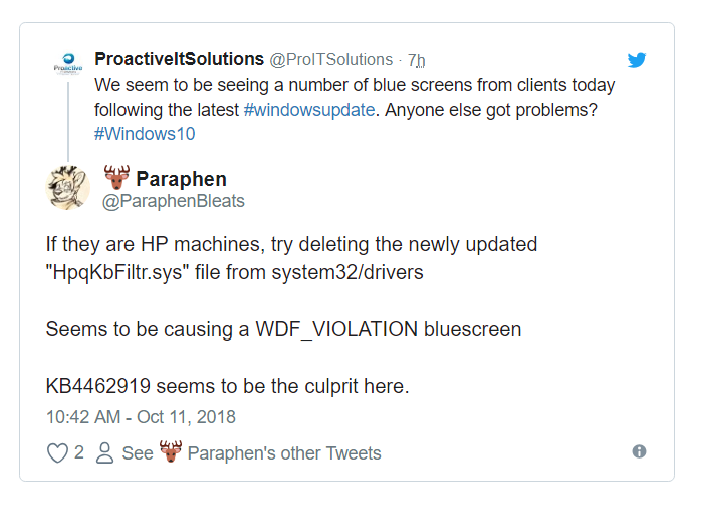 Similarly, the Reddit users are also reporting issues with Windows 10 October cumulative update.

"This happened on A Win10 Enterprise x64 v1803 PC which already had the October 'quality' (security) updates and was trying to install the September 'quality' (security) updates. It was not trying to install the v1809 update, so this is an unrelated problem to add to the Windows Update shitshow," Reddit user huddie71 explains.

"We are having the same issue on HP prodesk 400 G3 Windows 10 machines today. It is definitely related to KB4462919 and/or the HP keyboard driver at the top of your screenshot. We do NOT push out any driver updates, and we are not using HP keyboards with these PCs," Reddit user R1PLEY explains.

In another Reddit thread, the user has complained about a similar issue but on Windows 10 April 2018 Update (version 1803). "We rolled our patch Tuesday for 1803 Win 10 machines today are getting BSOD's on boot due to a keyboard driver (we think)," Reddit user 999999potato explains.

Looks like there is no end to 1809 problem