Downloaded

585.5 GB
Uploaded

101.1 TB
Ratio

176.89
Seedbonus

435,060
Upload Count

10

(10)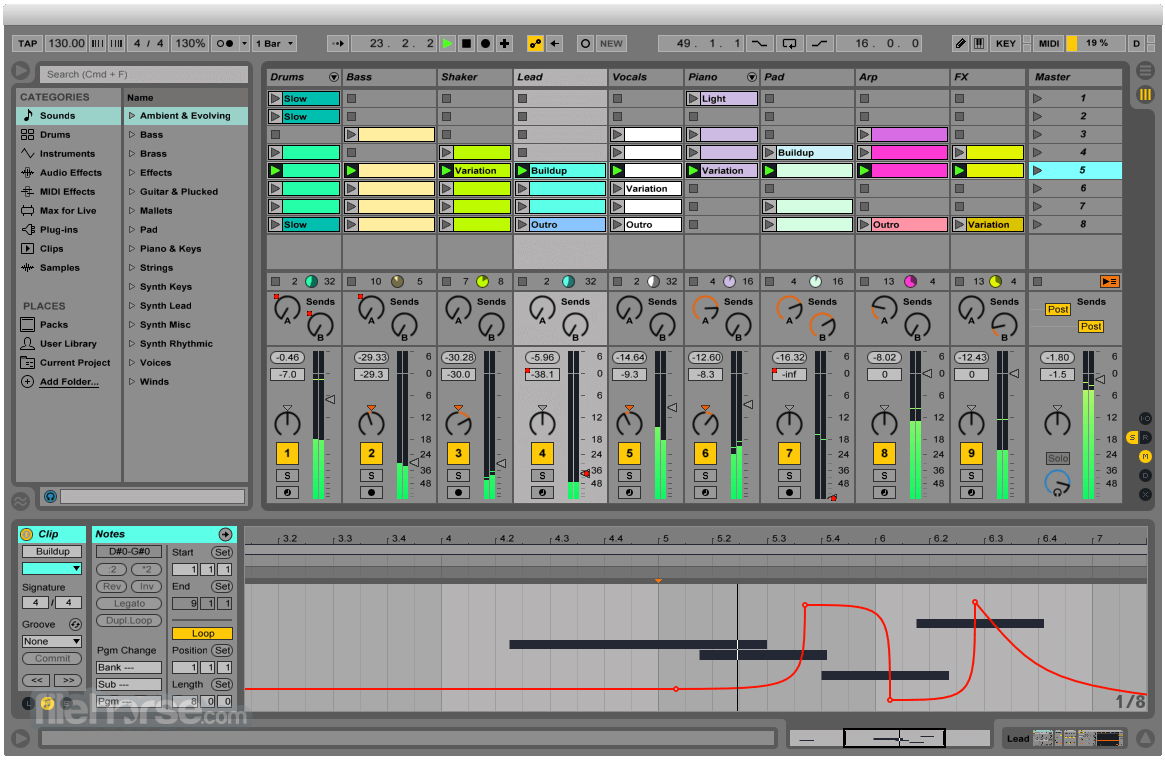 Live is fast, fluid and flexible software
for music creation and performance. It comes with effects, instruments, sounds and all kinds of creative features—everything you need to make any kind of music.
Create in a traditional linear arrangement, or improvise without the constraints of a timeline in Live's Session View. Move freely between musical elements and play with ideas, without stopping the music and without breaking your flow.
Create with Live
Music starts with an idea. Maybe it's a melody you're playing, a vocal you want to record, a drum break you want to chop, or a sound on a synth. No matter how you like to begin, Live helps you get the music in your head out of your speakers.
Sketch, tweak and experiment
In Live's Session View you can freely mix and match musical ideas without the constraints of a timeline. Getting ideas down is lightning fast, and it's the ideal place for improvisation. You can play MIDI and audio loops of different lengths in any combination, without ever stopping the music.
Get into the details
The Arrangement View is where you can organize music along a timeline. Put musical parts in place and build sections of your song. Get into the details without losing sight of your musical goals—whether you're developing an initial idea or arranging a full track. Or you can record everything you do in the Session View into the Arrangement to improvise your way to a finished song.
Get your ideas into Live
Whatever shape inspiration takes, Live gives you the means to seize it. Record hardware synths, software plugins, drum machines, guitars or any audio from the real world. You can now use Capture MIDI to record notes after you've played them, turning your most spontaneous ideas (and accidents) into music. And there's Live's audio-to-MIDI features, which let you turn drum breaks, and melody or harmony parts into MIDI patterns that you can edit and reuse with your own sounds.
Use any sounds, at any tempo
One of the things that makes creating with Live so fluid is the ability to change the tempo and timing of any audio, in real-time, without stopping the music. We call this warping. Use warping to mix and match loops from a variety of tempos, fix timing errors in recorded performances, or radically reshape any audio into new sound design directions.
And much more...
Live 10 Minimum System Requirements:
Mac
- OS X 10.11.6 or later
- Intel® Core™2 Duo processor. Intel® Core™ i5 processor or faster recommended.
- 4 GB RAM (8 GB or more recommended)
Created With:

ruTorrent (PHP Class - Adrien Gibrat)

Comment:

No Comment For This Torrent

Peers:

0 Seeders + 0 Leechers = 0 Peers

Info Hash:

be6df1e718c6f06ea255b640707817e6a8427d85

Loading…