Administrator
Windows Modifier
Downloaded

56.2 GB
Uploaded

15.7 TB
Ratio

287.12
Seedbonus

320,247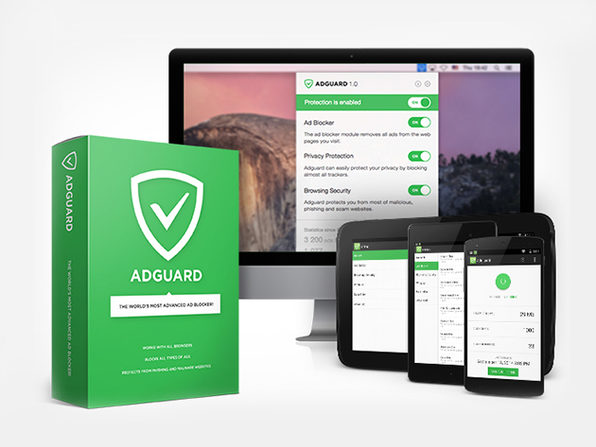 Review
AdGuard is a unique desktop program that has all the necessary features for the best web experience. The software combines the world's most advanced ad blocker for Windows, a whole privacy protection module, and a parental control tool — works perfectly with all browsers or app without exceptions! The application lets the user fully enjoy the Internet without any distractions. Watch the videos without annoying pre-rolls, and browse websites for content not tons of banners. Adguard gives freedom of choice and saves the user's nerves.
It also makes the Internet a safer place: blocks the loading of dangerous websites, speeds up the page loading, secures user privacy and much more. Furthermore, it protects children online by preventing access to inappropriate sites, removing obscene materials from search results, and providing parents with a customizable blacklist to tailor the safest web experience for their kids. After installing Adguard user get clean, safe and fast browsing. That is just a different web surfing experience.
Adguard blocks not only video ads of any kinds in browsers but in programs as well including UI applications from Windows Store. Adguard has an intuitive and straightforward user interface with such additional features like Adguard Assistant, Filter editor, and Filtering log. Daily ad filters and phishing databases updates.
Key features:
Ad Blocker - The Ad Blocker module removes all ad banners and messages from web pages. The module uses special filters that are sets of filtering rules. High-quality ads filtering blocks all kinds of advertisements like pop-ups, video ads and banners even before pages are loaded in the browser;
Browsing Security - The Browsing Security module protects a user from malware and phishing websites. It will not let the user install malware and will protect the user from web frauds. Protection from phishing and hazardous websites and malvertising (malicious ads);
Stealth Mode - The Stealth Mode module protects the user and his info from being tracked by online statistics gathering resources. Privacy protection against all trackers and analytical spy systems (blocks third-party cookies, hide user IP address, and an abundance of other features to protect personal user data);
Parental Control - The Parental Control module ensures children's web safety. Enable it for users would like to protect from unacceptable information;
Extensions - To make your browsing experience even more comfortable, AdGuard can perform the functions of a convenient user script manager. Moreover, AdGuard utilizes several pre-installed extensions;
AdGuard Assistant - Allows quick and easy filtering control right in your browser;
AdGuard Popup Blocker - Blocks popup ads on web pages;
Web of Trust - Shows Internet users' opinions regarding any website.
Antibanner;
Antiphishing;
Antitracking;
Parental control;
Safe search;
Password protection;
Solutions for social networks and video advertising;
Browser Extensions;
Manual Assistant;
Log, monitoring, and statistics;
Localization and regional filters;
24-hour technical support;
Daily updates to blacklist databases.
What is new in version 7.0.2454.6183 (Released on April 10, 2019):
[Feature] Add Kinza browser support;
[Feature] Filtering log issues;
[Feature] Update CoreLibs to 1.3.275;
[Feature] Use Chinese date format for filters' update time in Chinese interface;
[Fix] Do not count rules from disabled filter lists;
[Fix] Empty lines in custom filter imported as rules;
[Fix] Unable to enter a license key, the field is locked;
[Fix] Version number in about window not selectable anymore.
What is new in version 7.0.2430.6135 (Released on April 03, 2019):
[Feature] Add Chromium-based Microsoft Edge to the filtered applications list;
[Feature] Update to CoreLibs 1.3.253;
[Fix(regression)] "AddRuleDialogViewModel" crashes with the null-length string.
What is new in version 7.0.2405.6085 (Released on March 27, 2019):
Feature Update CoreLibs to 1.3.246.
What is new in version 7.0.2333.5941 (Released on March 15, 2019):
Fix Firefox and TOR have duplicates in the filtered apps list: #2509.
What is new in version 7.0.2300.5875 (Released on March 12, 2019):
Fix Service connection issues after hibernate/sleep: #2438;
Fix Stealth mode: url parameters are the same after reset to defaults: #2480;
Fix `AddRuleDialogViewModel` crashes with the null-length string: #2466;
Fix outlook.office.com not refreshing inbox: #2484.
What is new in version 7.0.2286.5847 (Released on March 07, 2019):
Feature Shadow of dark theme looks bad on darker backgrounds: #2456;
Feature Update CoreLibs to 1.3.206: #2481;
Fix Rules in filter editor are not refreshed after clicking on "X" button in search bar: #2451.
What is new in version 7.0.2281.5837 (Released on March 06, 2019):
Feature Group crash reports: #2462.
What is new in version 7.0.2261.5797 (Released on March 05, 2019):
Fix AdGuard crashed during 6.4 to 7.0 update: #2452;
Fix AdguardNetReg.exe has the wrong bitness within the driver: #2441;
Fix UI of Release Notes & Update has poor appearance: #2450.
What is new in version 7.0.2243.5761 (Released on March 01, 2019):
The very first AdGuard for Windows nightly that features CoreLibs. CoreLibs is a new filtering engine which provides better filtering quality and faster performance;
New app design;
Added the dark theme;
Added an automatic crash reporter. A user needs to restart the app and agree to send the automatically created report; it will already contain all the technical information our specialists need to fix the problem.
System requirements:
OS: Microsoft Windows 10, 8.1, 8, 7, Vista, XP SP3;
RAM: at least 512 MB;
Free disk space: 60 MB;
Browsers: Microsoft Edge, Microsoft Internet Explorer (all versions), Opera, Google Chrome, Yandex.Browser, Mozilla Firefox, and other browsers.
Install notes:
1. Kindly read "Readme.txt" file given in download zip file;
2. Enjoy!
Screenshots: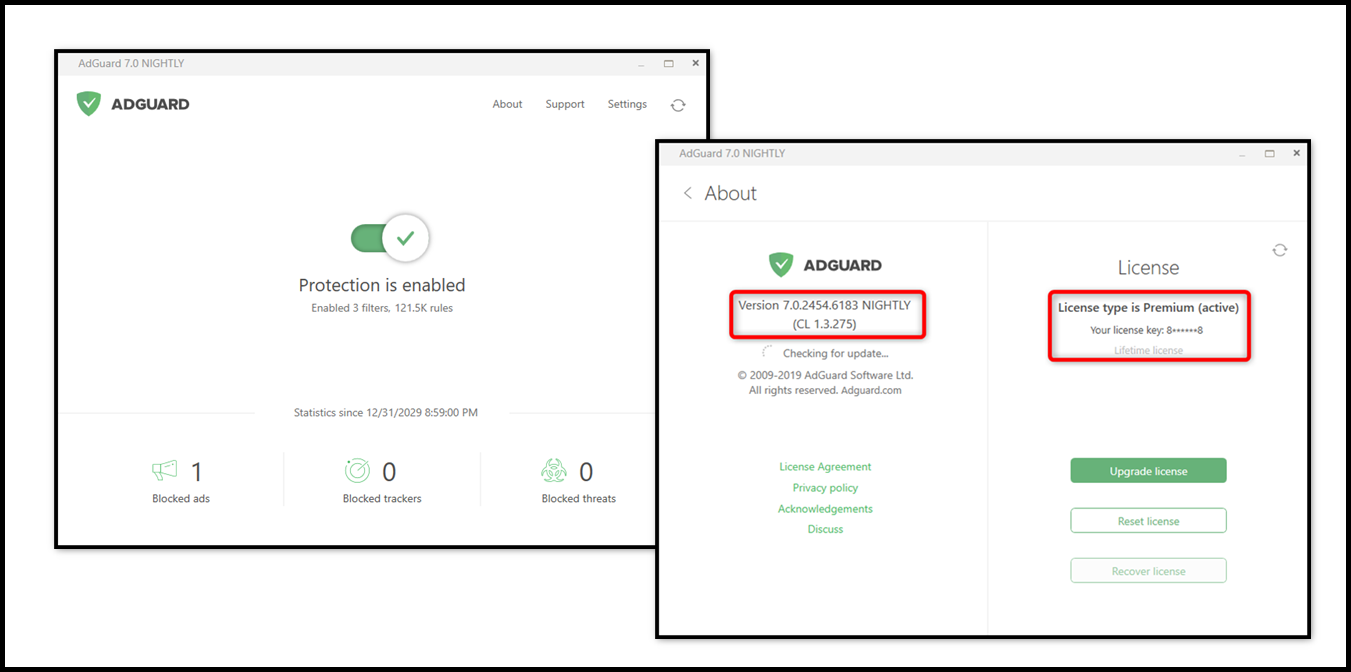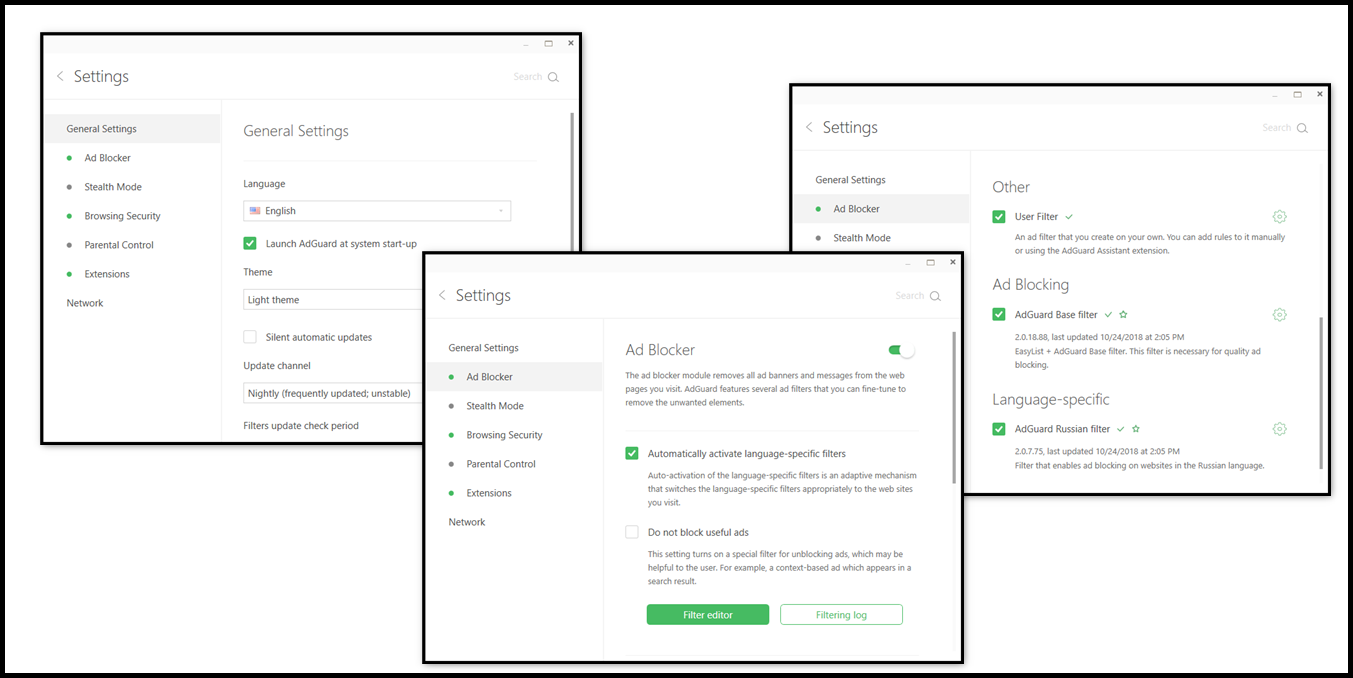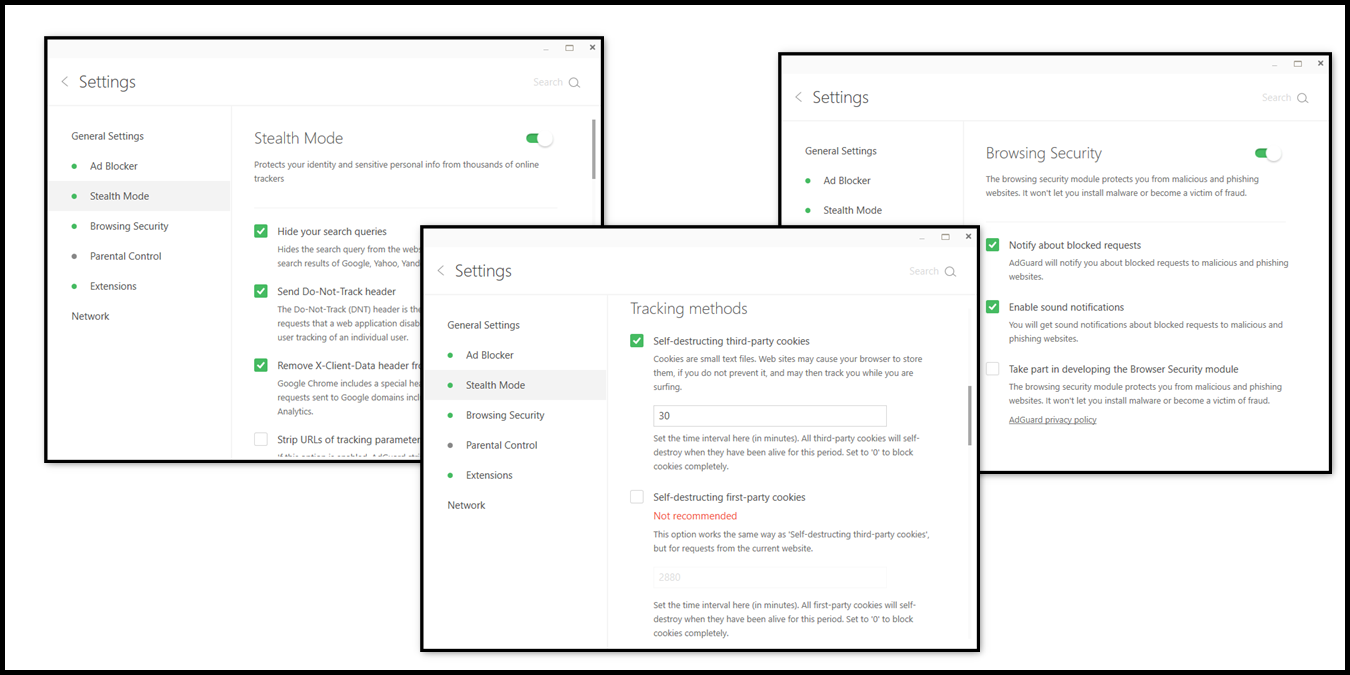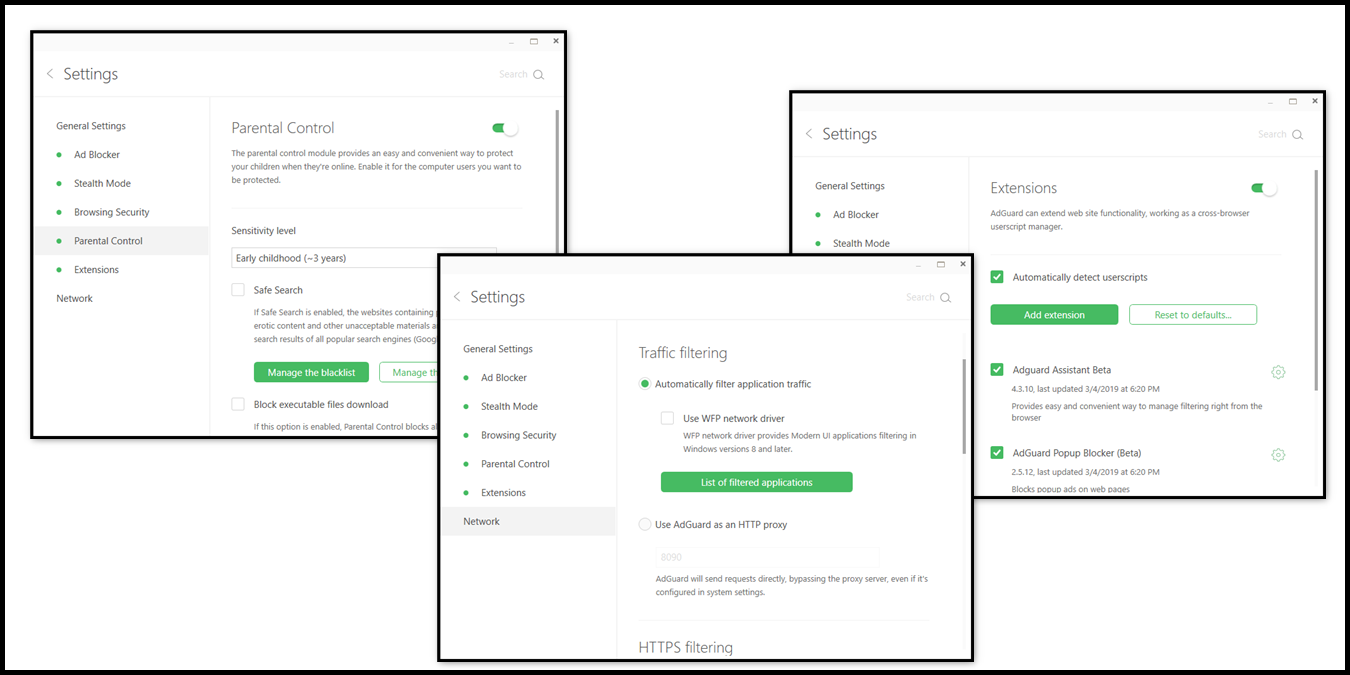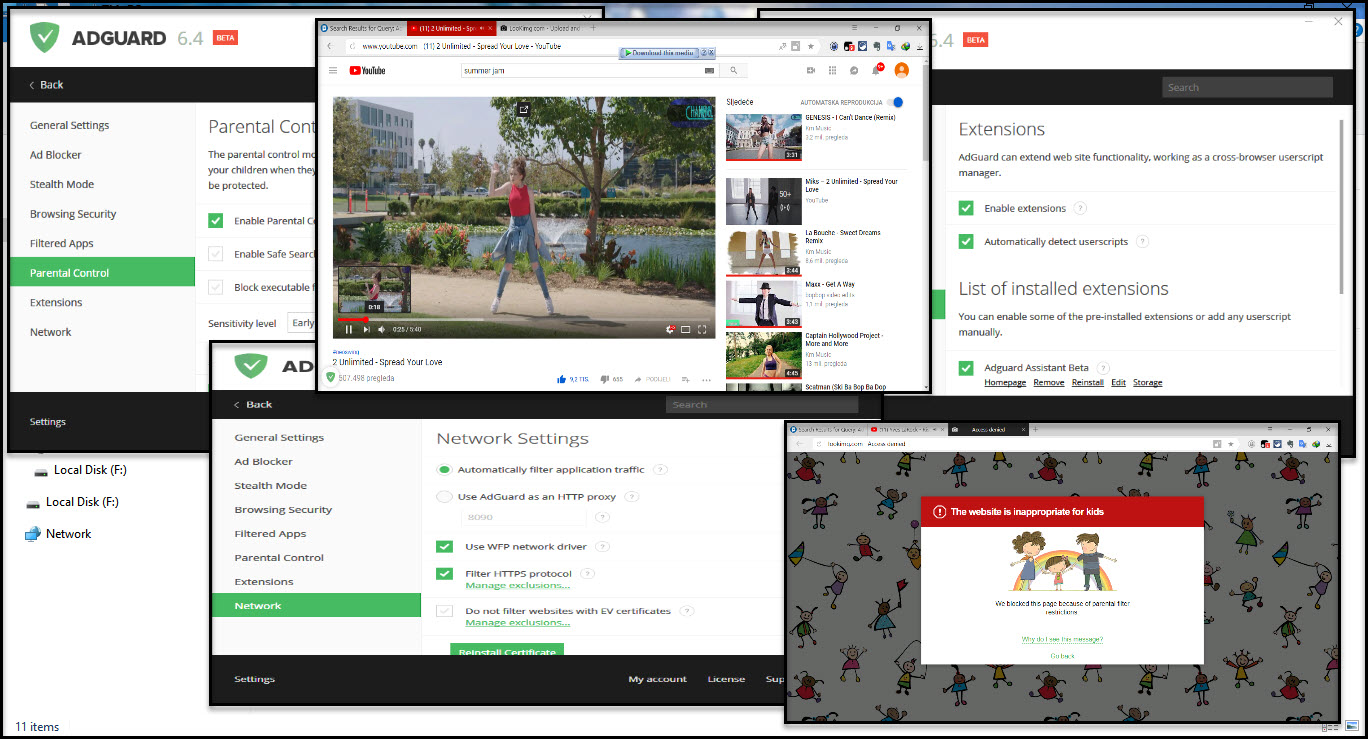 Official installer: setup.exe
You must be registered for see links
0/67
MD5: 037CFACCBF071E390C26E1515DF1C39D
SHA1: 0D04764C5DAC154F4D554F6E8A85BA4BA8B61709
SHA256: 40C48B56B6ACE445FD10CC8F491A6ADA34C41B71615AFBB707503DA656D65C8D
Activator: Activator Adguard Premium lifetime.exe
You must be registered for see links
1/69
MD5: E21FED337F45846CFF969845EBA8C184
SHA1: 4F627F607F07868C19B428D722E17ED60672A434
SHA256: 97C5BB17D6707884820AFF3911DAD289866782435A01E2F84856A671DBBF6B58
Kind regards,
@Mirkec
in collaboration with TeamOS
Download links - version 7.0.2454.6183 Nightly (Size: 30.80 MB):
You must be registered for see links
You must be registered for see links
You must be registered for see links
You must be registered for see links
Last edited: