Uploader
Verified Member
Member
Downloaded

132.9 GB
Uploaded

2 TB
Ratio

15.68
Seedbonus

19,966
Upload Count

83

(96)
Adobe
Illustrator
CC 2020 |
Beginner
|
Tools
+
Workshop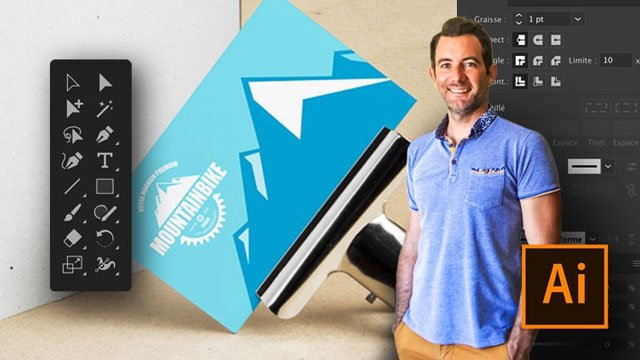 MP4
| Video: h
264
,
1280
x
720
| Audio:
AAC
,
48
KHz,
2
Ch
Genre:
eLearning
| Language:
English
+ .
srt
| Duration:
72
lectures (
6
hour,
47
mins) | Size:
1
.
92
GB
Learn Adobe Illustrator CC graphic design, logo design, and more with this in-depth, practical, business card, workshop
What you'll learn
You will be able to add Illustrator to your CV
Navigate Adobe Illustrator CC like a pro
Draw beginner to advanced shapes and icons.
Draw existing famous logos
Design your own graphics, without any experience
Create many different icons styles
Create a paper cut effect
Learn all of the key skills of Illustrator: shapes, text, masking, effects, and exporting
Requirements
Any version of Adobe Illustrator, preferably the CC (Creative Cloud) version.
No prior knowledge or experience with Illustrator is required
As a graphic designer for over 10 years, I have taught in various Graphic Design and Marketing Schools and in Training Centres.

This training course is aimed at professionals as well as students who want to learn the basics of the ILLUSTRATOR programme and be able to freely create.

You wish to create your logo, pictograms, visual graphics but you do not know how to procede.

This course will guide you step by step through the basic learning tools. You will learn how to master the tools, to create your own logo, modify a logo, create an illustration and therefore create your own independent visual project.

ILLUSTRATOR is an easy-to-use software but contains a few keys you need to know: this is what this training programme provides.

Now take your computer mouse and you are only a few clics away from creative logos and visuals!

Join the Facebook group for clues, tutos and mutual help and assistance

Type Formation graphique by Romain Duclos

Buy this programme and be free to create
Who this course is for:
Anyone who wants to start using Illustrator in their career & get paid for their Illustrator skills.
Newbies, amateurs, graphic designers, motion graphics artists and any creatives who want to design their own graphics from scratch.
You must be registered for see links
You must be registered for see links
You must be registered for see links
You must be registered for see links
You must be registered for see links
You must be registered for see links
You must be registered for see links
You must be registered for see links
You must be registered for see links
You must be registered for see links
You must be registered for see links
You must be registered for see links
You must be registered for see links
You must be registered for see links
You must be registered for see links
You must be registered for see links
You must be registered for see links
You must be registered for see links
You must be registered for see links
You must be registered for see links
You must be registered for see links
You must be registered for see links
You must be registered for see links
You must be registered for see links
You must be registered for see links
Download
File-Upload
You must be registered for see links
You must be registered for see links
UsersDrive
You must be registered for see links
You must be registered for see links
​
Last edited: