Die with memories, not dreams
Moderator
Downloaded

209.1 GB
Uploaded

26.6 TB
Ratio

130.04
Seedbonus

348,236
Upload Count

117

(124)
Year of release: 2021
Version of the program: 2022.2 build 287
Developer: Autodesk
Platform:
Windows x64
Interface language: Russian / English
Medicine:

Present
System Requirements
• 64-bit version of Microsoft Windows 7, Windows 8.x, or Windows 10
• 2.5 GHz processor (3 GHz recommended, 4 cores minimum)
• 16 GB of RAM for assemblies with less than 500 parts (32 GB recommended)
• Video adapter with 1 GB VRAM, 29 Gbps bandwidth and DirectX 11 support (4 GB and 106 Gbps recommended)
• 1280x1024 screen resolution (3840x2160 recommended; 100%, 125%, 150% or 200% preferred)
• 40 GB of free disk space
• Google Chrome or equivalent
• .NET Framework 4.8 or later

Complex models, complex mold assemblies and large assemblies (more than 1000 parts)
• 3.3 GHz processor, 4 cores minimum
• 64 GB RAM
• Video adapter with 4 GB VRAM, 106 Gbps bandwidth and support for DirectX 11
> Description <
Autodesk Inventor Pro

is a comprehensive suite of solutions for 3D mechanical engineering and documentation, cable and piping design, injection mold design and product performance testing. With Autodesk Inventor Pro, engineers can integrate AutoCAD drawings and other 2D data into a single model, creating a virtual representation of the final product. Checking the form, tolerances and functionality is carried out by means of the program long before the product is put into production.

Autodesk Inventor Pro contains a complete set of flexible tools for 3D mechanical design, product analysis, tooling, custom design, and design data exchange. Autodesk Inventor Prohelps you go beyond 3D with digital prototyping technology, based on a highly accurate 3D model that allows you to design, visualize and analyze products even before the first sample is produced. Digital prototyping technology in Autodesk Inventor Pro enables you to improve product quality, reduce development costs, and accelerate time to market.

Autodesk Inventor Pro includes easy-to-use, tightly coupled dynamic and stress analysis tools to help you investigate the behavior of parts and products in real-world conditions and get high-quality products to market faster. In Autodesk Inventor ProIt automates key aspects of the design process for injection molds for plastic parts, as well as the routing of complex piping and cable networks. Thanks to these capabilities, the risk of errors is reduced and the competitiveness of the manufactured products increases.
~ New opportunities ~
- Model States Overview
This release adds a powerful new workflow called Model States. It allows you to create manufacturing states, simplification levels, and other items in a single part or assembly file.

- Dependency improvements
New options allow you to quickly identify components with dependencies.

- New Simplify command Learn
about the new Simplify command at the assembly level, which replaces the Shrinkwrap command.

- Instance Properties: Introduction
This powerful feature allows you to assign properties to individual component instances. The assigned properties are saved in the parent assembly.

- Update lookups
You no longer need to open the lookup part and synchronize the lookup with the original assembly using the Check for Updates context menu command.

- Improvements in working with pipes and pipes
Learn about the new enhancement of the ISOGEN output command.

- Part enhancements
New workflows have been added to this release to improve productivity.

- Improvements in shaded drawing views
Updated shaded drawing views support the use of model lighting style.

- Drawing view
options Added named view options that allow you to retrieve camera view and 3D annotation.

- Size improvements
Centerlines and center marks with extended lines now break when intersected with dimensions.

- Export to Revit format (RVT)
This specialized workflow allows you to simplify the model as part of the export procedure to RVT.

- Inventor and Fusion 360 Compatibility
This release adds a new workflow that makes it easier to share Inventor part files with the Fusion Team and Fusion 360.

- Export to QIF
This release adds support for QIF 3.0. The export to QIF function allows you to export a QIF file that contains PMI data.

- Export to JT format
This version adds support for exporting to JT format in Task Scheduler. This feature allows you to export a neutral 3D CAD file that contains PMI data.
~ List of changes made ~
- The original Russian and English distributions have been merged into one.
- Unlocked the ability to install the program on Windows 7 SP1 and Windows 8.x.
- For a modern installer, a solution was developed and implemented to select the interface language of the installed program.
- The interface language of the installer itself is set based on the OS interface language.
- Removed Autodesk Desktop App module from the installation package.
- Removed Autodesk Genuine Service module from the installation package.
- Removed Autodesk Single Sign On Component module from the installation package.
- The installation package has been integrated with the Inventor 2022.2 Update.
- Autodesk On-Demand Install Service has been updated from version 1.16.0.31 to version 1.22.0.16.
- The installer has been updated from version 1.16.0.6 to version 1.22.0.2.
- Everything you need for treatment, including detailed instructions, is inside the image in the Crack folder.
>> Treatment Procedure <<
​
Install Autodesk Inventor Pro 2022 ( Setup.exe file ).
ATTENTION: A few seconds after the product installation window is closed, the installation of its update will start in automatic mode. Therefore, if at the end of the installation you see an offer to restart the computer, then refuse this restart! Wait for the message "Installing updates is complete. Enjoy!" - it will mark the completion of the update installation.​

Run the AdskNLM.exe file from the [email protected] folder and wait for the message "Cracking complete. Enjoy!" To appear.

​

Run the installed application. In the window for choosing the type of license, click "Use a network license" (Use a network license).

​

Enjoy the registered version of the product!

​
Credits to m0nkrus
> Screenshot <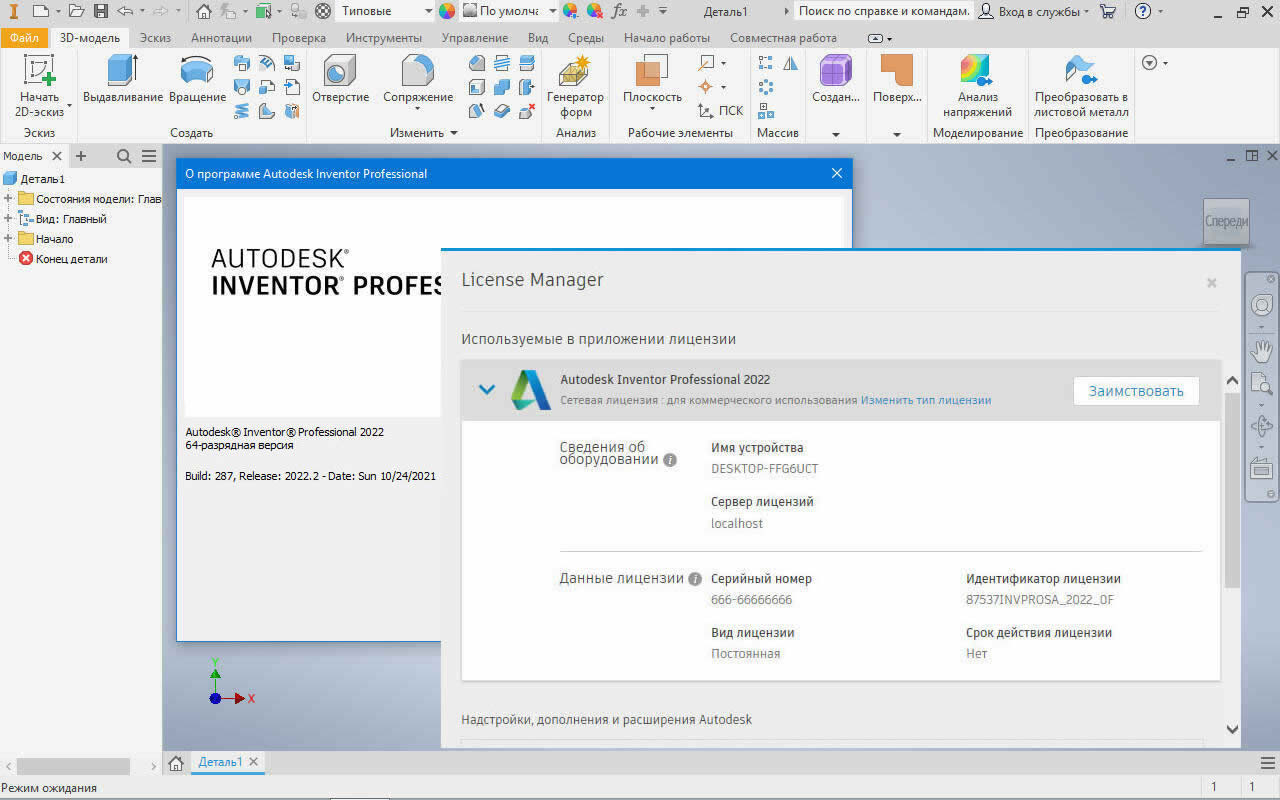 > Download <
​
Created With:

ruTorrent (PHP Class - Adrien Gibrat)

Comment:

Downloaded From https://www.teamos-hkrg.com/

Peers:

14 Seeders + 1 Leechers = 15 Peers

Info Hash:

26506d3318d3b1ba0580b0b99957e4e4a3c8564d

Loading…