Uploader
Verified Member
Member
Downloaded

57.3 GB
Uploaded

16 TB
Ratio

286.55
Seedbonus

328,264
Upload Count

83

(86)
Review
Betternet VPN Premium is a simple but powerful and fully functional proxy software that enables a user to surf the web anonymously, makes him secure, and allows access to all blocked websites. Betternet is a virtual private network (VPN) provider with 38 million users worldwide.
It represents the easiest way to connect to the web without any restrictions and without any concerns about being tracked by the government or user Internet service providers (ISP). Premium version is a fast, easy to use, secure and unlimited VPN service that much more comfortable and quicker than other providers. Just connect to its servers and start surfing the web anonymously and securely in one click. It detects user location automatically and connects to the nearest and fastest server. To switch between server locations, click on a new server without concern to disconnect before changing servers and reconnecting–it will do it automatically.
Betternet gives access to the entire blocked websites in the user country, at school or work. The application unblocks Facebook, Twitter, Youtube, and other social networks and bypasses the government censorship. It secures a user device's connection during the connection to public Wi-Fi hotspots, cellular data networks, and other public locations.
With proper encryption and a decent number of servers, Betternet VPN will change user real IP address with virtual IP that is used simultaneously with thousands or even millions of users, this almost does not allow anyone to know user identity, and of course, his activities are also far from spies. In other words, it will ensure user privacy and integrity are safe.
Simple, one tap connect;
Connection with the fastest Server;
Fast connection and reconnection speeds;
Surf the web securely and anonymously;
Reliable and quicker than other providers;
Provide high-quality and stable connection;
Avoid IP-based blocks and access video;
Simple interface with merely one connect;
Unblock all restricted websites and services;
Automatically connects a user to the nearest server.
The Premium plan provides the following features:
Servers in ten countries: Hong Kong, Singapore, Japan, Australia, the UK, Germany, the Netherlands, France, Canada, and seven US cities (randomly choose);
Five simultaneous connections;
No advertisements (unlike the free version);
Free access to a browser extension for Chrome;
Apps for Windows, macOS X, iOS, and Android;
OpenVPN encryption (AES-256 encryption and L2TP/IPSec with a 128-bit key).
System requirements:
OS: Windows all versions;
OpenVPN (comes with the installer);
TAP-Windows (comes with the installer);
Computer with reasonable speed;
Internet Connection.
Install notes:
1. Run the executable file or command-line interpreter program for silent installation;
2. Enjoy!
The pre-activated application is tested, and it is working smoothly!​
Screenshots: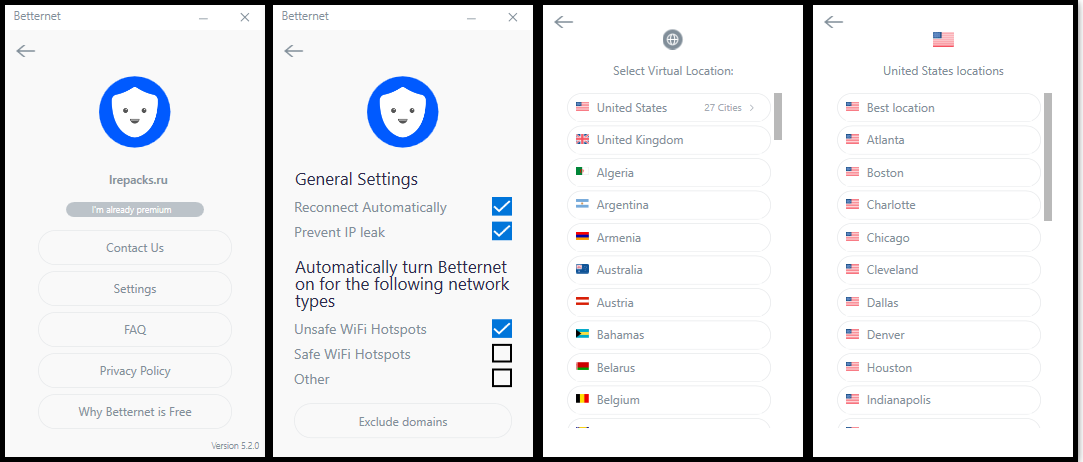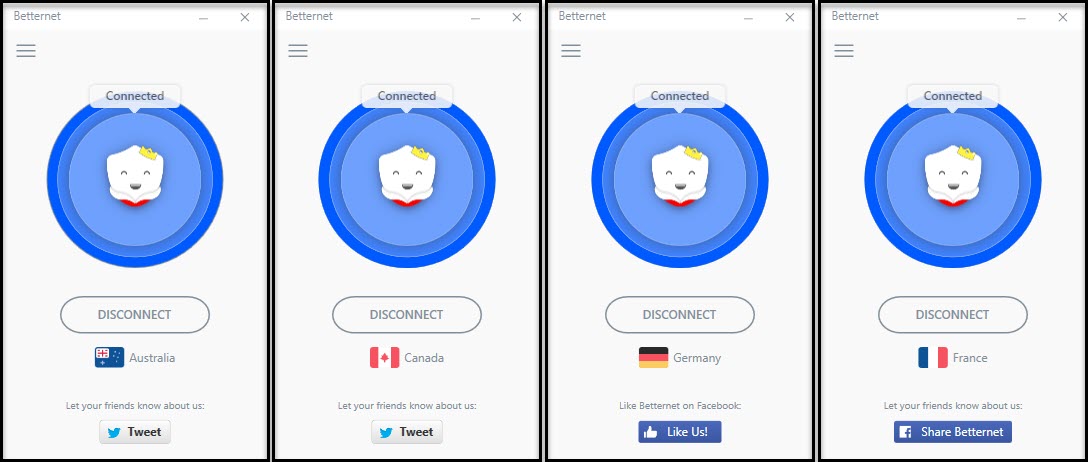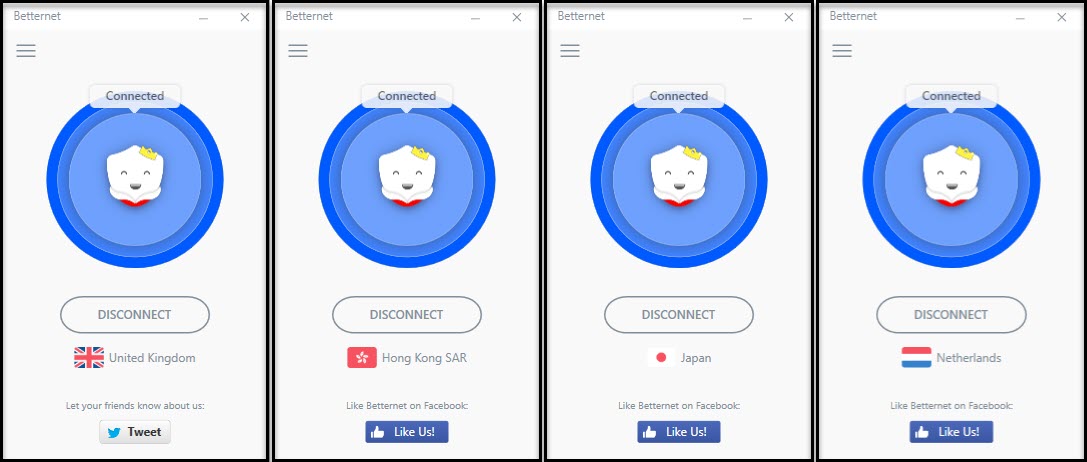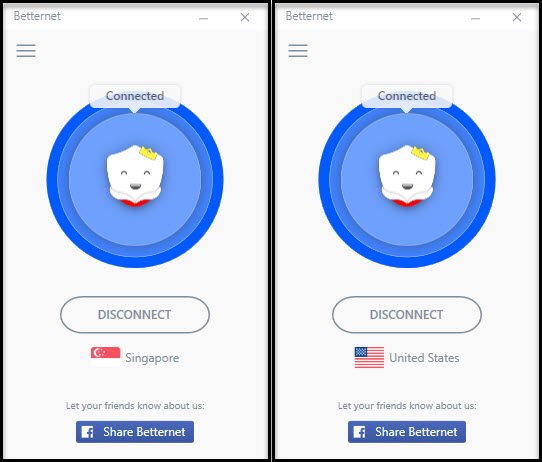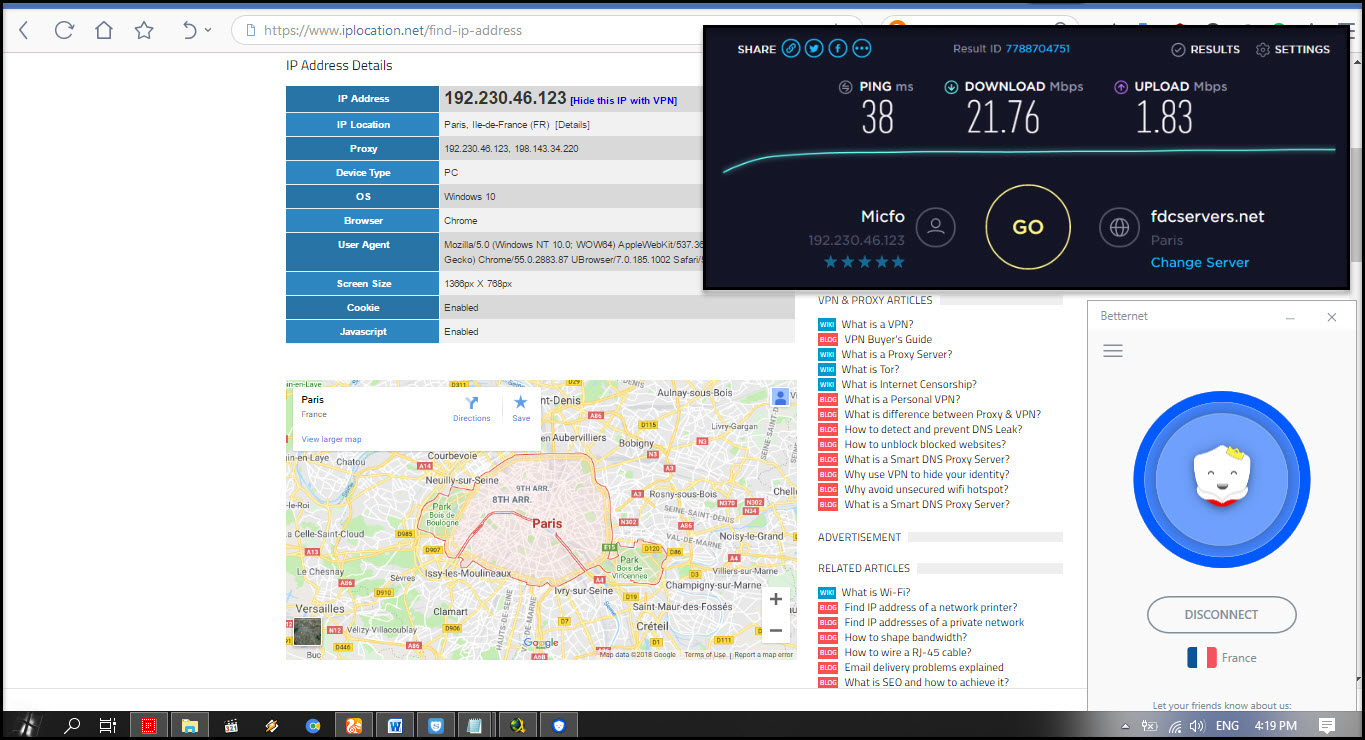 Virus free! No virus signature! 100% clean!
​
File: Betternet Premium 5.2.0.exe
You must be registered for see links
03/69
MD5: 8F40A7DF3078C8F452E714D539CB5678
SHA1: 33605ECF7EF2CC8E26ED76DF83BE2AAEED40A89A
SHA256: 917B2E1FC5766A706BE1D4D18F12B4EAE43EBB275D08D2E60EE135A70FA07B69
Kind regards,
@Mirkec
in collaboration with TeamOS
Download links - version 5.2.0 (Size: 8.24 MB):
You must be registered for see links
You must be registered for see links
You must be registered for see links
You must be registered for see links
Last edited: