Downloaded

50.5 GB
Uploaded

746.7 GB
Ratio

14.78
Seedbonus

2,873
Upload Count

1

(1)
DivX Pro Media Center/Converter 10.8.7 w/Serial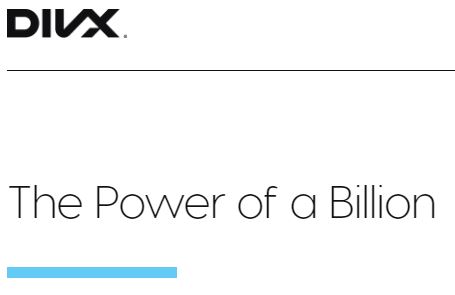 A lot of people miss on this player because they think that the DivX player is usable just one format. Do not let that confuse you as it does support every modern and old format of videos out in the market.

The primary purpose of DivX player is to play HEVC videos, as well as high-quality videos. The DivX player is a bit on the heavier side when it comes to the features.

It is a good thing because this allows the users to get the best possible experience they can when they are watching the movies.

Apart from the usual list of features, there are some advanced features mentioned below.

DivX player features a built-in media server for devices with DLNA.
Supports FF/RW, allowing you to navigate between chapters.
The player offers playlist organization.
There are a ton of audio playback options.
It is evident that DivX player does come with features for both audio and video playback, giving you complete control over how you want to handle the content.
DivX Player might be the best choice when you want to make sure that the output quality isn't compromised.
As the tool has been dedicated for HEVC Playback and in-built support for Ultra HD videos, you will just love the experience in terms of visual quality.
Also, the player boasts wide range of support, including the common formats like MP4, AVI and MKV.

Minimum System Requirements:
For DivX 3, 4, 5, 6, 7 and DivX Plus HD video:

Windows XP SP3 (32-bit) with DirectX 9 or better, Windows Vista SP1 (32-bit, 64-bit), Windows 7 (32-bit, 64-bit), Windows 8 (32-bit, 64-bit)
Intel® Pentium® III 733Mhz, AMD Duron™ 650, or equivalent for standard definition DivX
Intel® Pentium® IV 2.4Ghz, AMD Athlon™ XP 2400+, or equivalent for high definition DivX
Intel® Pentium® D 3.0Ghz, AMD Athlon™ 64 X2 4000+, or equivalent for Divx Plus HD
Video:

32MB of video ram, 800x600 display in 24-bit color for SD
64MB of video ram, 1280x720 display in 24-bit color for HD
Audio:

Stereo sound card with drivers for DirectSound
For DivX HEVC Video Playback:

Windows XP or later (32-bit, 64-bit), Windows Vista (32-bit, 64-bit), Windows 7 Enterprise (32-bit, 64-bit), Windows 8 (32-bit, 64-bit)
PC with at least a 1.6GHz Intel or AMD dual-core processor and 4GB of RAM
Available disk space: 215MB
Broadband connection (for DivX Web Player streaming)
For DivX Web Player: Broadband connection and Internet Explorer 7 or higher, Firefox 3.5 or higher, Google Chrome 20 or higher, Safari 5 or higher
Net Framework: 4.7.2 or 4.8
Visual Studio Supports: 2019
[
Download and Unzip. Read the Instruction.txt
.EXE FILE

You must be registered for see links
You must be registered for see links
​