Downloaded

1.4 GB
Uploaded

35.4 GB
Ratio

24.71
:: GandCrab Ransomware Decrypter ::




In collaboration with law enforcement agencies around the world, Bitdefender has released an updated decryptor for the GandCrab Ransomware that can decrypt files encrypted by versions 1, 4, and 5 through 5.2.

If you were infected with the GandCrab Ransomware v1, v4, and versions 5-5.2, then you will now be able to get your files back for free using an updated decryptor by Bitdefender.

To get started, download the BDGandCrabDecryptTool.exe file from the following download link.

Once downloaded, double-click on the program and you will be greeted with a license agreement, which you should accept.

The decryptor will open and display a notice that the machine needs to be connected for the Internet to work. This is because the decryptor will need to connect back to the Bitdefender servers in order to check for your decryption key and download it.





You will now be shown the main GandCrab decryptor screen as shown below. At this point you have the option to either decrypt the entire computer or a specific folder.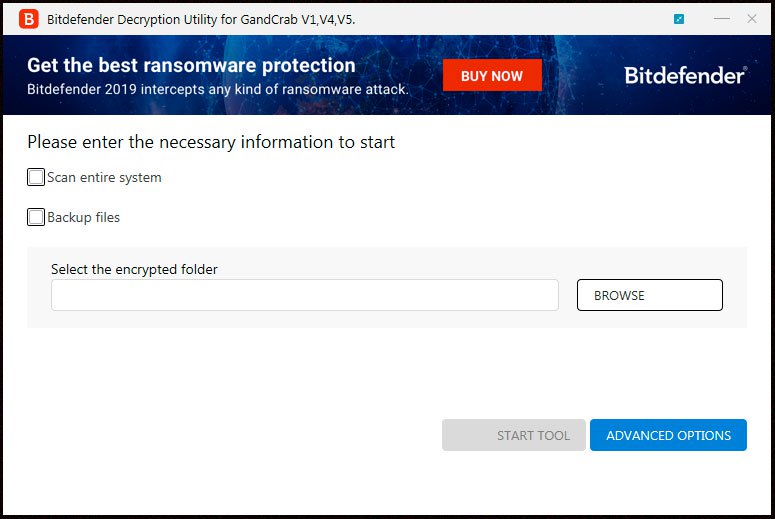 Bitdefender GandCrab Decryptor

I suggest you test the decryptor again a folder first to make sure it works and that there are no issues. If successful, you can then select "Scan entire system" to decrypt the whole computer.

Once you select the option you want, to begin decryption you need to click on the Start Tool button.

Once the decryption process is started, the decryptor will look for a ransom note to retrieve certain information, which is then uploaded to Bitdefender's servers. If a key can be found, it will be sent back to the decryptor.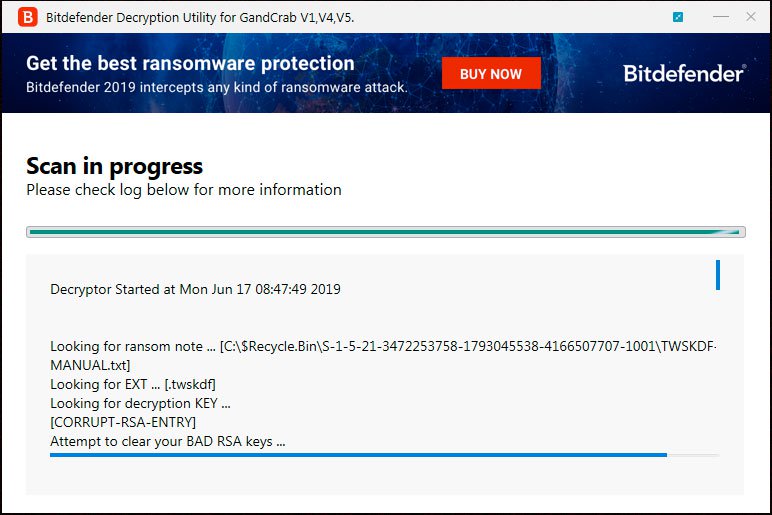 Retrieving Decryption Key

Once a decryption key is retrieved and loaded, the decryptor will start to decrypt the files on your computer. You can track its progress by using the scroll bar in the decryptor window.



Decrypting GandCrab Encrypted Files

When done, the decryptor will state it's finished and alert you to any issues.

If there are issues, you can click on the log file link to automatically open the %Temp%\BDRansomDecryptor\BDRansomDecryptor\BitdefenderLog.txt log file. This file will contain a summary of the decrypted files and any that were not able to be decrypted.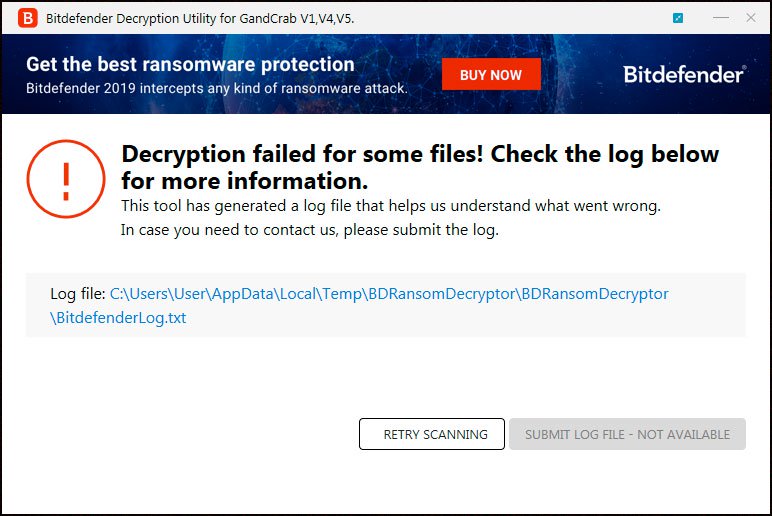 Decryptor Finished

For example, in our test, the decryptor was successfully able to decrypt all but 10 files. Thankfully, these were application specific files that can be recreated simply by reinstalling the application.



You must be registered for see links
​
1.

You must be registered for see links




​