Administrator
Windows Modifier
Downloaded

56.2 GB
Uploaded

15.9 TB
Ratio

289.73
Seedbonus

325,192
Upload Count

79

(78)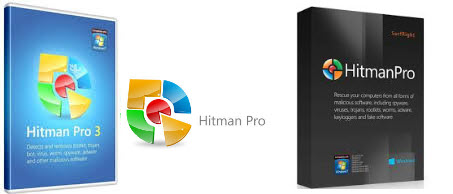 Review
Hitman Pro is the fastest solution to see if a user computer is infected with viruses. Hitman Pro is a second opinion malware scanner that helps a user find and remove new unknown threats, to locate, identify and remove malware. It is designed to work alongside existing security programs without any conflicts. HitmanPro uses innovative cloud computing techniques to detect and quickly remove potential malware threats with minimal impact on system performance. Research shows that many computers are infected even if they have an up-to-date security suite installed and that a combination of different anti-malware programs would be required to prevent infection.
This software is also portable and does not need to be installed. It can be run straight from a USB flash drive, a CD/DVD, local or network attached hard drive. Hitman Pro 3 is a fast all-in-one tool to locate, identify and remove viruses, spyware, trojans, rootkits and other malware. Hitman Pro 3 will quickly show if a user PC is infected with malicious software.
To remove malicious software, the developers have also built a particular removal engine that is capable of removing the toughest threats. A native NT application is capable of eliminating resilient risks before Windows starts. Moreover, of course, including corresponding references like registry keys and shortcuts. All without the need for updates and signatures.
Recognizes and removes viruses, trojans, rootkits, spyware, and other malware;
Revolutionary innovation in scanning technique to distinguish between malicious and safe software without signatures;
Short scan time - searches the system within a few minutes;
No extra system load;
Impossible to make false positives on important systems files thanks to "profiling" and whitelisting;
Multi-vendor identification of malware in our real-time "Scan Cloud";
Automatically restores common system alterations made by malicious software;
Creates a checkpoint in System Restore before removing malicious software;
Removes resistant threats using native NT boot-time deleter;
Removes references to malicious software (like shortcuts and registry entries);
Free malware scan;
Free online support in English, German and Dutch.
System Requirements:
OS: Microsoft Windows 2000/XP/Vista/Server 2008/7/8/10.
Install notes:
1. Kindly read "Readme.txt" file given in download zip file;
2. Enjoy!
Screenshots: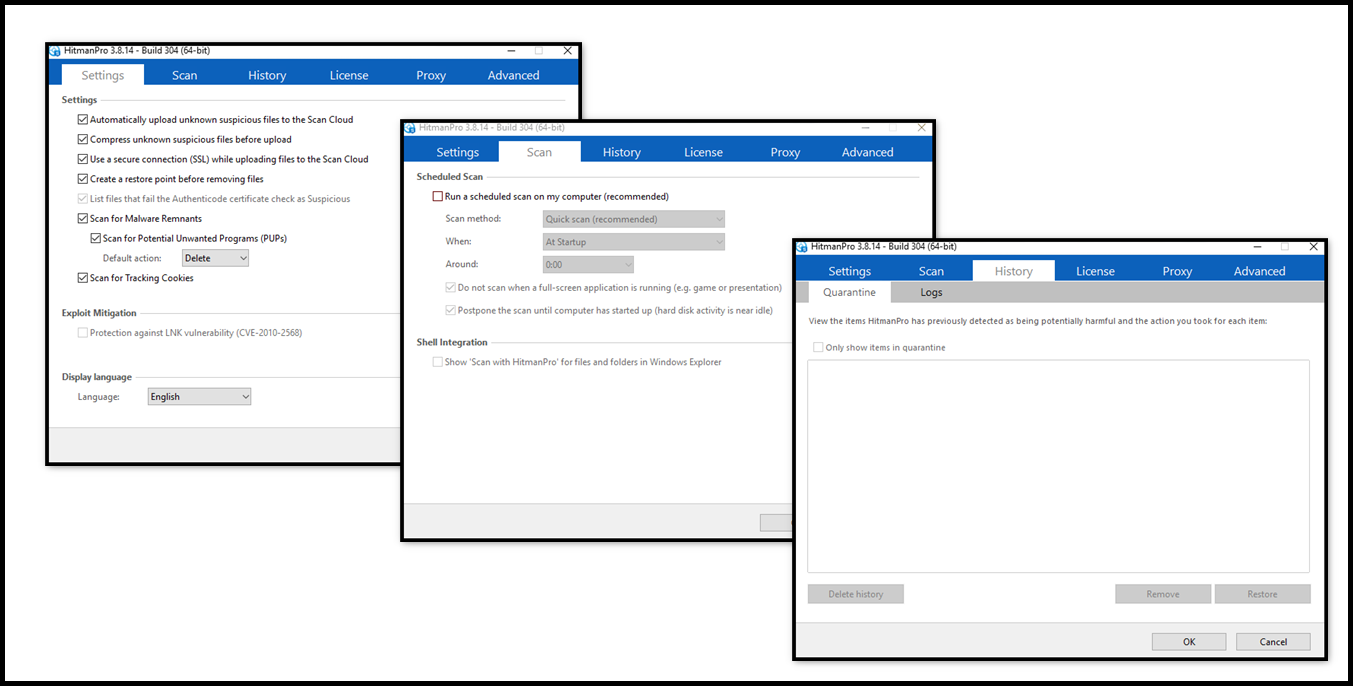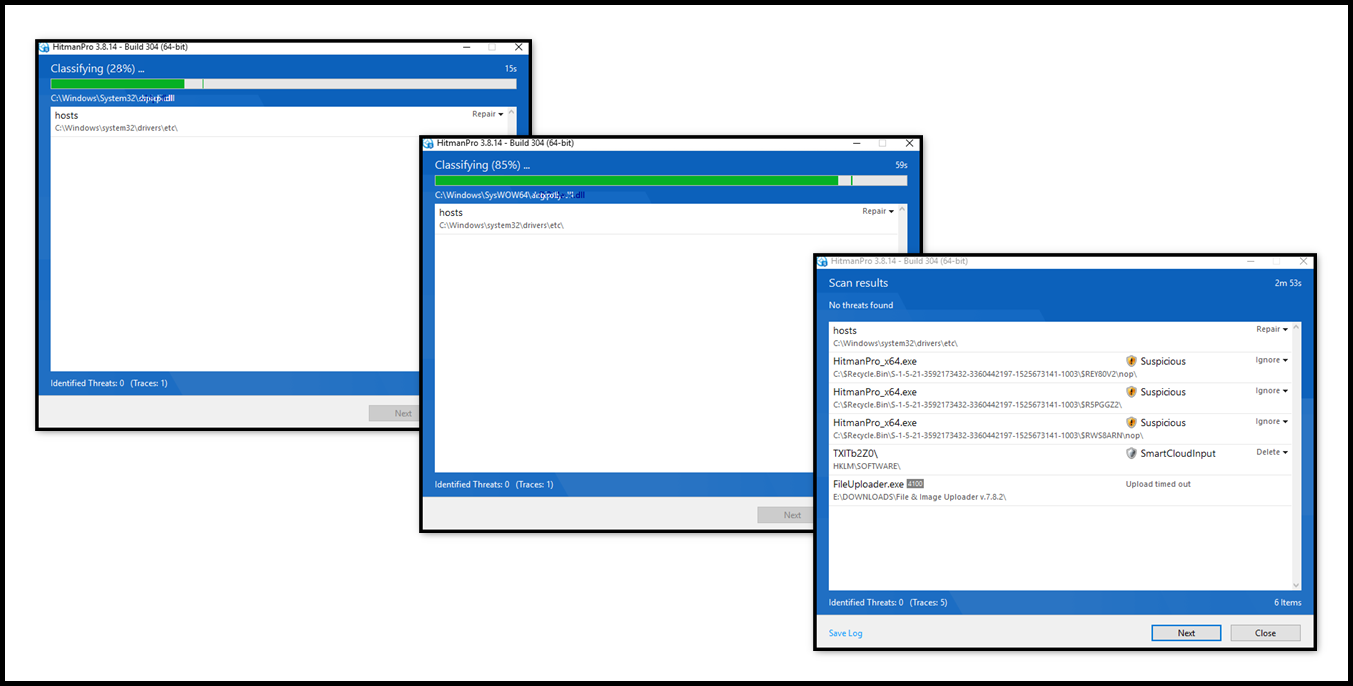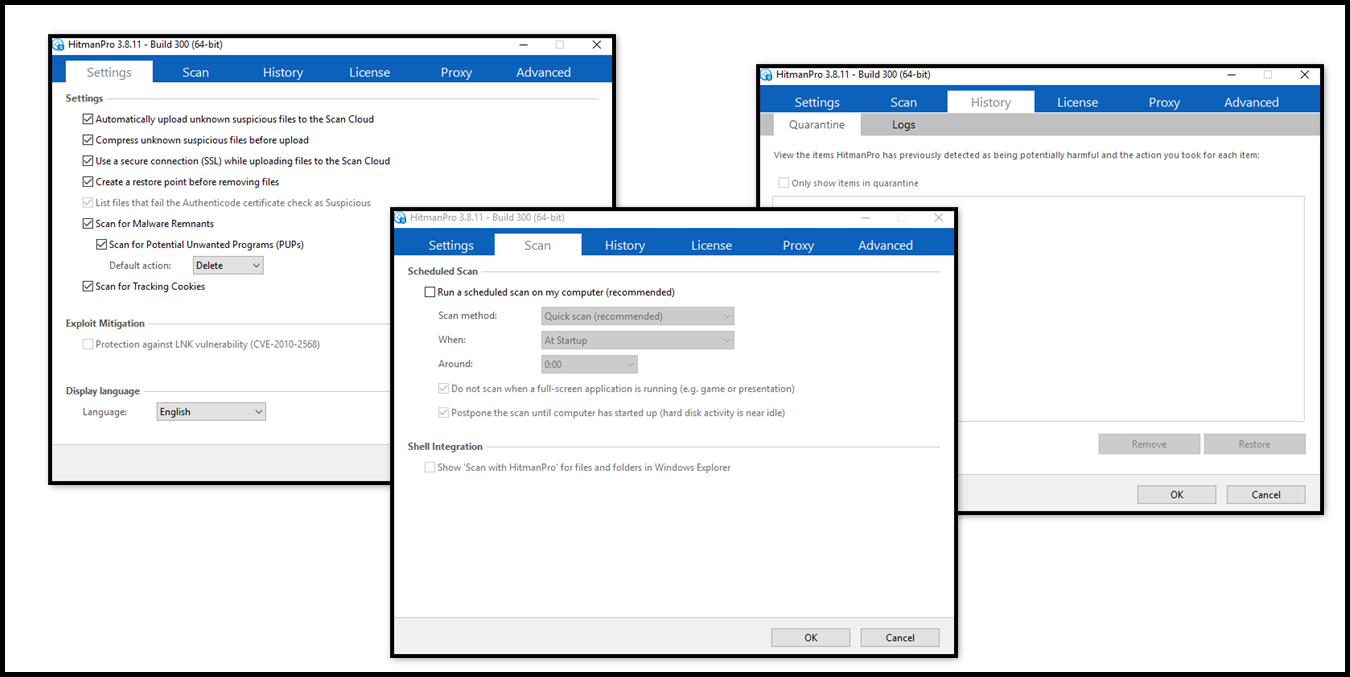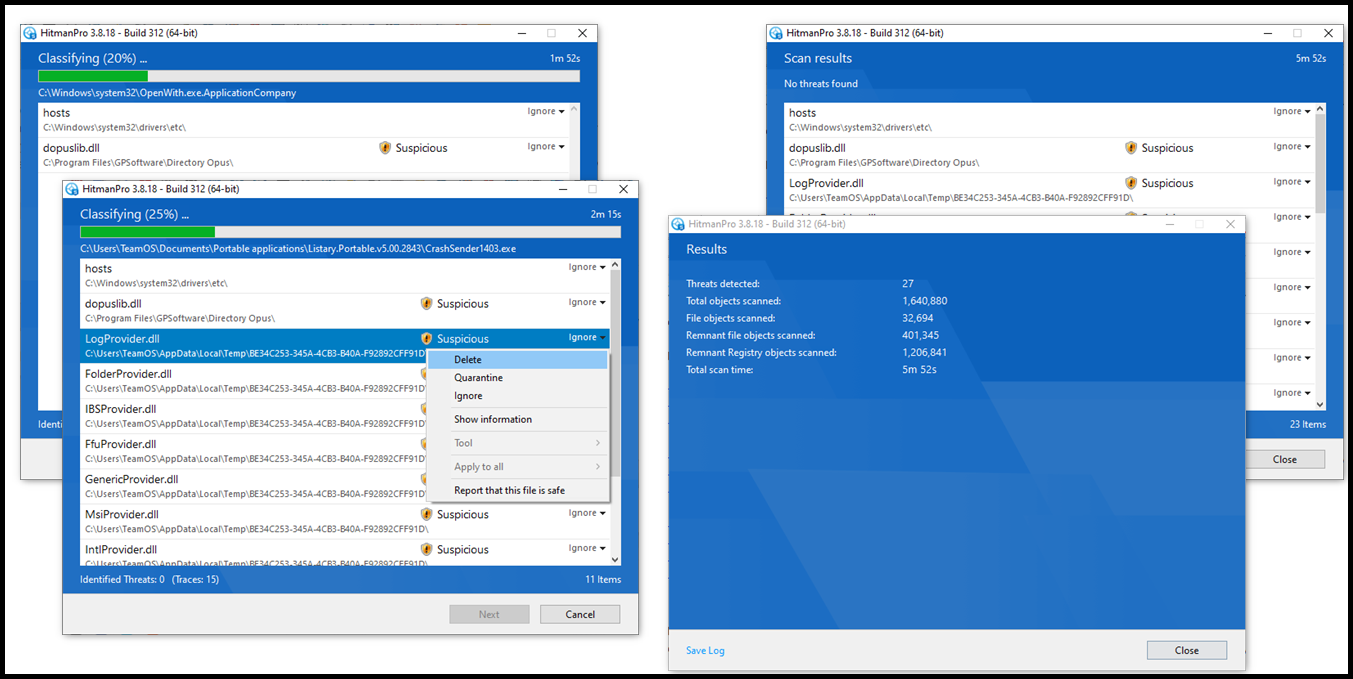 Virus free! 100% clean!
All credits go to MrSzzS, who made and shared the patch with us!
​
File: (x32bit.).hitmanpro.3.8.x.x-patch.exe
You must be registered for see links
45/73
MD5: 6D716F2D5507E6A6E21CB38C977DB6FF
SHA1: 063F68F2A589BFB052C4ED0353DC35BD4AD69F2F
SHA256: C4EA55302643914877BBD717C8B50896CAA4776E3D379CB09071BFF2698E856D
File: (x64bit.).hitmanpro.3.8.x.x-patch.exe
You must be registered for see links
45/73
MD5: 1C00F9E9A76D5EC8023D3C2CE5C973DB
SHA1: 5BBA99B6EB23F2724D231E6E3A57077FE950677C
SHA256: 416E7244FDCE6B3796BA32F69C15A50ACEE49F13A8646724596B552D2825295E
Kind regards,
@Mirkec
in collaboration with TeamOS
Download links version 3.8.18 Build 312 (Size: 11.36 MB):
You must be registered for see links
You must be registered for see links
You must be registered for see links
You must be registered for see links
Download links - preactivated version 3.8.18 Build 312 (Size: 9.72 MB):
You must be registered for see links
You must be registered for see links
You must be registered for see links
You must be registered for see links
Last edited: