Administrator
Windows Modifier
Downloaded

56.2 GB
Uploaded

15.9 TB
Ratio

289.77
Seedbonus

325,309
Upload Count

79

(78)

Review
InSpectre is a fast way to check if the user's machine is susceptible to the Spectre and Meltdown vulnerabilities. It is portable and does not require an Internet connection to function. What InSpectre does is check for any Spectre and Meltdown patches on user's system and then provides him with the potential impact on performance. Additionally, it will allow admins the option to disable the respective protections if needed - keep in mind, using this to enable or disable those protections will modify the Registry keys.
Within the main window, InSpectre provides users with detailed data regarding the checks that it made and also provides user with a decent amount of general vulnerability information about each of the vulnerabilities. User are given information that pertains specifically to whether OS or hardware need updating to protect against attacks that may attempt to exploit the weaknesses that Spectre or Meltdown pose. The impact rating is unique among some of the other similar tools but knowing if it is an accurate assessment is yet to be seen. But still a neat function for performance-concerned users.
The utility is provided to the user exactly as the author intended it to be with no additions or changes.
More information here:
https://www.teamos-hkrg.com/threads/intel-meltdown-and-spectre-proof-cpus-to-launch-this-year.49664/
Install notes:
1. Run the executable file;
2. Enjoy!
Screenshots: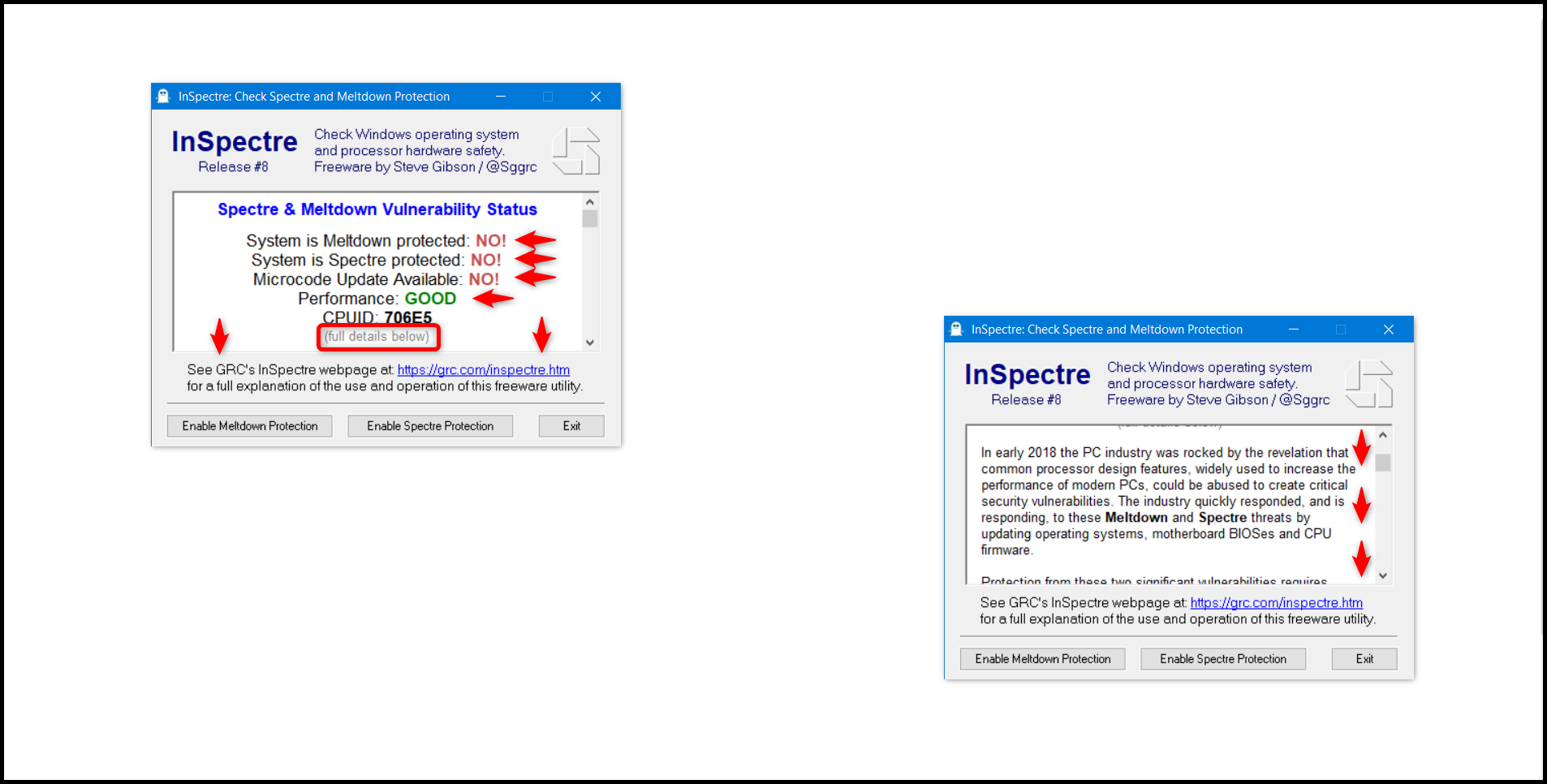 Virus free! 100% clean!
This one goes for
@lordofheaven
!​
File: InSpectre.exe
You must be registered for see links
02/68
MD5: 70BBD36E5B81ABCC423BB0ACD3DE525B
SHA1: 0706FA5EFC794F0DBD678BAC053BA8BF12272FF0
SHA256: 3AC3CFE5CCBBC8C30D812CECB8B96357B377535842D9BA67A4D0B1FA3636C9C2
Kind regards,
@Mirkec
in collaboration with TeamOS
Download links (Size: 431.93 KB):
You must be registered for see links
You must be registered for see links
You must be registered for see links