Administrator
Windows Modifier
Downloaded

56.2 GB
Uploaded

15.8 TB
Ratio

288.61
Seedbonus

323,610
Upload Count

78

(77)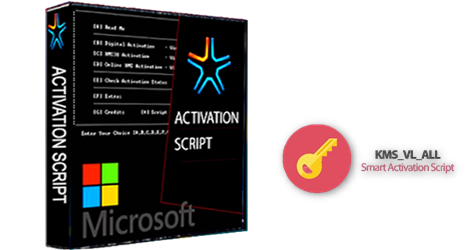 Review
KMS VL All is a smart activation batch script(s) to automate the activation of supported Windows and Office products using a local KMS server emulator or an external server. The script is designed to be unattended and smart enough not to override the permanent activation of products (Windows or Office); only non-activated products will be KMS-activated (if supported). The script correctly handles Windows 10 multi-editions-coexistence (since version 1607) to avoid changing the current edition or override retail activation.
The ultimate feature of this solution, when installed, will provide 24/7 activation whenever the system itself requests it (renewal, reactivation, hardware change, Edition upgrade, new Office...), without needing interaction from the user. Some security programs will report infected files due to KMS emulating (see source code near the end), this is false-positive. Therefore, temporarily suspend Antivirus real-time protection, or exclude the downloaded file and extracted the folder from scanning to avoid quarantine.
If a user is installing Auto-Renewal setup then also need to exclude this file:
C:\Windows\system32\SppExtComObjHook.dll
Supported Products:
Volume-capable
Windows 8/8.1/10 (all official editions, except Windows 10 S);
Windows 7 (Enterprise /N/E, Professional /N/E, Embedded Standard/POSReady/ThinPC);
Windows Server 2008 R2/2012/2012 R2/2016/2019;
Office Volume 2010/2013/2016/2019.
Unsupported Products:
Office Retail;
Office UWP (Windows 10 Apps);
Windows Editions which do not support KMS activation by design:

Windows Evaluation Editions;
Windows 7 (Starter, HomeBasic, HomePremium, Ultimate);
Windows 10 (Cloud "S", IoTEnterprise, IoTEnterpriseS, ProfessionalSingleLanguage... etc.);
Windows Server (Server Foundation, Storage Server, Home Server 2011... etc.).
These editions are only KMS-activatable for 45 days at max:
Windows 10 Home edition variants;
Windows 8.1 Core edition variants, Pro with Media Center, Pro Student.
These editions are only KMS-activatable for 30 days at max:
Windows 8 Core edition variants, Pro with Media Center.
The KMS_VL_ALL_AIO fork has these differences and extra features compared to the traditional KMS_VL_ALL:
Portable all-in-one script, easier to move and distribute alone;
All options and configurations are accessed via an easy-to-use menu;
Combine all the functions of the traditional scripts (Activate, AutoRenewal-Setup, Check-Activation-Status, setupcomplete);
Required binary files are embedded in the script (including ReadMeAIO.html itself), using ASCII encoder by @BAU [AveYo];
The needed files get extracted (decoded) later on-demand, via Windows PowerShell;
Simple text colorization for some menu options (for easier differentiation);
Auto administrator elevation request.
What is new in version 41f in comparison to version 10 (Released on February 18, 2021):
41f: Minor release to implement fix for Office C2R 'Get genuine' banner;
41: Add support for Windows 10 ARM64. Few code improvements;
40: Improvements and support for Server 2021. More info;
39: Bug fixes and improvements. More info;
38r: Fixed typo and implemented debug mode in setupcomplete.cmd;
38: Enhanced Auto C2R-R2V. PUBLIC variable to extract ReadMeAIO.html. Show message for error 0xC004F035 on Windows 7. More info;
37: Minor release. Improved auto Office C2R Retail to Volume conversion;
36: New features and code improvements. More info;
35: Bug fixes and improvements. More info;
34: Bug fixes. More info;
33: Enhanced sppsvc/osppsvc detection. Added more command-line switches. More info;
32: Revamp. More info;
31: Updated SppExtComObjHook.dll, Enhanced permanent activation detection;
30: Updated SppExtComObjHook.dll/ReadMe.txt. Activate-Local.cmd can change RenewalInterval/ActivationInterval directly;
29: Code improvement, replaced key.vbs with key.cmd;
28: Bugfix, enhanced Office C2R detection;
27: Updated SppExtComObjHook.dll. Support for Windows 10 KMS 2038;
26: Fixes and improvements. More info;
25: New unified SppExtComObjHook.dll;
24: New GVLKs (EnterpriseS 2019, Server 2019, ServerRdsh RS5);
23: New unified SppExtComObjPatcher.dll;
22: New GVLKs (Office 2019, Windows 10 Lean);
21: Support for Office 2019 SKUs;
20: Fixes and improvements. More info;
19: Fixed missing KMS variables in setupcomplete.cmd script;
18: Fixes and improvements. More info;
17: Added Windows 10 Education to the multi-edition combination. Categorized GVLKs;
16: Support/Fix for Windows 10 ProfessionalWorkstation. GVLKs for ServerStandardACor, ServerDatacenterACor;
15: Workaround for Windows 10 Pro/ProEdu/Enterprise combination. Support for new SKUs. Fix for EnterpriseG Remaining Period;
14: Revert to check installed Edition with DISM;
13: Fixed missing osppsvc.exe hook entries;
12: Fixed bug on pre Windows10, added support for EnterpriseG;
10: Support for Windows 10 / Server 2016.
System requirements:
OS: Microsoft® Windows® 10 (both 32 & 64-bit).
Install notes:
1. Run the command-line interpreter program;
2. Enjoy!
Screenshots: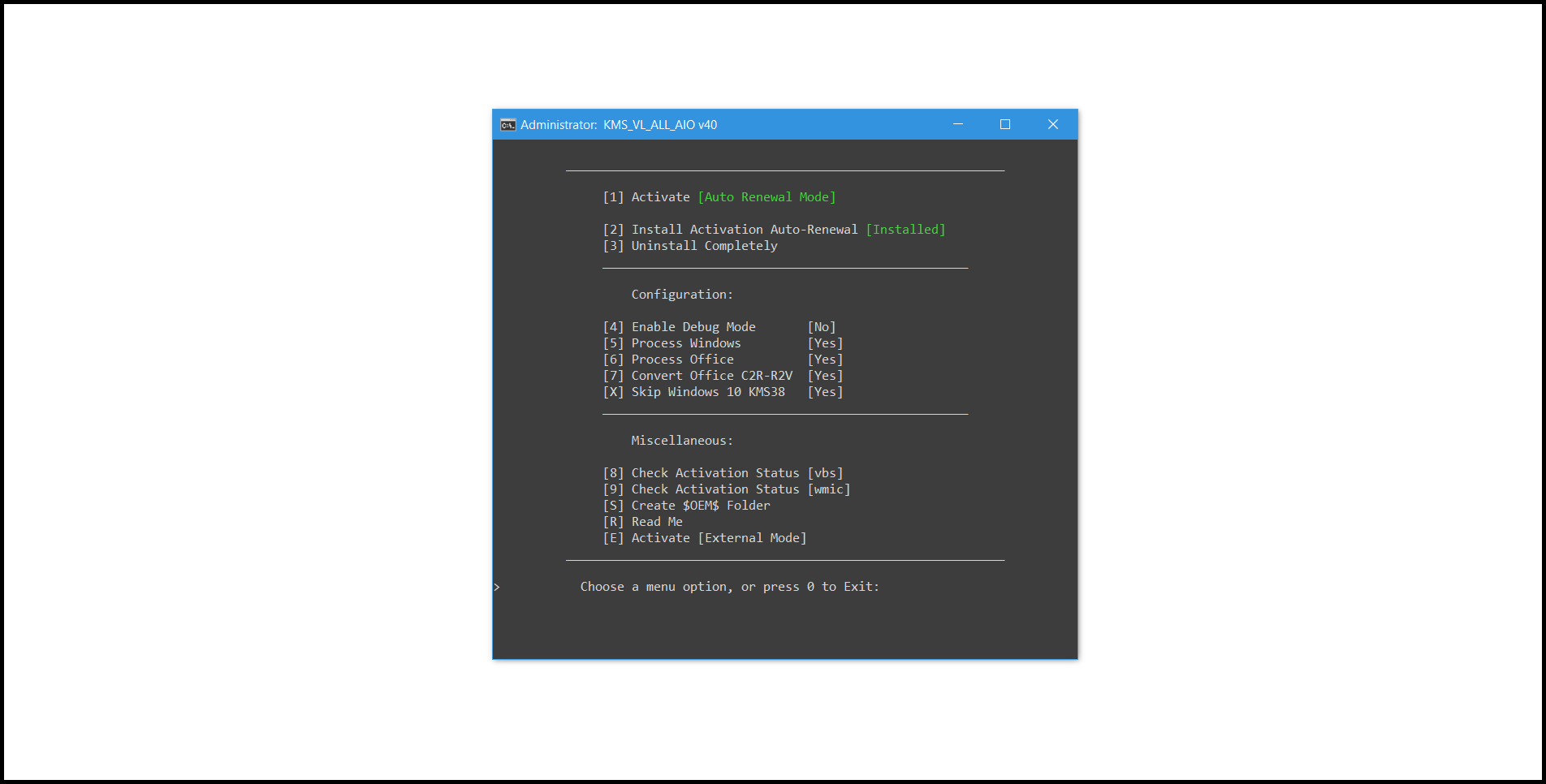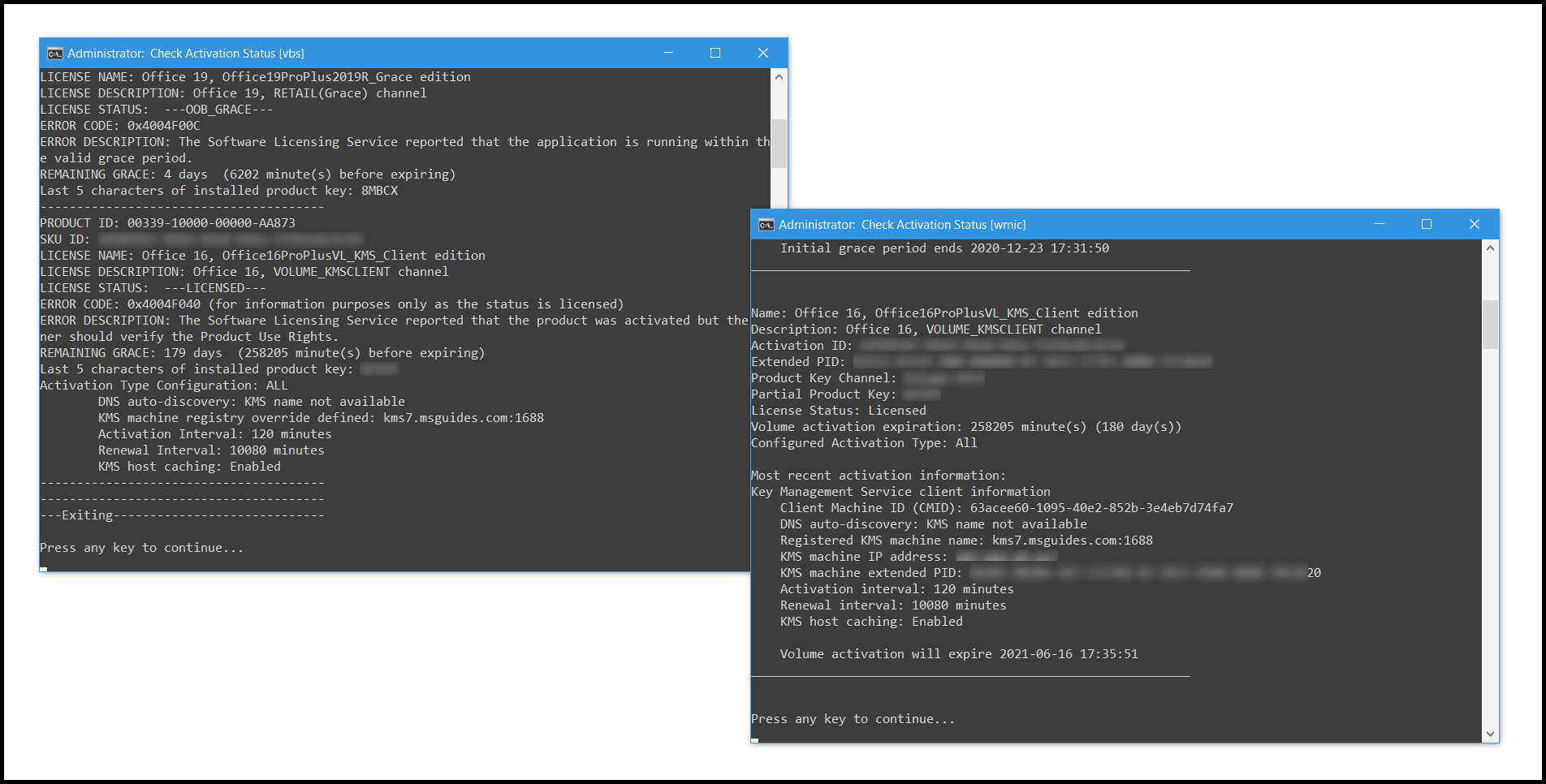 Virus free! 100% clean!
All credits go to abbodi1406, who made and shared the script with us!
​
File: KMS_VL_ALL_AIO.cmd
You must be registered for see links
00/59
MD5: 927DDEBA847DB8B78DFED7D9ECF73803
SHA1: 63E1D894C6D36EA3294513CEA84873CFABD547BF
SHA256: A155283F914BC9A77D33DBF6375A75D4BC6BC2ECA52186A9D8BBDCA80B20FA9F
Kind regards,
@Mirkec
in collaboration with TeamOS
Download links - version 41.0f (Size: 435.13 KB):
You must be registered for see links
You must be registered for see links
You must be registered for see links