Downloaded

117.6 MB
Uploaded

1 TB
Ratio

9352.65
Seedbonus

0
Upload Count

2203

(2203)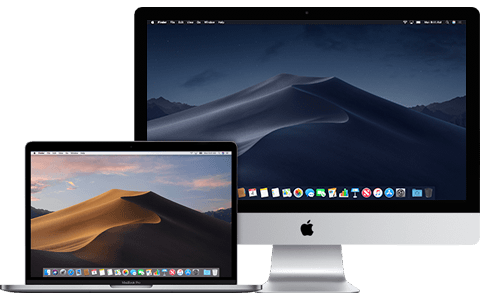 x64 | Languages:Multilanguage | File Size: 5.62 GB
Description:
Using a Mac has always inspired great work. Now macOS Mojave brings new features inspired by its most powerful users, but designed for everyone. Stay better focused on your work in Dark Mode. Automatically organize files using Stacks. Take more kinds of with less effort. Try three handy new built-in apps, and discover great new ones in the redesigned Mac App Store. Now you can get more out of every
click.
Dark Mode
* Experience a dramatic new look for your Mac that puts your content front and center while controls recede into the background.
* Enjoy new app designs that are easier on your eyes in dark environments.

Desktop
* View an ever-changing desktop picture with Dynamic Desktop.
* Automatically organize your desktop files by kind, date, or tag using Stacks.
* Capture stills and video of your screen using the new Screenshot utility.

Finder
* Find your files visually using large previews in Gallery View.
* See full metadata for all file types in the Preview pane.
* Rotate an image, create a PDF, and more - right in the Finder using Quick Actions.
* Mark up and sign PDFs, crop images, and trim audio and video files using Quick Look.

Continuity Camera
* Photograph an object or scan a document nearby using your iPhone, and it automatically appears on your Mac. 

Mac App Store
* Browse handpicked apps in the new Discover, Create, Work, and Play tabs.
* Discover the perfect app and make the most of those you have with stories, curated collections, and videos.

iTunes
* Search with lyrics to find a song using a few of the words you remember.
* Start a personalized station of any artist's music from the enhanced artist pages.
* Enjoy the new Friends Mix, a playlist of songs your friends are listening to.

Safari
* Block Share and Like buttons, comment widgets, and embedded content from tracking you without your permission with enhanced Intelligent Tracking Prevention.
* Prevent websites from tracking your Mac using a simplified system profile that makes you more anonymous online.

Apple News
* Read Top Stories selected by Apple News editors, trending stories popular with readers, and a customized feed created just for you.
* Keep your favorite topics, channels, and saved stories up to date on your Mac and iOS devices. 

Stocks
* Create a customized watchlist and view interactive charts that sync across your Mac and iOS devices.
* Browse business news driving the markets curated by Apple News editors.

Voice Memos
* Make audio recordings, listen to them as you work with other apps, or use them in a podcast, song, or video.
* Access audio clips from your iPhone on your Mac using iCloud. 

Home
* Organize and control all of your HomeKit accessories from your desktop.
* Receive real-time notifications from your home devices while you work.
Languages:English, Arabic, Catalan, Chinese (Hong Kong), Croatian, Czech, Danish, Dutch, Finnish,
French, German, Greek, Hebrew, Hindi, Hungarian, Indonesian, Italian, Japanese, Korean, Malay,
Norwegian, Polish, Portuguese, Romanian, Russian, Simplified Chinese, Slovak, Spanish,
Swedish, Thai, Traditional Chinese, Turkish, Ukrainian, Vietnamese
List of supported models:
-MacBook (early 2015 or newer)
-MacBook Air (mid 2012 or newer)
-MacBook Pro (mid 2012 or newer)
-Mac mini (end 2012 or later)
-iMac (end of 2012 or newer)
-iMac Pro (2017)
-Mac Pro (end of 2013, mid-2010, mid-2012, graphics processor supporting Metal API is recommended)
How Install:
1) Update:
1.Mount the disk image
2.Copy "Installing macOS Mojave" in the "Programs" folder
3.Run the copied application.
Clean install from USB flash drive:
Step one:
1.Mount the downloaded image of macOS 10.14.6 Mojave.dmg
2.A window will appear with the file "Installing macOS Mojave.app"
3.This file should be transferred to the Programs folder
Or use DiskMaker X , skip all of the following and immediately proceed to the fourth step.
Step Two:
Format the drive in Mac OS Extended format (journal) with the GUID partition scheme:
1.Open the Disk Utility, select the drive (USB flash drive).
2.Select the "Disk partition" tab; in the list of partitions, select "Section 1".
3.Open the "Options", select the scheme sections GUID .
4.In the "Format" column, select Mac OS Extended (journal).
5."Name" - USB . Click "Apply".
Note: In OS X El Capitan and newer, the format is called OS X Extended (journaling) .
Step Three:
1.Start the Terminal program (Programs / Utilities / Terminal), insert the following command (the command is entered without line breaks - just copy and paste it entirely) and press Enter, confirm the action by entering the administrator password:
(despite the fact that The password will not be displayed, it is still entered).
Code:
sudo / Applications / Install \ macOS \ Mojave.app/Contents/Resources/createinstallmedia --volume / Volumes / USB --nointeraction
After 10-15 minutes, the Terminal will complete the creation of a bootable USB flash drive. In the -process you will see the following:
-Erasing Disk: 0% ... 10% ... 20% ... 30% ... 100% ...
-Copying installer files to disk ...
-Copy complete.
-Making disk bootable ...
-Copying boot files ...
-Copy complete.
-Done
-SMB file transfer has become even more reliable.
When Done appears , your boot drive will be ready.
Step Four:
If you have made all the necessary backups, you can proceed to a clean installation. Restart the computer with a connected USB-drive, hold down alt (Option) at startup. Choose our USB flash drive, go to Disk Utility in the window that appears , erase our Mac's drive (in no way case with a USB flash drive) and proceed with the installation of Mojave.
What's new in macOS Mojave 10.14.6 :
In the update macOS Mojave 10.14.6 improved stability and reliability of the Mac computer.
In this update:
-Fixed a bug that prevented the creation of a new Boot Camp partition on iMac and Mac mini with Fusion Drive.
-Fixed a bug that caused the computer to freeze on reboot.
-Fixed a bug that could lead to graphic distortion after waking from sleep.
-Fixed a bug where a black screen (Mac mini) could be displayed instead of video in full-screen viewing mode.​
Created With:

qBittorrent v4.1.6

Comment:

Downloaded From https://www.teamos-hkrg.com/

Peers:

8 Seeders + 1 Leechers = 9 Peers

Info Hash:

193da6e6a4bd7911c5ada530d0122887aa8ff6c7

Loading…