Downloaded

74.8 MB
Uploaded

5 GB
Ratio

68.45
Magic Cube Puzzle 3D v1.15 [Mod] [Sap]

Requirements:
4.1+
Famous puzzle on your phone! Objective is to return each face of the cube to initial state. It trains logic, concentration and patience.
- All popular cubes available: 2х2х2, 3x3x3, 4x4x4, 5x5x5, 6x6x6, 7x7x7 and 8х8х8
- Realistic 3D graphics and animation
- Simple and handy controls
- Free cube rotation in all axis
- Achievements and leaderboards. Share your time with whole world!
- It's FREE!
What's new:
- New puzzle added: DODECAHEDRON!
- New leaderboards and achievements
- Improved night mode
- Improved performance
Sap Info:
● Single Package APK (No SAI Needed);
● Languages: Multi;
● Supported CPU architecture: arm64_v8a, armeabi_v7a;
● Supported DPIs: hdpi, xhdpi, xxhdpi, xxxhdpi.
Mod Info:
● Ad Free Unlock.
● Removed Debug Information.
● Total Apk Size 45.3 Mb.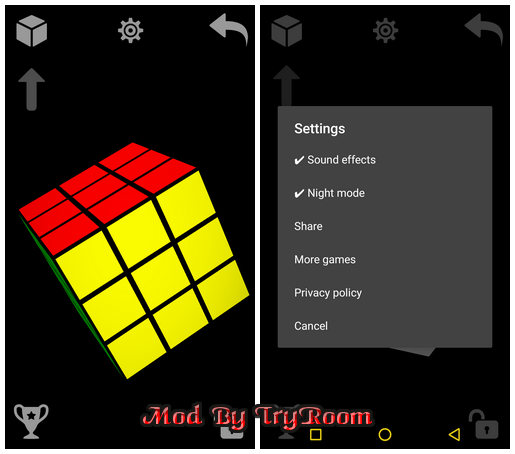 You must be registered for see links
You must be registered for see links
You must be registered for see links