Administrator
Windows Modifier
Downloaded

56.2 GB
Uploaded

15.9 TB
Ratio

289.72
Seedbonus

325,169
Upload Count

79

(78)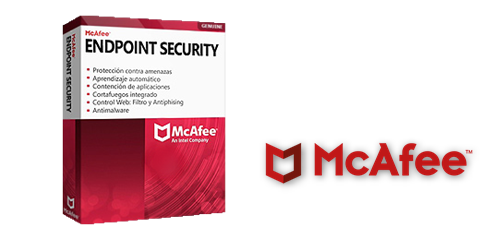 Review
McAfee Endpoint Security is an advanced threat defense system suitable for the fast-growing business environment, providing detection tools, an integrated firewall, and web control capabilities. McAfee Endpoint Security provides a sturdy defense mechanism for network computers against zero-day attacks, or malware transmitted via email and the Internet.
McAfee Endpoint Security comes in two editions, one for centrally managed computers (EPO managed), and the other for self-managed workstations. It is easy to deploy and configure and features an intuitive administration panel for users to monitor the status of its modules, check the activity logs, and browse the quarantined files.
While the workstation is monitored in real-time by the client app of McAfee Endpoint Security, the user can also start a new on-demand scan anytime he considers fit. The user has two options to choose from, namely quick or full scans. Custom file analysis is not available, but the user can scan a file or a folder on the system using right-click scanning.
There are three separate modules McAfee Endpoint Security comes with, namely Threat Prevention, Firewall, and Web Control. It is easy to figure out what each does, all working together to detect potential dangers before they reach a user's PC. McAfee Endpoint Security features both signature-based and behavioral detection engines, which complement each other to provide a powerful protective shield. When a suspicious file is spotted, McAfee Endpoint Security warns and prompts the user for action, logging the event at the same time. The quarantine area safely stores critical data until the user decides to remove them.
With a firewall that filters network traffic and Internet security features that protect the user during online browsing sessions, McAfee Endpoint Security finds its place right next to its competitors. Moreover, thanks to the Threat Intelligence module, details about a file's reputation can be instantly shared across the network, building a security system that gets better and better.
Threat Prevention Module:
Includes several new advanced malware scanning features to defend against emerging and targeted attacks. It is a replacement for McAfee VirusScan Enterprise software.
Web Security Module:
Prevents users from browsing malicious or unauthorized websites and serves as a replacement for McAfee SiteAdvisor Enterprise software.
Firewall Module:
Stops malicious inbound and outbound network traffic and replaces the Host Intrusion Prevention System Firewall feature of McAfee Host Intrusion Prevention System.
What is new in version 10.7 (Released in 2020):
Improved:
Releases can introduce new features and enhancements or update platform support;
Enhanced remediation capabilities;
Increased context for fileless threat detections;
Enhanced protection against fileless attack methods;
Support for an on-demand scan from the command line and improved scanning performance.
System requirements:
OS: Microsoft Windows® Vista, Windows® 7, Windows® 8, Windows® 8.1, Windows® 10 (both 32 & 64-bit).
Install notes:
1. Kindly read the "Readme.txt" file given in the download zip file;
2. Enjoy!
Screenshots: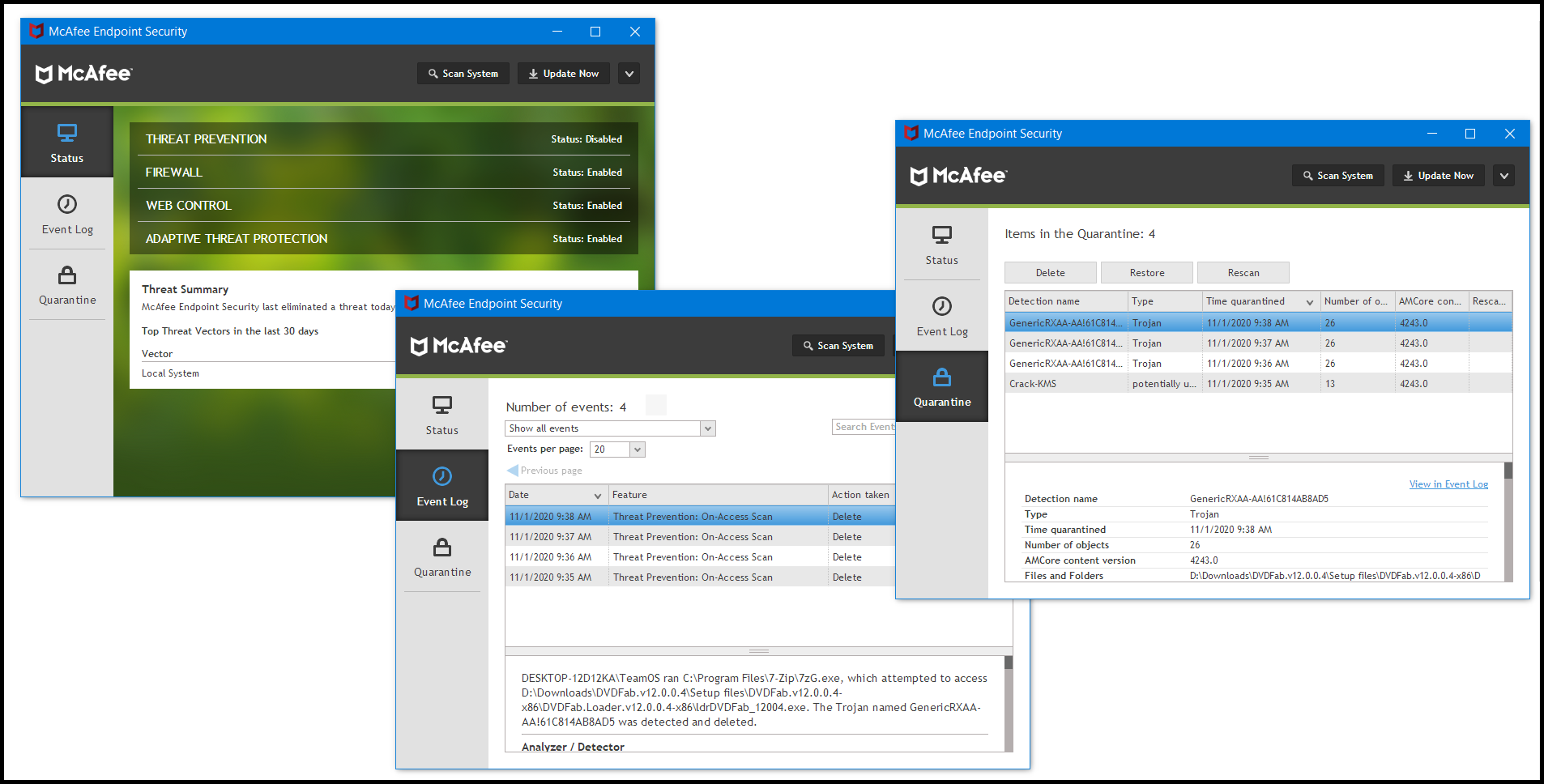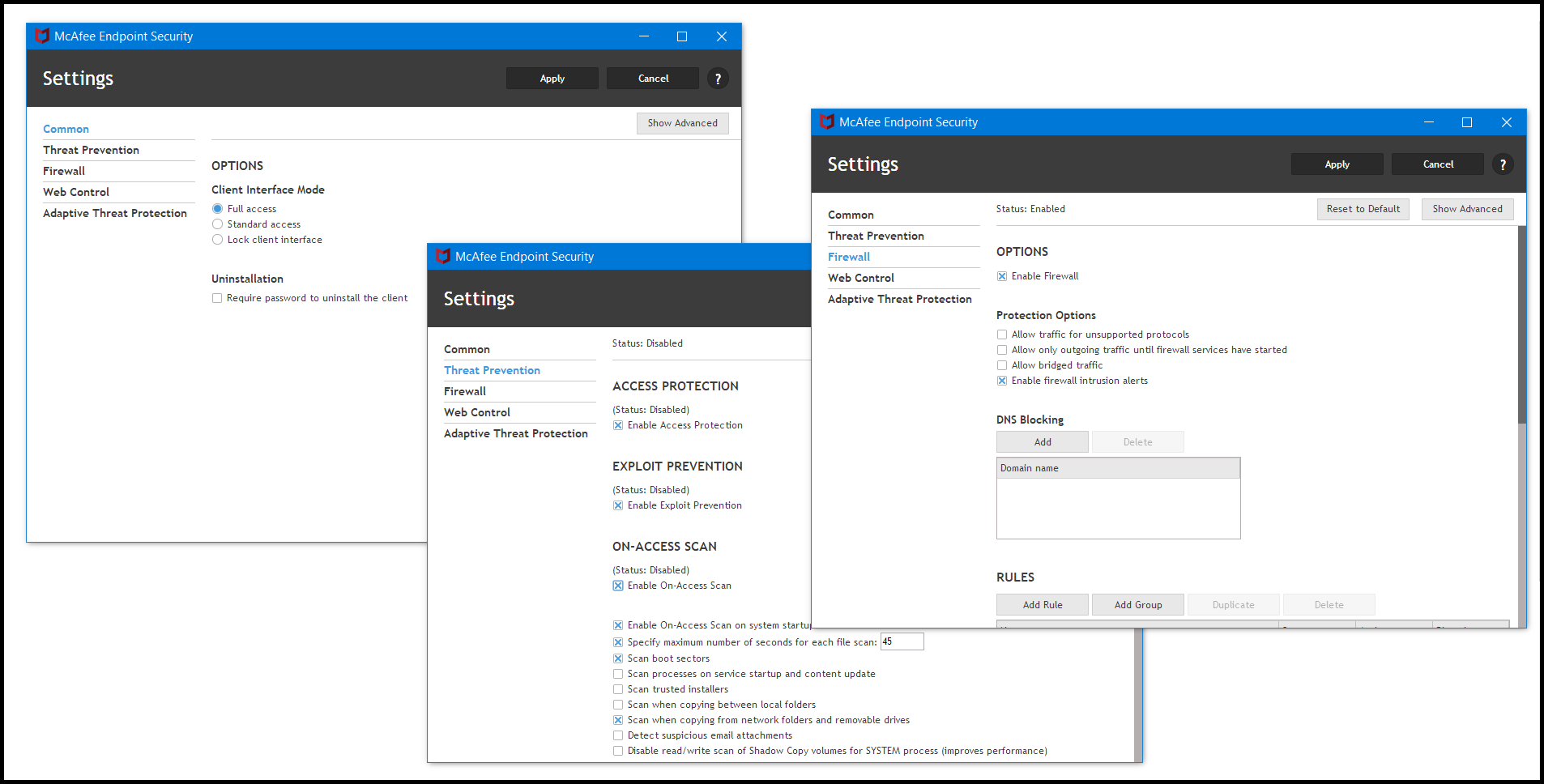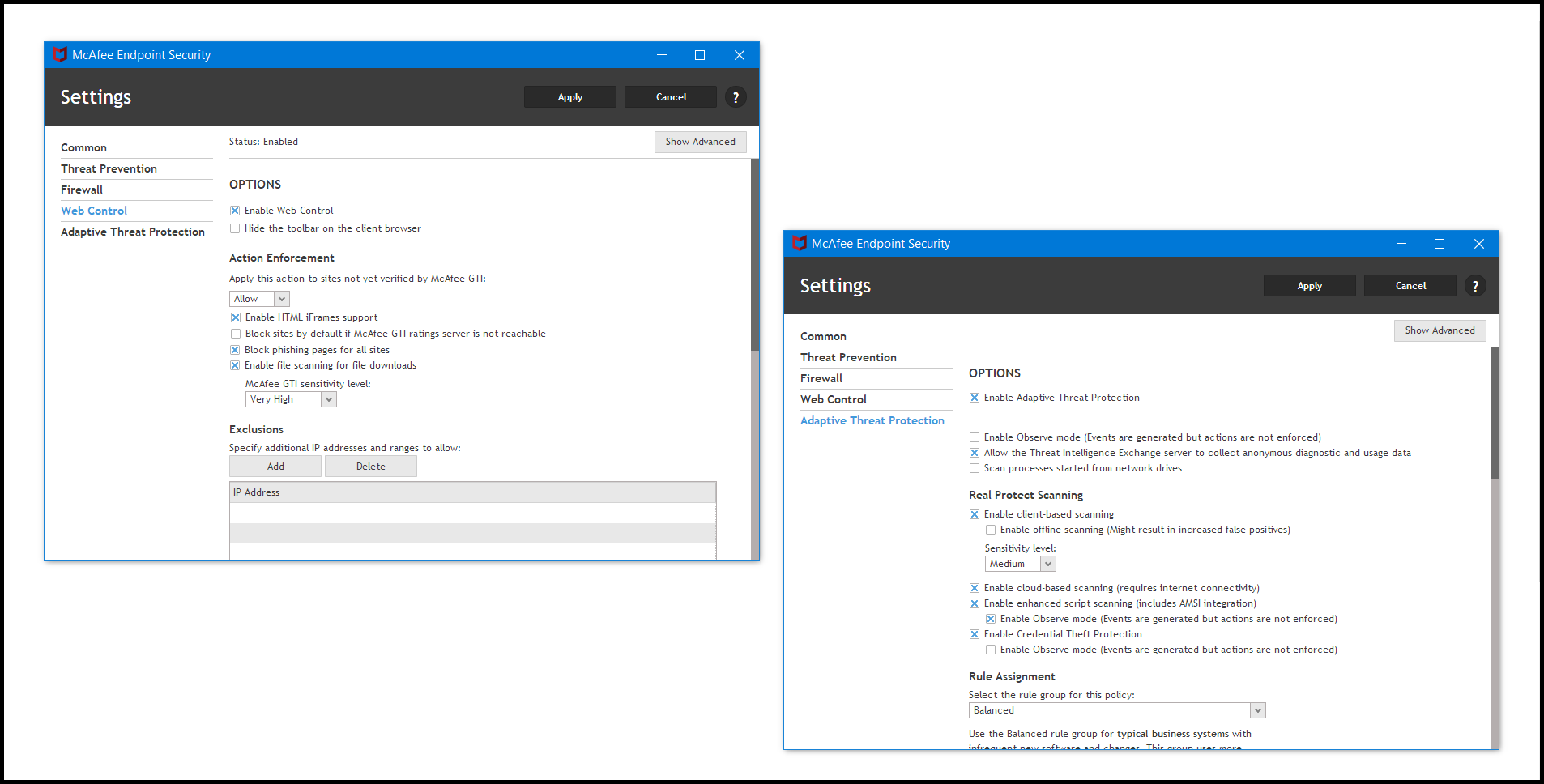 Virus free! No virus signature! 100% clean!
​
File: McAfee.Endpoint.Security.v10.7.0.1045.11.7z
You must be registered for see links
00/40
MD5: 6FF7DD67CF6A01597E2989D45E2DA688
SHA1: 2281B786895112AF6BA7F6FAC1F06D599F6A8712
SHA256: 51E279B27C0E0B46B6F8F6543DF6F5B56EA957697714C6684F244BE8005A6258
Kind regards,
@Mirkec
in collaboration with TeamOS
Download links - version 10.7.0 Build 1045.11 (Size: 261.54 MB):
You must be registered for see links
You must be registered for see links
You must be registered for see links