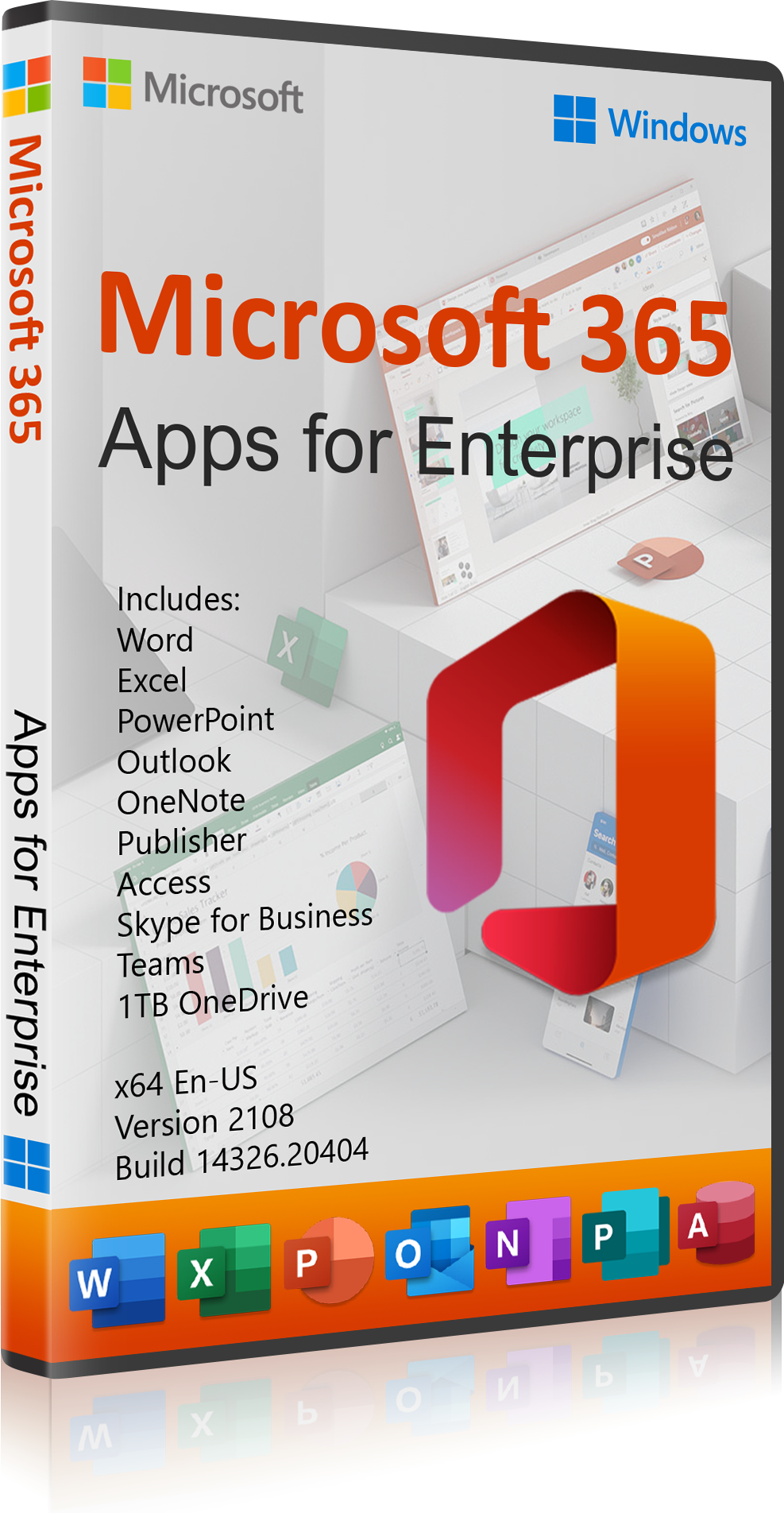 MICROSOFT OFFICE SPECIFICATIONS​
Edition: Microsoft 365 Apps for Enterprise
Channel: Current
Version: 2108
Build: 14326.20404 (September 14, 2021)
Architecture: x64
Language: en-US
Treatment: Required but not included

Microsoft 365 Apps for enterprise (formerly Office 365 ProPlus)
is the always up-to-date suite of desktop apps you already know (including Word, PowerPoint, Excel, Outlook, and Teams) available as a subscription.
Microsoft 365 Apps for enterprise includes exclusive intelligent capabilities like Ideas in Excel and Researcher in Word, real-time collaboration, Teams as the hub for teamwork, and advanced security features.
As a user-based license, you can deploy Office on up to five PCs or Macs, five tablets, and five mobile devices.

Processor:
1.6 gigahertz (GHz) or faster, 2-core.
Operating System:
Windows 11, Windows 10 SAC, Windows 10 LTSB 2016, Windows 10 LTSB 2015.
Product functionality and feature availability may vary on older systems.
For the best experience, use the latest version of any operating system specified above.
Memory:
4GB RAM; 2 GB RAM (32-bit).
Hard Disk Space:
4.0 GB of available disk space.
Display:
1280 x 768 screen resolution.
Graphics:
Graphics hardware acceleration requires DirectX 9 or later,
with WDDM 2.0 or higher for Windows 10 (or WDDM 1.3 or higher for Windows 10 Fall Creators Update).
Additional system requirements:
Product functionality and graphics may vary based on your system configuration.
Some features may require additional or advanced hardware or server connectivity.
Microsoft account and/or organizational account is required for licensing and to access services.
Internet functionality requires an internet connection.

You must be registered for see links
You must be registered for see links
You must be registered for see links
You must be registered for see links

Read the included install instructions
Online features such as 1TB OneDrive will only be available if you have a subscription.

You must be registered for see links

Checksum
Name: Microsoft365Enterprise_16.0.14326.20404_x64_en-US_Win11-10-8.1.rar
Size: 3010946606 bytes (2871 MiB)
CRC32: 8EE09B00
CRC64: BEDFA98AA57C301A
SHA256: F059EC47314D36264A80E9998593BD8D4C7D0E13C5E0B846029B0A573A6B38E4
SHA1: E3E6E5530909C0202444F7A39B1245982E24511E
You must be registered for see links