Downloaded

10 GB
Uploaded

11.2 TB
Ratio

1141.66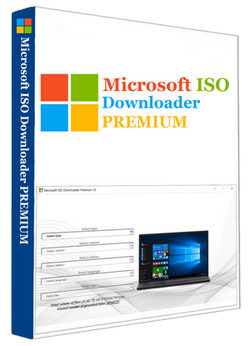 Microsoft ISO Downloader Premium is a program for Windows that allows you to download Windows operating system and Office ISO images from Microsoft servers.
Downloading an ISO image of the operating system that is already installed on devices you are working with is always a good idea in case you need to reinstall the operating system or repair it.
Microsoft for whatever reason makes it difficult to grab official ISO images of versions of Windows that it supports currently.
You have to dig deep to find official and direct download links of Windows and Office ISO images on Microsoft's website.
One of the better solutions is offered on the company's Techbench website, but it only highlights downloads for Microsoft's newest operating system Windows 10.
Advantages of Windows 10 ISO Download Tool:
Download original Windows 10, Windows 8.1, or Windows 7 ISO;
Download original Microsoft Office 2007, 2010, 2013, 2016 ISO;
Windows Unlock Features (Working in Windows Vista, 7, 8, 8.1, 10).
Select which version you want to download
Select Edition
Select Language
Receive download link directly from Microsoft Server.
1000 % virus free
You must be registered for see links
​
Last edited: