Administrator
Windows Modifier
Downloaded

56.2 GB
Uploaded

15.9 TB
Ratio

289.99
Seedbonus

325,843
Upload Count

79

(78)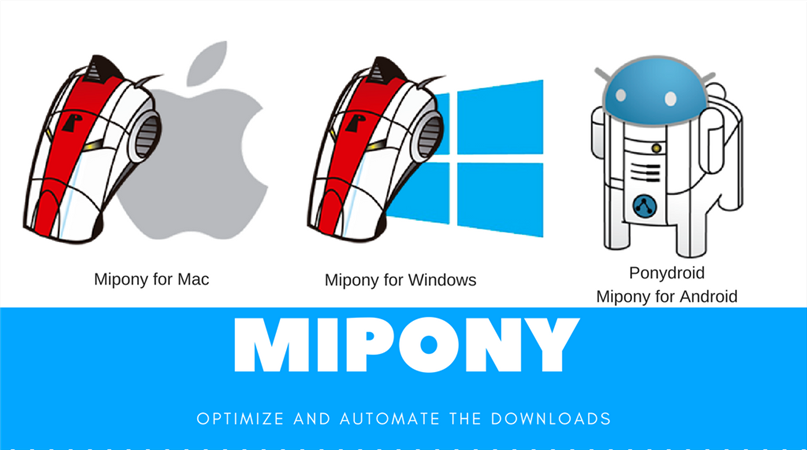 Review
Mipony is a simple download manager that allows a user to automatically detect and process the download links from web hosting websites. A user can use the application to manage the downloads and to organize the files on its hard disk.
The program monitors the Windows clipboard and automatically adds the detected links to the download list. A user can also use the browser from the program interface in order to open a specific webpage and to scan it for compatible links. If multiple links are detected user can select what to download, the downloads can be started directly from the Internet Explorer's interface if a user chooses to integrate the application in the context menu. All the detected links are automatically checked in order to view if the file is available. The program prompts the user to agree with the website conditions and to enter the CAPTCHA characters required to start the download.
A user can store the login information for Premium accounts in the program's Options window, but it can download the files even without a paid account. If the website requires a waiting period, the program starts the download immediately after the time passes. It can handle multiple downloads from more that one website at the same time. The program can pause the download and resume it later if the website allows this action.
The download speed depends on the Internet connection, but a user can optimize the program behavior by adjusting the number of simultaneous downloads and the maximum download speed. A user can use the scheduler in order to start all to stop all downloads at a specified time.
General features:
Fully AUTOMATIC download;
It optimizes user connection;
It also works with PREMIUM accounts;
It has an embedded web BROWSER;
Remote control.
Pro features:
Unlimited torrents download;
No ads (pop-ups and banners);
Download videos in high quality;
Download only audios;
"Browse and download" is optional;
Home Page customizable.
Supported Host sites:
RAPIDGATOR, Uploaded, MEDIAFIRE, Turbobit, Alfafile, NITROFLARE, 1fichier, Keep2share, Turbobit, 4shared, Gigasize, Zippyshare, MEGA,...
Continuous Download:
Once the link has been added to the download list, the files will be downloaded while the user navigates and if a user closes the download program, the downloads will be restarted when user start the program again.
Possibility to give priority to files in the waiting list
Control how many files can be downloaded simultaneously from each server.
Many of the files hosted in free servers are divided into parts, Mipony has the option to join the downloaded files (HJSplit).
Mipony can capture from the individual clipboard links or any text that contains any number of connections.
Download Attempts:
If by any chance the file shows an error during the download, Mipony will be in charge of performing the necessary attempts automatically until the file is downloaded.
Browser:
It has an embedded browser from where the download links are detected.
Automatic update of the database with the sites supported. Mipony updates automatically to keep working with files download sites and it is continuously adding new sites to the recommended websites.
Mipony can analyze full sites looking for links, indicating if they are still available in the server to be downloaded or if they have been erased.
It allows the configuration of Flashgot to send links to Mipony,
Plug-in:
In a bar format to launch downloads from Firefox and Explorer directly to Mipony or to open the site that is being viewed in the browser of Mipony.
Remote Control:
Mipony has a web interface to control it remotely. With the web interface user can view the downloads and manipulate them, and also user can enter the captcha codes remotely. The web interface design is adapted for both desktops and mobile clients.
Captcha Trader Plugin:
With this plugin, the user will have access to the captchas decoding system developed by captchatrader.com. CaptchaTrader solves captchas for a user, so a user does not have to. If a user earns credits by solving captchas, then a user can spend them later when they need them.
What is new in version 3.0.6 (Released on January 25, 2020):
View torrent trackers;
Add trackers to torrent;
Add trackers from an URL with a trackers list;
Updated Youtube;
Added xubster.com;
Added letsupload.co;
Added bayfiles.com;
Added minfil.com;
Added myfile.is;
Added filetransfer.io;
Updated ulozto.net;
Updated turbobit;
Removed diskokosmiko;
Removed datafile.com;
Removed eurshare.eu;
Removed fileflyer.com;
Removed uploadable.ch;
Removed filecloud.io;
Removed sharedir;
Removed wi.to.
What is new in version 3.0.5 (Released on June 20, 2019):
Improved stability;
Fixed clear completed on exit sometimes did not work;
Updated Greek translation;
Updated Youtube;
Updated datafilehost.com;
Updated tezfiles.com;
Updated yadi.sk;
Updated depositfiles;
Updated Mega-debrid;
Updated Alldebrid;
Updated Premiumize.me;
Updated Zevera.
What is new in version 3.0.4 (Released on March 13, 2019):
Improved stability;
Fixed prevent the computer to sleep while downloading;
When decrypting mega files the state was not shown in the interface;
Fixed rename file did not select the old name;
State icons when minimized to the tray bar;
Fixed overwrite exported file;
Added direct download of pdf and mkv files;
Updated userscloud;
Updated 1fichier;
Updated mexashare;
Updated yadi.sk;
Updated datafile.com;
Updated filespace.com;
Updated upload4earn;
Updated rockfile.co;
Added nofile.io;
Added file-up.org;
Added uploadev.com;
Added uploadproper.net;
Added speed4up.com;
Added megaupload.nz;
Added drop.me;
Added dropapk.com;
Updated Slovak language;
Updated Italian translation.
What is new in version 3.0.3 (Released on January 25, 2019):
Fixed priorities;
Save the column used to sort;
Download speed limit for Direct downloads is more accurate;
Reduced CPU use on high-speed downloads;
Improved stability;
Fixed download Youtube videos with high quality;
Audio from Youtube videos now is saved in mp3 format;
Show in green color the links detected that already have been downloaded;
Fixed, torrent subfiles were downloaded even if they were excluded in the Add torrent window;
Fixed, the list of the last folders selected didn't save new folders for torrents;
Fixed, could not stop sharing several items at the same time;
Fixed problem adding torrent when Mipony was closed;
Fixed, Mega now can be used with unrestrictors;
Updated mexashare;
Fixed some Mega accounts could not log in.
Supported Operating Systems:
OS: Windows, Mac and Android OS.
Install notes:
1. Kindly read "Readme.txt" file given in download zip file;
2. Enjoy!
Screenshots: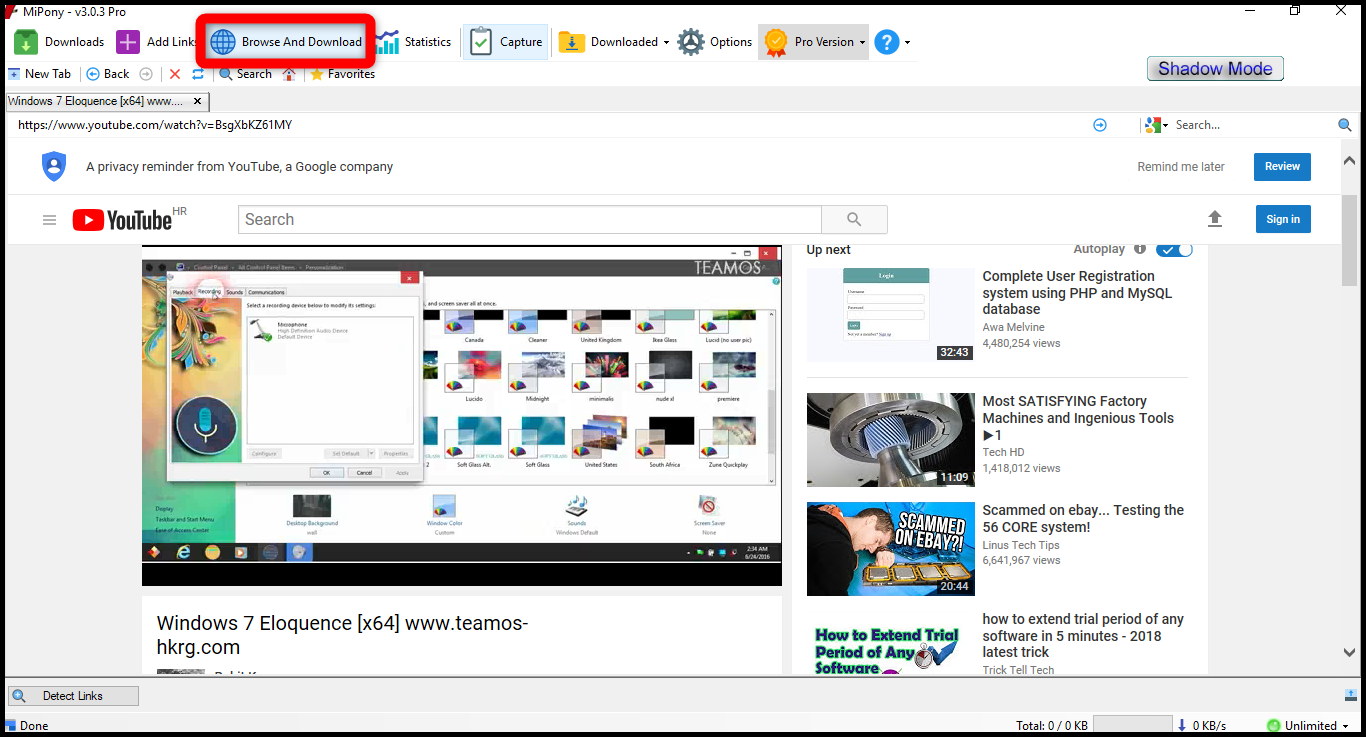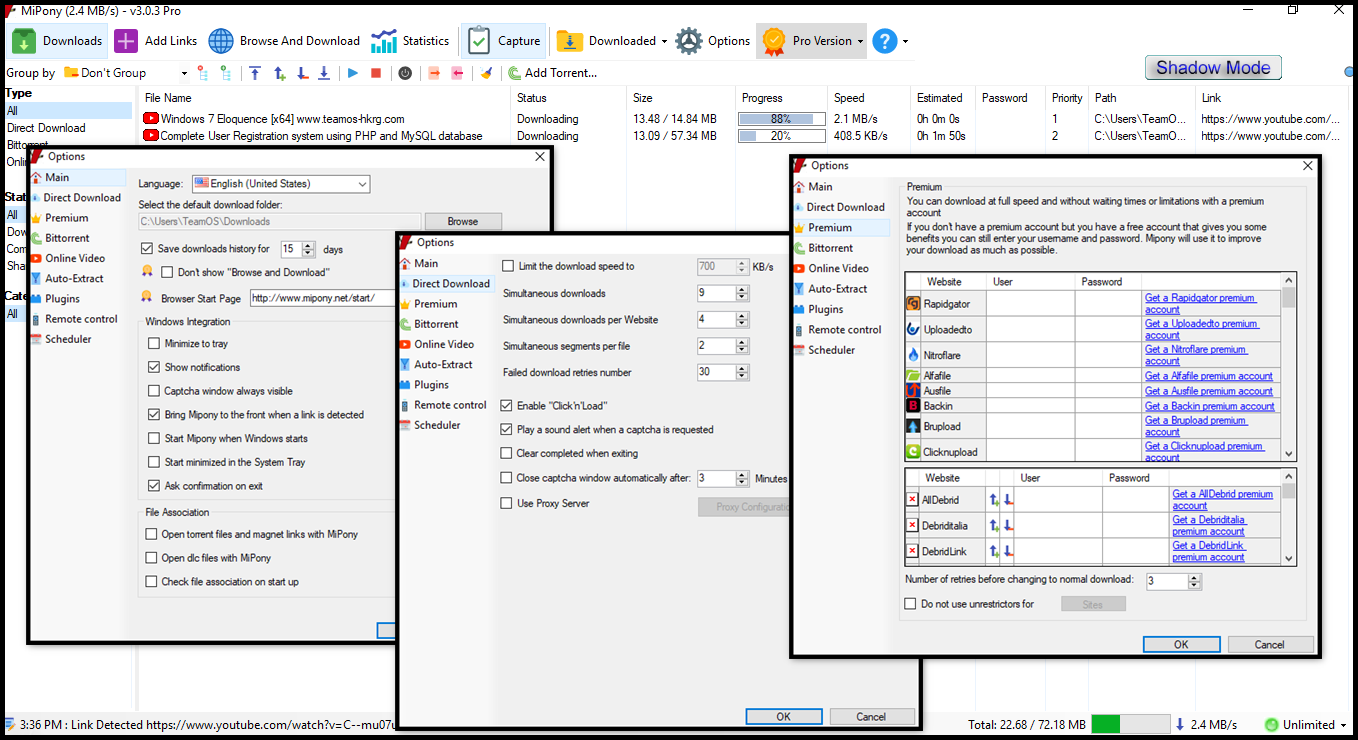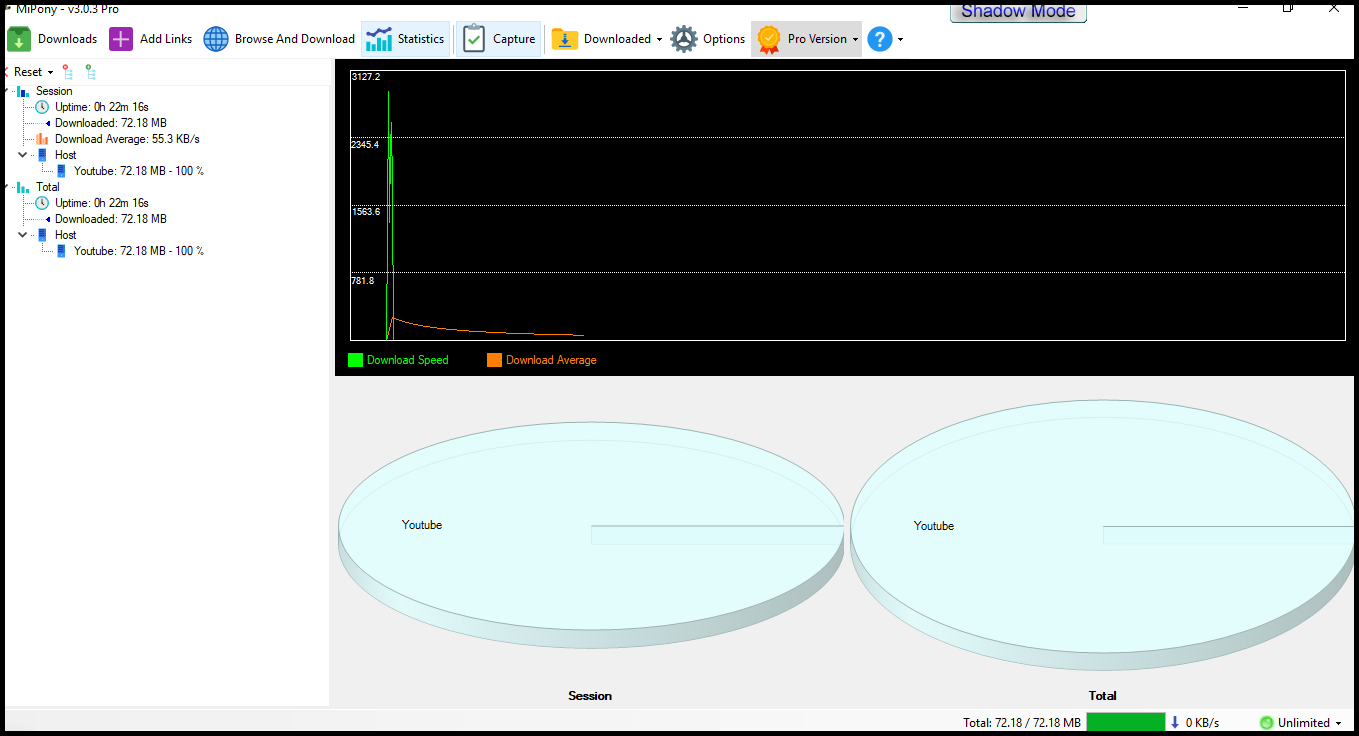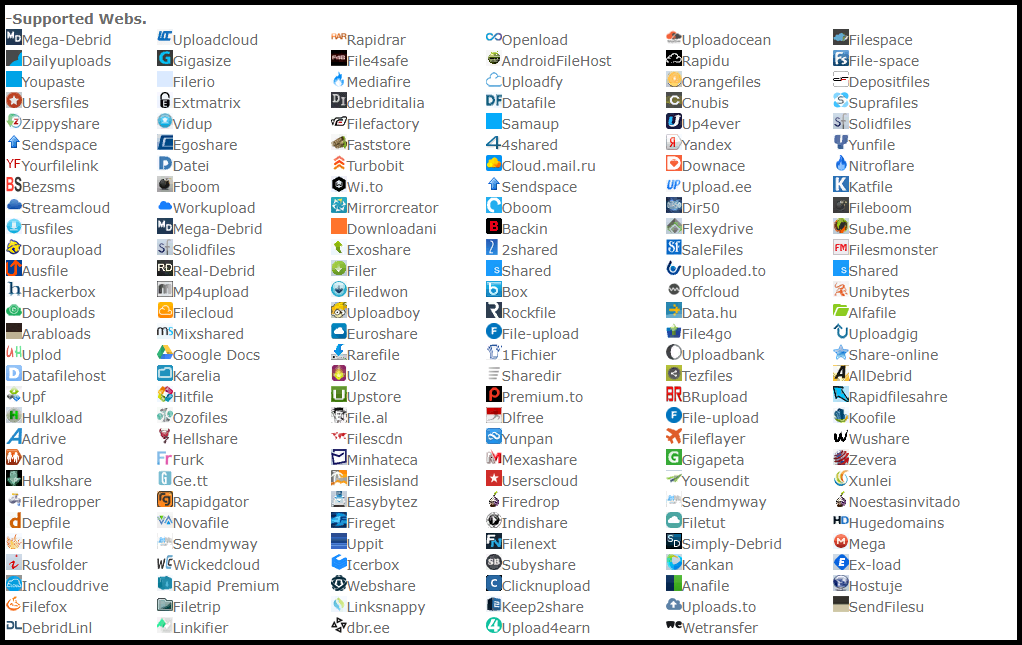 Virus free! No virus signature! 100% clean!
All credits go to IWarez and DeltaFoX, who made and shared the crack with us!
​
File: DownloadLib.dll
You must be registered for see links
00/66
MD5: 11B80974C49A126990CF608C249ADE73
SHA1: 04CD72D30575A23FC1B6FC7B6E34168B9860672B
SHA256: 823046522C2F40E3D570E13AE2E97FCA55B90093469CE8A19B0EE9749BC3D489
File: Mipony.exe
You must be registered for see links
01/68
MD5: E971C6B8F8EDCA1EB2863774DAC04AF2
SHA1: 703D3519489D9BCA4FC75F646E2BACCE931784E9
SHA256: 08EACA375287E6ADA005DB262CA46C91E5BEDDF004EBD374A1458255243ED943
Kind regards,
@Mirkec
in collaboration with TeamOS
Download links - version 3.1.1 DataBase 195 (Size: 21.92 MB):
You must be registered for see links
You must be registered for see links
You must be registered for see links