Administrator
Windows Modifier
Downloaded

57.3 GB
Uploaded

16 TB
Ratio

285.6
Seedbonus

327,028
Upload Count

81

(80)
Review
NTLite is an all-in-one Windows customization tool that offers a robust set of options for modifying and removing unnecessary components from the standard distribution of Windows. It includes the ability to eliminate non-important elements, such as language packs, installed updates, screensavers, MS Paint, Windows Services, Accessories, Character Map and Wordpad, along with drivers, multimedia or network utilities, Internet Explorer, operating system updates, adding missing drivers and more. Not only can user remove components, but it can also disable a wide range of features, such as .NET Framework 3.5 or 4.5, Hyper-V, Internet Explorer 11, XPS Viewer or XPS Document Writer, as well as the Telnet client and server.
NTLite is an advanced and approachable utility that professionals can depend on to make sure the Windows copy they are installing comes packed with only the features and components they want. It also gives a user the possibility to personalize, optimize, modify and tweak an already installed Windows operating system with ease. However, a user should keep in mind that removing a module will likely lead to system crashes which can only be fixed by reinstalling the OS.
NTLite presents a powerful, but easy to use dynamic toolbar with image list overview, presets, and many more details which help the user be more productive while maintaining its images. It includes WIM, decrypted ESD (Electronic Software Download) and SWM (spanned, split images) as well as ESD to WIM, SWM to WIM (aka image joining), WIM to SWM (aka image splitting) conversions included.
NTLite will also allow a user to create a bootable ISO from any image as long as the standard image folder structure is present (Boot and Sources folders).
A user can select images in pretty much all the supported host combinations, like edit a Windows 10 image from Windows 7 as a supported host and much more. The application proves to be a reliable and practical application for removing Windows components and disabling features to obtain a custom-made OS version that installs faster and uses fewer system resources. Just make sure to test the new operating system before replacing the old one.
Note:
64 and 32-bit tool versions can edit both 64 and 32-bit images. An exception being Windows 7 Service Pack slipstream where for 64-bit version a user need to run under a 64-bit host OS.
Key features:
Image Management;
Live-install (C:\Windows) modifications;
Updates Download and Organization;
Update and Language Integration;
Registry Integration and Editing;
Driver Integration;
Hardware Targeting;
Component Removal;
Tweaks;
Unattended Setup;
Pending Changes Overview and Post-process Automation;
Native Runtime, both 32 and 64-bit;
Application Integration;
Basic component removal;
Host hardware checklist;
Post-Setup automation.
What is new in version 2.1.1.7917 (Released on May 20, 2021):
NEW
Integrate: Package, Driver and Registry directory subscription functionality (Add – Directory – Subscribe);
(Useful for a more dynamic presets, directory location dictates which items to queue on refresh);
Components: "Microsoft Edge WebView" (currently present on Win10 21H2);
Components: "Microsoft Edge Update" split from "Edge (Chromium)";
(Note for presets with existing Edge Chromium removal to uncheck this new component);
Source: Server 2022 Preview support;
UPGRADE
Post-Setup-User: Automatic pure runonce switch for images without Internet Explorer (no runonceex, e.g. Server Core);
Registry: Registry page got a simple add Directory option to align with other pages, this is in addition to the new Subscribe;
Updates: PPKG remove option, from Hotfix page Existing list;
Components: Search includes component description;
UI-Translation: Thanks for French (tistou77), Italian (gabritb01), Polish (KrzysioZ);
FIX
Post-Setup: User tasks preset loading might prompt non-existing file;
Post-Setup: Powershell script integration;
Udpates: PPKG integration regression fix (missing file error);
Updates: .NET 3.5 language part existing annoying message removed on Add – Template – .NET 3.5 insertion;
UI: Apply page crash on opening;
UI: Update Host from Check Updates enqueue could loop.
What is new in version 1.8.0.6790 Beta (Released on March 20, 2019):
Stable branch maintenance merge.
What is new in version 1.7.4.6790 (Released on March 19, 2019):
New:
Downloader: Proxy support, enter credentials in File-Settings.
Upgrade:
Source: Architecture handling rewritten, preparation for ARM64 support;
Source: Loading image edition directly that needs to be converted will keep all versions;
UI: Yes and No to all options for components checking prompts (instead of Skip all);
UI-Translation: Thanks for Korean (Redrabbit), Farsi (Mona mon).
Fix:
Source: Propagating tasks from boot.wim to install.esd could crash the tool;
Source: Expand state remembered for unmounted install images;
Components: 'Diagnostics' removal was breaking directory ownership popup in Explorer;
Components: 'Media Player' preset loading could recheck it;
Components: TaskHostW could be crashing after a specific removal combination;
Unattended: Autofill selects first available image language if the host language is absent;
Post-setup: Error messages with % sign could cause a crash.
System requirements:
OS: Microsoft Windows 7 and newer (both 32 & 64-bit).
Does not support:
Checked/Debug editions;
Embedded or IoT editions;
Windows Vista;
Windows XP;
Windows Server 2008 and older.
NOTE:
NTLite does not require .NET Framework or any other addition to run under the supported operating systems. This enables it to run faster, more portable with fewer dependencies.
Install notes:
1. Unzip and run;
2. Enjoy!
This is for testing only!!!
Screenshots: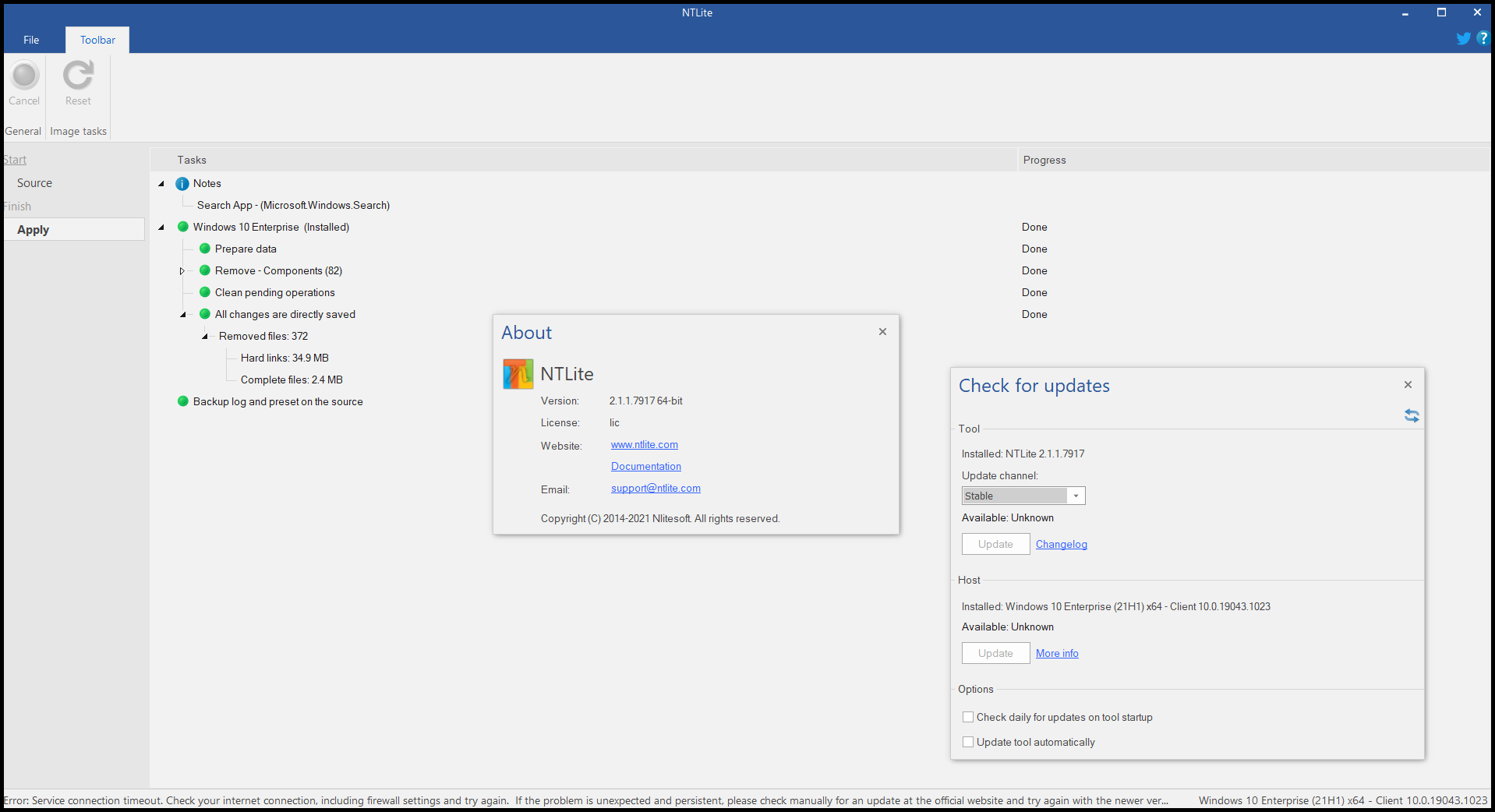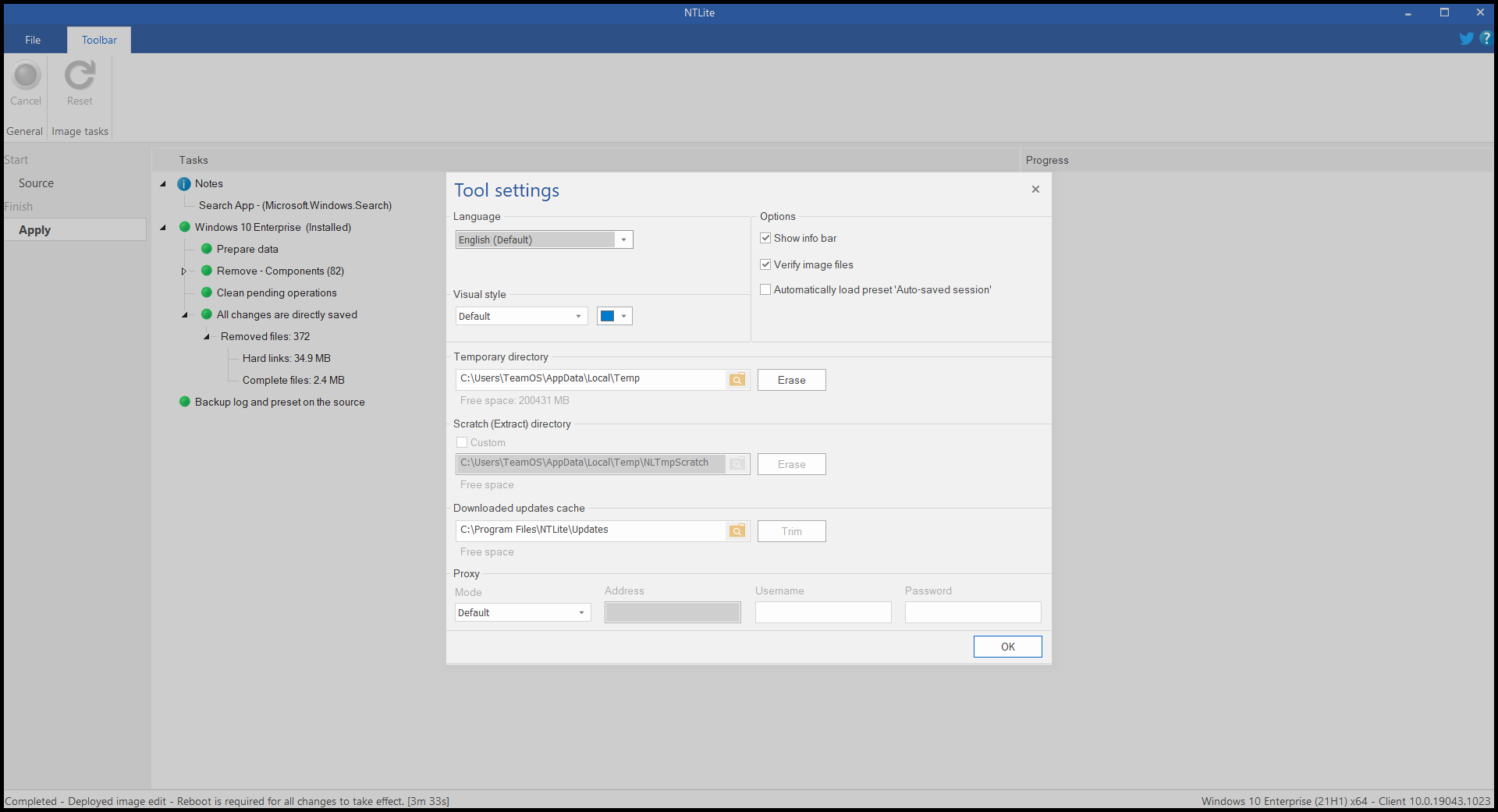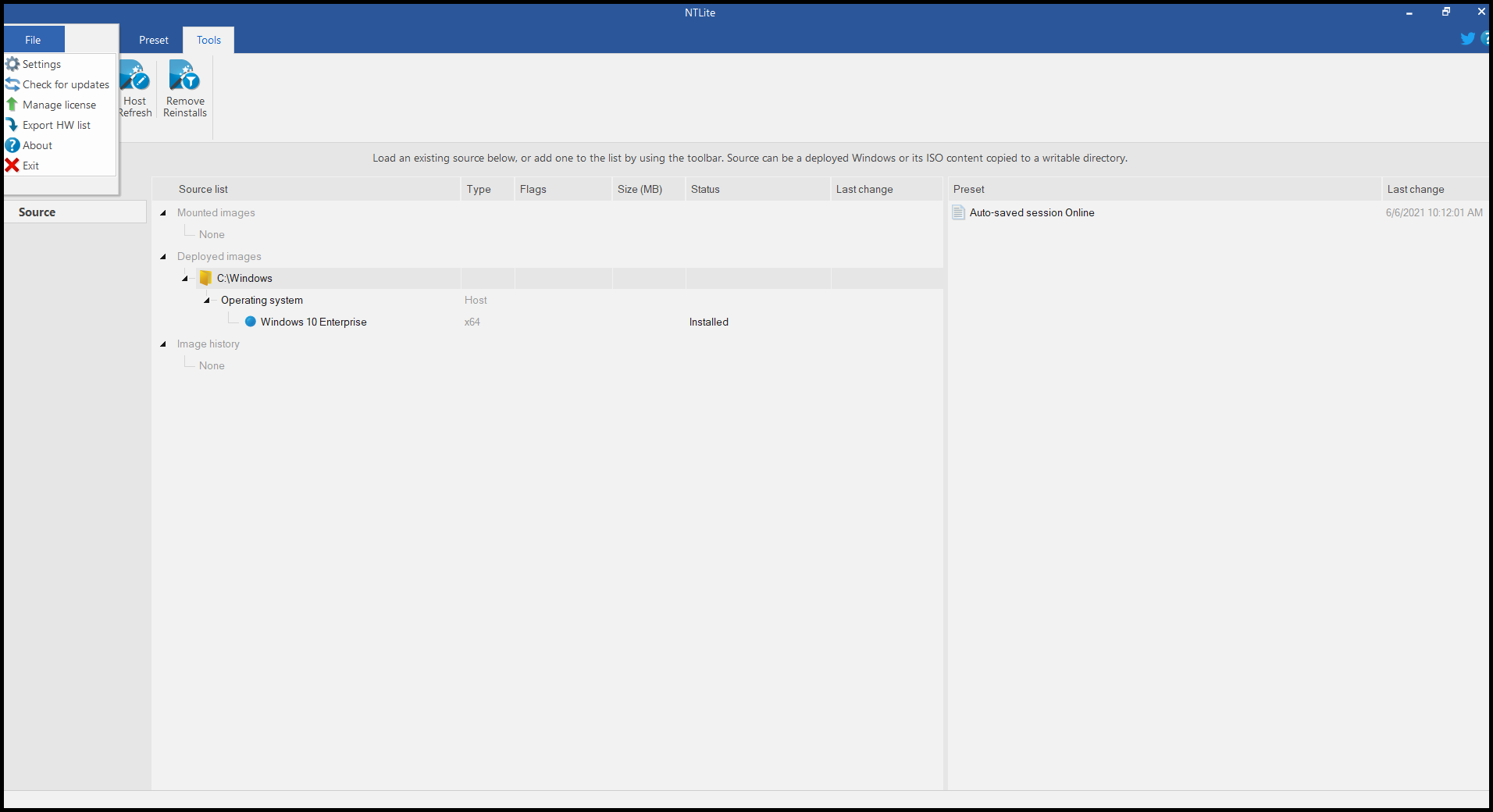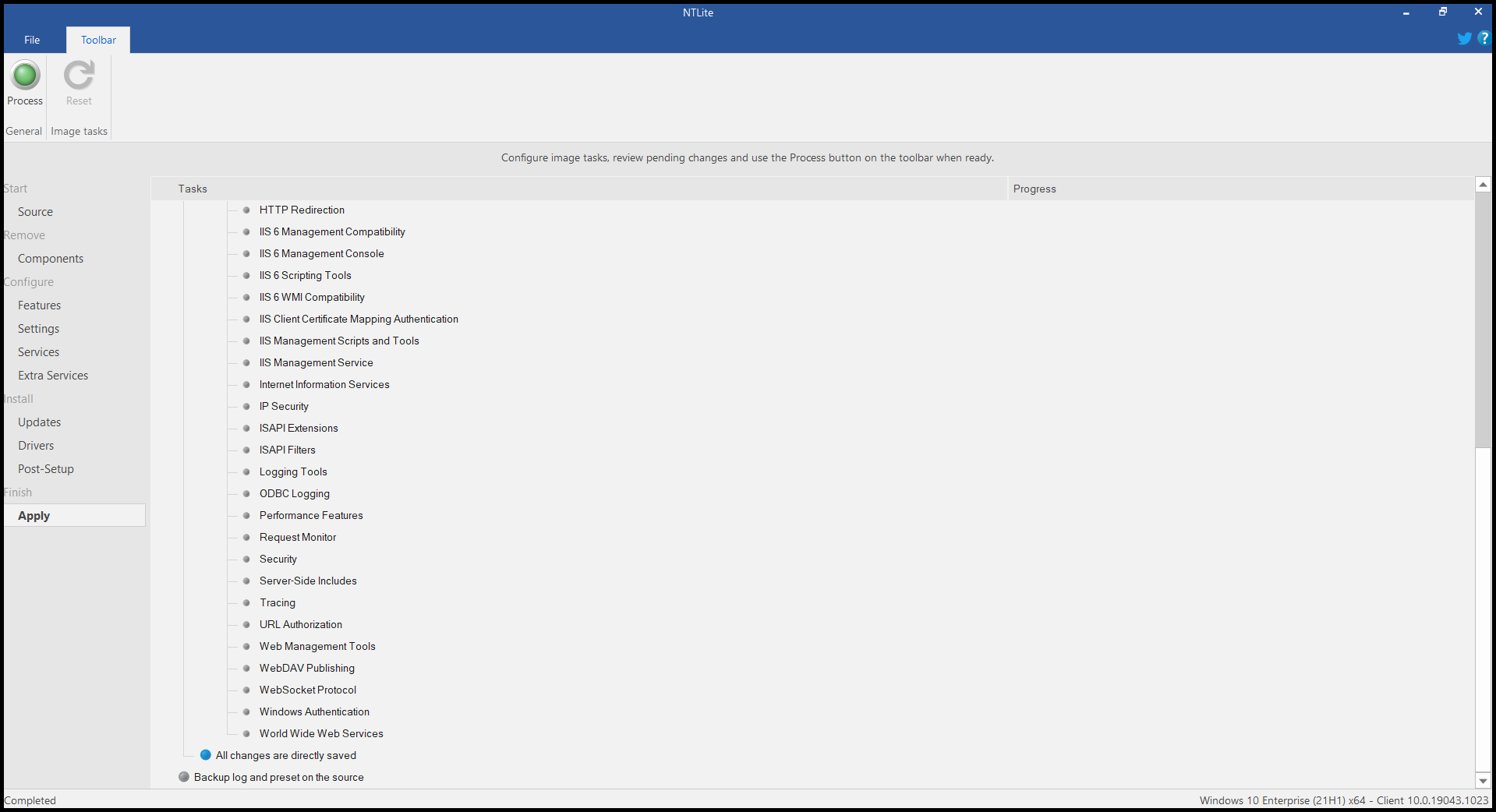 Virus free! 100% clean!
All credits go to @remek002 and brduakhTMP, who made and shared the portable version with us!
​
File: p_NTLite_v2.1.1.7917_x64.exe
You must be registered for see links
11/69
MD5: CD9A992DC39723383733AA51A62A7BED
SHA1: 8E430906B1C06BA748D93934D42D13C5D3F2D75E
SHA256: DAA34962F0E7B8DC74C9518D91F9D41B878003596F6CE8DA573DB31C4C1BFB3E
Kind regards,
@Mirkec
in collaboration with TeamOS
Download links - version 2.1.1.7917 (Size: 14.57 MB):
You must be registered for see links
You must be registered for see links
You must be registered for see links
Last edited: