Downloaded

95.4 GB
Uploaded

1.1 TB
Ratio

12.04
Seedbonus

8,558
Upload Count

0

(0)

Free online file converter

​
Convert media files online from one format into another.
This free online file converter lets you convert media easy and fast from one format to another.
We support a lot of different source formats, just try.
If you can't find the conversion you need, please let us know and write us an e-mail. We probably can help you...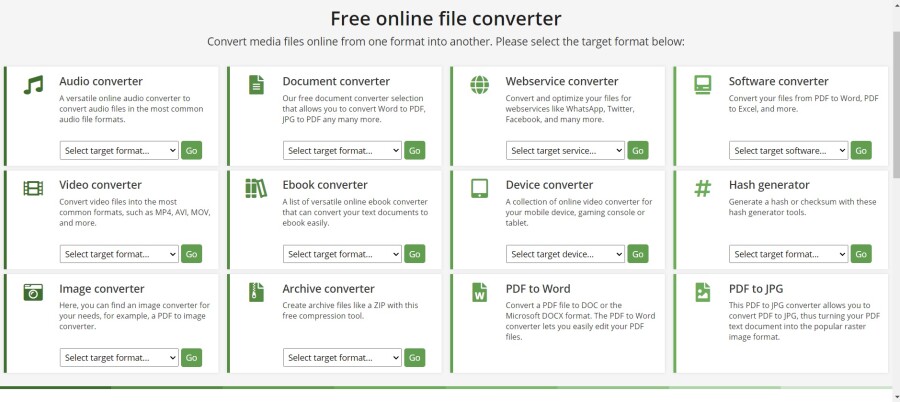 "We support conversions from quite a lot of formats to many targets.
If you want to find out if we support the conversion you are looking for,
you can use this search tool.
Enter the source and target file format above to check if we can convert your file."

​

PDF to WORD DOC to PDF
MP4 to MP3 HEIC to JPG
[PNG to JPG DOCX to PDF
JPG to PDF JPG to PDF
MOV to MP4 PDF to JPG
PNG to PDF WAV to MP3
EPUB to PDF M4A to MP3
MKV to MP4 WORD to PDF
PDF to PPT PNG to ICO
MP4 to GIF WEBM to MP4
MP3 to WAV EPUB to MOBI
PDF to EXCEL PDF to PNG
JPG to PNG [FLV to MP4
PDF to DOC PDF to JPG
DJVU to PDF PDF to DOCX
​
Online image converter to JPEG
Convert video to MP4
Convert image to TIFF format
Convert documents and images to PDF
Convert image to PNG
Convert your file to the Microsoft Excel XLSX format
Online AVI video converte
Convert your documents to DOCX
Convert video to the Matroska (MKV) format
Convert an image to the BMP format
"We have a lot of sites dedicated to convertion such as Ezgif for example. But I must admit that this one is quite complete for any document and images ....
Some of you already know it so for those who do not know it,
I share it with you because I find it really great .
Have fun and happy converting ^^ "

Zelimb
​
Link :

You must be registered for see links

​


​
Last edited: