Downloaded

1.3 GB
Uploaded

133.1 GB
Ratio

99.52
Seedbonus

59,678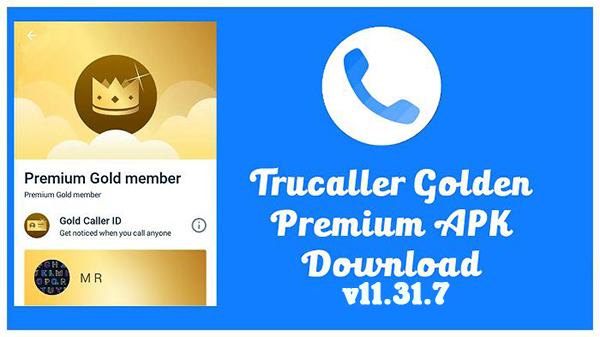 Truecaller v11.31.7 Premium Gold Apk - Caller ID, spam blocking & call record
|
114 MB

It is a calling application that can help the user to easily find out the original statistics of the mobile number and get there contacts phonebook etc. Most of the users use this application to block and spam the SMS and calls and simply filter unwanted numbers and SMS. So, get Adobe free chat option that can help you to simply communicate with friends and relatives through this tool. Truecaller Premium Apk Caller ID, spam blocking & call record mod pro apk perfectly find out all of the unknown SMS and make it as the default app. Even more, automatically find out if anyone calls you and simply views the numbers and names into the history option. the best option is it can automatically record all of the conversations and save the SMS into the storage.

All premium and gold features activated in this truecaller pro apk that means you have to download apk, and you are ready to keep you safe from unwanted calls and spammy messages.

★★★

Premium Mod

★★★


Premium Features Unlocked
Gold Membership Unlocked

Mod By Apkmos

Truecaller Pro Apk Features
•

Show the unknown number real info.

•

Simply spam and block any number.

•

Get the advantage chat option.

•

It can auto add the contacts.

•

View the spam messages.

•

Also, record the conversation.

•

Very simple to use this app.

•

Truecaller Pro Apk filtering option.

•

Send emoji GIF animation.

•

So, get the premium membership.

•

Use the group chat option.

•

Support multiple themes here.

•

Create unlimited contacts.

•

Use it without ads.

With truecaller premium apk you can:

*

Get free premium features

*

Identify incoming caller ID

*

Automatic block spam calls

*

Enjoy who viewed my profile feature

*

Search name and details of any number

*

Make your inbox spam free

*

Unlist yourself from truecaller

*

Create your profile, mark annoying people as spam, check who is calling on your number, and make video calls. With truecaller premium mod apk, you have access to the world's largest telephone directory from which you can find the number using name also check who is online on truecaller using the "Last Seen" option.

What are the features for Premium Gold?

★

Shiny gold 'caller id' interface

★

Gold 'after call screen'

★

Gold 'detail view'

★

Call recorder - not available on OS 9 or above as the support was dropped in Android 9


★

Who Viewed My Profile (possible to view in private mode)

★

Getting rid of ads

★

High priority customer support help

★

Get the Premium Gold Badge next to your profile picture.

★

30 contact requests/month

Having trouble with the Gold package?

Q: I have 'Gold' but the person I called does not see Gold caller ID. Help!

The user has to be on the latest version in order to see the gold caller ID
Caching of the older information which updates by itself after a few days (this can be manually cleared in 'Phone settings > Apps > > Storage > Truecaller > Clear cache)

What's New in truecaller apk v11.31.7:

*

Added the ability to schedule SMS messages to be sent later. Just long press the send button and switch to Schedule SMS mode.

*

Bug fixes and stability improvements.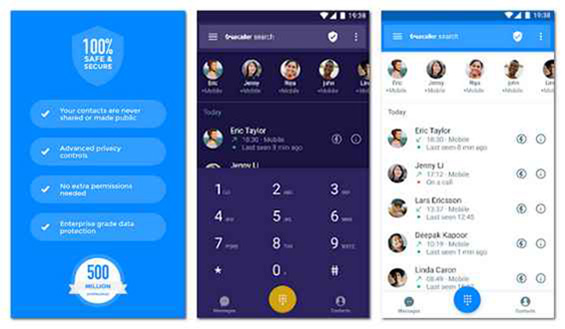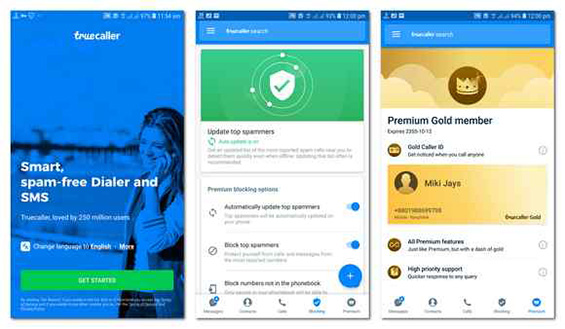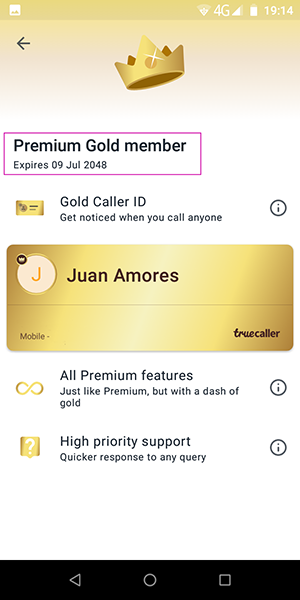 App Name: True Caller Premium
Armv7
Size: 66.1 MB
Arm64
Size: 57.7 MB
Apk Version:
v 11.31.7
Android Support: 5.1 or above
Installs: 500,000,000+
Last Updated:
28 October 2020

0- NOTE:
It is always a good idea to back up your app data to the cloud before uninstalling. The new installation will detect the backup and ask if you want to recover it.
1–
Uninstall Official Truecaller App if you have already installed (Important)
2–
Open Settings of your Phone, Go to Security and Enable Unknown Sources.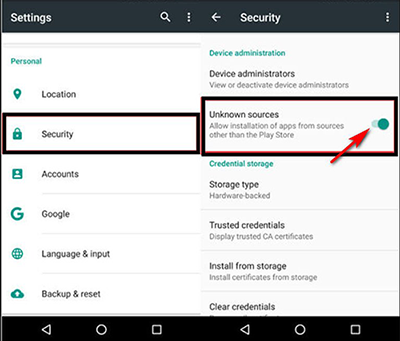 3–
Click on Truecaller Premium Mod Apk File
Armv7
or
Arm64
depending on your phone
& Install it. (Click on Allow from this source if asked)
[*]

4–
Open the True Caller App
5–
Click on Get Started & Allow Permission which required.
6–
Enter Your Number & it will automatically verify your Number Via OTP.
7–
Enter Your Name & Email ID.
8–
Done! You are a Premium Gold Member Now without paying anything.
Go to Menu & You will see all Premium Features Like Who Viewed your profile, etc.
[*]
If you have any doubts with step 3, look
HERE
.

Scanned with Avast Premium Security 2020 - 100% virus free
Scanned with Malwarebytes Corporate 2020 - 100% malware free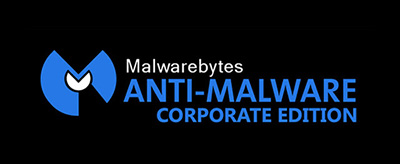 ​
Created With:

uTorrent/3.5.5

Comment:

Downloaded From https://www.teamos-hkrg.com/

Peers:

16 Seeders + 0 Leechers = 16 Peers

Info Hash:

fb77044c15700613cfde39b9eb54761d23b9e1e5

Loading…