Administrator
Windows Modifier
Downloaded

56.2 GB
Uploaded

15.7 TB
Ratio

287.12
Seedbonus

320,247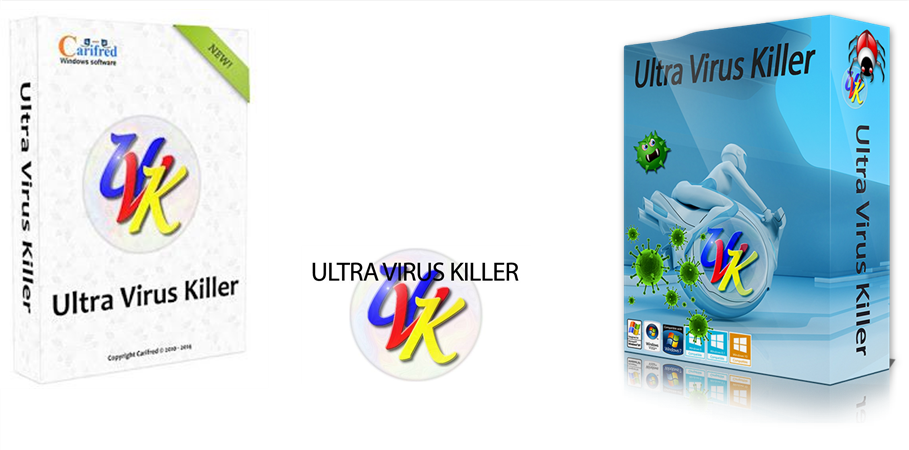 Review
UVK was initially created at the beginning of 2010 as a simple but powerful manual virus removal and system repair tool kit. It introduced many new repair methods such as Register system DLLs, now used by other applications of the same kind. It has been growing up ever since, adding many useful features. The utility has 18 different sections and the most important recently added are the
System Booster
and the
Smart Uninstaller
section.
The
System Booster
tool is a trustful and complete registry and file system cleaner. Not only does it recursively loop through the registry to try and find invalid references, but it analyzes each key and value separately, defining whether it is pointing to a file or another registry key/value and looping through an extensive array of possibilities to ensure the corresponding item does not exist before adding it to the list.
One of Ultra Virus Killer's better tools is the
Smart Uninstaller
. It is a fully featured software and capable of uninstalling several programs at once. It also supports unattended mode, and force uninstall for stubborn programs. As a complement to all the features mentioned, UVK Ultra Virus Killer also provides a special text editor that has been designed to analyze the UVK Ultra Virus Killer logs and create scripts based upon them.
One of the essential features of Ultra Virus Killer is the
System Repair
section. Housed in this section are the tools to perform the most common system repair and maintenance tasks. It also can automate the most popular malware removal tools, and it allows a user to create own automated third-party apps and professional reports. In 64 bit Windows versions, it analyzes both native and Wow64 registry keys. This in-depth analysis makes this section a trustful registry cleaner, which ensures only real errors are reported. It also gives the user much more info about the errors it finds than ordinary registry cleaners do.
The
Quick User Manager
section provides a user with all user account management options in a user-friendly interface.
Another important recently added section is the
System Immunization
. This feature effectively prevents changes to the most vulnerable registry keys and files, and can optionally prevent running files in specific directories. It does not replace an anti-virus software, but it is an excellent lightweight complement.
The
Tools and Tweaks
section provides a user with many tools and tweaks for Windows repair. It includes smoothly running the most useful Windows built-in tools, a file, folder and registry management feature, and lots of Windows tweaks.
The
System info
section provides system information that can be especially useful if use is planning to reinstall Windows or trying to diagnose a hardware related problem. The data can be exported to an HTML file.
System Booster;
Smart Uninstaller;
Quick User Manager;
System Immunization;
System Repair;
Ultra Adware Killer;
Process Manager;
Memory Modules Manager;
Autorun Manager;
Service Manager;
Alternative Streams Manager;
Delete File and Folders;
Scan and Create Log;
Run Scripts;
Tools and Tweaks;
Backup and Recovery;
System info;
Registry Seeker.
Common License:
Logo branding;
Company name branding;
Links to user website;
Full application branding.
Branding License:
Common License;
CloudSync;
Remove uninstallation remnants;
Fix errors (System booster);
Immunize all users;
UVK running protection password;
File information context menu;
Send reports by email or FTP.
What is new in version 10.10.3.0 (Release on January 30, 2019):
Updated Ultra Adware Killer with the latest version of the tool;
Minor bug fixes.
What is new in version 10.10.2.0 (Release on January 11, 2019):
Fixed bug: CloudSync could not upload files on Windows 7 or lower machines;
Added a new option to the Options section, General tab: When closing the last instance of this application, prompt me to uninstall it. This new option controls whether to display a dialog box asking the user if he wants to uninstall UVK when the user closes its last running instance. In previous versions, the dialog box was displayed when using the portable version;
Other minor bug fixes.
Supported Operating Systems:
OS: Windows 10, Windows 8.1, Windows 8, Windows Server 2008 R2, Windows 7, Windows Vista, Windows XP (both 32 & 64-bit).
Portable features:
1. Automatic update will be executed during the first launch (installer is version 10.8.0.0);
2. Settings of installed Ultra Virus Killer should be preserved;
3. Make sure "UVKPortableRuntimeData.ini" (in \Data) has been removed by launcher when leaving (if not, eliminate it manually).
Install note:
1. Extract and run UVKPortable.
2. Enjoy!
Screenshots: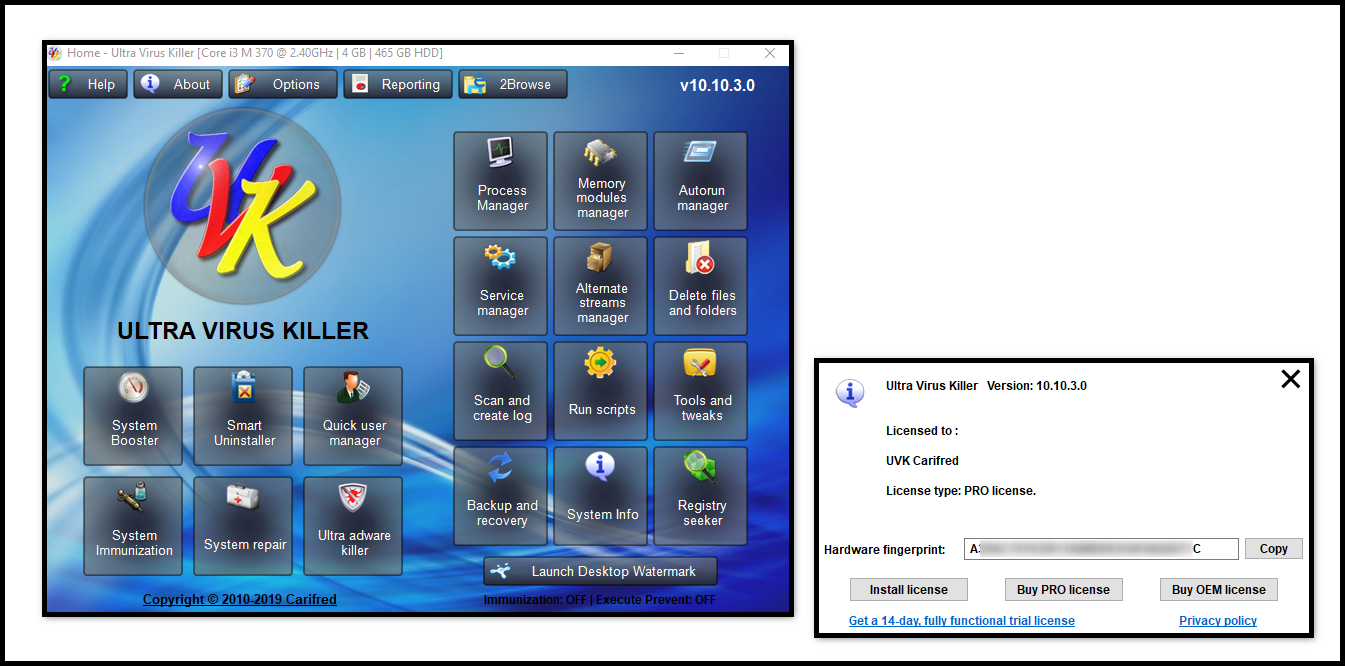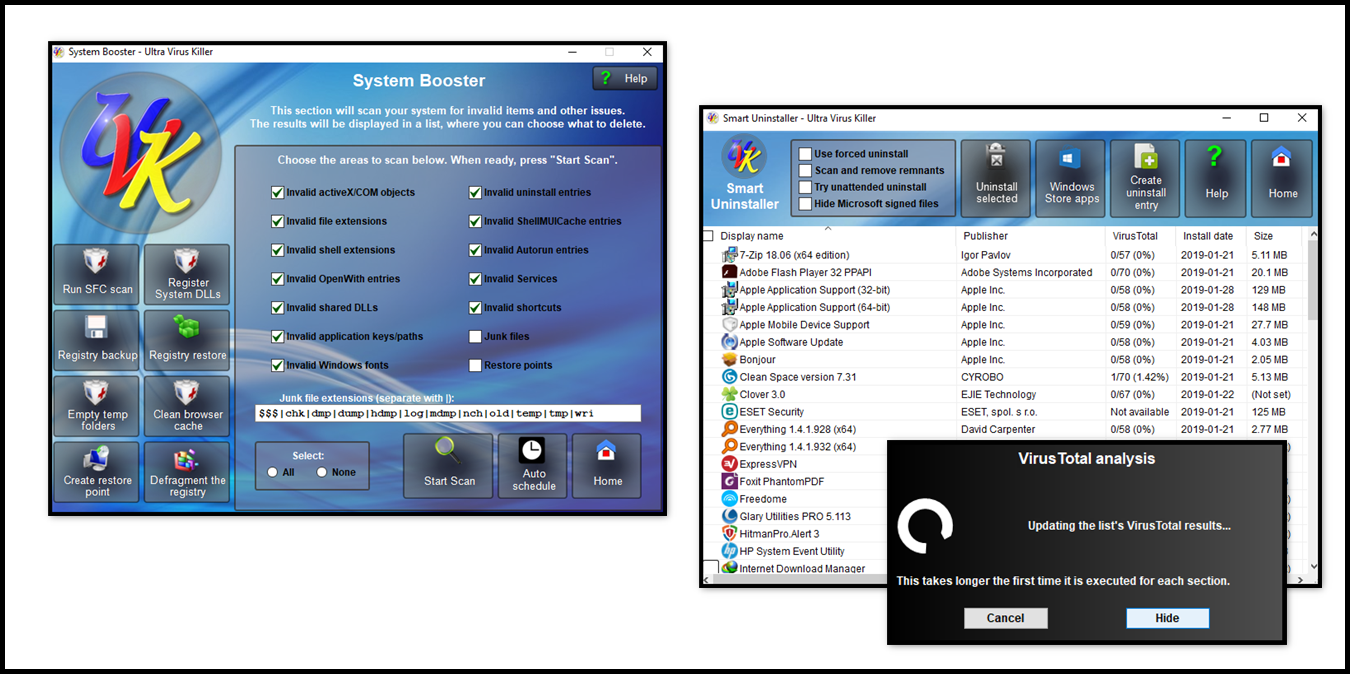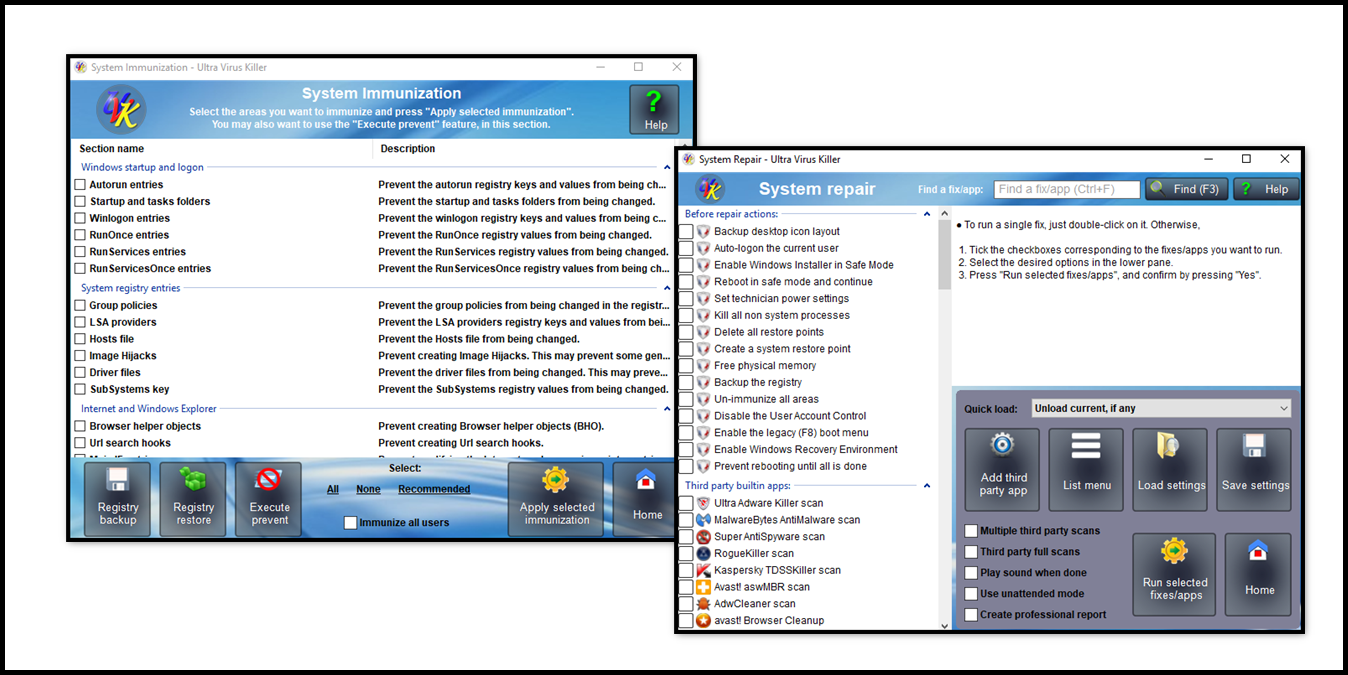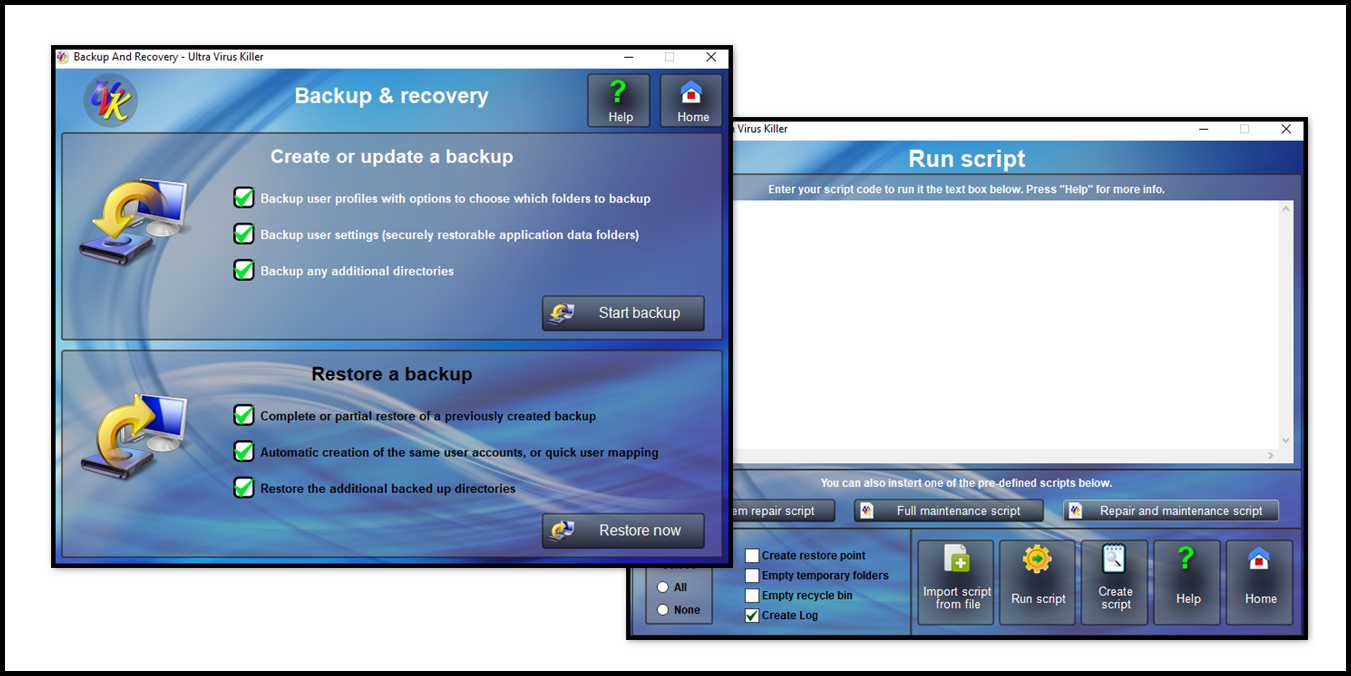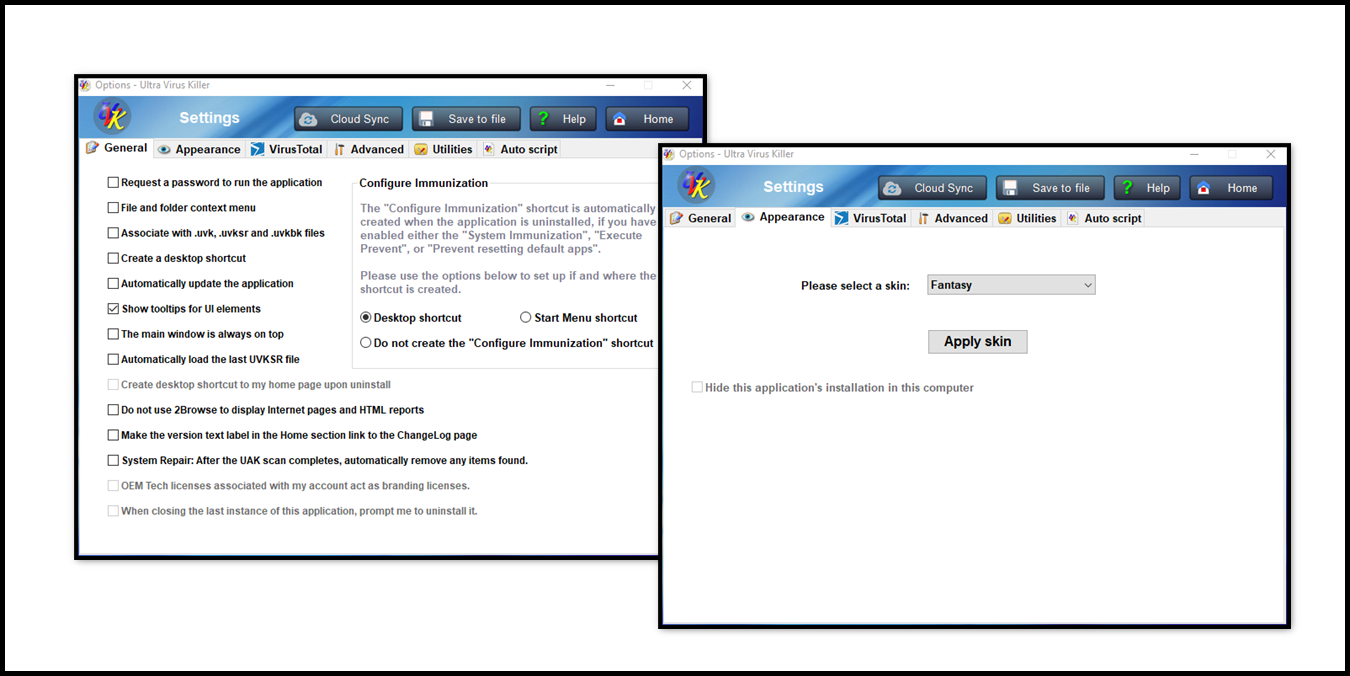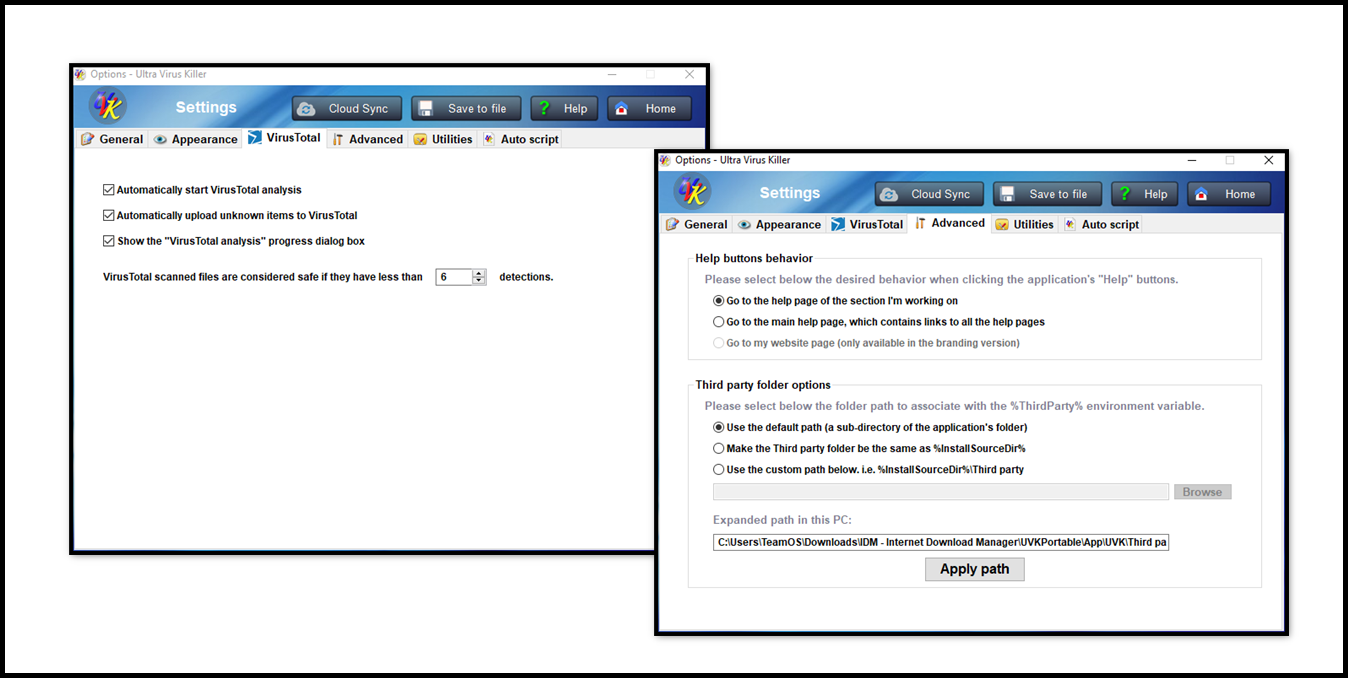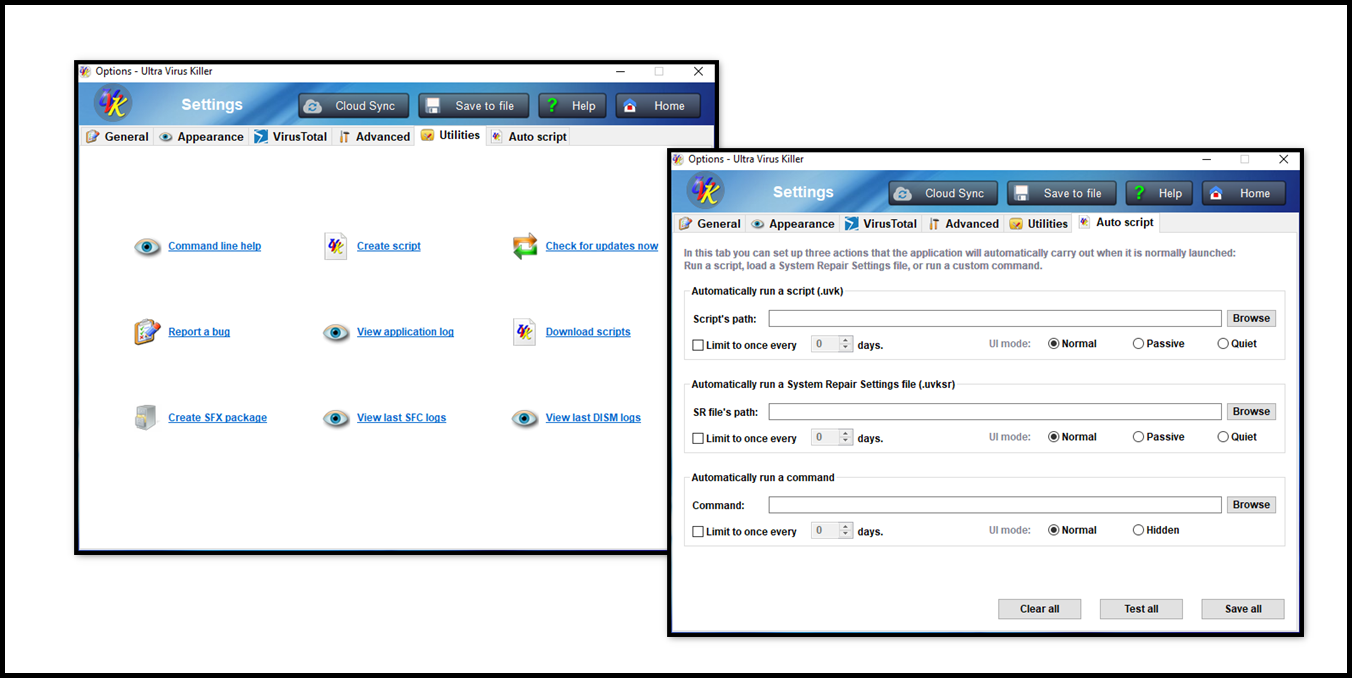 Virus free! 100% clean!
All credits go to doomstorm who made and shared the portable version with us!
​
File: UVKPortable.v10.8.0.0.paf.exe
You must be registered for see links
14/65
MD5: FCF19E3CAB180747B85F149219F1ABBF
SHA1: 235DA80805D28A6817091AFCFEDA6F6E023DE8A9
SHA256: EE137A2B0B5AF6CFAC0379A11B57DE4484ADF807FC1A537B92254B9E81616FE5
Kind regards,
@Mirkec
in collaboration with TeamOS ?
Download links (Size: 10.57 MB):
You must be registered for see links
You must be registered for see links
You must be registered for see links
You must be registered for see links
Last edited: