Super Moderator
Windows Modifier
Downloaded

427.7 GB
Uploaded

10.9 TB
Ratio

26.11
Windows 7 League of Legends Edition 2020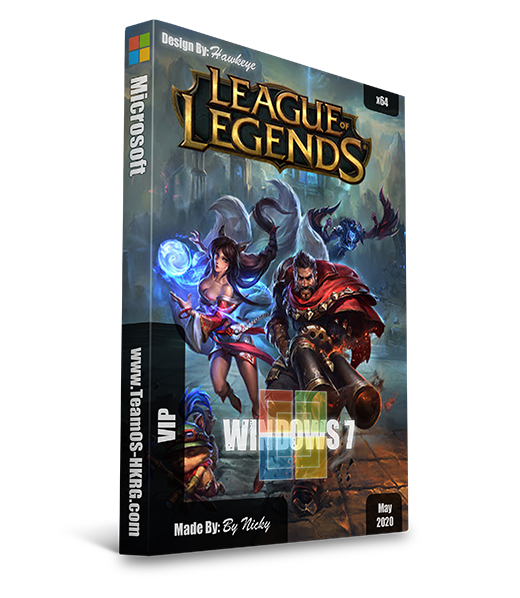 ​
Name From The ISO edited :Windows 7 League of Legends Edition 2020 =-TEAM OS=-
Name Modified:Windows 7 League Of Legends Edition 2020
Converted:Install.wim to Install.esd
Updated:May 2020
Size: 2.47 GB
Build :
@TheMacGyver
I used the iso gen not to have to put all the drivers and usb3
Apps inside the install.esd
2)Directx 9.0 Already install
Inside The Folder dvd iso apps (Desktop)
1)Bootscreen i didn't put silent installation.so you can choose!!!
2)Windows Loader v2.2.2 same you choose!!
I think go too next level of preinstall apps etc so i think why not put one game inside
Special Game Full installed / Updated League Of Legends in EU Nordic And East English Language the bad is i don't play so i don't know if take long too change server or something like but i hope you like it!!!
New stuffs added list
1) skinpack League Of Legends
2)small icons in start menu
3)right click CMD + Color Blue
4)New Background log in /log off
5)as in my habits telemetry is delete as well as uac and some optimizations
Bootable:Yes
Fast installation:Yes
Update fixed
language fixed
Video Resolution:1920x 1080p HD
No Sound:
Time Video 15 Minutes
I Hope you like it and Enjoy The Video of installation so you can see The Whole Windows 7 League Of Legends Installation!!!
Screen:
You must be registered for see links
You must be registered for see links
You must be registered for see links
You must be registered for see links
You must be registered for see links
You must be registered for see links
You must be registered for see links
Link request must be made to

@Mr.Lonely , @TheMacGyver Not me the admin alone can give the links and i prefer


​
Last edited by a moderator: