Super Admin
Windows Modifier
Retired Veterans
Downloaded

0 bytes
Uploaded

300 TB
Ratio

-
Windows Thin PC (x86) by adguard (v19.01.03) [En-Ru]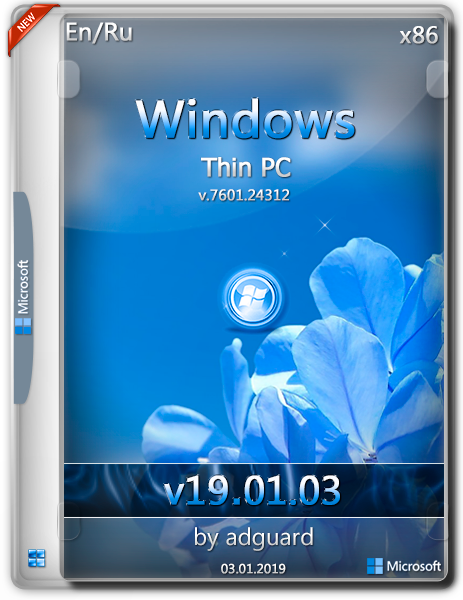 General Info:-


Program version:

6.1.7601.24312 / v19.01.03 Build

author:

adguard

Interface language:

English, Russian

Legalization:

activation required!

(for personal testing, use alternative means of activation)

System requirements:
Processor: 1 gigahertz (GHz) or more.
Hard disk space: 10 gigabytes (GB).
Graphics card: graphics card Microsoft DirectX 9 or newer.
Additional requirements for using certain features.
To use the touch capabilities required tablet or monitor with support for multi-touch technology.
To access the Windows Store to download and launch applications, you need an active Internet connection and a screen resolution of at least 1024 × 768 pixels.
Description:
Assembly is made on the basis of an original image from VLSC. The language was integrated: Russian, updates on January 2, 2019, integrated system components and codecs. The system is completely on the original installer
Composition Assembly
Windows Thin PC - English
Windows Thin PC - Russian
Features of Assembly :-
- Integrated updates on January 2, 2019;
- Integrated system components and codecs;
- Integrated language pack: Russian;
-
The system was in audit
(only the integration of the update through Windows Update).
Note:-
Attention !!!
In assemblies after installing the system, you may notice that its integrity is damaged.
Below is an error that I received by installing a clean, original Windows Thin PC OS; my intervention did not occur.
You must be registered for see links
Here the error is not the author, but the Microsoft office itself.
Check Sums:-
Name: en-ru_windows_thin_pc_with_update_7601.24312_x86_v19.01.03_by_adguard.iso
Date: 03-01-2019
Size: 2.45 GB (2,634,074,112 bytes)
--------
SHA-1: 1149fb842ac9ad14abfeee1956357813ccc8c955
MD5: a5d0dd9e5b76bed6078041883b8b52a0
CRC32: 3ccc0233
Screen Shots:-
You must be registered for see links
You must be registered for see links
You must be registered for see links
You must be registered for see links
You must be registered for see links
You must be registered for see links
You must be registered for see links
You must be registered for see links
You must be registered for see links
Download links
Single links
You must be registered for see links
or
You must be registered for see links
or
You must be registered for see links
1gb links
You must be registered for see links
You must be registered for see links
You must be registered for see links
or
You must be registered for see links
You must be registered for see links
You must be registered for see links
or
You must be registered for see links
You must be registered for see links
You must be registered for see links
Last edited:
Created With:

uTorrent/2210

Comment:

No Comment For This Torrent

Peers:

5 Seeders + 0 Leechers = 5 Peers

Loading…