Uploader
Verified Member
Member
Downloaded

396.5 GB
Uploaded

44.9 TB
Ratio

115.96
Seedbonus

11,803,846
Upload Count

0

(0)
WinZip Pro v25.0 Build 14245 (x86/x64)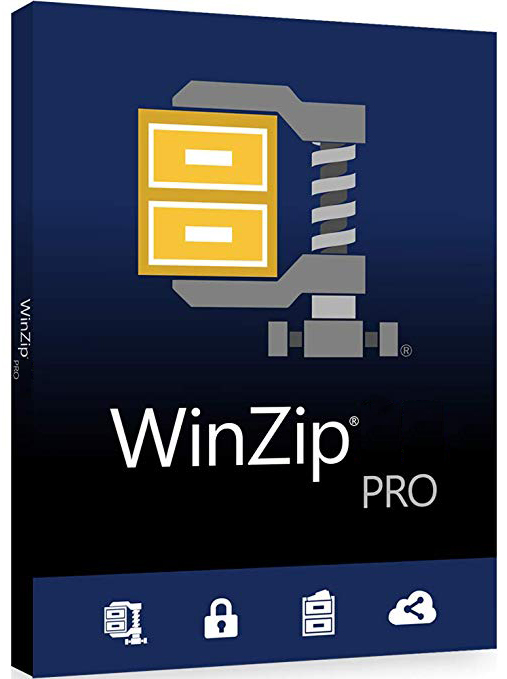 ​
WinZip

is the world's most popular Windows Zip utility for file compression, file sharing, file encryption, and data backup. No other file compression utility is as easy to use or offers such a comprehensive and innovative feature set to help you save time, conserve space, and improve productivity.
Moreover, you can instantly compress files to conserve storage space, send swifter emails, and decrease file upload/download times. Zip documents, spreadsheets, PDFs, presentations, you name it! You can quickly zip and unzip files to conserve storage space, speed up e-mail transmission, and reduce download times. In addition, WinZip offers strong AES encryption for securing sensitive data, the ability to bundle files into convenient, compressed packages, and an automated data backup facility to prevent data loss.


WinZip

even supports photo and image compression. Now you can compress your digital photographs and graphic images by 20 to 25% with no loss of photo quality or data integrity. This lets you send pictures faster and fit more on your flash drive, CD/DVD, or hard disk.
Compress:
Compress files to save space and reduce transmission times
Create Zip, LHA, and new Zipx files – the smallest Zip files ever
Let WinZip select the "best" compression method based on file type to maximize efficiency
Compress JPEG image files by 20 to 25% with no loss of photo quality or data integrity
Open and extract from Zip, Zipx, RAR, 7Z, LHA BZ2, CAB, IMG, ISO, and other archive files
Experience better performance on most files with LZMA compression
View international characters in filenames through Unicode support
Create and read Zip files larger than 4GB
Encrypt:
Secure sensitive data with FIPS-197 certified AES encryption (128- and 256-bit)
Encrypt and decrypt confidential files and email attachments
Auto-wipe ("shred") temporarily extracted copies of encrypted files
Feel safe knowing Auto-wipe uses the U.S. Department of Defense (DoD 5220.22-M) standard
Set password policy by controlling complexity requirements
Set or disable available encryption methods
Take advantage of hardware support in certain Intel-based computers for even faster AES encryption
Package and Share:
Bundle files into zipped packages, creating convenient, logical groups of related files
Organize and secure email attachments, which transmit faster thanks to smaller file sizes
See the content of Zip file attachments in Outlook 2013 using the Zip file previewer
Double click on a file in the Zip file previewer for Outlook 2007 to open it for viewing
View photos in Zip files without extracting, using WinZip's internal image viewer
Resize Photos when using Zip and E-Mail
Quickly create and send Zip files with one-click "Zip & E-Mail"
Resize photos from a Zip file when sending by email or to a new Zip file
Use "Send To" to send new and existing Zip files as e-mail attachments
Use Save As, Rename, and New Folder commands to easily manage Zip files
Create Self-Extracting Archives with Self-Extractor Personal Edition
Split Zip files to make large Zip files fit on removable media
Use Zip from Camera Wizard to quickly transfer, rotate, and compress photos from supported cameras
Backup / Automate:
Prevent data loss with automated data backup facility
Burn back-ups to CD or DVD and automatically split them over multiple discs, if necessary
Upload your back-ups to an off-site server using WinZip's internal FTP client
Create custom jobs to automate routine zip tasks
Schedule jobs to run automatically and unattended
Utilize predefined WinZip jobs
Email, FTP upload, or burn Zip files to disc using Job Wizard
Email log files upon WinZip job completion
Utilize WinZip's command line interface for scripting (free add-on)

​
Windows 10

Windows 8

Windows 7

Internet Explorer 8 or later

​
Search Files faster
Stop searching for files in all the wrong places. Use WinZip's new built-in search feature to quickly track down files stored locally, on your network, or in your cloud storage, even when you don't remember where you put them.
Combine Multiple PDF files into One PDF
Use WinZip Pro or Enterprise to combine your PDFs. You can convert multiple PDF files into a single PDF file to save, zip, or share. You can even organize the order of pages in your PDF, then combine and protect them with WinZip's PDF security features.
Experience better Zipx Compression
WinZip adds the ZSTD compression method to Zipx. With ZSTD, WinZip can compress and decompress many file types faster, while achieving compression rates better than DEFLATE and DEFLATE64 compression methods.
Pin Favorites in the Files Pane
Pin and access favorite files and folders in WinZip's Files Pane. The Files Pane is already a convenient way to manage, zip and unzip your files. Now you can pin your favorite local, network, and cloud-based files to the Quick Access section and access them with the click of a button.
Shell Extensions supported in the Files Pane
Perform shell extension operations right from the Files Pane. Getting better Explorer functionality is as simple as adding Shell Extensions to the Explorer context menu. Now that WinZip's Files Pane supports these extensions, you no longer need to leave it to perform operations previously only available in Explorer.
Create Backup Jobs from Explorer
Use WinZip Pro or Enterprise to create Backup jobs from the Explorer context menu. Just select files in Windows Explorer, select Create a WinZip Job, and choose when and how often your job runs. WinZip will walk you through Zipping and storing selected files, optional notifications, and sharing features.
Manage file clutter more efficiently
Set a schedule for WinZip's Cleaner Tools to find computer, network, or cloud storage files you haven't used in a while. Then decide if you want to delete, zip, or relocate them. You can even use the new Ignore option to prevent files you don't want to clean from being flagged. And WinZip Pro and Enterprise users can create custom, filter-based cleaners.
Get improved Zip File Performance with Direct Access
Use WinZip's Direct Access to bump up cloud-stored Zip file performance by downloading only parts of a file as you need them. The larger the Zip file, the better performance you'll experience. Direct Access even downloads extra Zip file parts in the background and keeps them ready while you're choosing files to unzip or view.
Switch Easily between Zip and Zipx
You can now use a simple Ribbon toggle to switch between creating a Zip or Zipx file. And when you're ready to save, you can choose between saving your file as Zip or Zipx.
Enjoy Extended Enterprise cloud support
WinZip Enterprise users will enjoy expanded Enterprise cloud services. With better control and a better fit for your business in mind, WinZip's supported cloud services have expanded to include OpenStack and SwiftStack regions and credential files, Alibaba, Wasabi, HP, Oracle, Azure, WebDAV, CenturyLink, IONOS and OVH cloud providers.
Drag and Drop "Add to Zip" in WinZip's Files Pane
Easily add files to Zip files displayed in WinZip's Files pane. Simply drag and drop your files onto a Zip file in the WinZip Files pane and it gets added- just like that!
Direct Access Technology for faster display and unzipping
WinZip's Direct Access Technology provides a noticeable reduction in time to display and unzip large Zip files stored in the cloud.
Prompt to unzip on open
Now you can instantly unzip any Zip file in Explorer, or from the WinZip Files Pane, the WinZip Ribbon or File menu. Easily unzip files to the folder that it originated from, your Documents folder, or a folder that you choose!
Unzip to file pane folder
With a single click of a button, you can unzip any file to the selected folder in the Files Pane.
Faster start-up performance
Now you can get to work faster and strictly focus on the task at hand thanks to significantly quicker start-up times.
POSIX TAR support
You can now open and unzip POSIX TAR files in the updated compression format.
Replace Zip Files with their Content
Quickly and easily unzip a group of Zip files and replace them with their native files.
Create a split Zip file from Explorer
Easily distribute large Zip files without worrying about timeouts or failed uploads/downloads. This convenient feature creates a multi-part zip file for easier distribution.
MP3 Compression
Keep more music on your phone or on a cloud service, or share playlists more easily, with enhanced loss-less MP3 compression. WinZip 25 compresses your MP3 files by 15 – 20% on average with no loss in quality thanks to the enhanced Zipx format.
Unzip anything
Extract content from the industry's widest selection of compressed file types, including Zip, Zipx, RAR, 7Zip, BZ2, LHA/LZH, VHD/VDMK, XZ and many more. When extracting encrypted files, WinZip auto-wipes all temporarily extracted copies to prevent misuse.
Zip files from any location
Easily find your most-used files and folders on your PC, network and clouds in Frequent Folders, which updates dynamically.
Zip from other applications
WinZip Express lets you use popular WinZip features even when you're working in other applications. Use it with Explorer, Microsoft Office, your scanner (Pro only), your photos (Pro only) and Microsoft Outlook to zip, encrypt, share and more.* WinZip Express tools now support Office 2016.
Device-friendly interface
Touch support puts the power of WinZip at your fingertips on any touch-enabled device or computer. WinZip is optimized for 2-in-1 computers, switching its layout automatically depending on whether you are using your system in tablet or notebook mode.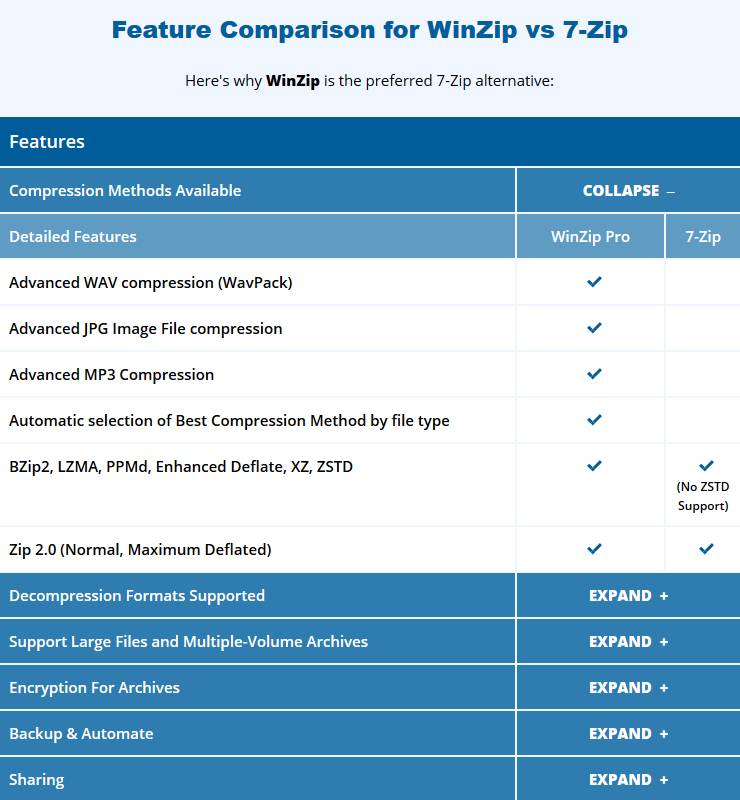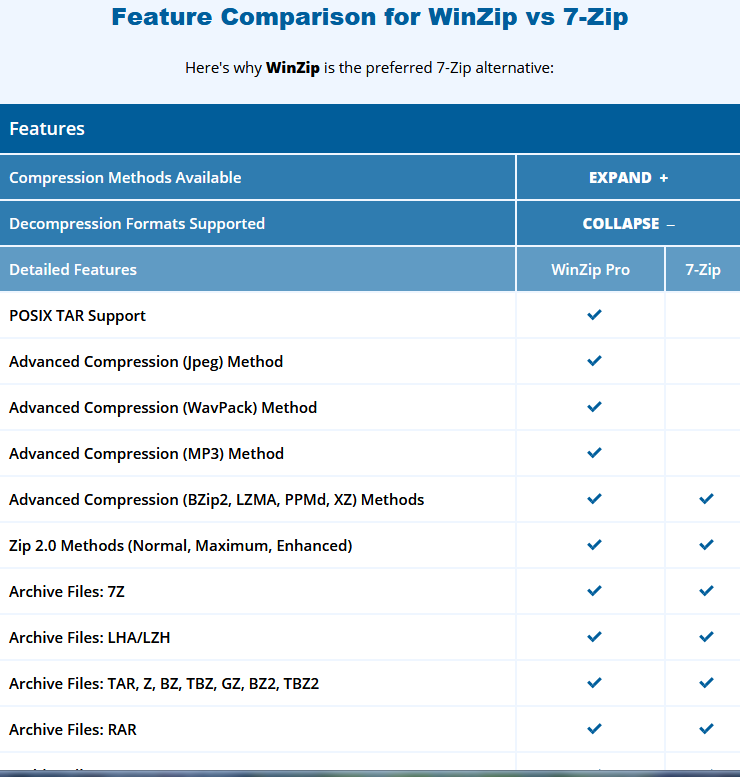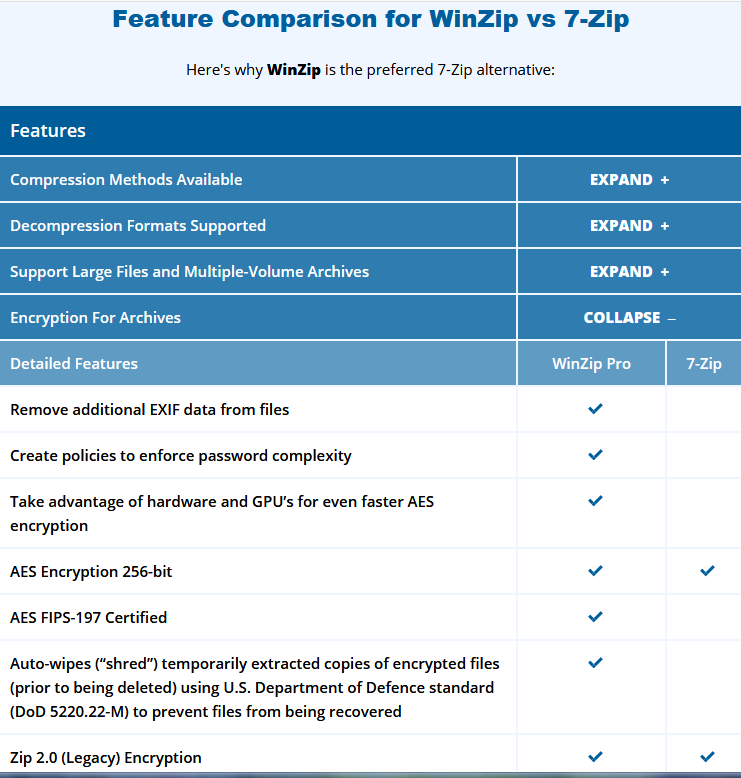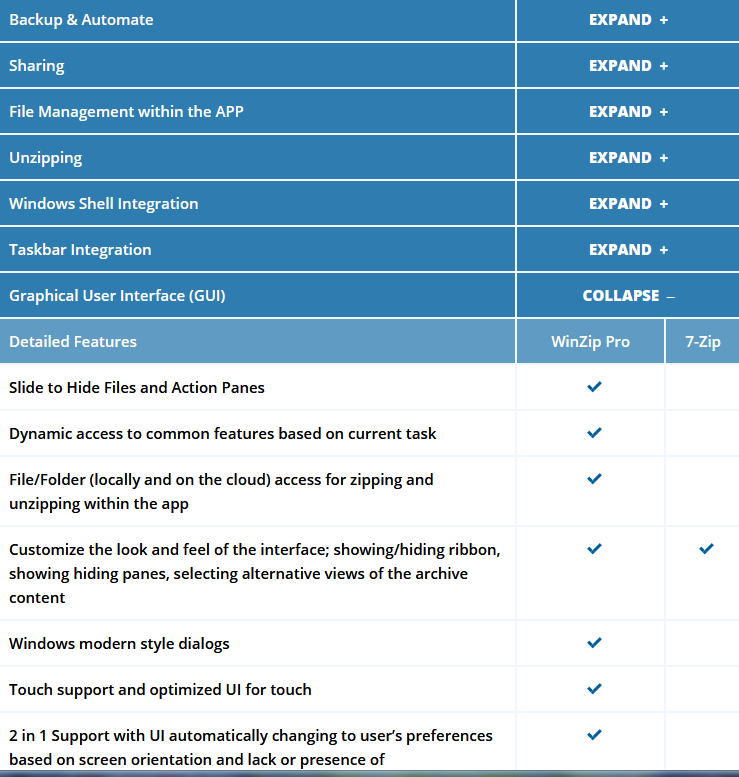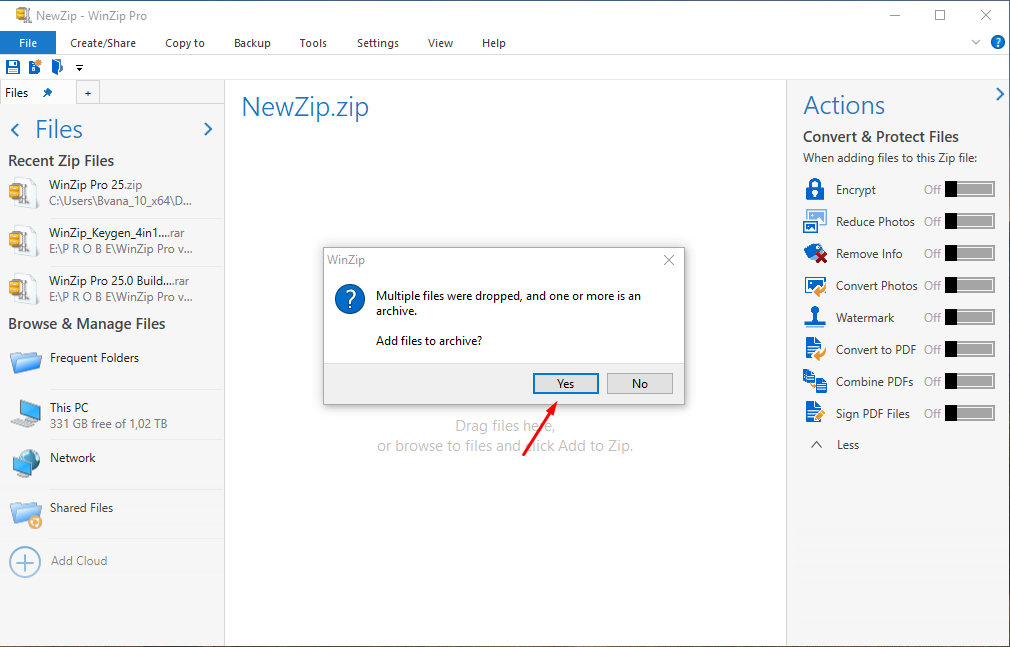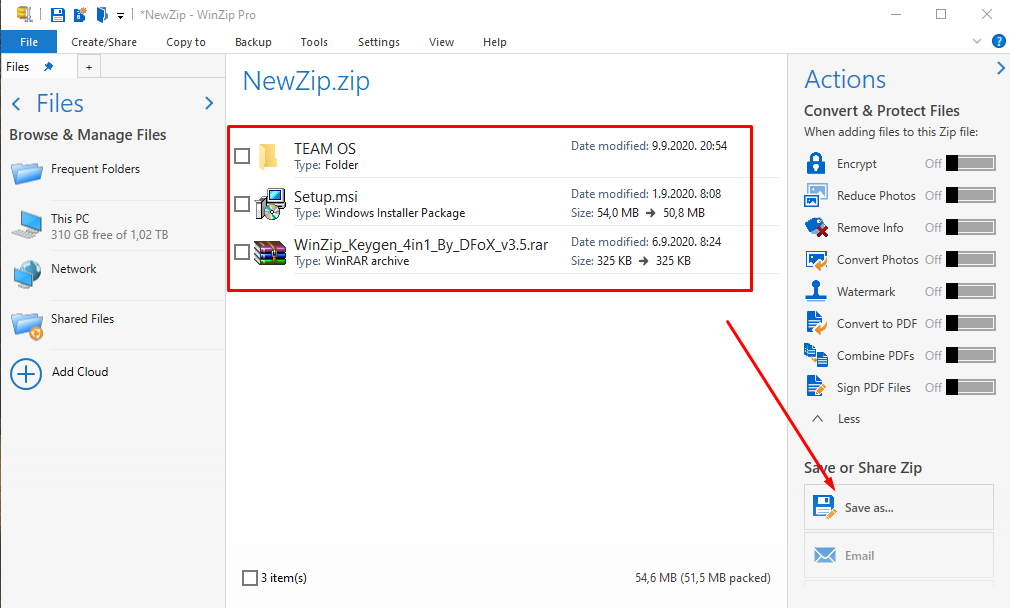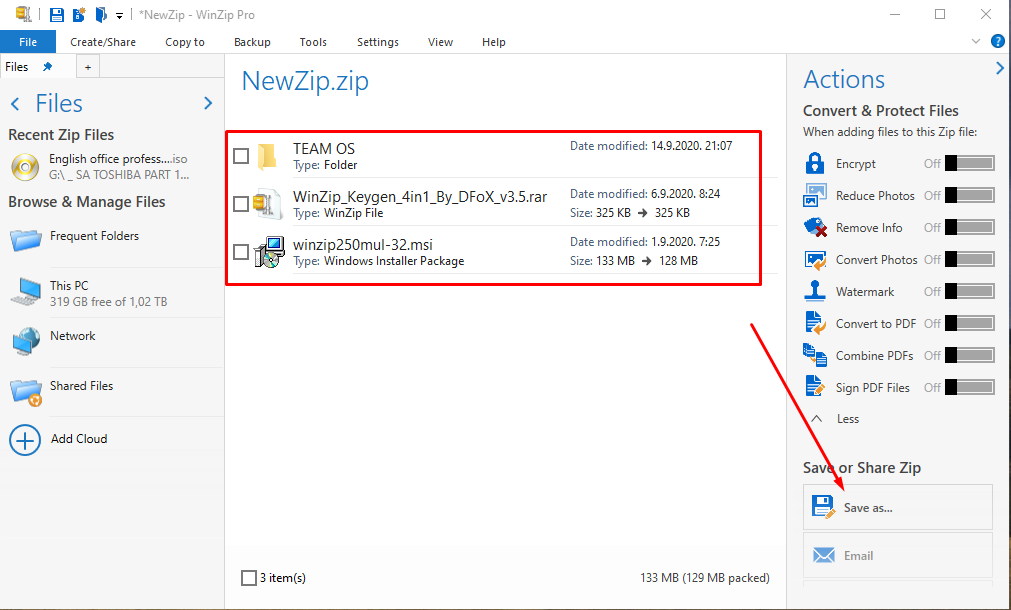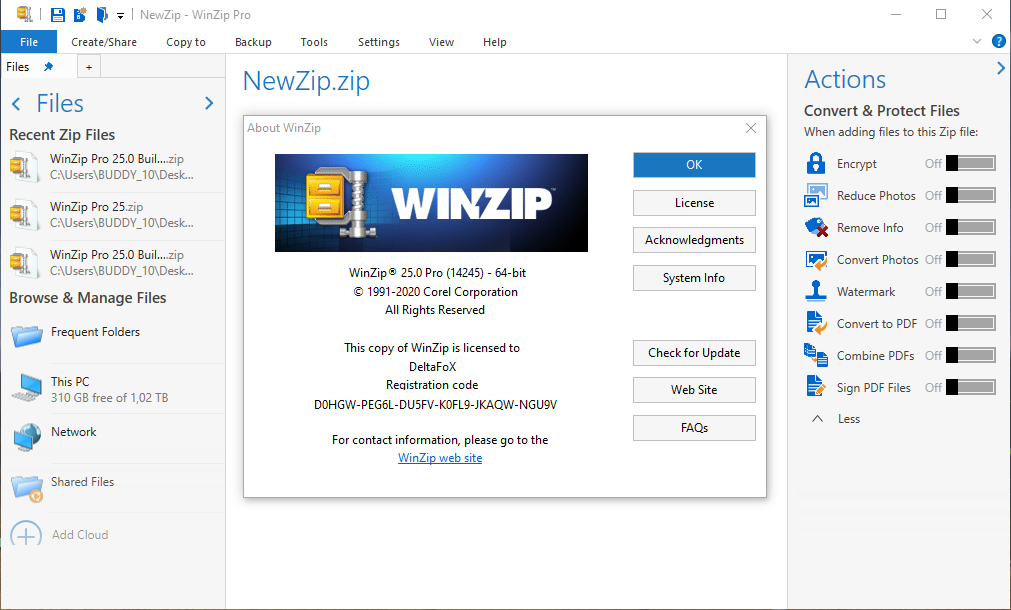 See pictures after installation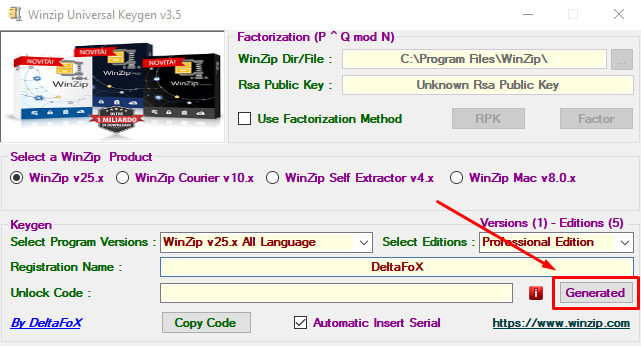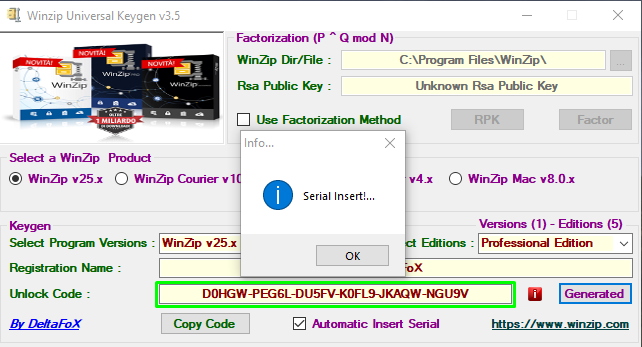 ​
You must be registered for see links
You must be registered for see links
You must be registered for see links
You must be registered for see links
You must be registered for see links
You must be registered for see links

You must be registered for see links
You must be registered for see links
Windows x86 | File Size: 132.7 MB - - Windows x64 | File Size: 74.3 MB
​
Last edited: