Downloaded

1.3 GB
Uploaded

118.4 GB
Ratio

88.54
Seedbonus

35,684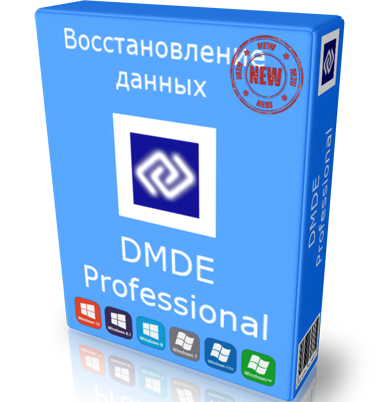 DMDE v3.6.0.770 portable
|
4.24 MB

DMDE

is a file recovery tool with a wealth of cool features.

The software will perform file and folder recoveries across various FAT, exFAT and Ext file structures. Files and folders can be reconstituted using internal algorithms to do so.

Previously deleted partitions can also be recovered. A partition manager ensures that this is done correctly and the user can create their own new partition as well without needing other software to do so.

To protect from future data loss, a disk imaging feature is included to create accurate data backups.

Portable app that doesn't need installation.

DMDE Features:


-

file systems supported: FAT12/16, FAT32, NTFS/NTFS5 (browse through directories, view binary file data, data recovery)

-

quick search for lost partitions using boot sectors and superblocks for FAT, NTFS, exFAT new, Ext2/3/4 new (if there are broken partition tables or partitions were removed)

-

sophisticated search for lost data using file system features which allows you to reconstruct directory structure and recover data after serious disk damages (include format, remove,

---

partition manager failures, and other)

-

disk image utilities (create, write, open image, clone disk)

-

RAID constructor (RAID-0, RAID-1, RAID-4 new, RAID-5, delayed parity new, JBOD/Spanned) for data recovery from broken RAIDs

-

NTFS utilities (copy, delete file, create, repair, remove directory bypassing NTFS driver)

-

large and NTFS compressed file support (view and recover)

-

national file names support (Unicode)

-

portable software (no installation required)

What's new in DMDE 3.6.0.770?


-

ReFS v1/v3 support

-

Filtering Raw results by using cluster map

-

Applying Raw results to FS data

-

Support for VMDK disk image files

-

Support fot EWF disk image files (e01/etc., Professional Edition only)

-

Extended cluster map features (diff. FS types / damaged FS / reports)

-

Improved RAID parameters detection accuracy

-

Fixes for some HFS support critical bugs

-

Fixes for some rare Extfs parameters

-

Fixes for exFAT found directory fragments processing

-

Fixed bug loading copy sectors log with retried bad ranges

-

Other improvements and fixes

System Requirement: All Windows
CPU: Intel compatible (i486 and higher)
To save/use results, reports, and settings a valid partition is required which is supported by the operating system (in particular, FAT partition is required to work in DOS/Win9x/ME)
Administrator privileges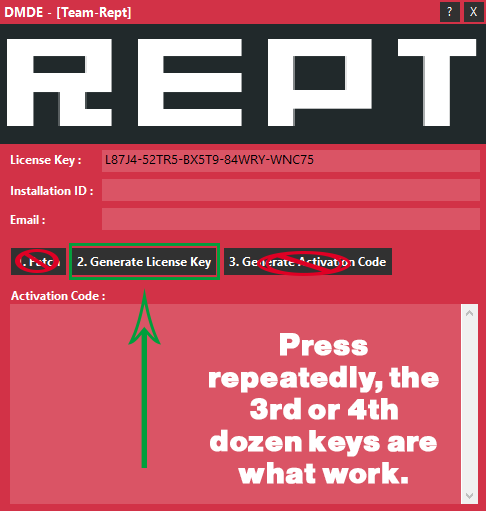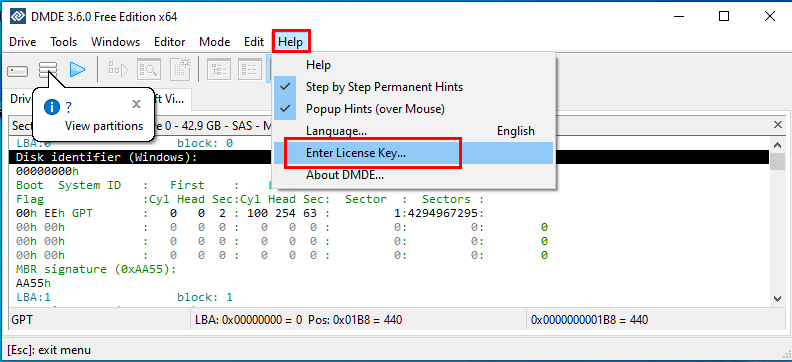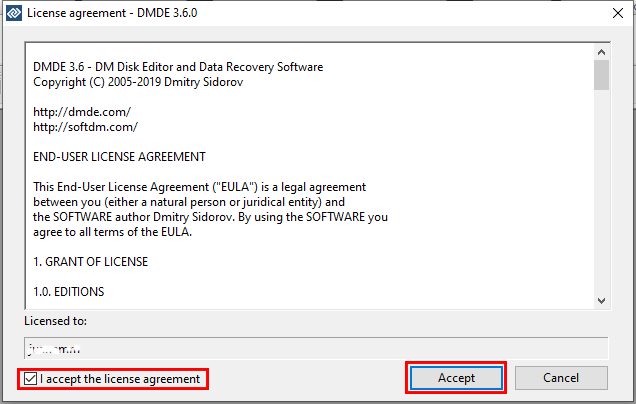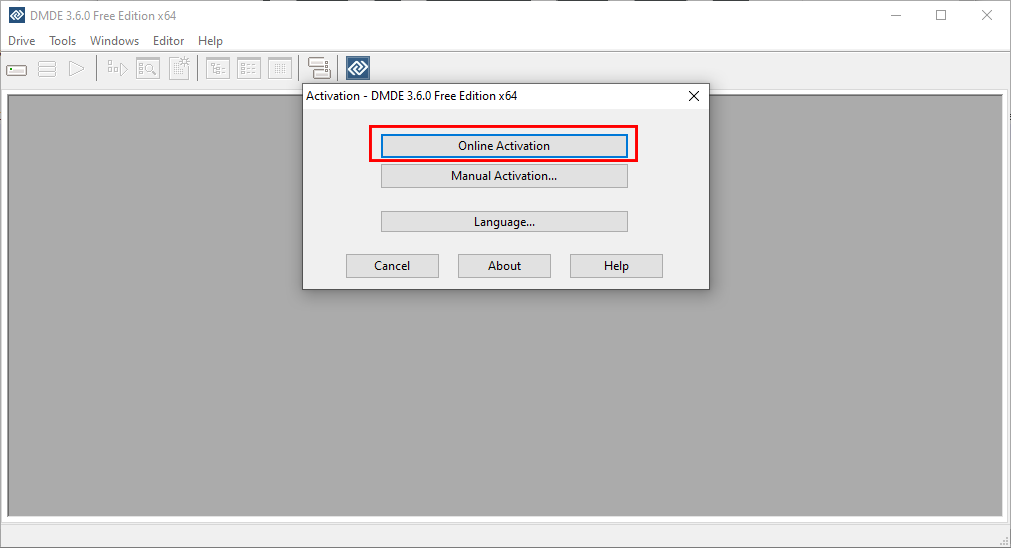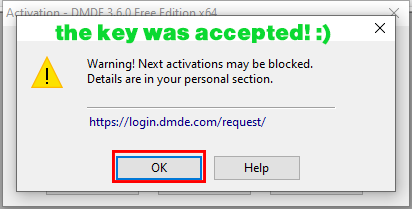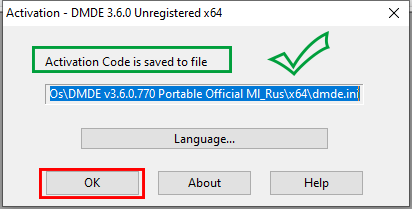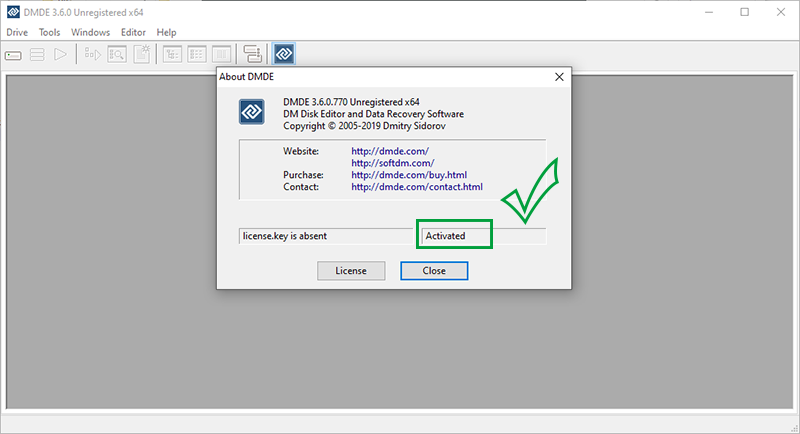 1.
Open the keygen and press the button "Generate license key" many times (I had to do it +50 so that it generates a valid key) xD
2.
Copy the generated key
3.
Open the program (Choose x86 (32 bit) or x64 (64 bit) version according to your operating system) and go to Help >> Enter License Key
4.
Copy the key generated by keygen and put any username.
5.
Activate
the
online
program until the key is accepted, if the key is wrong (
Invalid license key
), regenerate another key until the message "
Warning! The following activations may be blocked
" appears, this it means that you have accepted the key as valid.
6. Done!
NOTE:
The program
will be activated
, but will
not be registered
, which does not prevent it from
working normally and recovering files
in batches.
Even though the program writes the status of
Unregistered
, the program works as activated.

Scanned with Avast Premium Security 2020 - 100% virus or malware free

You must be registered for see links
Created With:

uTorrent/3.5.5

Comment:

Downloaded From https://www.teamos-hkrg.com/

Peers:

29 Seeders + 0 Leechers = 29 Peers

Info Hash:

857787bd081cc8c15fc546050ababd143998f515

Loading…