Super Admin
Windows Modifier
Verified Member
Retired Veterans
Downloaded

0 bytes
Uploaded

871.7 GB
Ratio

-
Seedbonus

45,990


How To Dual Boot Linux Mint And Windows 10 [Beginner's Guide]​
What you need to know about Linux Mint:
Cinnamon - This is the one that ships with Linux Mint by default. Adhering to the Mint philosophy, Cinnamon gives a desktop experience that a Windows user would expect. The taskbar-esque panel at the bottom, the start-esque menu on the left corner and the notification area on the right make it look very close to a Windows desktop. There are some options you can find in cinnamon-settings but customizability is nowhere close to what you get on other environments. For most users, customization or the lack thereof is not a deal breaker here because a Linux Mint user would expect everything just work out of the box. Personally, I have had terrible screen tearing and vsync issues with Cinnamon that many other users online haven't.

XFCE - This desktop environment is, for the lack of a better word, underrated. The out of the box setup of XFCE is in no way representative of what all it can do. With this lackluster default configuration and the tiny memory footprint, one would expect xfce to lose this battle but it is only after using and playing with the settings that it shines. XFCE can be tuned to the users liking and you can make it look/work like whatever you want. Personally, on the first day of use, xfce looked like a big no but by day 5, I was completely hooked. A neat combination of fast, lightweight and flexible.

MATE - Mate started as a GNOME fork for those who didn't quite like the (quote Linus Torvalds) 'unholy mess' GNOME shell had become. While GNOME Shell was receiving negative reactions for the massive UI changes, Mate quickly had users hooked by providing them exactly what they wanted - the familiarity of Gnome 2. If the friendly two-panel setup and the grandfather Applications menu is all you want, then the default Mate setup is your way to go. Mate, like xfce is flexible but personally, I prefer xfce for all that customizability.

KDE - Plasma 5 is what I used for exactly the one week I had assigned to it for a trial. It takes a long time to install and load but my goodness! It is pretty. Perhaps the prettiest looking desktop environment there is. It is also highly customizable with widgets and all. With all the smooth, shiny surfaces and Gaussian blur thrown all over, Plasma 5 doesn't fail to impress. (Read in zefrank's voice) "Imagine OSX, but better. That's how a Plasma do!" Another notable thing with this one is compatibility with GTK3. ( Albeit I found it painful). Personally, I really liked it for its eye candy and flexibility but its ever-so-slightly high loading time and resource-intensive behaviour tips the scales towards xfce for me.​
Update: Gnome Shell is not listed in the question, but it would be unfair not to mention a worthy contender in the battle of desktops.
​
Dual boot Linux Mint with Windows 10.
Dual Boot allows you to select between using Windows and Linux at boot time
​
Will dual booting Linux with Windows slow down your system?
I was asked this question several times in the Linux Users Group. So, the short answer is no. Dual booting Linux and Windows won't slow your system in any way.


The only delay is in boot time that too because you get 10 seconds of buffer time to select between Linux and Windows. Once you have booted into either of Linux or Windows, it will work the same as if it is the only OS in the system. No impact on the usability of your system. Dual boot won't slow down your system.​
Install Linux Mint in dual boot with Windows:
Before we proceed to see the procedure to dual boot Linux Mint with Windows, let me give you some optional yet recommended safety instructions:​
Back up your data: You are going to touch disk partitions. Normally, it's not a big issue but just in case if you touched wrong partition etc, you may lose data. So my advice is to back up your important files, documents, music, movies etc to an external disk or cloud, whichever suits you.
Have a boot repair disk: If your boot gets messed up, you can try to repair it with

You must be registered for see links

. If you have an extra USB or CD, you can use that to create boot repair disk.
Have a live or recovery disk of Windows ready: If your boot gets messed up and despite all efforts, you ended with an unbootable system, you can use the Windows disk to reinstall Windows.
I am not discouraging you. I am asking you to be prepared for the worst case scenario.


Remember that this article applies to computers that have Windows 10 already installed on the system. You are installing Linux Mint on an already installed Windows system, not the other way round.


I have created a detailed video tutorial on installing Linux Mint alongside Windows 10. You can refer to it if you want to see all the steps in even more details. I also advise you to subscribe to our YouTube channel for more Linux tutorials.

​
Follow the steps below to install Linux Mint in dual boot with Windows:
Step 1: Create a live USB or disk
Go to Linux Mint website and

You must be registered for see links

. This ISO file is the disk image that you can burn to a USB or DVD.


Once you have downloaded the Linux Mint ISO, you need a tool to write the image to a disk. I recommend using a free tool called Universal USB Installer in Windows:
​
You must be registered for see links
It's an executable exe file. Just double click on it to run the software and browse it to the ISO. Make sure that you have your USB key plugged in:
​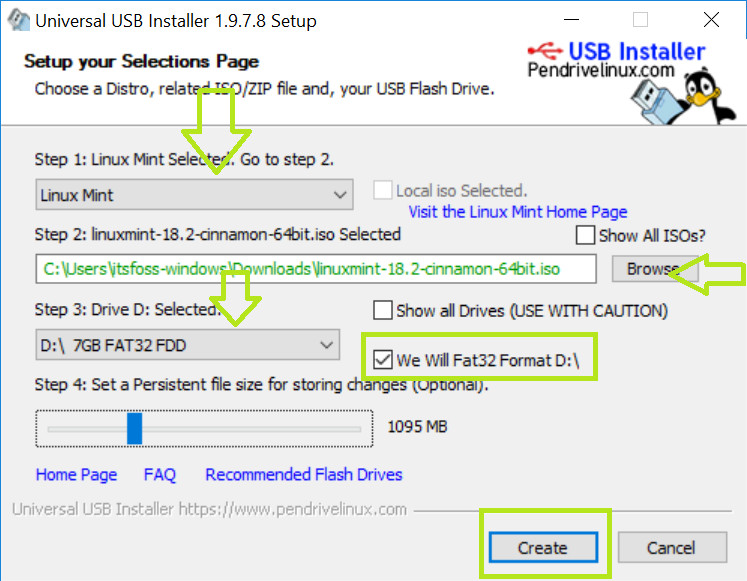 Note: you can use Rufus to!​
Step 2: Make a new partition for Linux Mint
This is where you have to be cautious. If you have multiple partitions (not the recovery ones), you can either use one of them or create a new partition from an existing partition. Your existing data will be safe if you have enough free space. Typically, you install Linux in under 10 Gb, however, if disk space if not a concern, I advise using 30-40Gb at least. This way you can have more space at your disposal for downloading and keeping various files.


In Windows 10, go to start menu and type 'partition'. This will bring up Disk Management utility. Now carefully select the disk in which you'll make some free space by shrinking the volume:​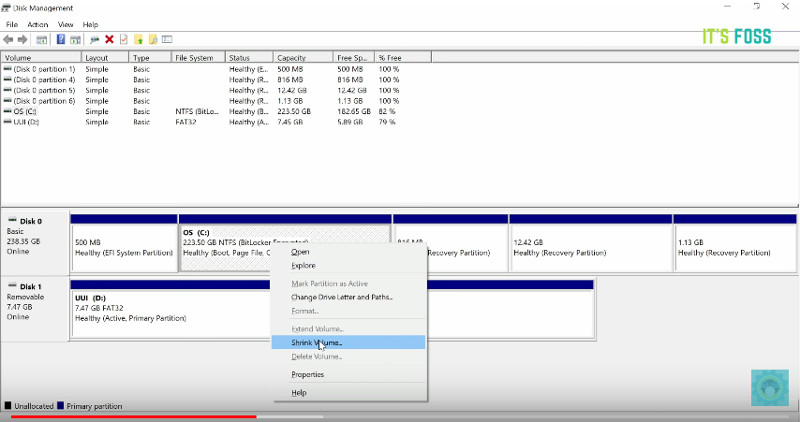 In my case, I only had the C Drive with 223Gb of space on it. So I shrunk it to make 110Gb of free partition on it. I recommend watch the video to see the exact steps you need more hint.
​
Step 3: Boot in to live USB
Plug the live USB or disk into the computer and restart the computer. While booting the computer press F10 or F12 function key (defers from computer to computer) to go to the boot menu. Now, choose the option to boot from USB or Removable Media.


Important Note: If your computer came with Windows 8 or Windows 8.1 and you upgraded your system to Windows 10, you may have to disable secure boot. Most modern system with Windows 10 should not need this step, especially with Linux Mint or Ubuntu.​
Step 4: Start the installation
It takes some time to boot from the live USB or disk. Have some patience. Once it boots in to live disk, you'll be provided to Try Linux Mint or Install Linux Mint. Even if you choose to try it, you can find the install option on the desktop:
​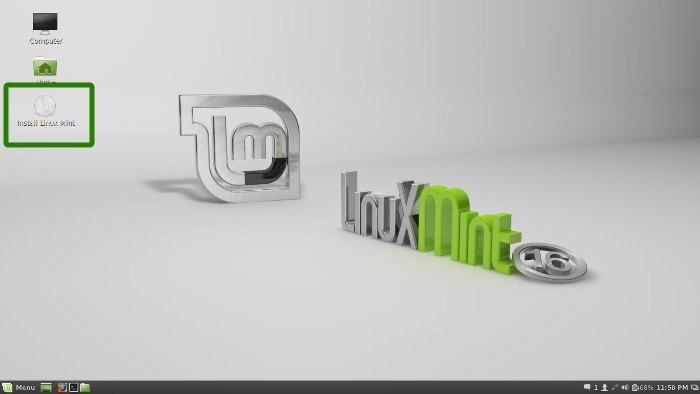 In next few screens, you'll be asked to choose the language of the operating system. It will then do some checks on available space, battery and Internet connection.
​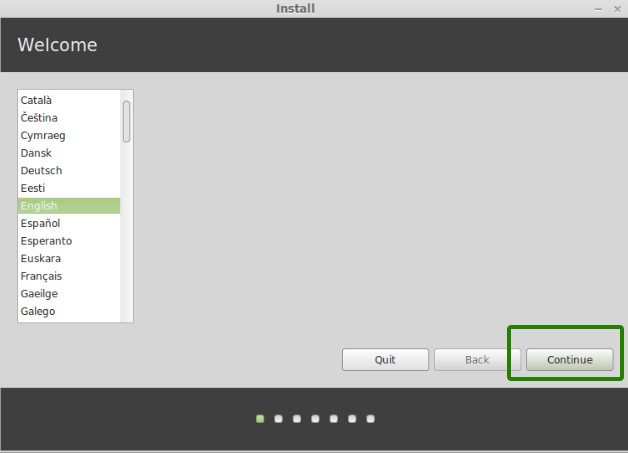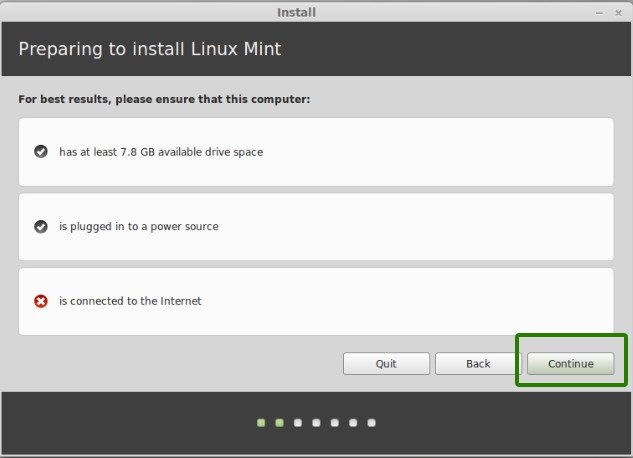 Step 5: Prepare the partition
This is the most important part of the whole installation. Where to install Linux Mint? As mentioned before, I prefer separate partitions for Windows and Linux. Windows is already installed here, we'll prepare a new partition for Linux Mint. In the Installation Type window, choose Something Else:​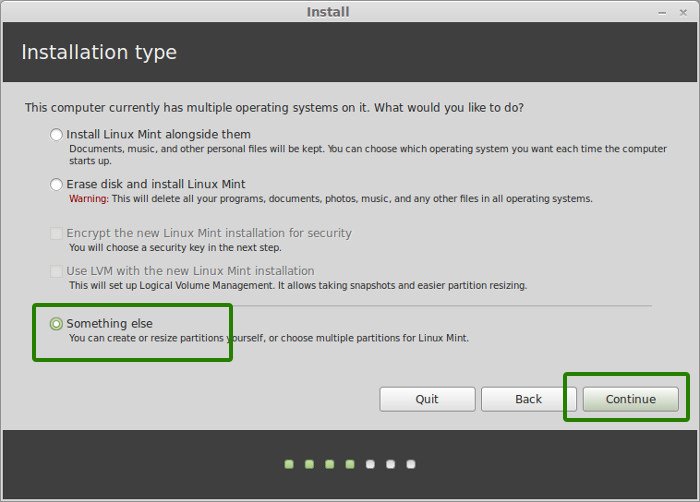 Step 6: Create root, swap and home
Since you already created a new partition in Windows, it's time to install Linux Mint on it. Now, there are several ways to do it. But here, I'll show you my favorite way and that is to have a Root, a Swap and a Home.


Create a root partition first. Choose the free space available and click on +.​
Here, choose the size of the root (10 GB is enough but I chose to have 20 here), choose ext4 file system, and mount point as / (i.e. root):​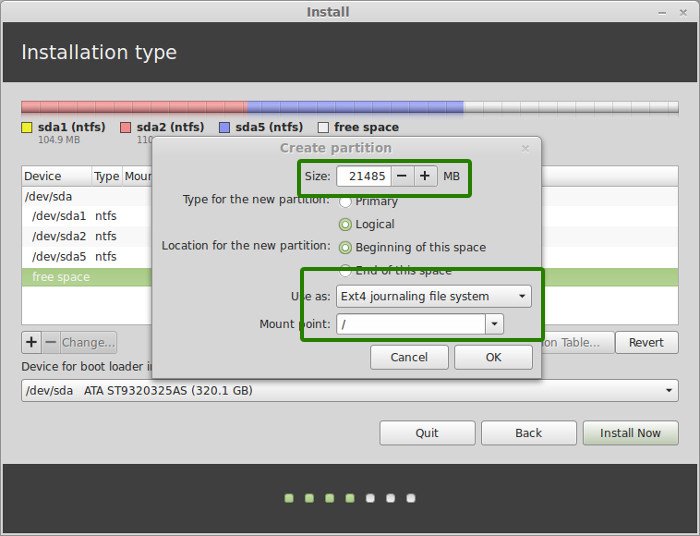 Now, next is to create the swap partition. Now the question is what should be the swap size for Linux Mint installation?


The answer depends upon your RAM size, your needs, available disk space and whether you would use hibernation or not. You can use the below suggestion:​
RAM less than 2 GB: Swap should be double the size of RAM

RAM between 2 to 4 GB: Swap should be RAM size + 2 GB

RAM between 6 GB to 8 GB: Swap should be size of RAM

RAM more than 8 GB: Swap should be half the size of RAM or less
Don't spend too much time thinking about swap. It is helpful for systems with less memory. For system with more than 8 GB of RAM and SSD, the less the swap, the better it is.
​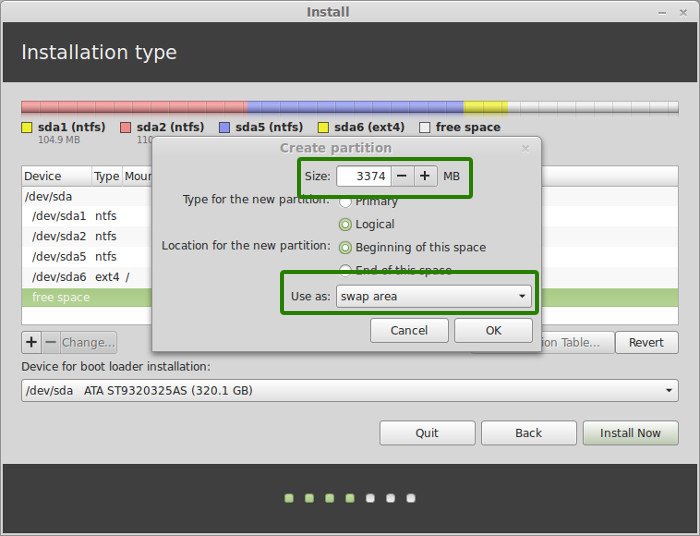 The next step is to create Home. Try to allocate the maximum size to Home because this is where you'll be downloading and keeping the files.
​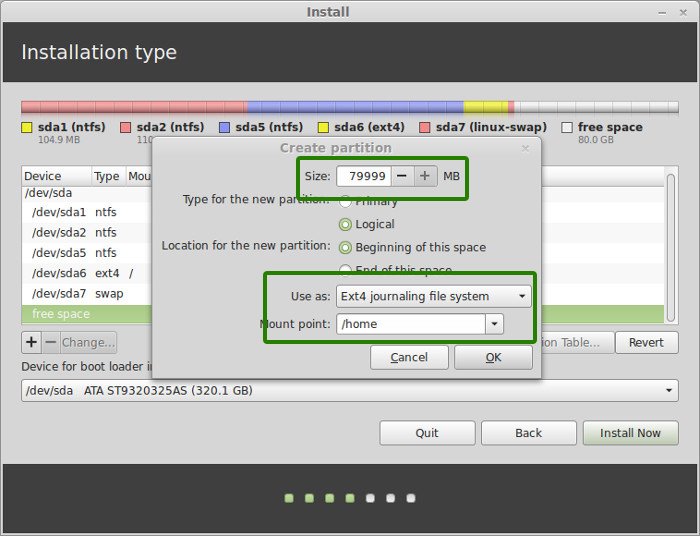 Once you have created Root, Swap and Home partitions, click on Install Now button.
​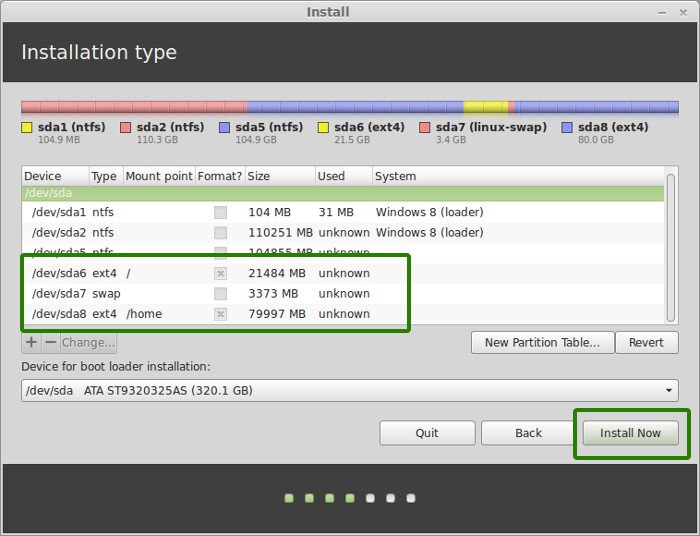 Step 7: Follow the trivial instructions
Technically, you have crossed the main hurdle if you reached this point successfully. Now you will be taken through a number of screens to select options like keyboard layout, login credentials etc. You don't need to be a genius to figure out what to do here afterward. I have attached screenshots for reference purpose here.
​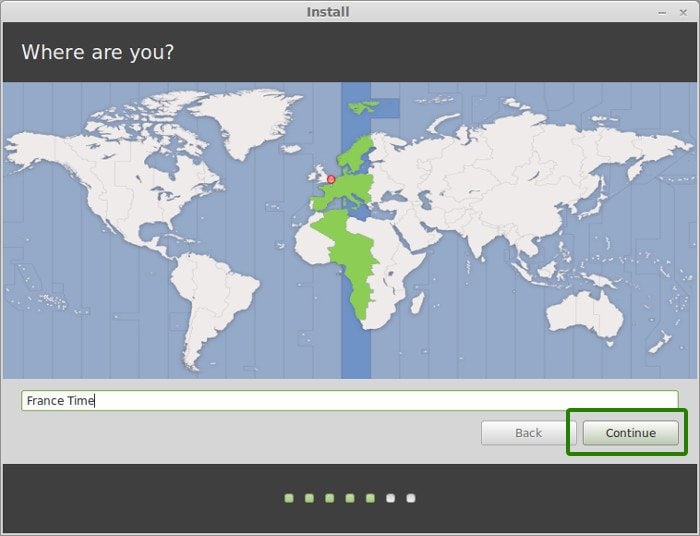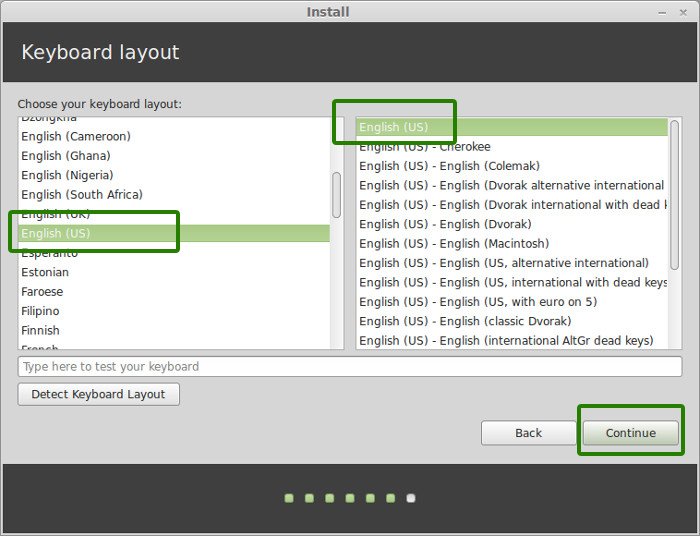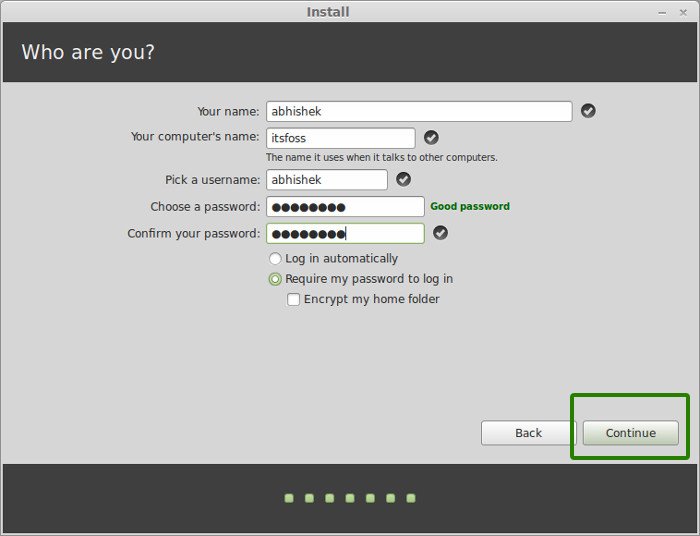 Once the installation is over, you will be presented with the option to keep trying live version or to restart the system.
​
And that would be it. On next boot, you will see the option of Linux Mint on the grub screen. And thus you can enjoy the beautiful and beginner-friendly Linux distribution. I hope you found this guide to Linux Mint dual boot with Windows helpful. ​