Administrator
Windows Modifier
Downloaded

56.3 GB
Uploaded

16 TB
Ratio

290.19
Seedbonus

326,876
Upload Count

81

(80)
Review
Updating drivers is usually an initial step to avoid hardware failure, system instability, and hidden security vulnerabilities. To update drivers regularly is also an effective way to enhance own overall PC performance, and maximize gaming experience. While this process could be risky and frustrating if done manually, Driver Booster PRO is introduced to download and update drivers for the user automatically with just one click. Based on cloud library, Driver Booster PRO can always be the first to identify outdated drivers and download and update driver at an unrivaled speed. With the backup feature, it is an easy, effective and risk-free solution to keep user drivers up-to-date.
Driver Booster is a lightweight software application whose purpose is to help a user manage outdated drivers and game components, thus ensuring smooth and issue-free computer runs. The tool features an automatic scan mode that allows a user to update all drivers and game components to enjoy a stable performance of a system and smooth gaming experience. The tool offers detailed information about device drivers and game components detected on user systems, such as device, type, vendor, driver, provider, and version.
Driver Booster can automatically download the necessary updates and install them. What is more, it automatically creates a system restore point, so a user can easily revert the changes in case of errors or other types of malfunctions. Furthermore, user may stop the download process, enable the silent installation mode (the updating takes place in the background and user can continue with his work without receiving notifications and popups), uninstall drivers, as well as enable several post-processing actions, such as restart or reboot the computer at the end of the task.
The utility automatically scans newly connected devices, pick the saving directory where all the downloads are stored, automatically create a restore point before a driver is installed, build up a list with ignored devices (that are skipped from the scanning process), as well as set up network parameters.
Key features:
No advertisements;
Unlock driver update speed limit;
200% larger database to update more outdated and rare drivers;
Reduce system freezes and crashes for better performance;
Improved auto download to accelerate download;
Automatically backup all drivers for safe restore;
Auto driver install and update during system idle time;
Priority to upgrade game components for better gaming;
Automatically update to the latest version;
Free 24/7 Technical Support on Demand.
What is new version 6.0.2.691 (Released on October 17, 2018):
Supported updating 3,000,000+ drivers & components which passed the Microsoft WHQL tests and strict IObit Review rules;
New "Game Ready" drivers for better and more stable gaming performance;
New Boost module offers a 1-click solution for ultimate gaming experience and top system performance;
Enhanced scan engine for smoother and faster scan;
Enhanced Auto Driver Update to automatically update the selected types of drivers;
Enhanced Fix No Sound tool for better sound repair capability;
Improved Clean Unplugged Device Data tool to support viewing details and ignoring device data;
Improved Fix Network Failure tool to be more intuitive;
Enhanced Driver Backup and Restore for faster loading;
Improved Feedback to display solutions to some specific requests;
More intuitive UI & custom skins;
Supported 48 languages.
What is new version 6.1.0.136 (Released on November 17, 2018):
Expanded database, esp. more stable drivers for audio devices;
More "Game Ready" drivers to support more games like Call of Duty: Black Ops 4, SOULCALIBUR VI, and GRIP (Pro edition has the priority to get them at the earliest time);
Added more solutions to fix various sound issues caused by Windows Update and other programs;
Enhanced the tools of Fix No Sound and Fix Network Failure;
Optimized Feedback;
Fixed all known bugs.
System requirements:
OS: Microsoft Windows 10/8.1/8/7/Vista/XP.
Internet connection.
Install notes:
1. Run the executable file;
2. Enjoy!
Screenshots: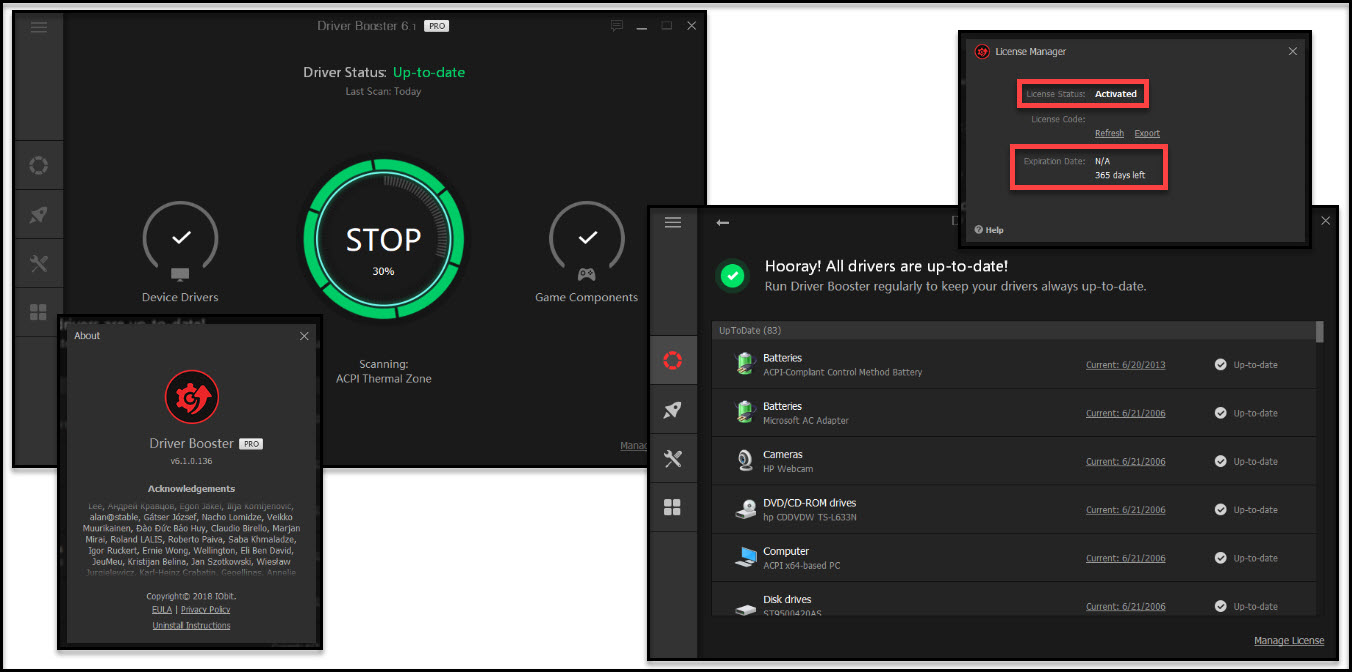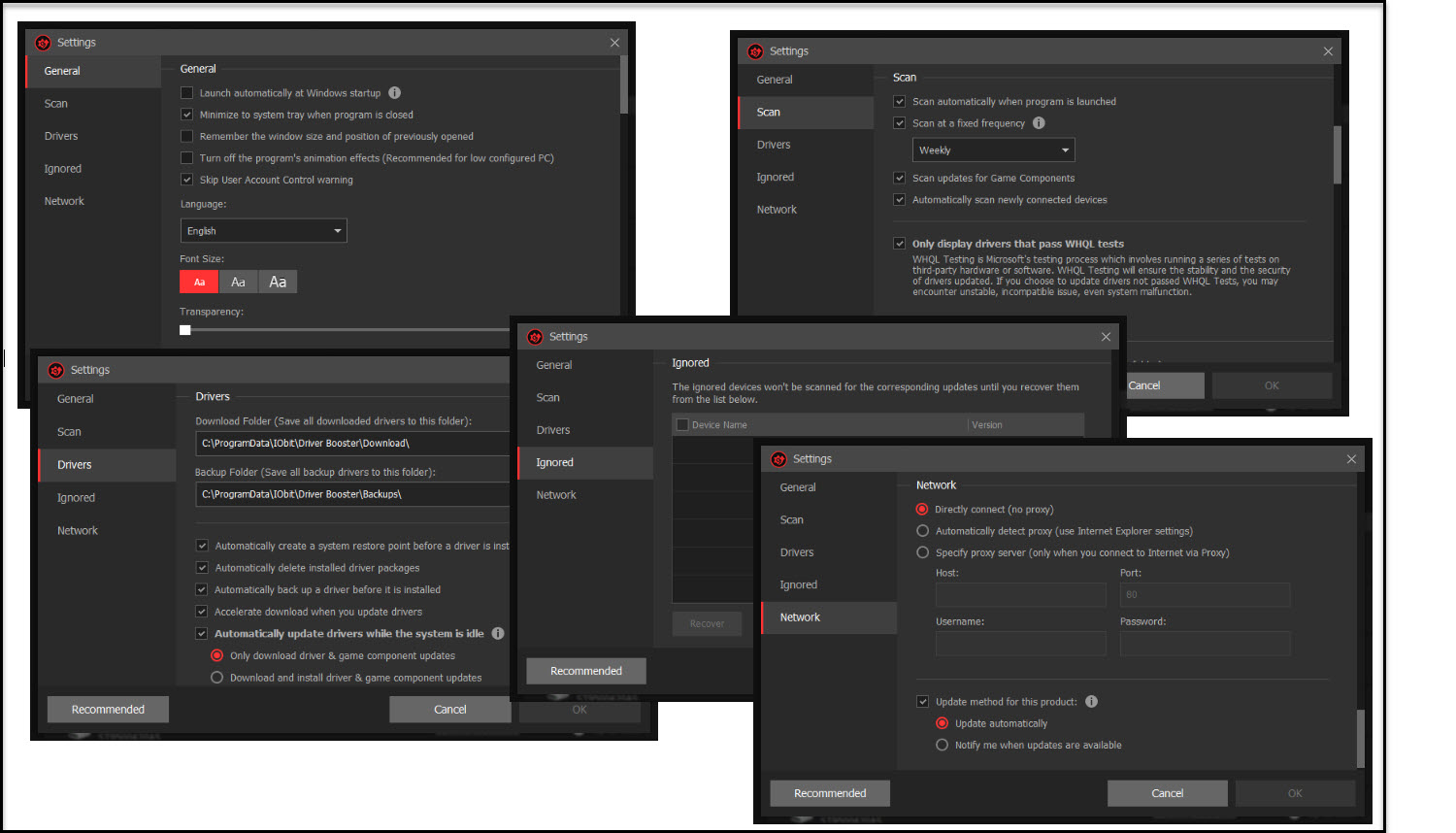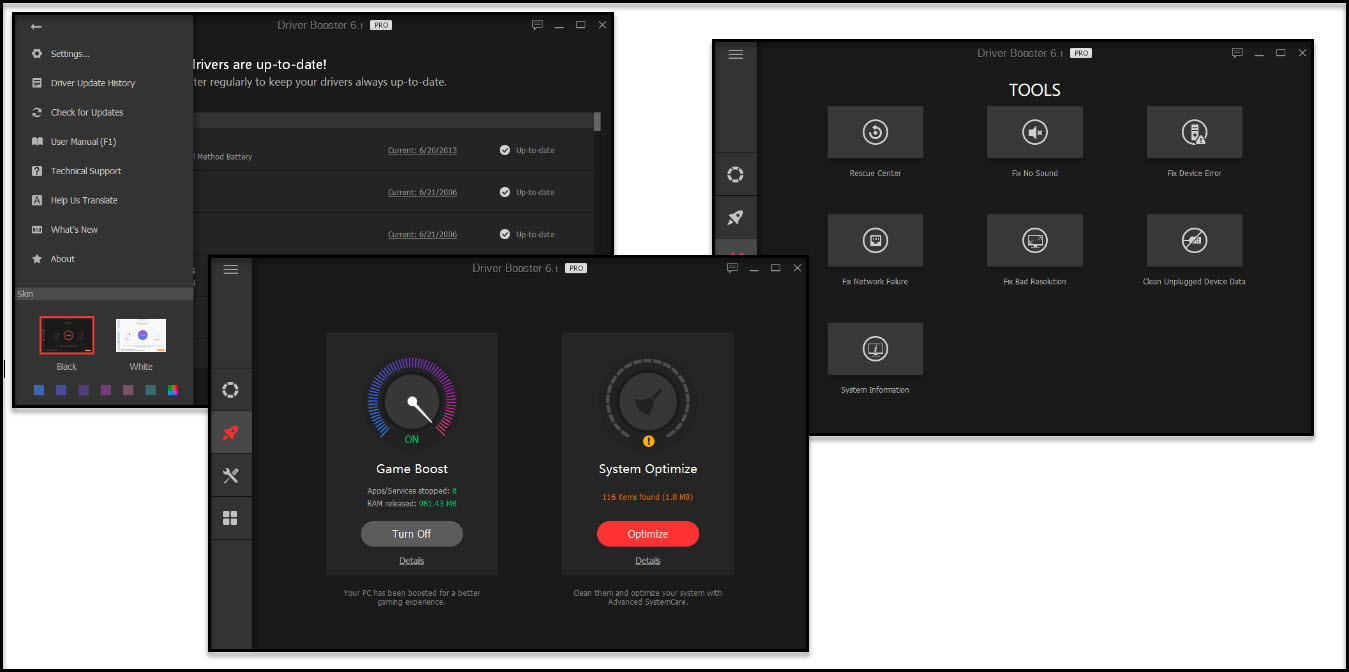 Virus free! No virus signature! 100% clean!
All credits go to the FoRMaT who shared the portable version with us!​
Kind regards,
@Mirkec
in collaboration with TeamOS
Download links - version 6.1.0.136 (Size: MB):
You must be registered for see links
You must be registered for see links
You must be registered for see links
You must be registered for see links