Administrator
Windows Modifier
Downloaded

56.1 GB
Uploaded

15.2 TB
Ratio

277.64

Review
Media Monkey is a powerful media manager designed for severe collectors that provide possibilities to keep track of user albums and play, burn, tag, and organize music supported by the most popular audio formats. Media Monkey is a nifty application that the user gives all the tools he needs to manage large music and movie collections. It catalogs CDs, OGG, WMA, MPC, FLAC, APE, WAV and MP3 audio and video files whether they are located on a hard drive or network, dividing them into different 'collections' (e.g., contemporary, classical music, audiobooks, home movies, tv, videos, etc.).
Party Mode is a feature of MediaMonkey that prevents any modifications to user files, or the software configuration. At the same time, Sleep mode allows a user to configure the time to play the songs, whether to shut down the program at the end, or gradually fade the volume. Its player automatically adjusts volume levels and supports a Party mode that locks the UI for use at public events. Most importantly, it helps hundreds of scripts, plug-ins, and visualizations to customize it further to meet user needs. A user can organize files in many categories that include Music, Podcast, Playlists, Media Servers, and Net Radio (access to SHOUTcast and Icecast radio).
Track managing has many useful features such as editing track properties and album information, album art, auto-tag from a filename, converting formats, and others. Also, a user can burn an audio CD, data CD/DVD/BD, or erase rewritable discs. It looks up and tags Album Art and data via Freedb and the web, includes an automatic renamer to rename and organize files, and a playlist manager to arrange user mixes. It consists of a CD ripper, podcast manager, and downloader to build user library, along with a CD/DVD Burner, UPnP/DLNA server, and sync manager to share it. With built-in conversion functionality, it syncs with almost any device, including Android, iPhone, iPod, and other devices, as well as a variety of televisions and DVD players (via DLNA).
The Options menu has many settings customizations users can use to modify the application and configure supported extensions, plugins, downloads, file tagging, and a lot more, all designed to fit the needs and requirements of the more demanding users. MediaMonkey is a complete audio management solution that provides everything one would need to organize a vast music collection. Besides the playback capabilities and numerous configuration possibilities, this program supports Winamp plugins and comes with a useful 4x CD/DVD ripper and burner.
The GOLD version gets a user to enjoy unlimited MP3 encoding, advanced searches, and playlists, as well as support for custom collections. The GOLD edition also comes with a built-in disc burner (supports up to 48x), file monitor, automatic library organizer, and automatic tag editor.
General features:
Manage 100,000+ music and video files without bogging down;
Record CDs and download music, movies, and podcasts;
Automatically lookup and intuitively tag album art, lyrics, and other metadata;
Tag music easily using industry-standard formats (MP3, AAC, and OGG, a WMA, an APE2, a RIFF, and an MP4 tag editor);
Manage any audio/video genres: Rock, Classical, Audiobooks, Podcasts, Home movies, tv, etc.;
Automatically organize and rename music/video files on a hard drive into a logical hierarchy;
Create and manage playlists with ease;
Use the File Monitor to update music library or video collection automatically;
Download audio content using the integrated Podcatcher, or use the web downloader to download media files from any website;
Sync with most Android, iPhone, iPod, iPad, and other portable Audio/Video Devices;
Share Audio/Video files with TVs, BD Players, and other UPnP/DLNA devices;
Record and convert CDs to a hard drive using the high-quality LAME MP3 encoder*, M4A encoder*, OGG encoder, WMA encoder, FLAC encoder or ALAC encoder;
Burn Audio CDs using the integrated burner powered by PrimoBurner™;
Use MediaMonkey for Parties or other public events with its jukebox mode, which allows users to make requests while protecting the library from being modified;
Visualize your music with funky trance-like effects powered by Milkdrop and hundreds of other visualization plug-ins;
Create statistics and other reports of your music collection as Excel, HTML, or XML files, or use third-party add-ons for even more advanced reports;
Customize MediaMonkey with Skins, visualizations, plug-ins, and other add-ons.
Wi-Fi Sync with MediaMonkey for Android;
Play MP3s and other audio formats, and never again worry about varying volume;
Play CDs and digital audio files (MP3, AAC/M4A, OGG, WMA, MPC, APE, FLAC, ALAC, WAV, WMV, AVI, MP4, MKV, etc.;
Create playlists and let Auto-DJ & Party Mode take care of user party;
Sync Android, iPhone, iPod, iPad & others, converting & leveling tracks on-the-fly;
Share via DLNA and convert MP3s, M4A, OGG, FLAC, WMA, MP4, AVI, and WMV to support most devices;
Automatically identify movies and tracks that are missing information, whose tags are not synchronized, or that are duplicated elsewhere;
Gold features:
Multiple Media Collections allow large media libraries to be segmented, customized and managed independently;
Automatically organize and rename audio/video files on a hard drive into a logical hierarchy of choice according to a set of rules that user-defined;
Create advanced AutoPlaylists which automatically generate a music mix to suit user mood;
Auto-conversion allows a user to automatically sync, share (over DLNA) or burn tracks, converting tracks on-the-fly to a format that is supported by iPod/iPhone or other portable device or CD/DVD/DLNA player, while retaining all metadata;
Secure Ripping detects when a CD has been damaged and throttles the disc's rotation until it is sufficiently slow to deliver identical reads on at least two occasions;
Automatically lookup Artwork and lyrics. MediaMonkey can also download the metadata without updating the tags so that it is not saved until user approve;
Find music with advanced search functionality that digs through a collection to find tracks according to almost any criteria that users can think of. Search for Composer, Year, Beats per minute; find Lyrics, etc.;
Encode unlimited MP3s without having to install a new MP3 encoder manually;
Catalog physical CDs and use the Virtual CD feature to keep track of what CDs users own and, at the same time, see which subset of records from those CDs are copied to a hard drive. Instead of tracking CDs and tracks separately, the virtual CD function gives the user an integrated view;
Import and save audio tracks from Audio CDs and MP3 CDs with unprecedented flexibility using the Virtual CD. It allows a user to sample tracks from various sources, select which ones want to import, and then import and save the files in a single operation;
Create Previews, short samples of audio tracks, that user can use when trying to decide which audio files want to add to collection;
Use a Sleep Timer to play music, gradually fade it over a set period, and then turn off PC — perfect for listening to tunes before going to sleep;
Burn CDs at the maximum speed permitted by user hardware.
What is new in version 4.1.26.1896 (Released on January 11, 2020):
iTunes DB import: Last played date fails to import fixed;
DB/FileMonitor block closed fixed;
DB initialization/Upgrade fail MM cannot start fixed;
Install/Config tweak closed fixed;
Update year to 2020/fix certificate timestamp fixed;
What is new in version 4.1.25.1895 (Released on March 27, 2019):
Too large iTunes library cannot be imported fixed;
Clear database confirmation dialog fails on some translations fixed;
DUnit tests fail on reading some tags from MP4 (regression 4.1.25) fixed;
When M4A/MP4 file contains multiple artists in multiple tags, only last is read, but first written fixed;
Navigation with keyboard can trigger crash fixed;
Crash on close of MM4 if MM5 is not closed correctly fixed;
Playback: MM Player skips to next if playback set on seek bar in <10 seconds from end fixed;
Search: Toolbar search miss results where search dialog return correct one fixed;
Importing m3u8 created by iTunes skips files with international characters in the path fixed;
Podcasts: Episodes are missing tags after the download (sometimes) fixed;
Volume Leveling: inline edit of Volume Level index do not work fixed;
Sync: I phone Sync Crashes MMW fixed;
iOS 13 sync issues fixed;
Sync: Iphone7 iOS 13.1.2 do not finish Scanning device fixed;
iOS5+ sync: Read device content rather from MediaLibrary.sqlitedb fixed;
Multiple instances of iPhone appear on connection fixed;
iPhone Sync: MMW created duplicate profiles fixed;
iTunes reports corrupted device after sync with MM (iPhone XR and XS) fixed;
iOS13 Beta is not added into supported versions fixed;
Wi-Fi sync can fail in some very specific scenarios fixed;
Sync: Volume leveling of tracks breaks Auto-Convert rules fixed;
Wi-Fi sync may not work correctly when another UPnP/DLNA client on the network is accessing MMW server at the same time fixed;
Wi-Fi sync: Track pairing can silently fail for a batch when a track is 'application/octet-stream' type fixed;
USBMass Plugin offers sync back of metadata option fixed;
iPhone XR fails to sync at certain state fixed.
What is new in version 4.1.24.1883 (Released on March 27, 2019):
Enter password dialog is not shown when NAS is accessed the first time after install
What is new in version 4.1.23.1881(Released on October 19, 2018):
FIX: Initial Startup after Portable Install;
FIX: Fresh install of 4.1.22 => SQL errors;
FIX: Manual update check fails if done subsequent to a previous update check;
FIX: Search: Toolbar search miss results where search dialogue return corrects one.
System requirements:
Sound Card.
Install notes:
1. Kindly read "Readme.txt" file given in download zip file;
2. Enjoy!
Screenshots: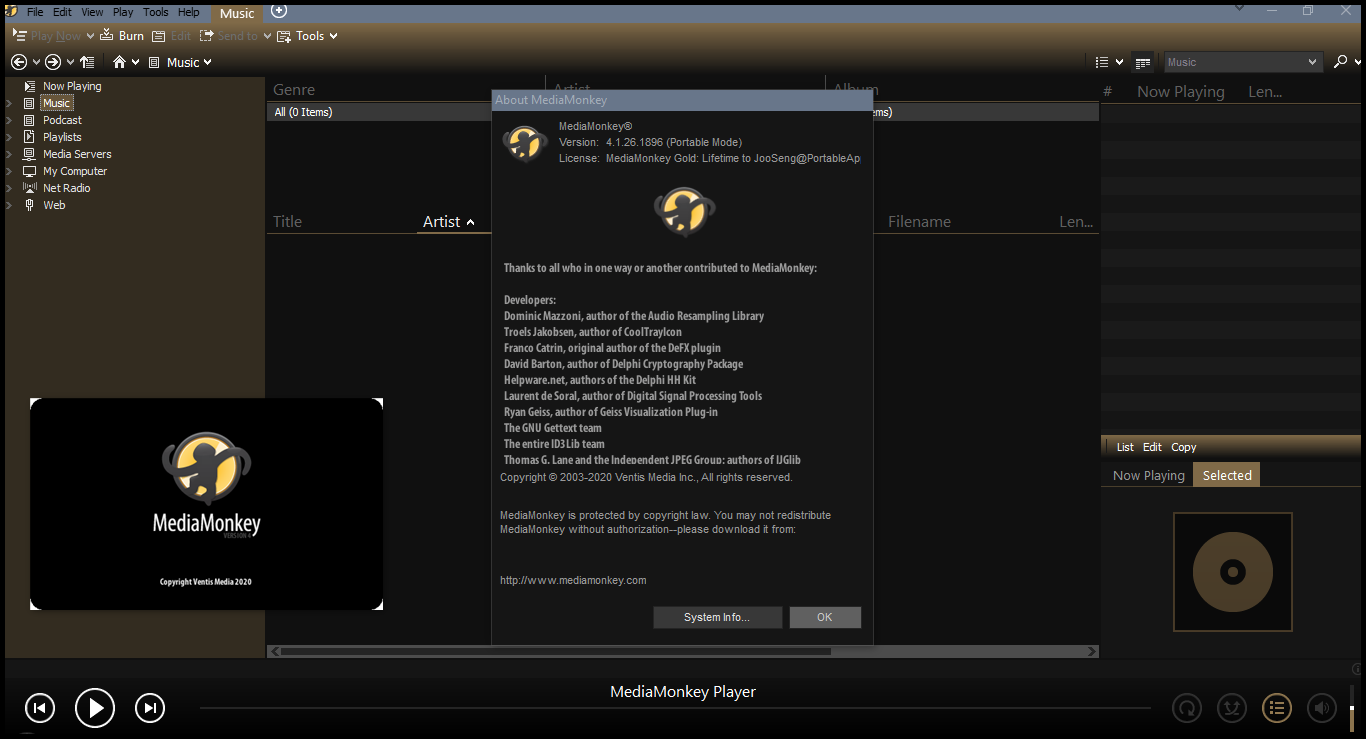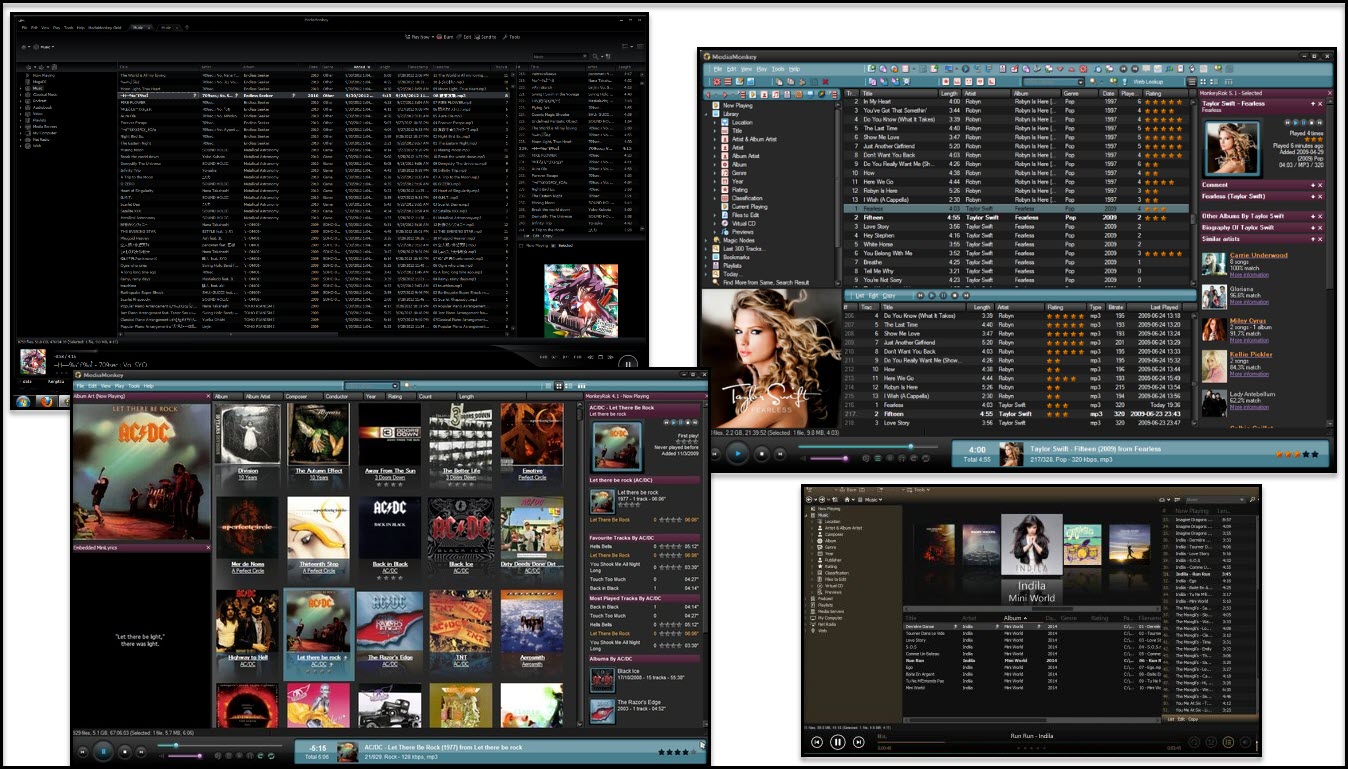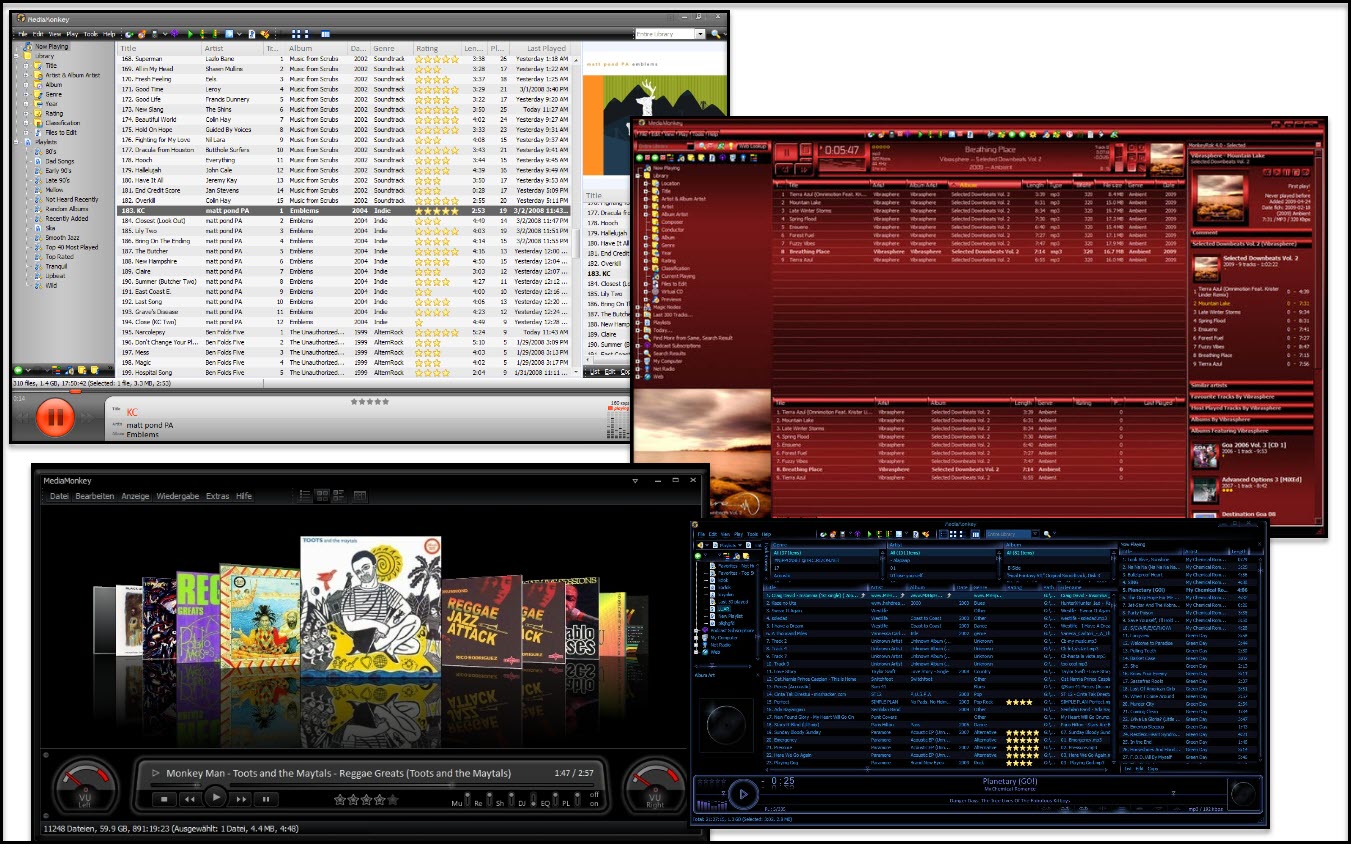 Virus free! 100% clean!
All credits go to JooSeng, who made and shared the portable version with us!
​
Kind regards,
@Mirkec
in collaboration with TeamOS
File: MediaMonkey.Gold.v4.1.26.1896.Portable.paf.exe
You must be registered for see links
02/70
MD5: 3D81CE3134DC16C36E3F5F201A820AF1
SHA1: 948984E93049E8EEE0ADED37655670214667B7BB
SHA256: 6A81B064C6B191C0D93008C4E919CEB8BB91182A8A788104DC6C802CD8EF362D
Key generator: keygen.exe
You must be registered for see links
46/71
MD5: 6BDE45345EF97AE99CBB4A9D6CB09E88
SHA1: 27500178260DE0220E8C27419B17A10D31F48E28
SHA256: 59B0B44C6CD524029B8D548D828A6E723DBF128414F015A96EA859670F5AF6B5
Download links - version 4.1.26.1896 (Size: 14.29 MB):
You must be registered for see links
You must be registered for see links
You must be registered for see links
You must be registered for see links
Last edited: